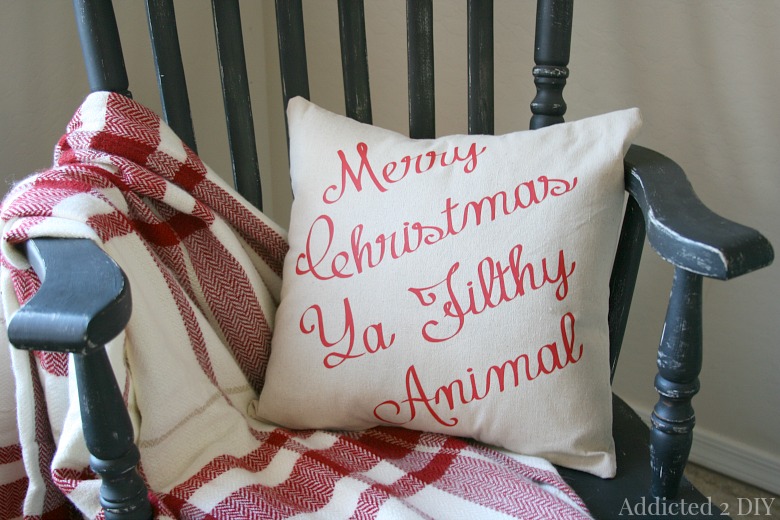 I love quoting movies. I probably get it from my dad who pretty much only speaks in movie quotes. I'm not quite as annoying though;) My boys love the Home Alone movies. I remember how much I loved them when I was a kid, so it's so fun to watch them again with my boys. This year, I wanted to have a little fun and make a Christmas pillow with a popular quote from Home Alone 2 when Kevin plays a scene from "Angels With Even Filthier Souls." When I showed my boys the pillow I was making, they read the quote and finished it off with "And a Happy New Year." They pretty much have the movies memorized:)
I'll start with the easiest pillow cover you could ever make. It literally takes just minutes and for someone who hates sewing (like me), this is a perfect project! I ended up making two of these envelope pillows because the first one I made ended up being too small. 14″ seems like a good size until you put it in a big rocking chair. Luckily, I had a bigger throw pillow that I decided would be a good substitute and made a new, larger pillow case for it.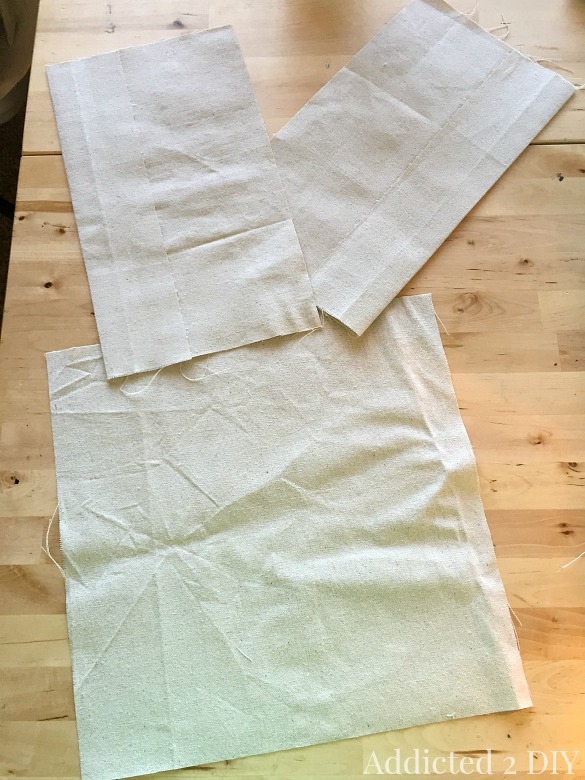 I have a big piece of drop cloth that I keep slowly using up as I make projects. It's such an affordable and versatile crafting medium. I cut my pieces to coordinate with the size of the pillow form I was using (in the case of this picture 14″ pillow form). For these pieces, I cut the front at 14″ and the back pieces I cut at 11″. I folded and ironed a crease to make the pieces 9″ long. You want them to be able to overlap so they don't have a gap in the back when you stuff the pillow in.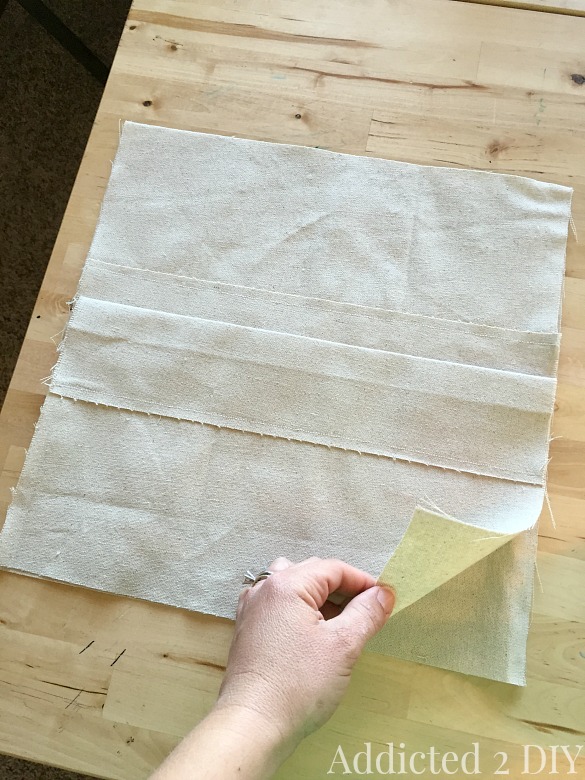 I sewed the hem on the pillow backing pieces and then placed the right sides together. I lined them up so that the back would overlap by a few inches.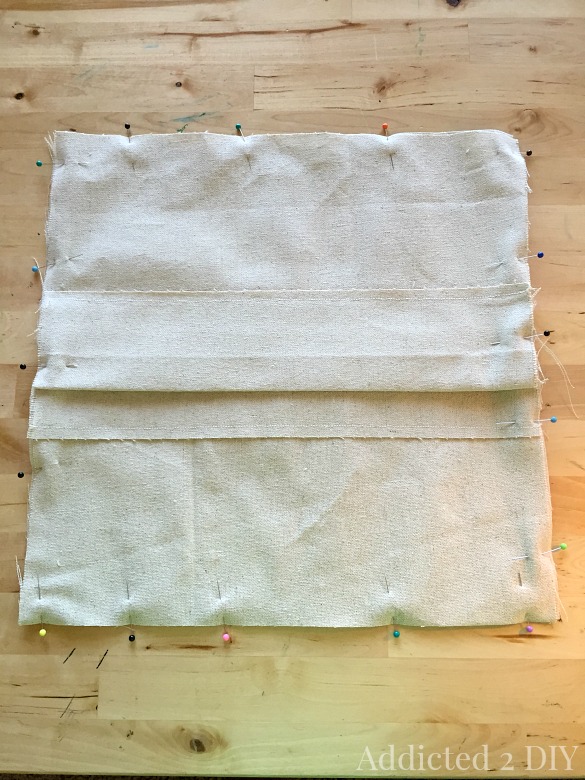 I pinned the pieces together and then sewed the pillow case using a 3/8″ seam.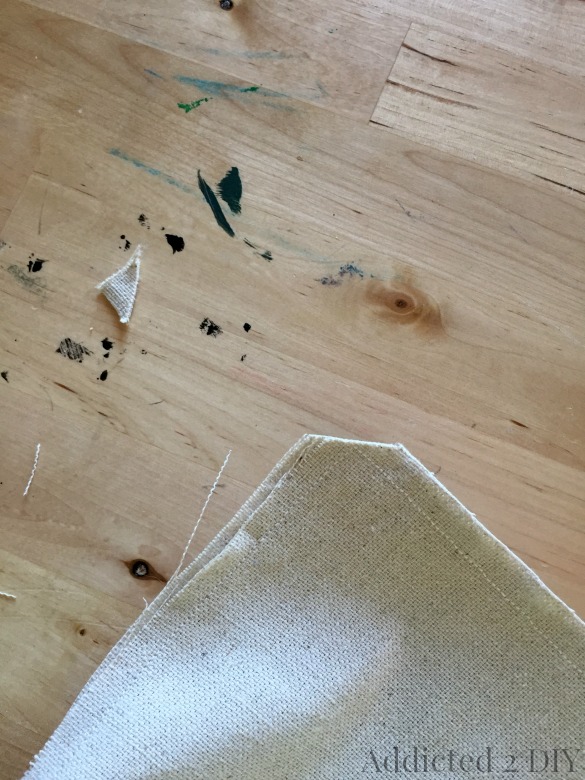 Once the pillow case was sewn together, I snipped the corners off. This allows the corners to come to a nicer point when the pillowcase is turned right side out.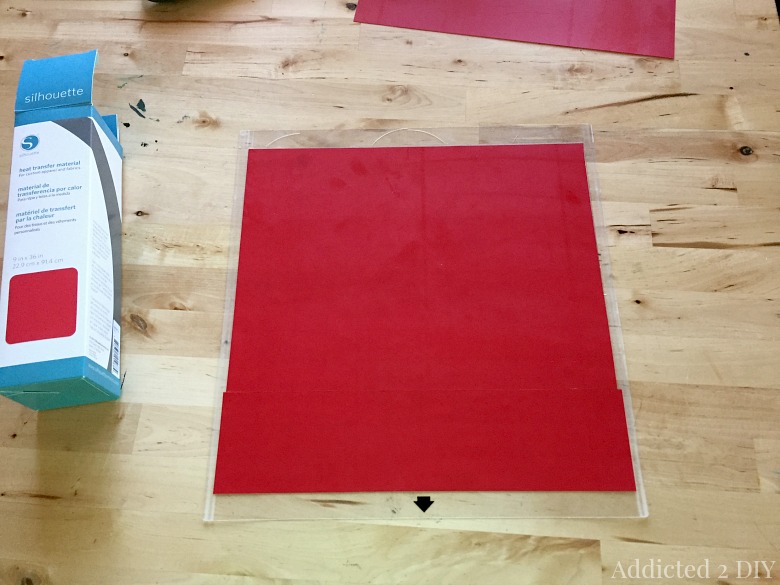 To create my design, I wanted to use heat transfer vinyl. I grabbed my Silhouette heat transfer material and cut it to size. Since their heat transfer material is only 9″ long, I had to improvise a little and cut a 3″ piece to fill in the gap. I positioned my design in the Silhouette Studio so that words wouldn't be cut in half by using this method.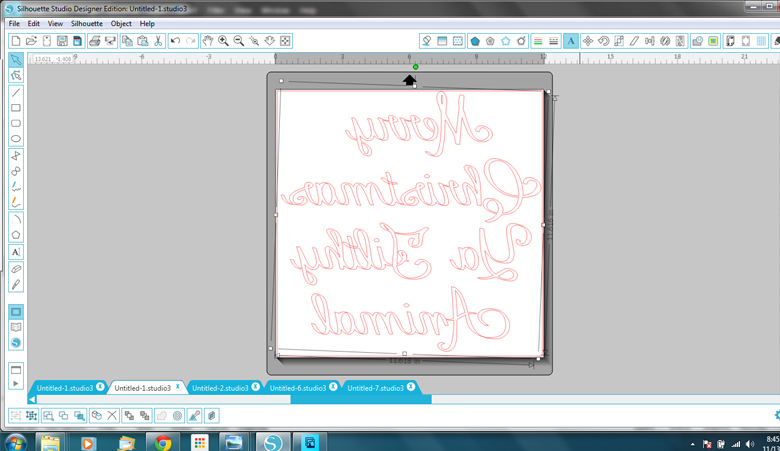 I mirrored my design and cut it out. For this project I used the Contribute font. I wanted a pretty script font. To me it just adds to the humor of the pillow:)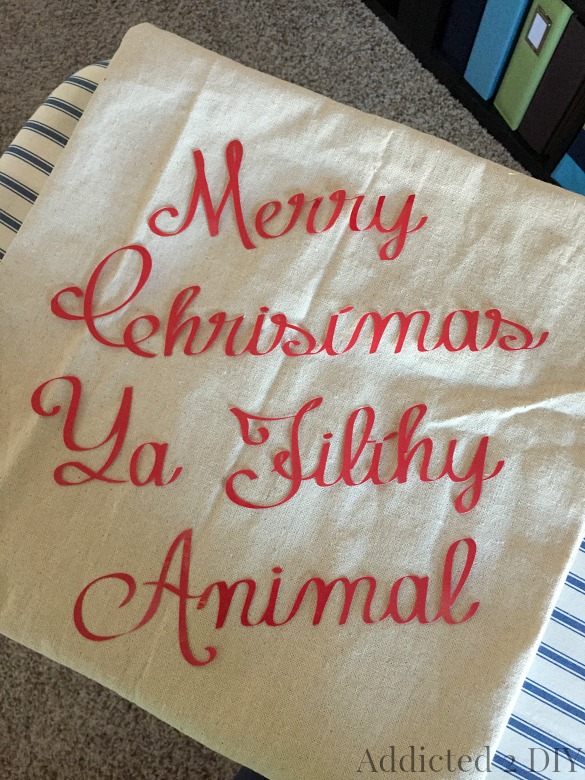 I had a bit of a lapse in judgement when I cut my design and decided to cut it out using a double cut. That ended up cutting through the transfer paper as well, which made placing the design on the pillow case a bit trickier. It worked, but it took a bit longer.
Once I had everything placed just right, I ironed the design onto the pillow case. I use a tea towel on top of the design whenever I'm using heat transfer vinyl and then I set my iron to the highest setting.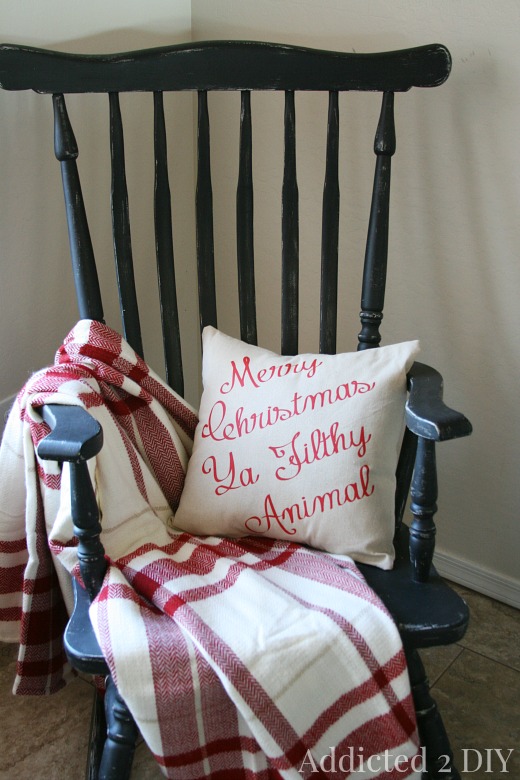 Once I was done, I just stuffed the pillow into the case. I'm really happy with how it turned out and my boys think it's hilarious. I love adding a little humor to things. I think the pretty font will catch people's eye, then they'll probably laugh when they actually read what it says and remember the movie.
I'm thinking I may need to add a few other funny Christmas movie quotes around the house too. Especially some from my all-time favorite Christmas movie, Christmas Vacation. What's your favorite Christmas movie? Do you find yourself quoting it a lot during this time of year?