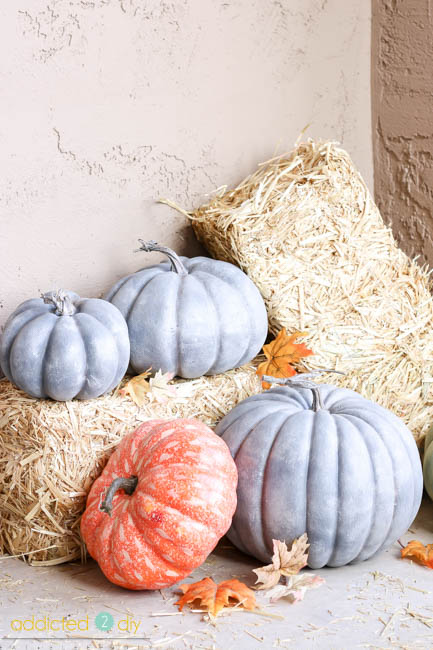 Hey guys! Have you started decorating for fall yet? I just got started last week and I'm hoping Mother Nature somehow takes the hint and brings us some cooler weather soon. If you saw my DIY Rustic Industrial Wheelbarrow project, you might have seen these pretty faux galvanized pumpkins in the photos. I had never tried a faux galvanized technique until I took a painting class at Haven Conference and learned so many great painting techniques, including a faux galvanized finish. It was so fun trying different techniques, but the faux galvanized look was my favorite. To get the look for these pumpkins, I modified the technique I learned and came up with a method I felt worked great on these. To help you out, I included some affiliate links to products I used for this project. Should you purchase anything from these links, I will receive a small commission at no extra cost to you.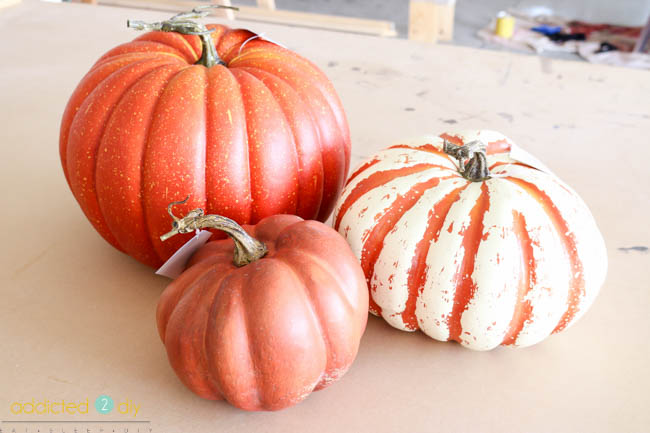 I bought three various sized pumpkins from Hobby Lobby. They were 40% off, so not a bad deal at all. They actually had some galvanized metal pumpkins for sale, but one of them was the same cost as all three of these pumpkins. That in itself is reason enough to try this!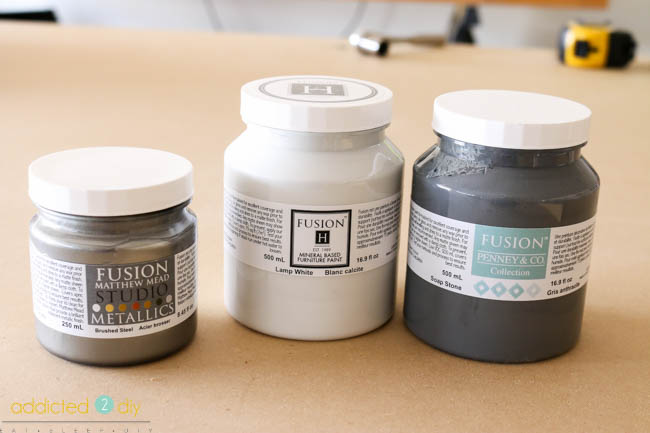 I chose to use Fusion Mineral Paint in Soap Stone, Lamp White, and Brushed Steel for this project. It's the same paint we used when I first learned this technique. It is definitely not the cheapest paint to use if this is the only thing you'll be using it for, but I knew I was going to use this for other projects and I love the quality of it. A little bit really goes a long way and you can also order smaller sizes, which make it much more affordable.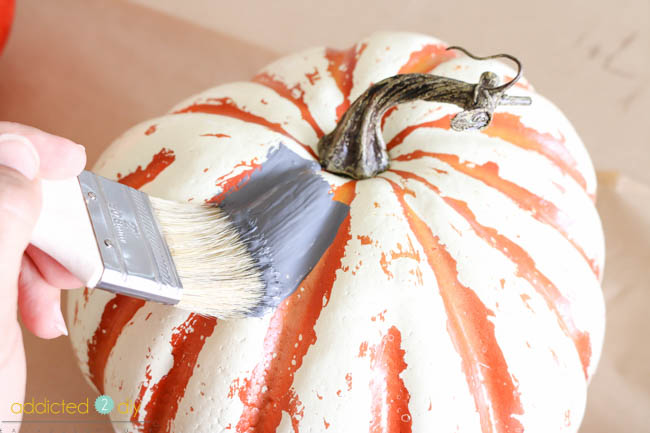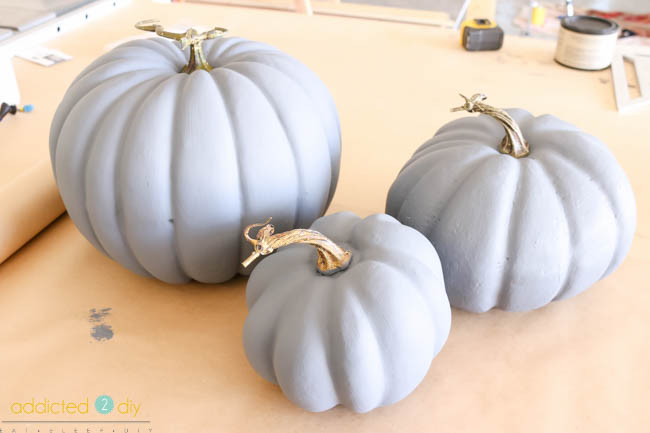 I started by painting the pumpkins with the darker grey (soapstone) paint. If you don't have the Fusion paint, you can use any acrylic or chalk paint.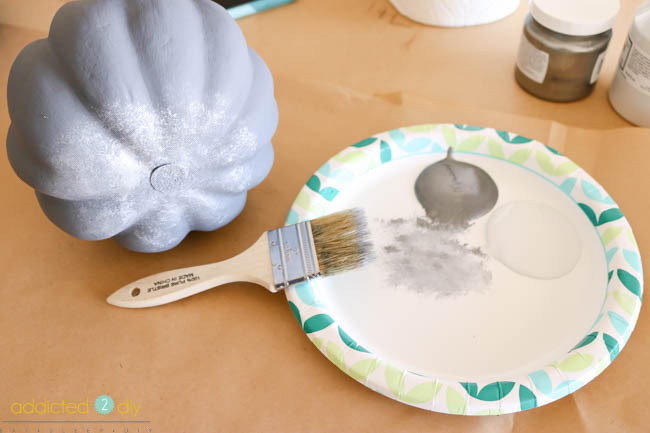 To give the pumpkins the galvanized look, I poured a little bit of the lamp white and the brushed steel paint onto a paper plate. I used a chip brush and dabbed it a tiny bit into each paint then used a stippling technique to gradually start painting the pumpkins. There's not really a right or wrong way to do this. If you think there's a little too much white, dab on more metallic over it and vise versa. How much you want to add all depends on your tastes.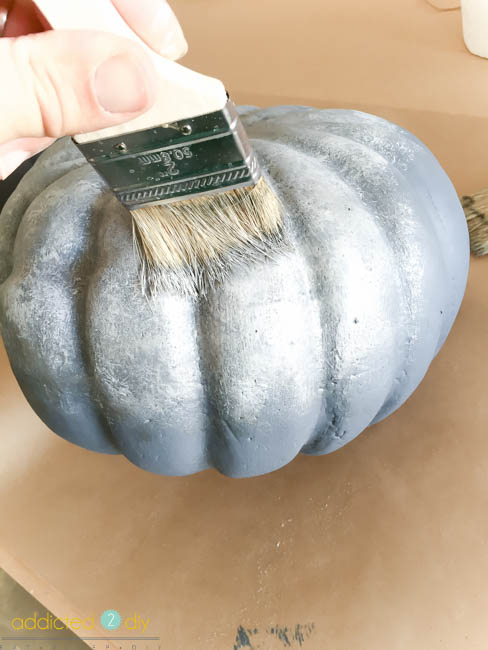 While the paint was still a tiny bit wet and when there was almost no paint left on the brush, I gently swirled it around over the areas I'd just painted to soften the stippled effect.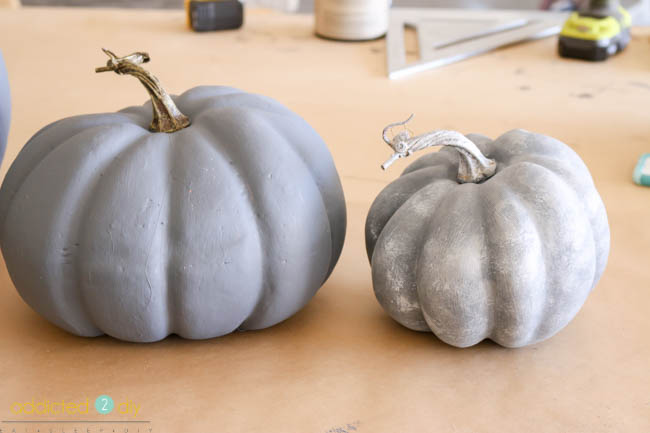 You can see the difference between the two pumpkins. The metallic paint gives it just a little bit of sheen and the white paint gives it the oxidized look of galvanized metal.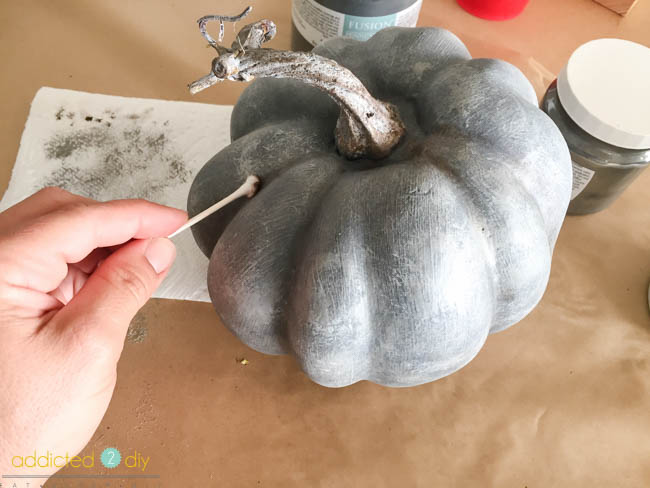 I had seen another faux galvanized tutorial where gel stain was used to give the project a bit of a natural rusted look, which has it look a little more like real galvanized metal. I happened to have a can of Minwax gel stain in hickory that worked perfectly for this. I used paper towels and q-tips to apply it in the creases of the pumpkins and a little bit on the smoother parts. I also used it on the stems. It really gave the pumpkins more dimension. You want to use a very small amount. It's always easier to add more than to take it off.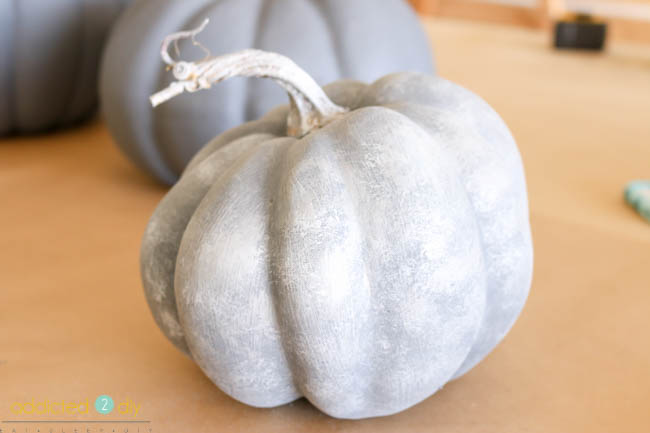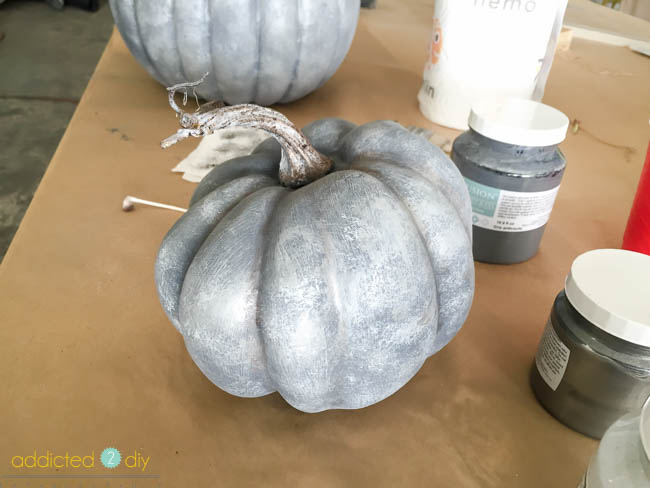 You can see the difference I the look of the pumpkins before and after the gel stain. It's definitely worth the extra step! Again, there's no right or wrong way to do this. Just play around with it and see what you like!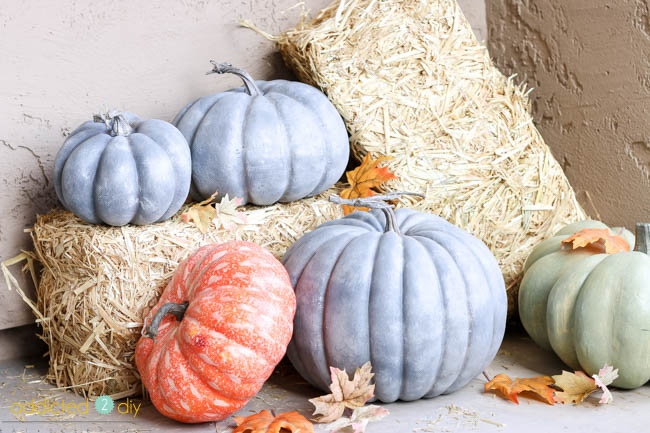 I seriously can't get over how great the pumpkins look with my fall decor. They add that little something extra to break up the traditional fall colors. They were so simple to make and I can't wait to try this faux galvanized technique on other projects! I'm definitely thinking I'll be making some galvanized Christmas decor this year, too! What do you think you'd try this technique on?