Happy September! I know it's not technically fall yet, but I am so excited for fall to arrive that I had to start decorating! I've been adding touches of fall here and there and today I'm sharing all of the pretty details of my farmhouse fall entryway.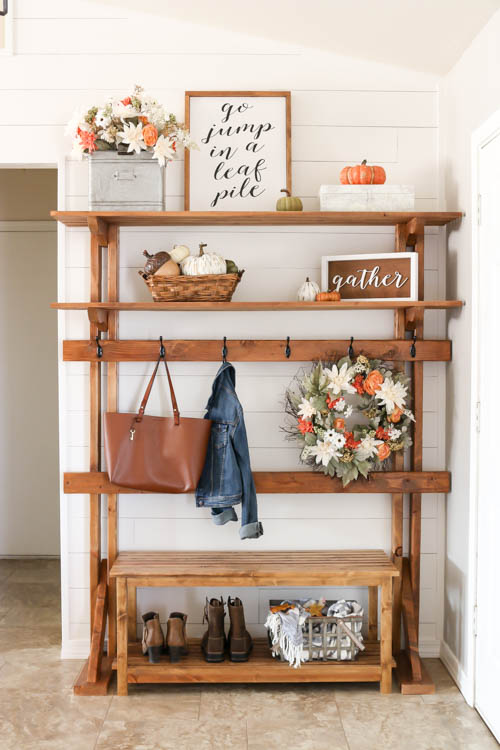 I you remember, I shared the plans for this Pottery Barn-Inspired hall tree and bench earlier this year and I love the look so much! Plus, it gives me something pretty to decorate with the changing seasons.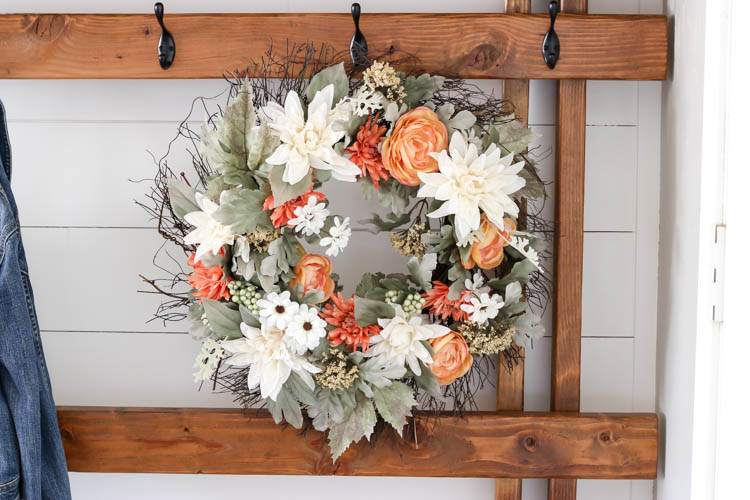 I didn't have much of a plan for the entryway up until a few weeks ago when I was shopping at Michael's and this gorgeous wreath somehow jumped into my cart and came home with me. It's pretty shocking when something like that happens, and you can imagine the surprise on my husband's face when I told him all about it! The soft colors combined with the rustic look of the twig wreath were absolutely perfect and I based my whole entryway decor around it.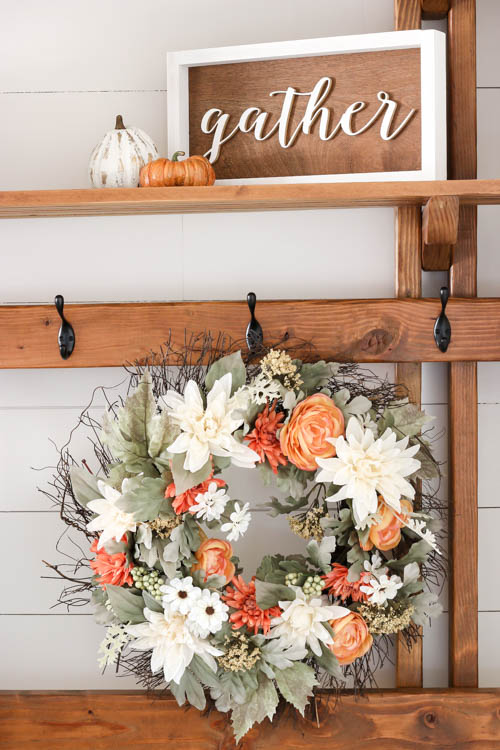 On the shelf above the wreath, I decorated with faux pumpkins. The gold and white pumpkins were some I painted a few years ago and I find different ways to use them each year. I made the 'Gather' sign using scrap wood and my X-Carve. It was the first real project I've made on it, besides fidget spinners, so that was pretty exciting. I'll be sharing a tutorial for that, soon.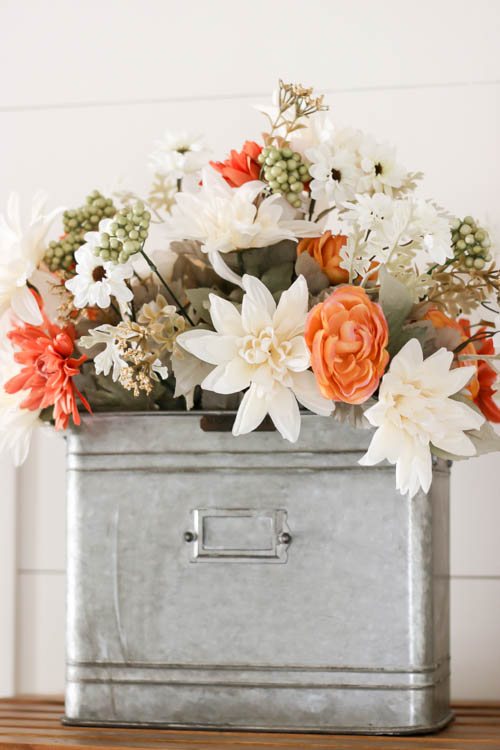 To compliment the wreath, I found matching bouquets at Michaels and put them in this galvanized tin. I bought the tin at Pier 1 and it's the first official Magnolia Home decor purchase I've made. I'm sure it's the first of many!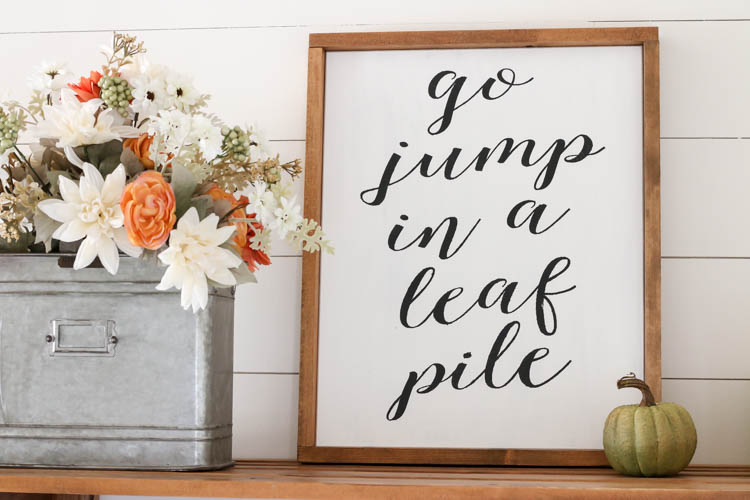 I knew I wanted to have a sign on the top shelf and I was thinking of the phrase "go jump in a lake" when this popped into my head as a perfect sign for fall! Not that we have leaf piles at our house, but a girl can dream, right? I upcycled this from an old wall decor piece from my kitchen that I've had for ages, and I'll also be sharing the tutorial for it with you all, soon!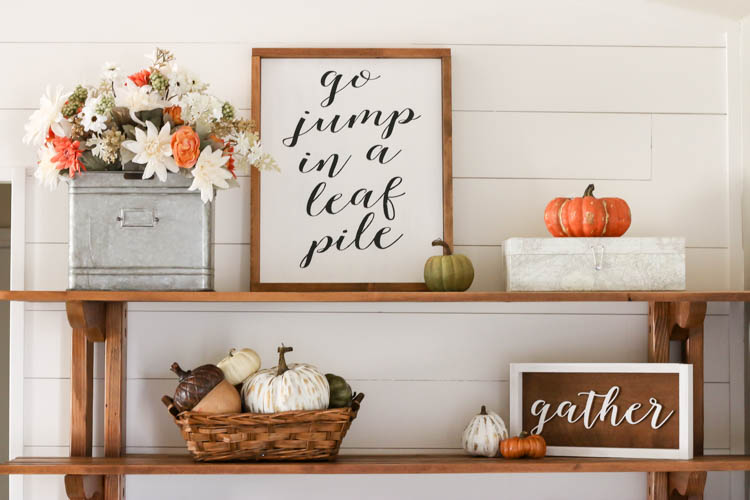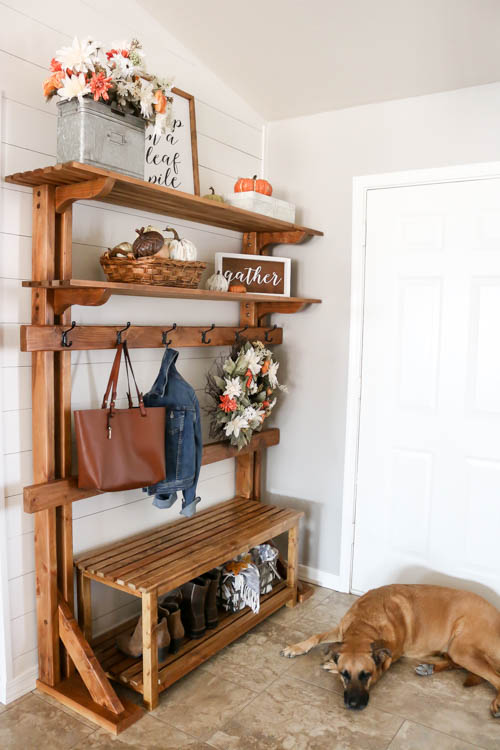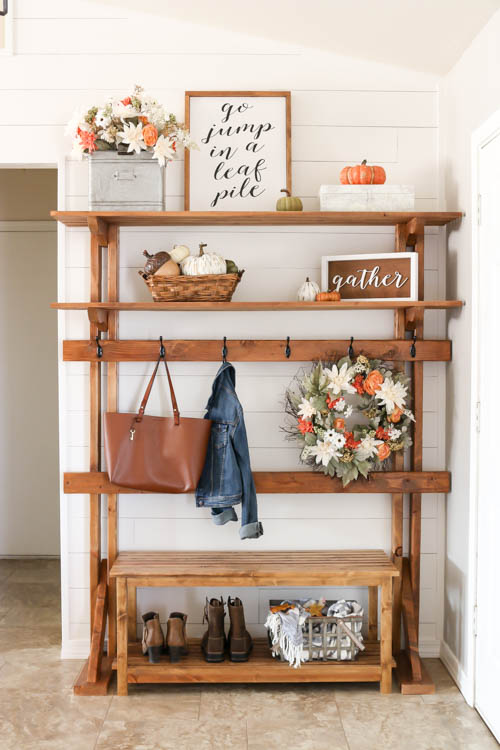 All in all, it was just a few simple updates that I made to give the entryway the feeling of fall. Some of the decor I already had, some I made, and then there were a few items I purchased. I love the finished look and can't wait to decorate more of my home and share it with you!
When do you start decorating for fall? Have you started yet, or do you wait until it's ACTUALLY fall? Do you skip it altogether and just decorate for Christmas?