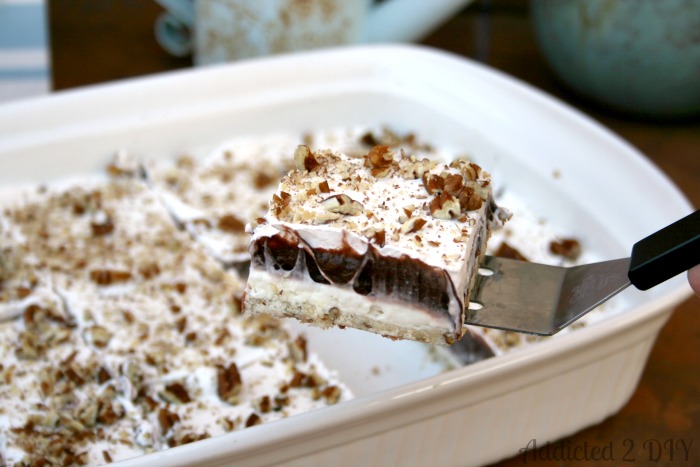 Memorial Weekend is starting up and that means BBQs, family, friends and, most importantly, remembering those who have served and are still serving our amazing country. I am a proud to have many family members who are veterans and active-duty military personnel. They, as well as countless others, have all sacrificed for our country and for that I say, thank you.
Today, I want to share one of our traditional family recipes that has been a staple at many family gatherings. This fantastic dessert literally speaks for itself. It truly is fantastic! My grandmother originally got the recipe from one of her cousins when she was back home visiting in Arkansas many years ago. Probably before I was born. You always know a recipe is old when it calls for oleo. I just use good old-fashioned butter:)
Below is the handy printable. Give this recipe a try! I promise you will love it! What are your favorite family recipes to serve at BBQs?
Fantastic Dessert – A Dessert That Speaks for Itself!
A delicious layered dessert that is easy to put together and is always a crowd pleaser!
Ingredients
1 stick oleo or butter
1 cup flour
1/2 cup chopped pecans or walnuts (plus more for topping)
1/4 cup powdered sugar
8 oz cream cheese
1 tub cool whip
1 cup powdered sugar
1 large package instant chocolate pudding
2 cups cold milk
Instructions
For the first layer, melt the butter and mix the first four ingredients together. Press into a greased 9×13 inch baking dish. Bake for 15 minutes at 375 degrees or until lightly browned.
For the second layer, combine the cream cheese, 1 cup of cool whip and 1 cup powdered sugar. Spread onto cooled first layer.
For the third layer, beat together the milk and pudding mix until thick. Spread onto second layer.
Top with remaining cool whip and chopped walnuts or pecans. Refrigerate until ready to serve.
Linking up to these parties: