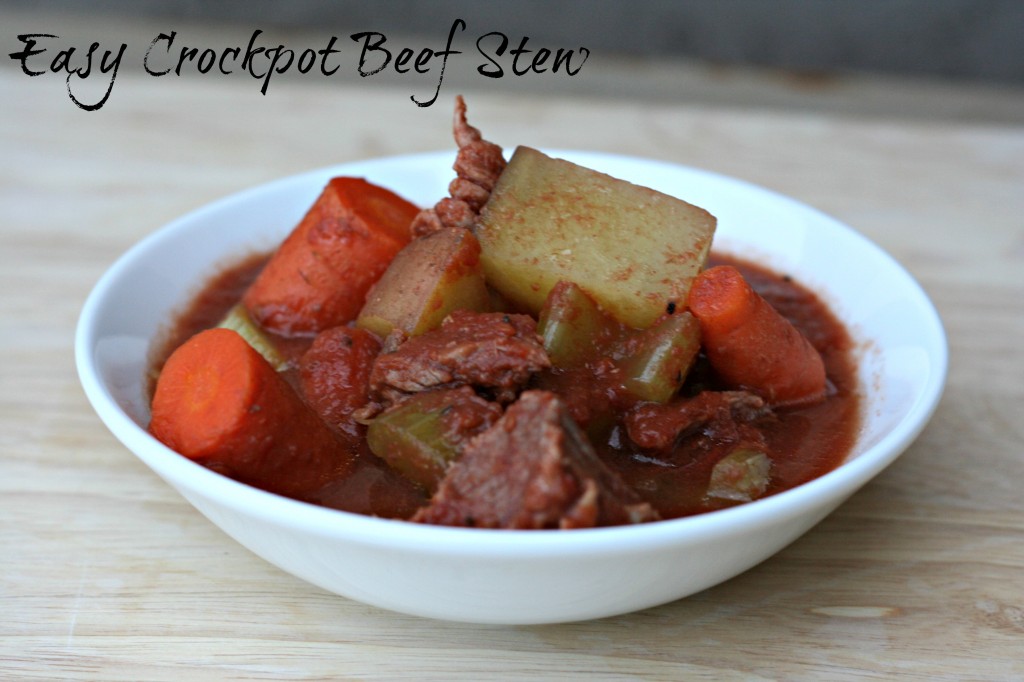 With arctic weather making its way across the Midwest, I felt like it would be a great time to share my favorite beef stew recipe. It's a great comfort food that warms you up inside. It's also incredibly easy! It's got only a handful of ingredients with minimal prep work and then you toss it all into the crockpot and walk away.
We don't exactly have cold weather here in AZ, but I love to make this stew in the fall and winter on those "cool" nights. I also bring my crockpot along every year on our summer vacation up in Colorado. I can always count on at least one chilly day to make this. It was while we were in Colorado that this stew also got the nickname "Thumb Stew." One ill-fated morning in 2009, I was prepping the stew to go into the crockpot. I was chopping the celery when disaster struck and I almost added about 1/4″ of my thumbtip to the recipe. What came out of my mouth at that moment isn't appropriate for a family audience, so I'll let you use your imagination. Thankfully my mom happened to come with us that year and heard my expletive from her bedroom in the cabin and came to see what had happened. She woke my husband up and took care of the boys while he bandaged me and we took a ride into town to the hospital where they stitched my thumbtip back on. To this day, I still break out in a cold sweat any time I chop celery.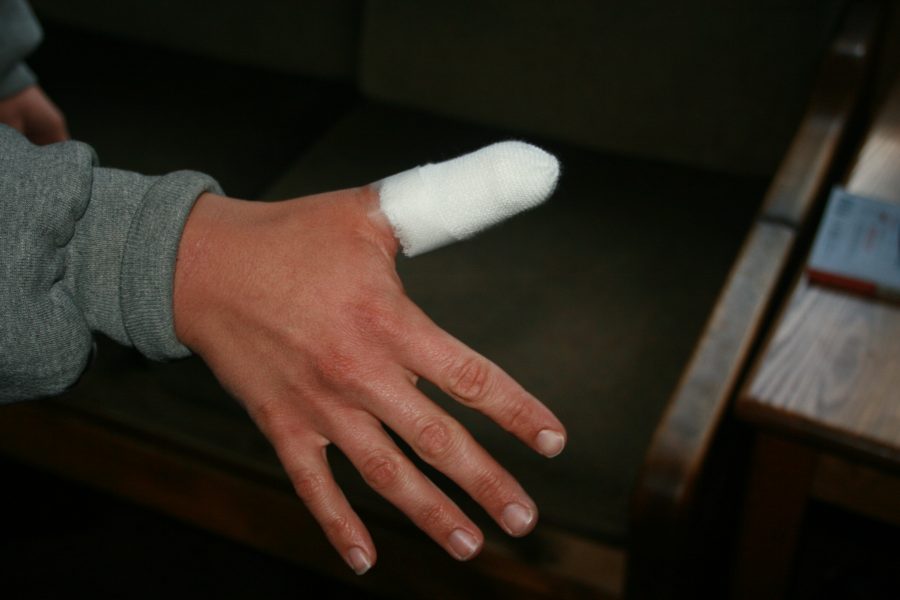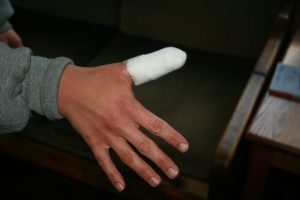 I also learned that trip to never leave the hospital saying "the trip can't get any worse." Two days later I came down with strep throat. Worst. Summer vacation. Ever.
Back to the stew. Here's the handy recipe for you. Just please don't be like me and try making it "Thumb Stew." Oh, and for those of you who love healthy recipes, this is low fat! Our favorite way to enjoy this stew is with some piping hot Grands biscuits. Those aren't exactly low fat:)
Easy Crockpot Beef Stew
2014-01-08 09:58:12
Nutrition Facts
Amount Per Serving
* Percent Daily Values are based on a 2,000 calorie diet. Your Daily Values may be higher or lower depending on your calorie needs.
Ingredients
2 lbs. beef stew meat (cut into bite-sized pieces)
4 or 5 red potatoes (depending on their size) chopped into 1 inch pieces
1 lb. carrots peels and cut into 1 inch pieces
5 stalks celery chopped into 1/2" pieces
2 - 28oz cans crushed tomatoes
1/2 tbsp kosher salt
1 tsp ground black pepper
1/2 tsp garlic powder
1 tsp onion powder
Instructions
In your crockpot, combine all ingredients and cook on low for approximately 8 hours or on high for approximately 6 hours. The stew is ready when the vegetables are fork tender. Adjust seasonings as necessary and enjoy!
Notes
My husband and boys don't like onions, so I use onion powder in this recipe to add flavor. If your family is okay with onions, you can add 1 diced, medium onion.
Addicted 2 DIY https://addicted2diy.com/
You can find me linking up to these fun parties:
Thrifty Thursday Link Party @ Living Well Spending Less