Learn how to make a wooden headset stand in as little as an hour. It's a great way to store your headphones or make it as a DIY gift!
Are you looking for an attractive way to hang up your headphones at the end of the day? Perhaps you're looking for a way to help your kids hang up their headphones? Today's project is a DIY wooden headset stand that you can make in as little as an hour!
The monthly DIY challenge I host is a week late this go around, but the theme was a DIY gift. The rules were simple. Make some sort of handmade project that would be great to give as a gift. This wooden headset stand is a perfect gift idea for anyone who has a headset or headphones, or pair it with a new set of headphones or a gaming headset and you'll definitely be a hero! Be sure to keep reading to also see the other projects my talented, fellow bloggers have come up with!
How to make a wooden headset stand
For this stand, I used a scrap piece of ambrosia maple that I had leftover from a previous project. It was 5″ wide x about 7/8″ thick. I cut a 5×5 square and also a piece that was 12″ long
I didn't use a template or anything to draw out the stand. I just grabbed my speed square, and used what I had on hand to help draw out the template. I made the stand narrower than the base and used a stain can and a plastic cup to draw the radiuses.
With my template drawn out on the wood, I grabbed my jigsaw and cut it out. You can clamp it to your workbench to do this. I used my Kreg Sawhorse to clamp it down and it worked out great.
With the stand cut out, it was time to sand it. You can do this with a spindle sander, orbital sander or, in my case, a large belt sander.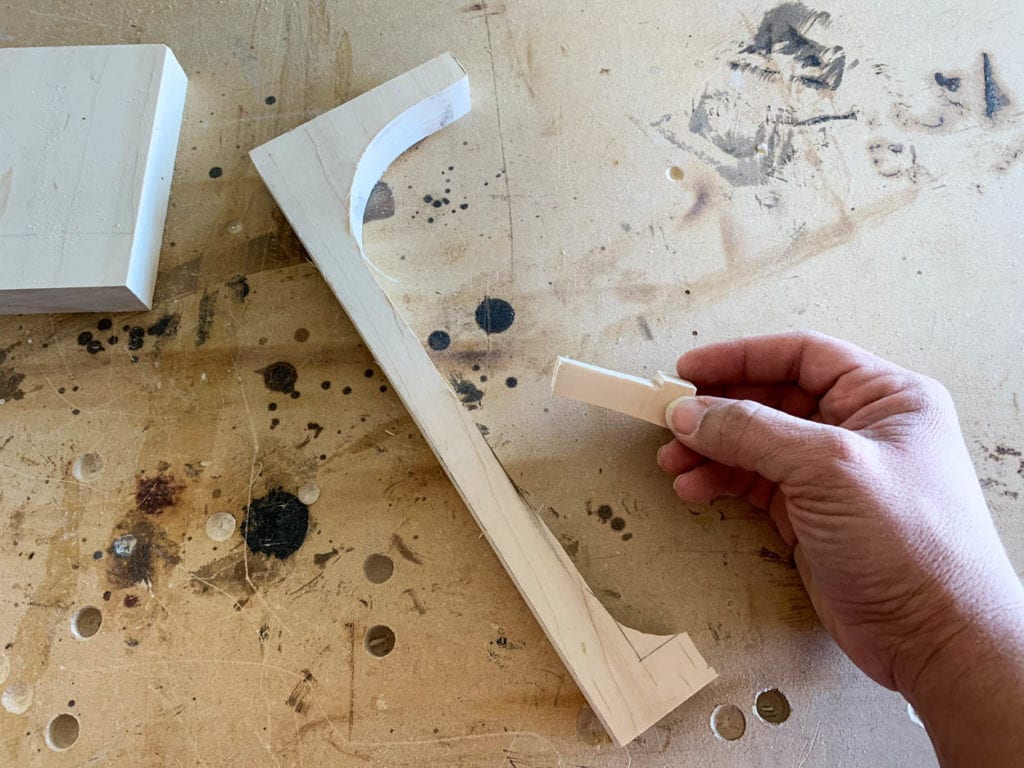 Unfortunately, during the sanding process, I accidentally broke off the top part of the stand. Thankfully all was not lost and I decided to just flip it over and keep going. I sanded it down some more to clean up where the wood broke.
This next step is completely optional, but I used a chamfer bit on my router table to add a chamfer around the base and also all around the stand. It really made the stand look so much cleaner. I'd equate it to the difference between a casual dinner and a black tie affair. I sanded everything down with 220 and 320 grit sandpaper.
With the base and stand all prettied up, it was time to connect them. I happened to have a 3/8″ dowel, so I decided to use that to attach the two together. I marked the locations on both the base and stand where I would drill my holes with a pencil.
I wanted the holes to be 3/4″ deep, so I marked the end of the drill bit with tape to act as a guide. I drilled the holes into the base and stand. My only regret when doing this is not drilling a smaller pilot hole to act as a guide for my drill bit. The bit got a little off center as I was getting the hole started, so the stand is not perfectly centered on the base anymore. It's annoying, but a mistake I'll learn from.
Once the holes were drilled, I added some glue to the dowel (which I cut to be about 1 1/4″ long) and then some glue to the hole in the stand and attached the two together.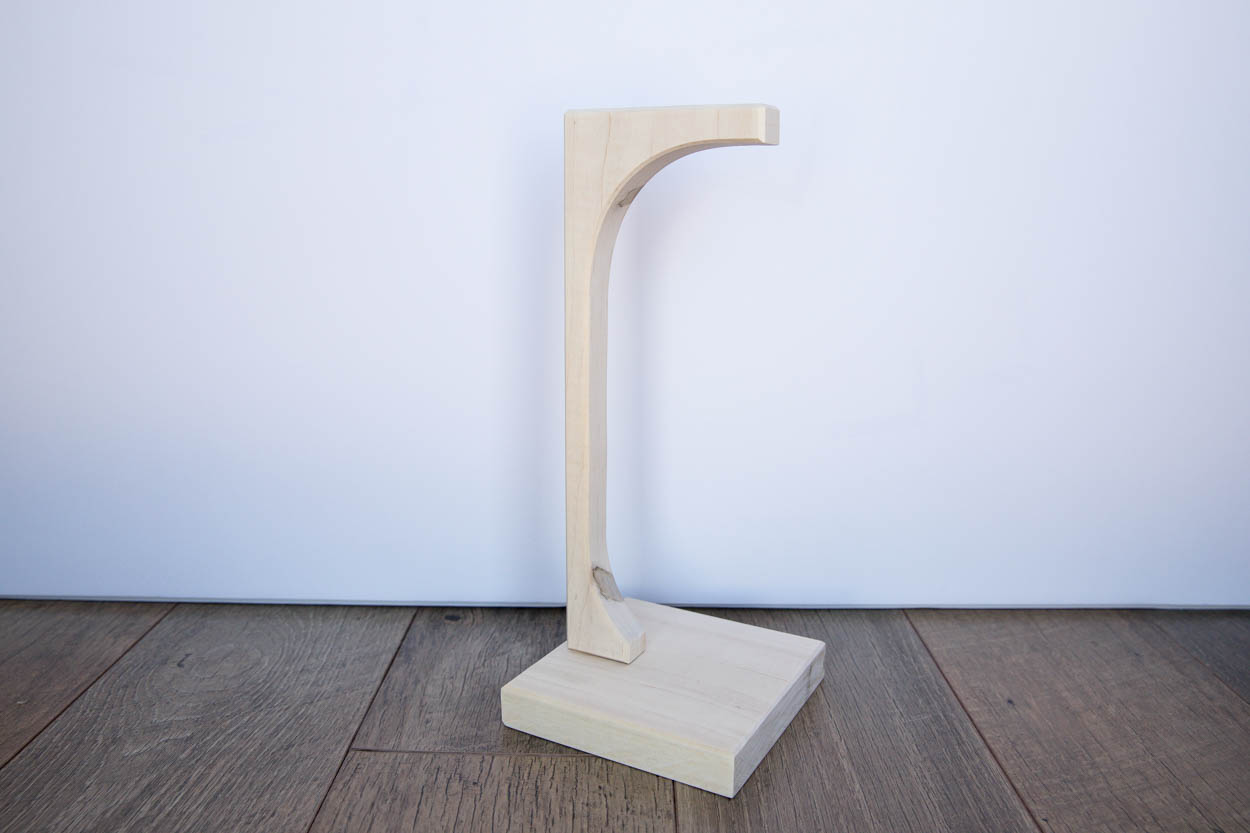 The wooden headset stand held my son's gaming headset perfectly and holds it high enough above the base that it can also charge without the cord getting pinched. My oldest son loves it and couldn't wait to put it on his gaming desk that I built him. I'll be building one for my youngest as well, but his will also have a spot to hold his X-Box controller.
Monthly DIY Challenge – Handmade Gifts
Make sure you check out the handmade gift projects from my talented blogging friends! It's sure to give you some great inspiration for this year's holiday season!
The Inspired Workshop