UPDATE! I have received so many requests about selling these towels and I am happy to announce that I have just opened up an Etsy shop and these are now for sale! You can see them in my Etsy shop HERE. I'll be adding more products soon, but I know how many of you have been patiently waiting for these to go on sale.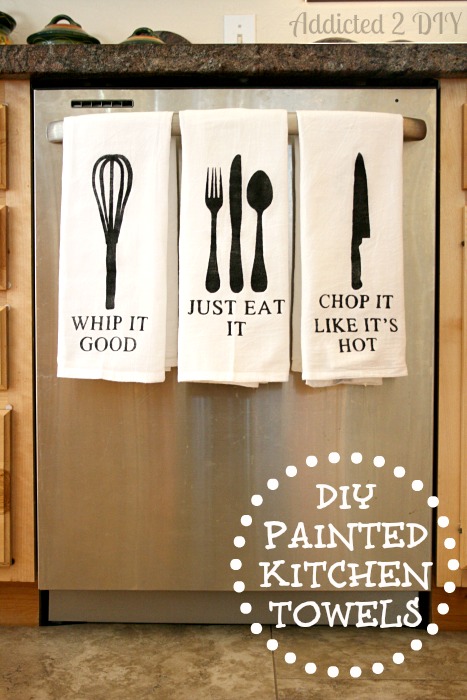 Hey everyone! Today I'm sharing my latest project that features a little kitchen humor. While country music is definitely my all-time favorite, I like to consider myself well-rounded when it comes to music. I pretty much like everything. I thought it would be fun to make some kitchen towels that had a funny musical twist to them. Enter Michael Jackson's "Beat It," Devo's "Whip It," and Snoop Dogg's "Drop It Like It's Hot." I changed them up to have a kitchen reference (although Weird Al Yankovic did sing "Just Eat It") and created some fun stencils to make kitchen towels. I've included the links for the free SVG files I made for these stencils at the bottom of this post.
Here's what you'll need:
3 kitchen towels (I got a 4 pack of floursack towels at Target for about $3.50)
1 bottle of fabric paint (I used Americana multi-surface paint)
1 – 24″ sheet of vinyl
1 foam paint brush or stencil brush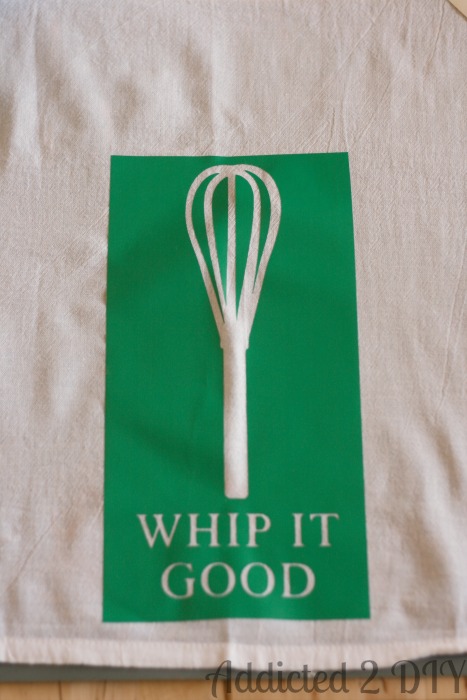 First I cut my design out on my Cricut and then centered it onto the bottom of the towel. I also laid it out on a mat to protect the table underneath. These towels have a fairly loose weave to them, so some of the paint definitely soaked through to the mat.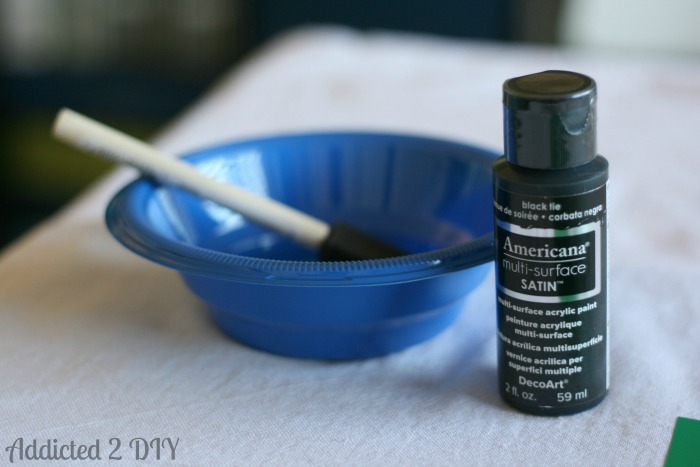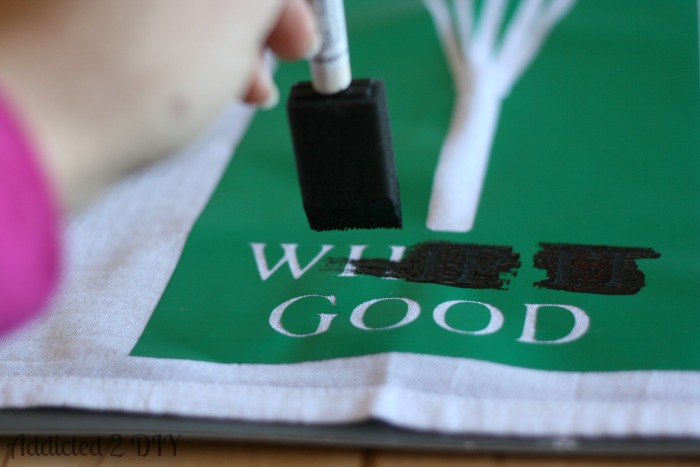 Using my foam brush, I dabbed the paint onto the vinyl stencil over the entire design.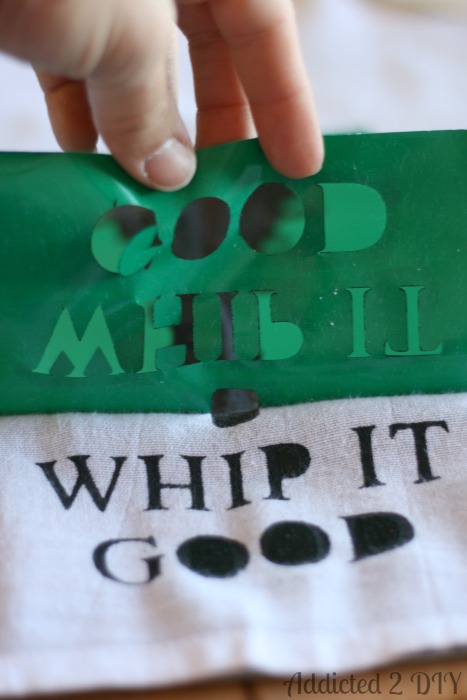 Once I painted the entire design, I carefully peeled up the vinyl.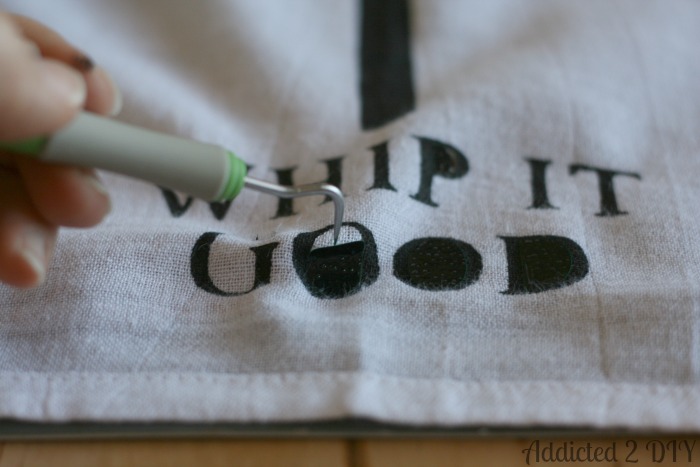 I used my weeding tool to peel up the centers of some of the letters. The paint was still wet, so I had to be careful not to get any on the towel.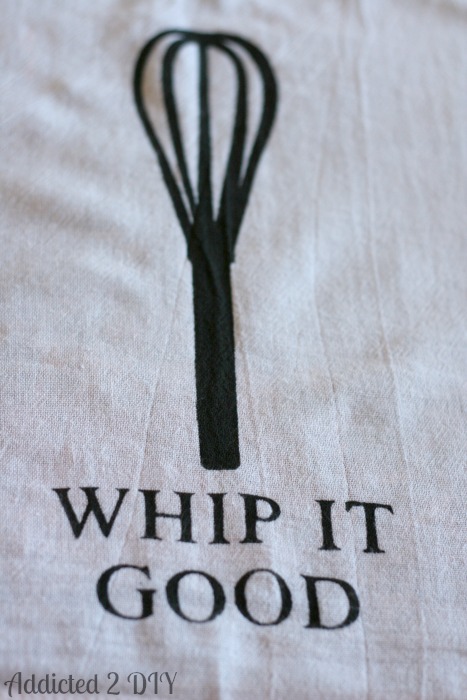 And here's the finished design! I hung it off of the back of a chair for a while to let it try before I folded the towel.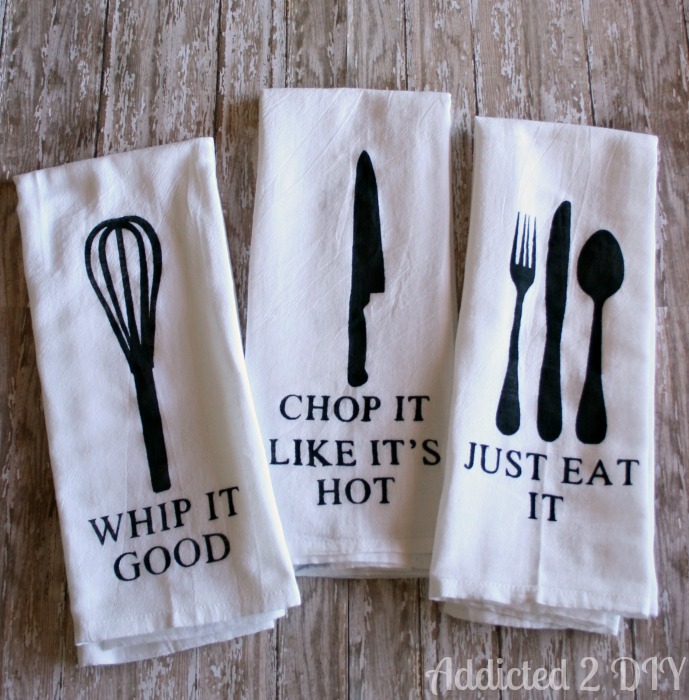 I then repeated the same steps for the other two towels. Aren't they fun? I've now got them proudly hanging in my kitchen.
Here are the links to the SVG files to cut the stencils:
THESE FILES ARE FOR PERSONAL USE ONLY. THEY ARE NOT TO BE MADE FOR RESALE OR THE FILES SHARED WITH OTHERS TO SELL. THANK YOU.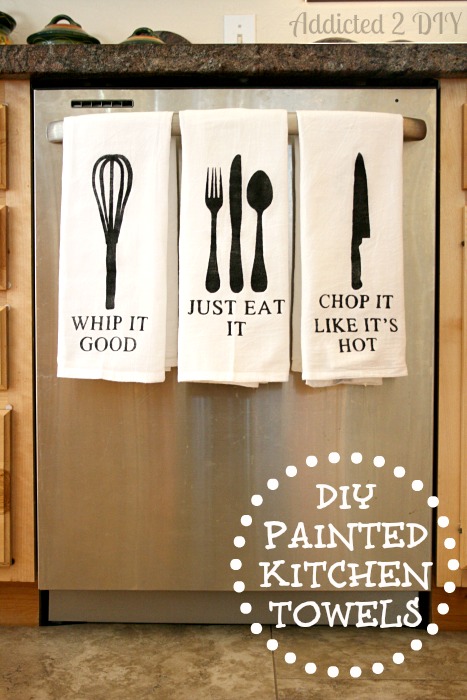 I hope you like them as much as I do. I always like to find ways to add some humor into my life. It keeps things fun! These also make great gifts for a housewarming, Mother's Day, or for the favorite cook/baker in your life.
~Katie
{This post contains affiliate links in which (at not extra cost to you) I will receive compensation if you order any products from the link.}
Linking up at these parties:
Just A Girl and Her Blog, Delineate Your Dwelling, The Pin Junkie, Play. Party. Pin., Upcycled Treasures, I Heart Naptime