Hey everyone! With the holidays behind us, most people (myself included) are now thinking of ways to better organize our homes, lives, etc. I have told my husband several times already that 2016 will be a year of mass organization in our house. I'm so tired of things not being organized and of the clutter that seems to multiply in certain areas of our home. Seriously, I don't even know how this happens or where this stuff comes from! Thankfully the wonderful folks at Crates and Pallet partnered with me to start my organizing mission off on the right foot!
I've been working on giving my oldest son's room a major facelift and one of the biggest thorns in my side has always been his closet. Here's the scary before pictures of what his closet looked like. Even I'm a little afraid to look!
UPDATE! Enter to win a $50 Home Depot gift cart to use in stores or online! Look for the entry form at the bottom of this post!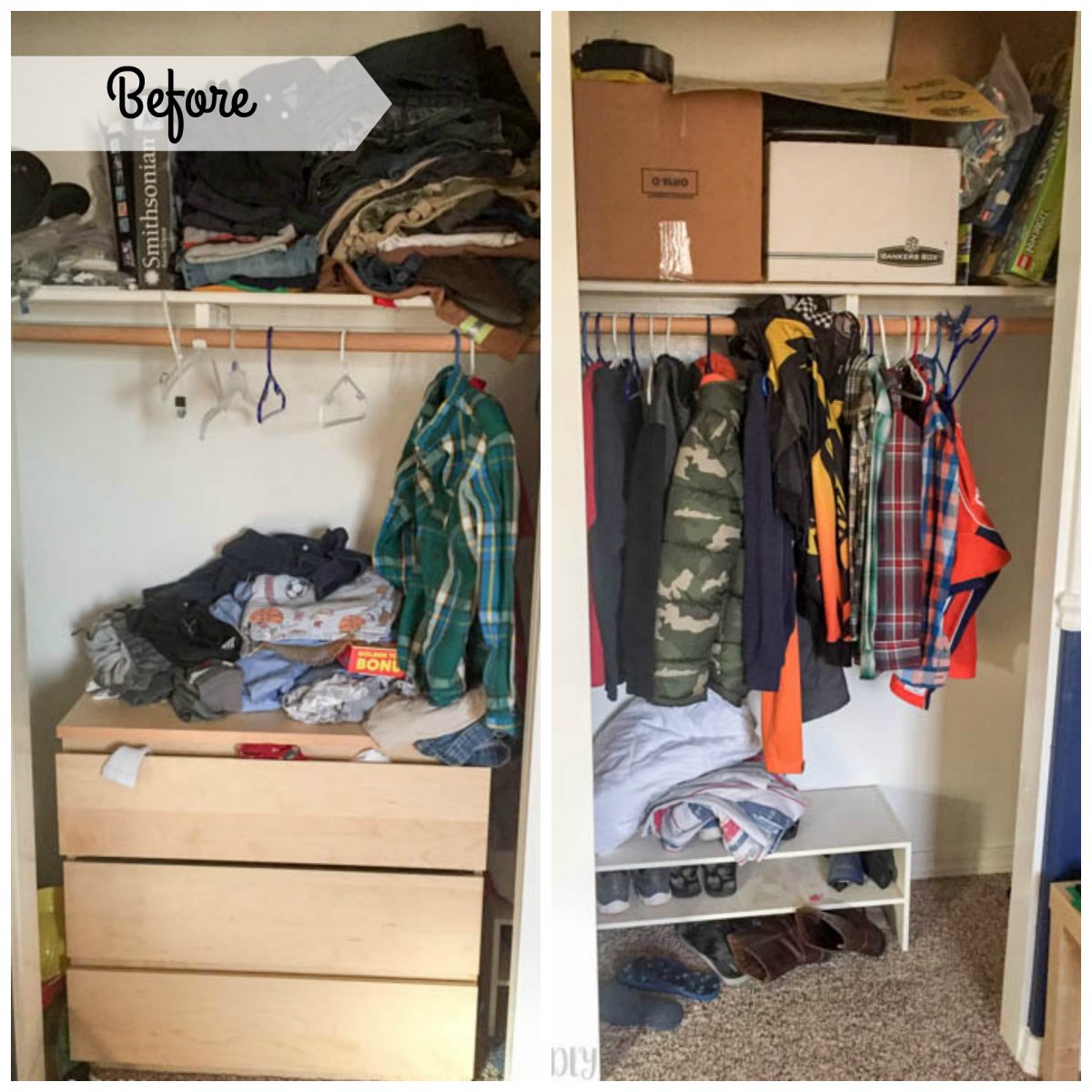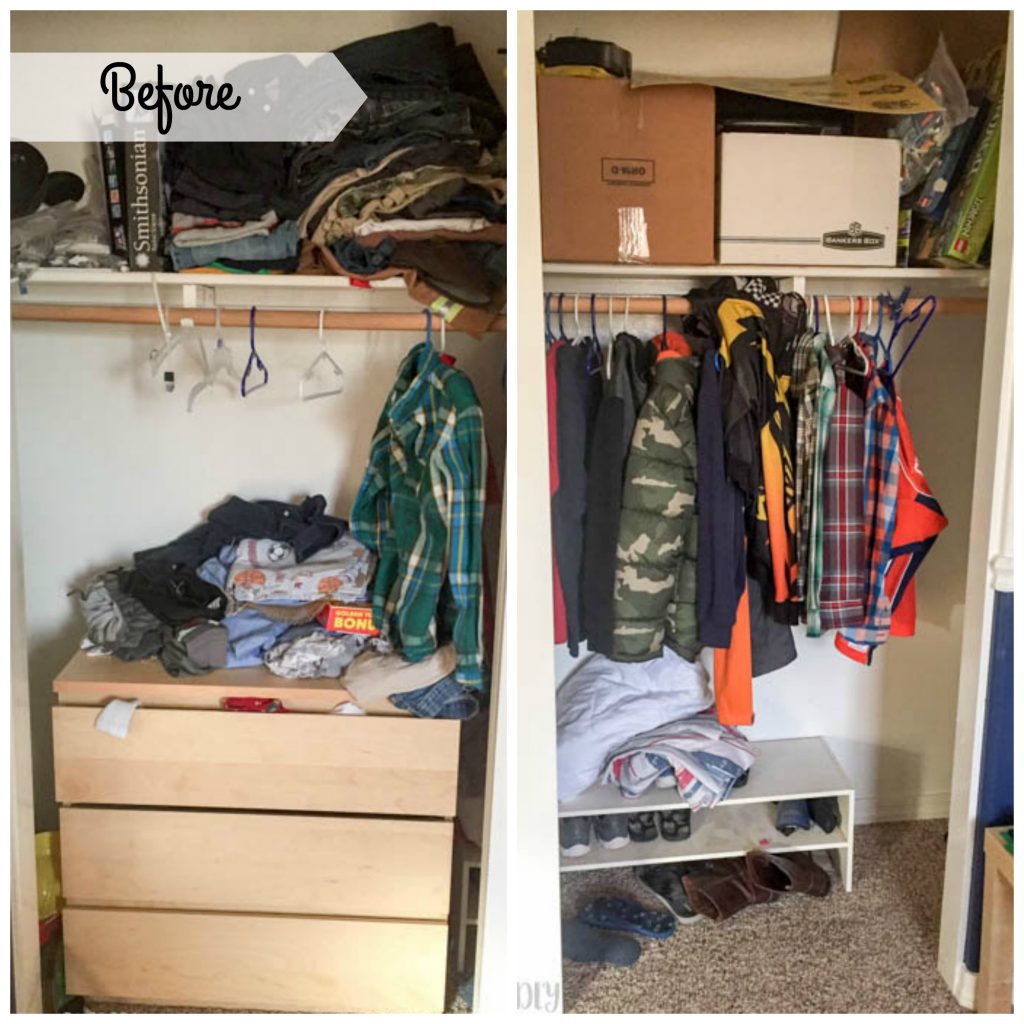 It seemed that no matter how many times I would try to organize my son's closet, a week later it would look like this again. His sheets and shoes would just be tossed around, his clothes that I asked him to hang were never hung up, because it was just easier to toss them on top of his dresser. Each side of his closet also had a good amount of space that was just wasted. It ended up becoming a black hole for things to fall down and never be seen again. His upper shelf was where I would fold and stack his clothes that were too small and just waiting for his little brother to be big enough to wear them. It also was a storage place for things that were temperature sensitive (pictures, mementos,etc.) that couldn't go in the attic. This tiny little IKEA dresser was moved to another side of his room. I'll be building him a new, much bigger dresser in the coming weeks and donating this one to Goodwill.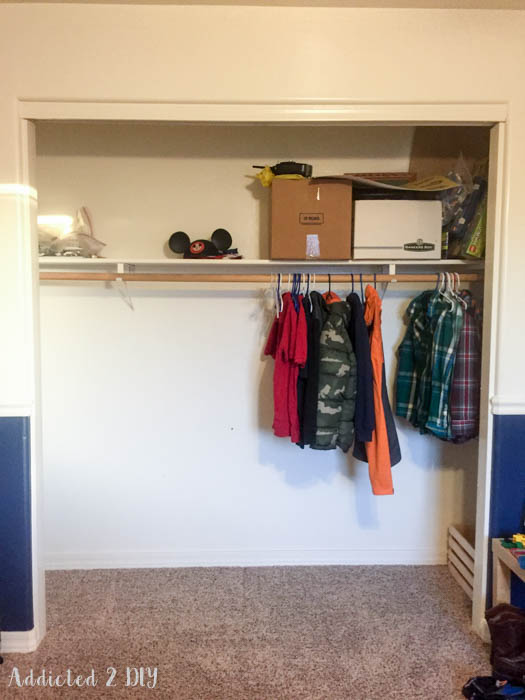 The first thing I did was take his doors off. Personally, I can't stand sliding closet doors. They always get in the way and I just feel like the entire closet can't actually be used when you can only access half of it at one time. Those doors had to go. I emptied out his entire closet and started going through everything to determine what would be kept, donated, or tossed. Some of the stuff that used to be stored up there is going to be stored elsewhere. I've got some ideas for that, so hopefully they pan out!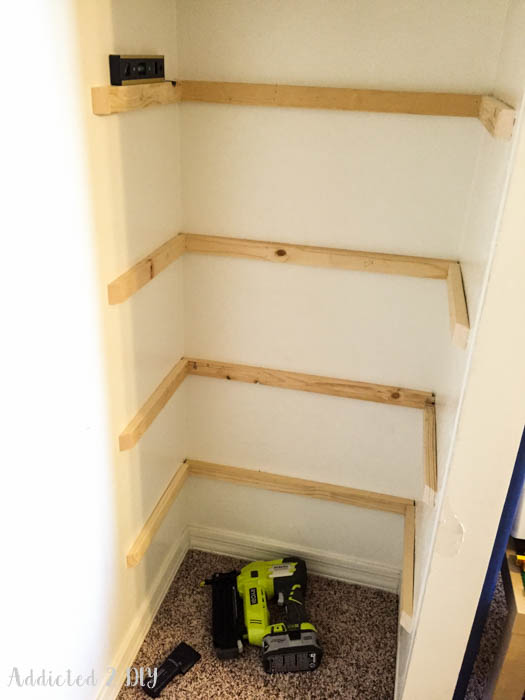 My and husband I worked together to get his closet into ship shape by installing shelving in the extra, wasted space. We started by adding 1×2 cleats to the walls. One in the back and one on each side for the shelves. For the side pieces, we cut the ends at 45 degrees so there would be a smoother transition. We nailed them into the studs using 2″ brad nails and then added a few more for good measure;) Because nobody's closets are equal, I can't really give you measurements. What we did do was run the back cleat along the entire back side of the wall, then for the side cleats we stopped them an inch short of the shelf edge. We used 15″ MDF shelving for this project. The height of the shelves will be totally up to you. I wanted mine to have about 12″ between them.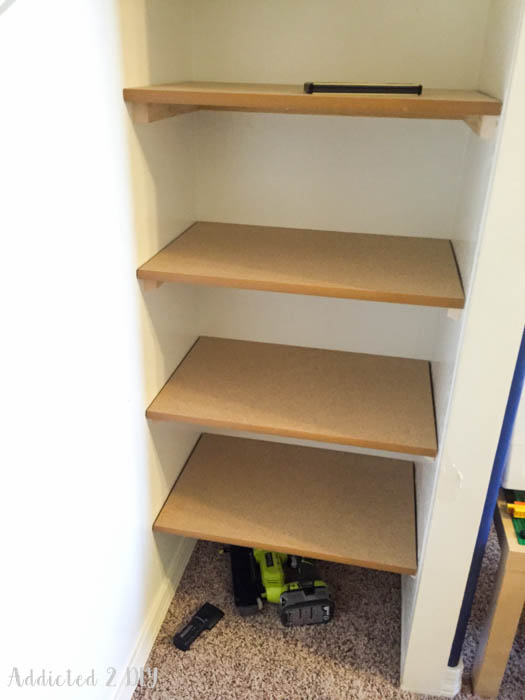 We found the MDF shelving at Home Depot for around $15 per 8′ section. We cut them down to size and then dry fit them in the closet. Of course, there were some bowed sections in the closet and it wasn't perfectly square, so there were a few gaps. We knew we'd easily hide those later with caulk.
We painted the shelves and the cleats before permanently installing the shelves. Once everything was dry, we nailed the shelves down to the cleats with 1 1/4″ brad nails. We covered all of the nail holes and the gaps with caulk and touched up all of the paint once it was dry.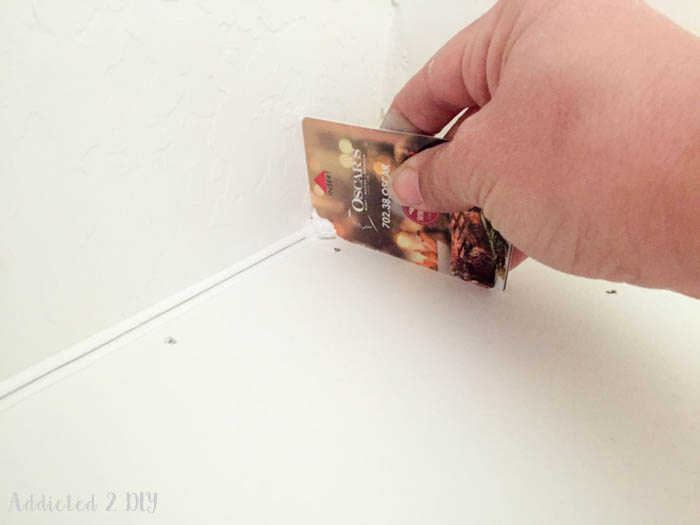 On a quick side note, if you happen to have old gift cards (or in our case, hotel keys) lying around, they make smoothing out the caulking so much easier and cleaner!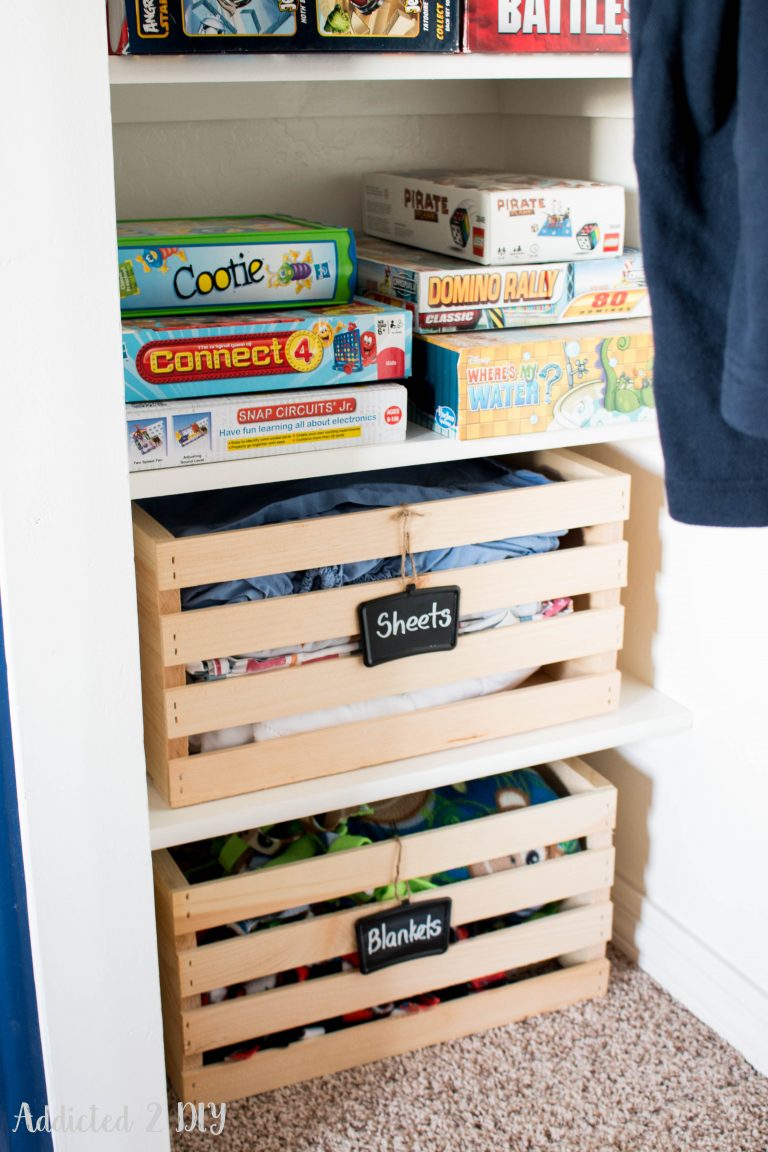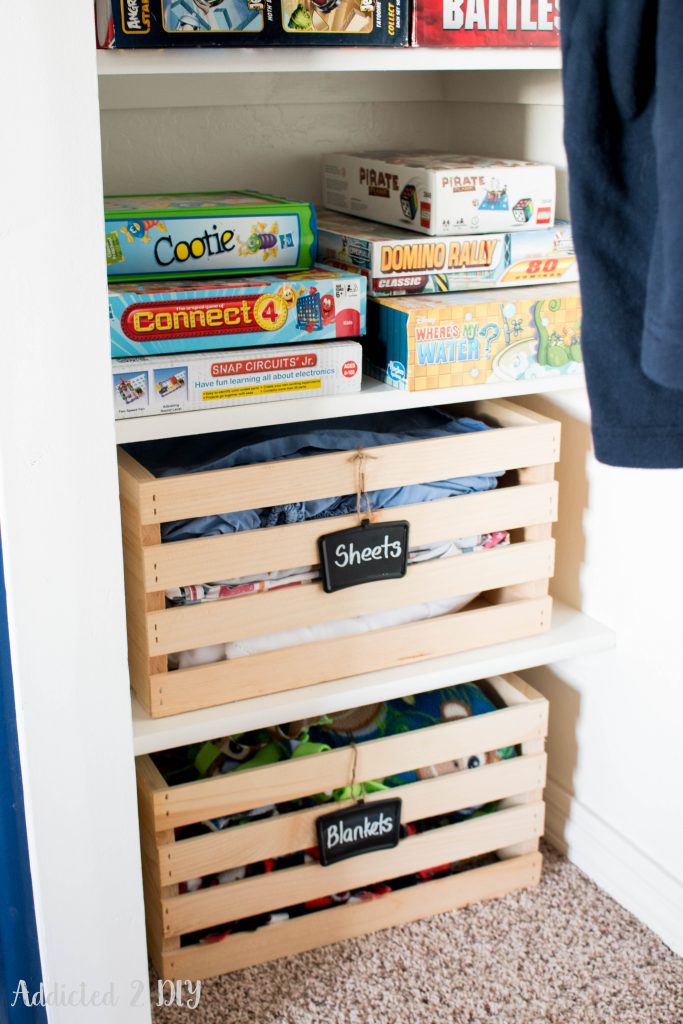 I could hardly wait for all of the paint to dry to start getting the closet organized. I used large crates from Crates and Pallet, which you can find in stores at Home Depot, to store blankets and sheets on the left side of his closet. The rest of the shelves became storage for board games. All of the games were once stored in an IKEA Expedit bookcase that will also soon be moved out of his room when his new dresser is built. I found the chalkboard tags at Target and they worked perfectly for labeling the crates!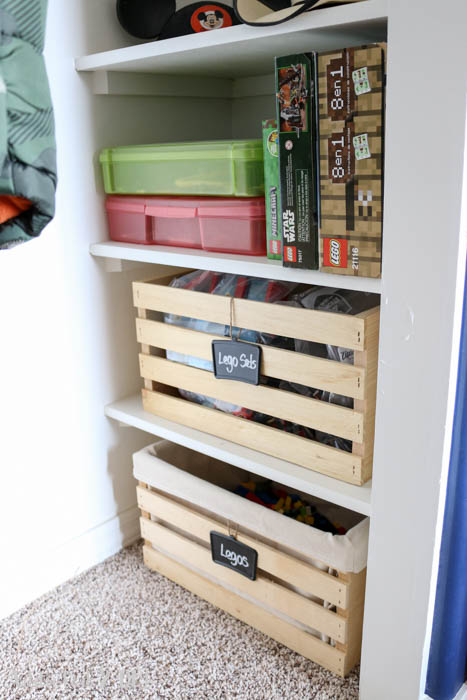 The other side of his closet is being used for Lego storage. Both of my boys have a lot of Lego sets, yet they always seem to stay in my oldest's room. I wanted to make sure there was a place for all of them to stay organized and they boys could just pull them out when they wanted to. The bottom crate will hold loose Legos and the crate above it will be for Lego sets. I get a little crazy about Legos getting mixed up, so I use big zipper bags to keep the individual sets organized as long as I can. I'll be sharing a tutorial later on how to make your own canvas liners for these crates. It's so simple!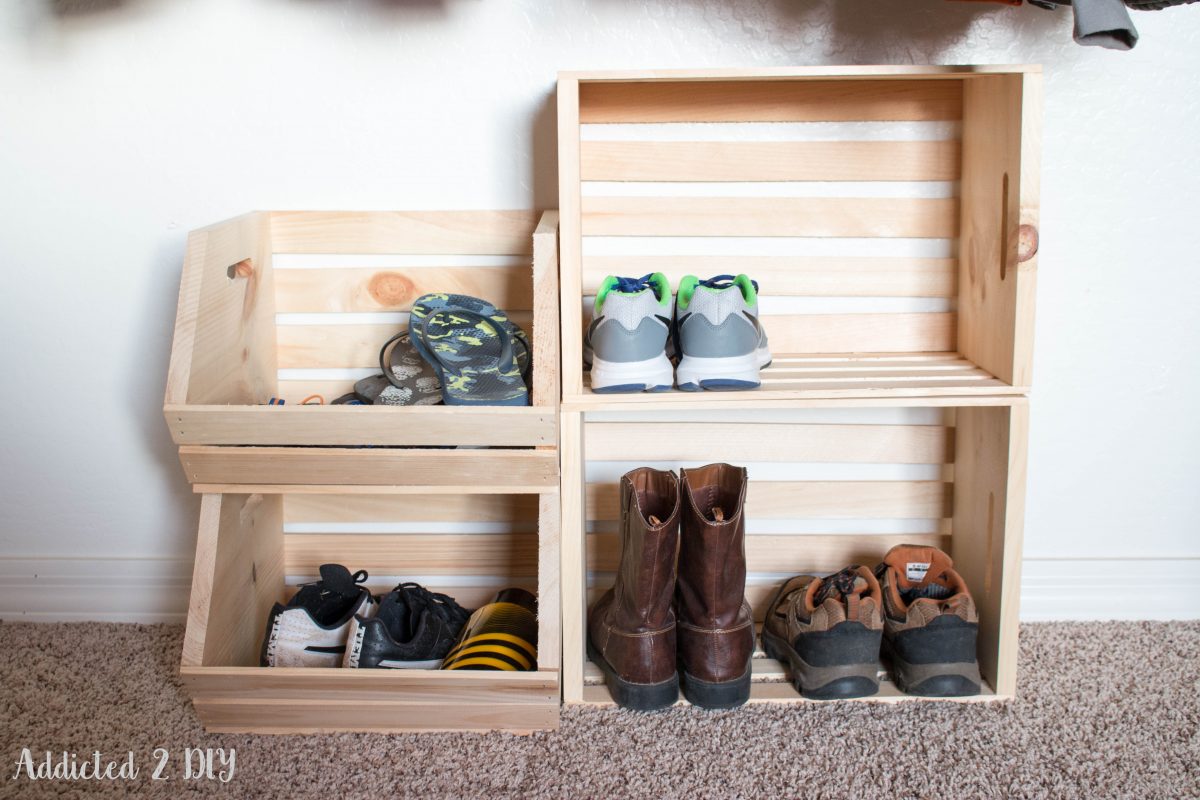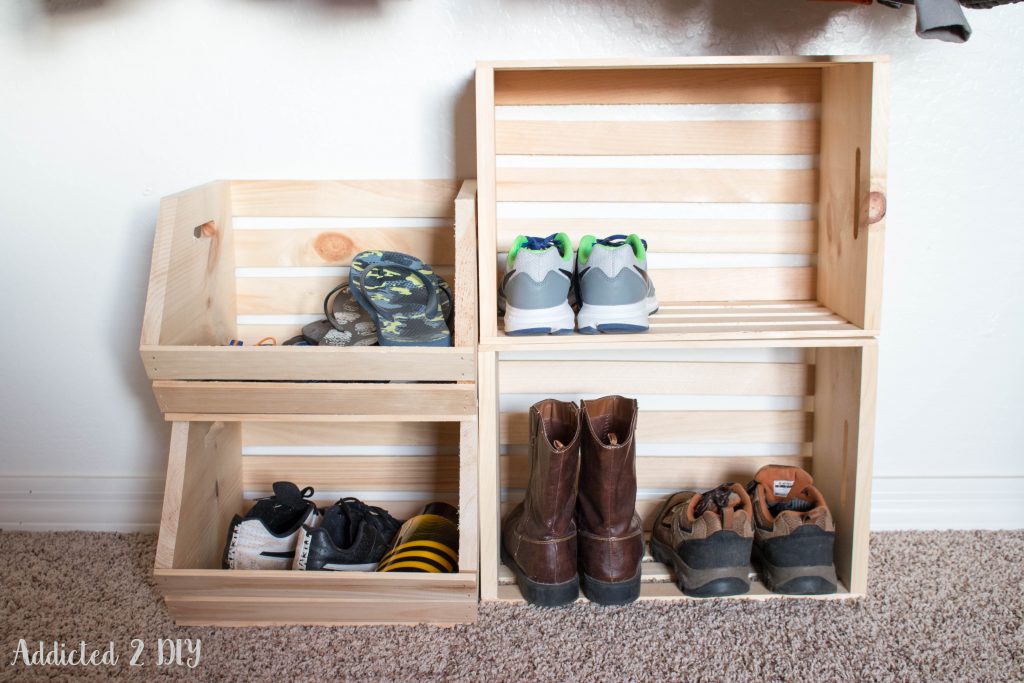 To keep his shoes organized, I used the Crates and Pallet vegetable crates and the large crates. The vegetable crates can be purchased online at Home Depot and they stack on top of each other nicely. It's a perfect place to store his soccer cleats and shin guards as well as his flip flops, but there are so many possibilities! The large crates fit his other shoes perfectly. I love how easy it is to make storage with these crates and how a shoe storage system can be customized in so many ways by just stacking them differently.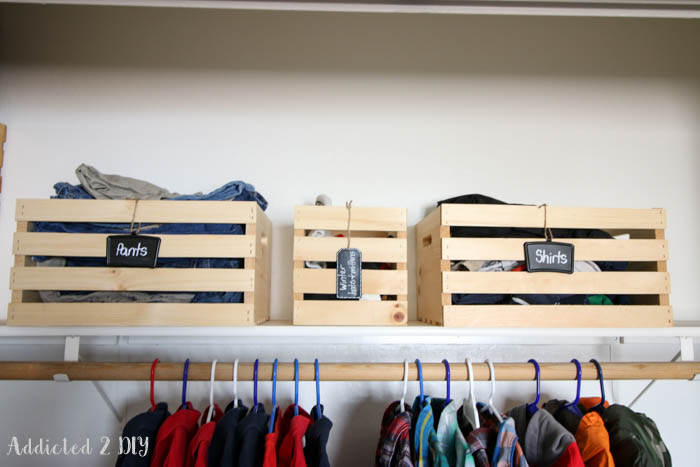 For the top shelf of his closet, I used large crates and a square crate for more storage. I'm able to neatly store and keep his outgrown clothes organized and ready to pass down to his little brother. The small crate works perfectly for keeping his mittens and beanies in one place. I'm loving that he's now able to reach his shirts in his closet and also can hang them nicely without being tempted to just toss them on the little dresser that was in there.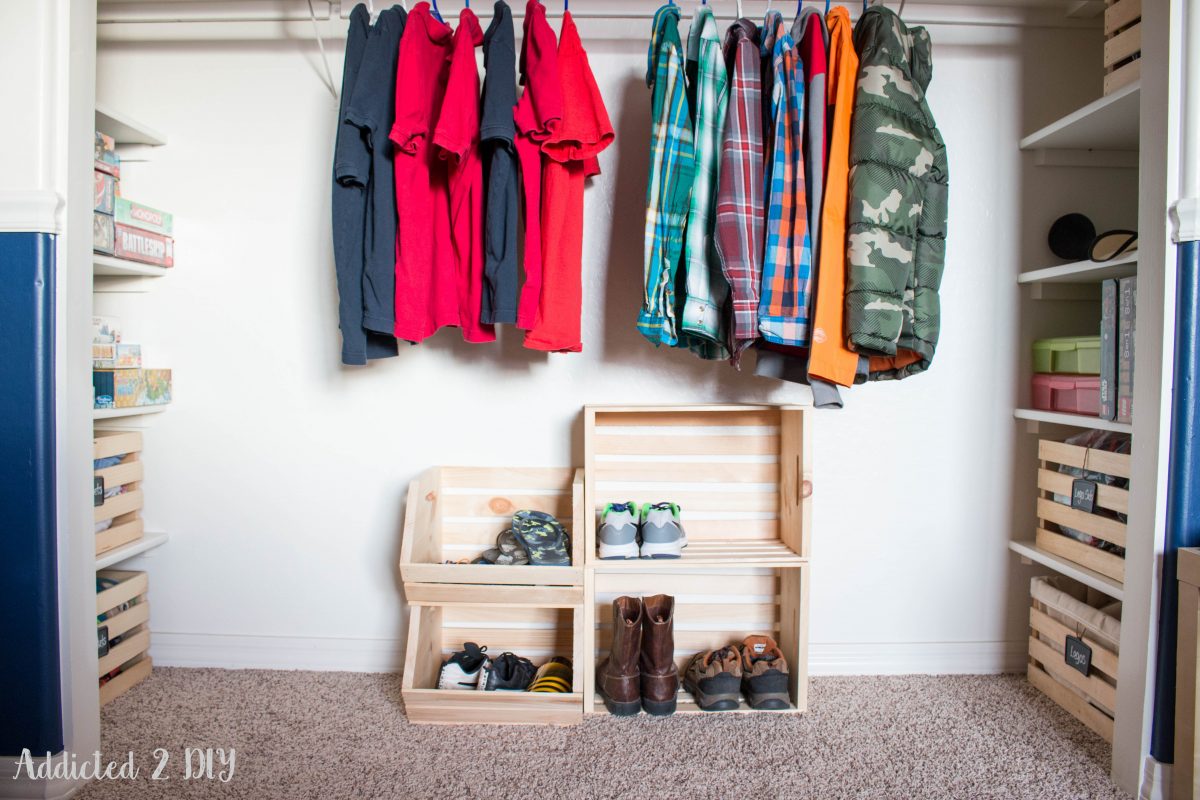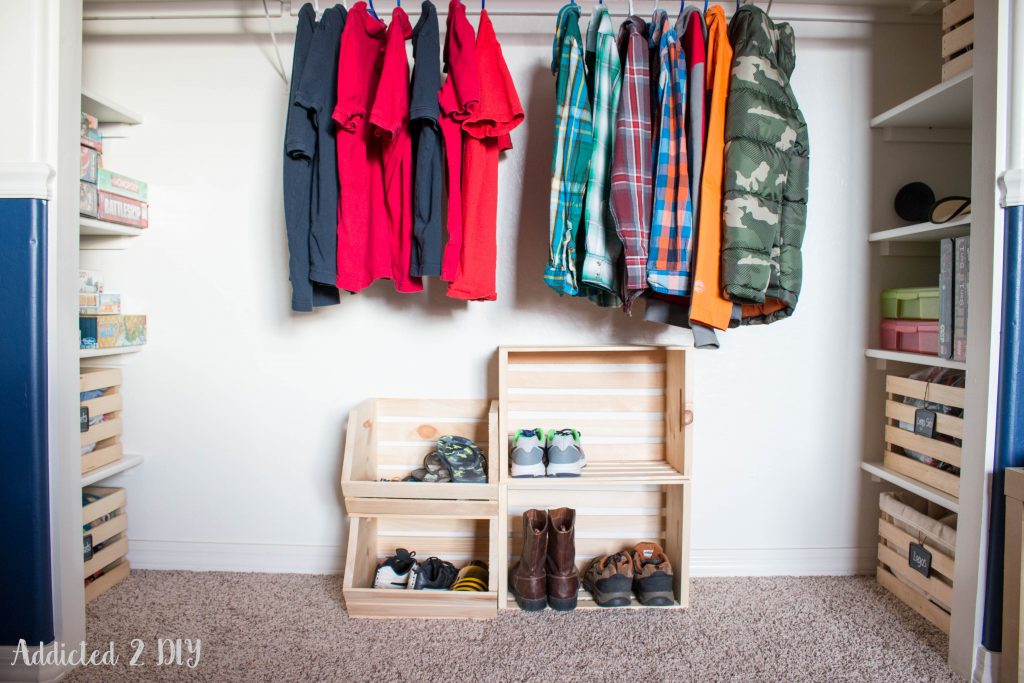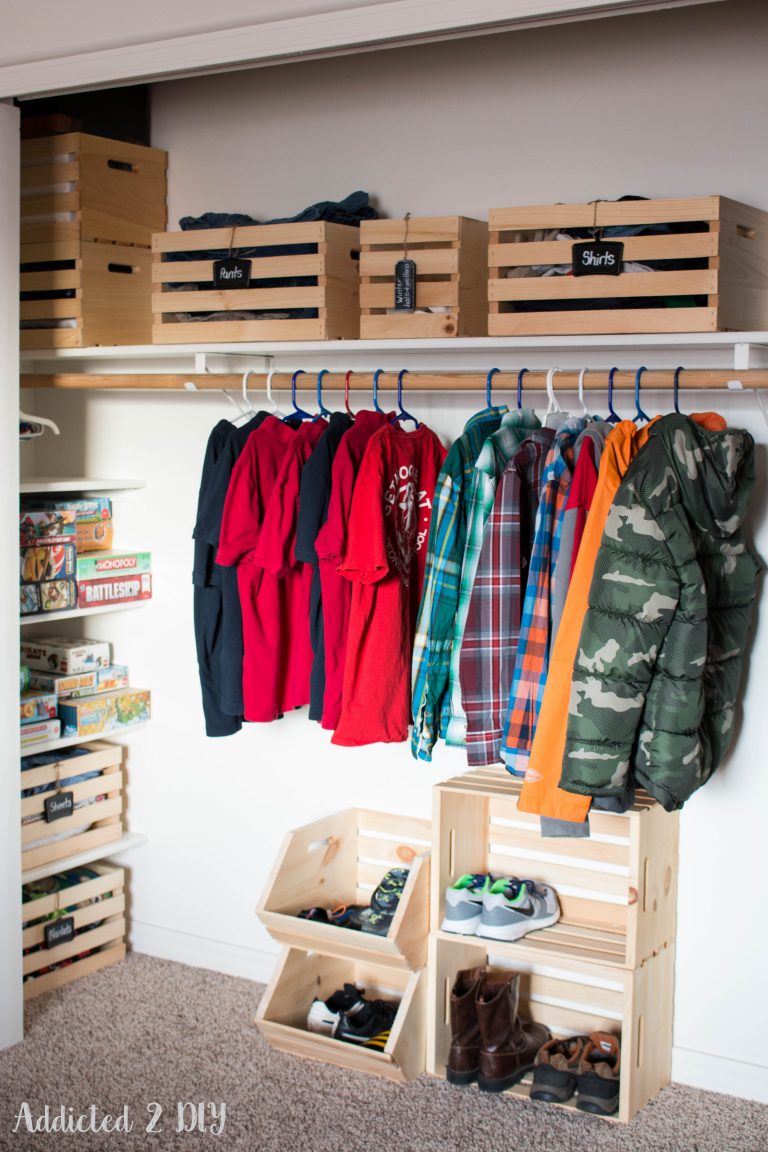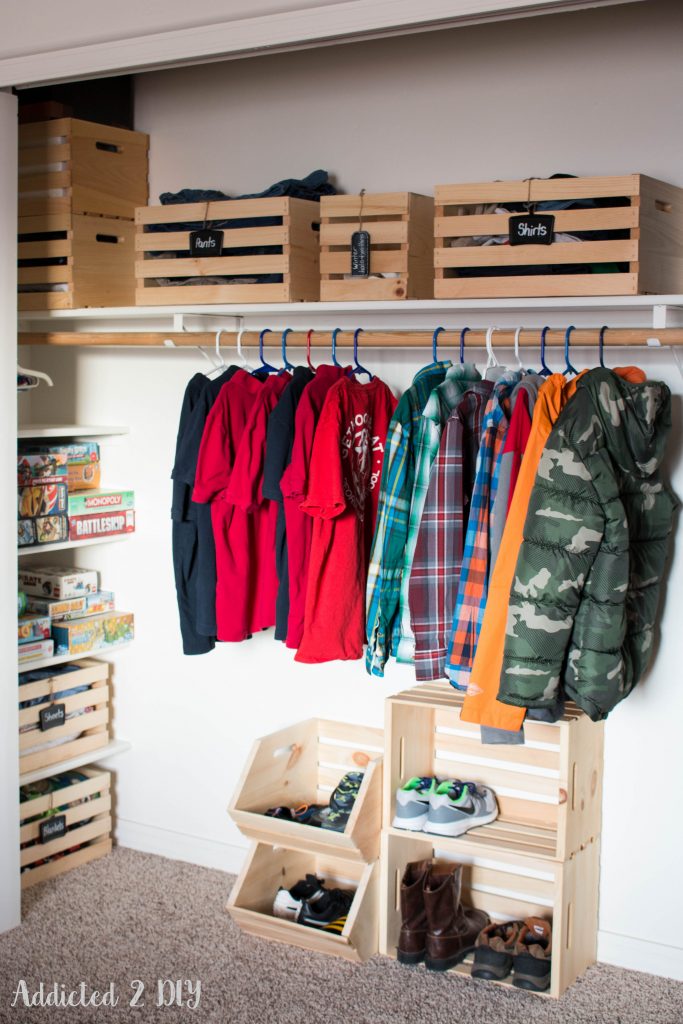 I am so happy with how my son's closet looks now. It's so neat and organized, plus removing the closet doors makes his room feel so much more open. Plus, if the doors are off, it means he won't be able to ignore his closet when he cleans his room. It's been over a month since I've finished this project and his closet has stayed neat and organized, which definitely makes me one happy mom! I love using these crates to create storage and I plan on using more throughout my house as well!
If organization is on your to-do list for the year, or you have any other projects you want to tackle, enter to win a $50 Home Depot gift card using the Rafflecopter widget below!
DISCLOSURE: This post was sponsored by Crates and Pallet; however, all opinions and ideas are 100% my own. This post also contains affiliate links. Please read my disclosure statement for more information.