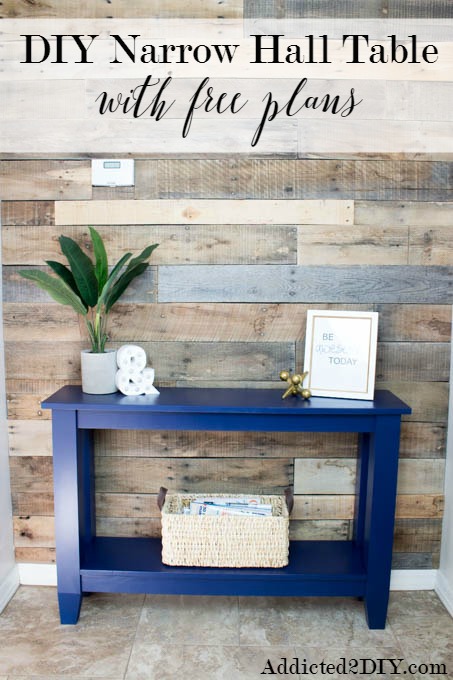 Hey everyone! Remember when I installed a pallet wall in my boys' hallway? I can't say enough how much I love how it looks! My plan has been to create a gallery wall on it with pictures of my boys and other decor, but it still felt like it would be missing something. It got me thinking that a narrow table would be perfect for this space. Something to balance everything out, and narrow enough that nobody would get hip checked when they walked out of a bedroom. I decided to build this simple table. It was quick, easy, and finishing it was super simple with my HomeRight Finish Max. By the way, I'm giving away a Finish Max and a Spray Shelter
at the end of this tutorial, so stick around!
Make sure you download the FREE printable plans for this project. It has the cut list and all of the materials you need to get started!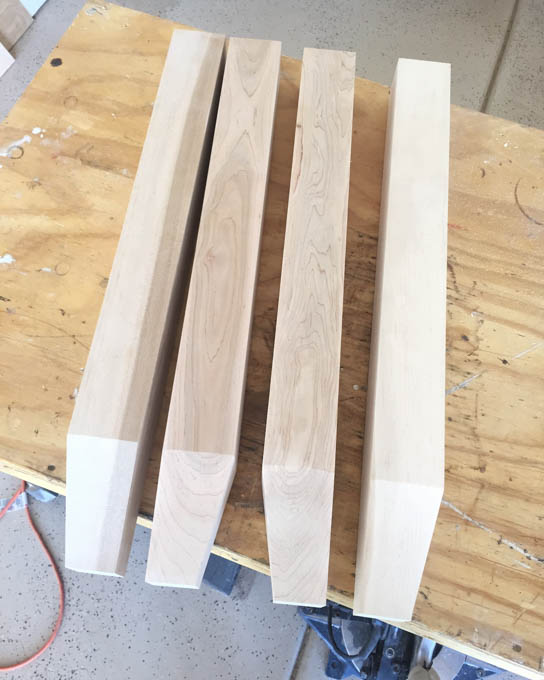 Before you begin this project, you'll want to order your table legs. These gorgeous legs came from Osborne Wood. They're made of soft maple, and I love their simplicity They fit right in with the modern farmhouse look I'm striving to achieve in my home. Whether or not I'm actually succeeding in that is another story.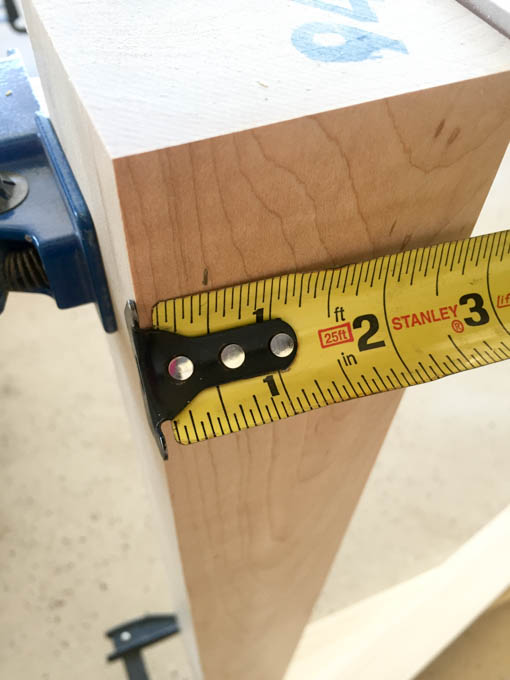 The first thing you want to do is mark each of the legs 1/2″ in from the edge. This is where the 1×3 pieces will go. Also mark 5″ up from the bottom of each of the legs. That is where the bottom of the 1×3 pieces will be placed for the bottom shelf.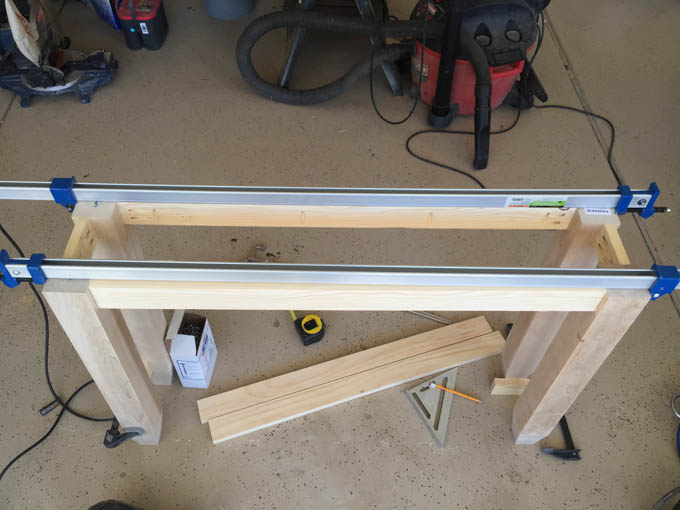 I built the top of the table first, attaching everything with wood glue and 1 1/4″ pocket screws. Projects like this are always interesting when you're building them by yourself. You pretty much turn into a contortionist trying to keep everything in place while you clamp.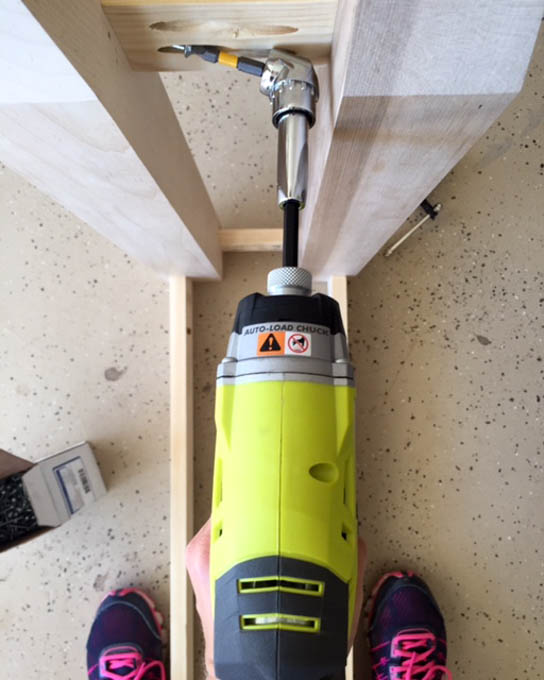 Driving the screws into the 4″ side pieces was a bit of a challenge. My impact driver obviously wouldn't fit, so I tried a ratchet. That was taking forever and I was losing my mind. Then I picked up this off-set adapter
and it was exactly what I needed to get the job done. It fit perfectly into the narrow space between the table legs. If you don't have one of these, I recommend getting one!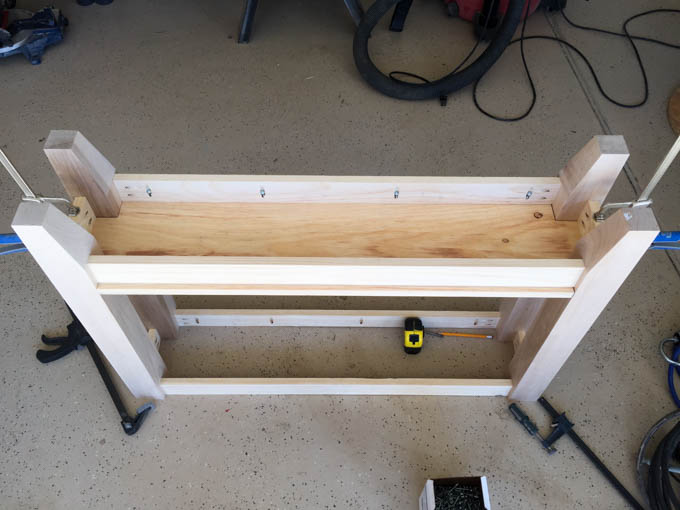 Before installing the bottom shelf, I cut the corners out to allow it to fit between the legs. You can use a jigsaw, but I love using my Blade Runner
for stuff like these types of cuts. Attach the bottom shelf using 1 1/4″ pocket screws.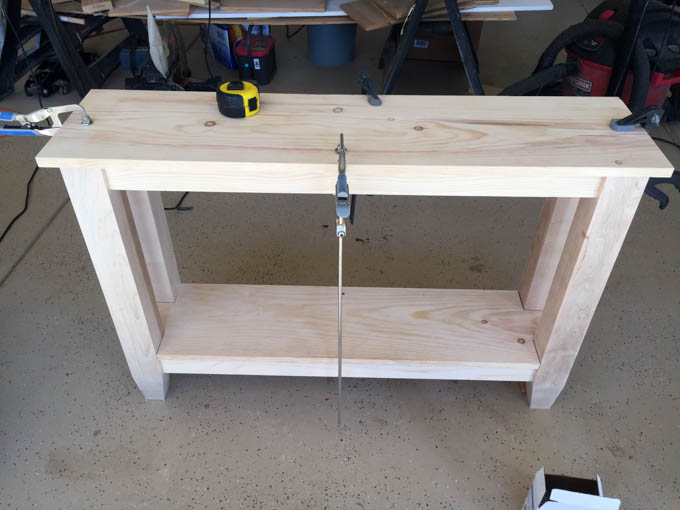 To attach the top, make sure there is about a 1″ overhang on each end and about 1/2″ on the front and back. Measure this from the legs, not the 1x3s. Clamp and attach the top with wood glue and 1 1/4″ pocket screws.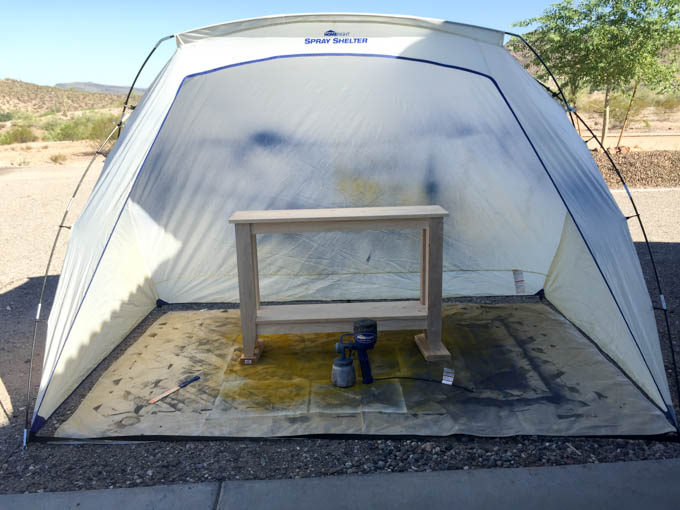 I didn't know at first what color to paint the table, but thankfully my blogging girlfriends came to the rescue and helped me decide. The color I chose is called Indigo Ink. It's part of the Behr Home Decorators Collection at Home Depot. It is such a pretty navy color. To finish it, I set up my spray shelter and grabbed my Finish Max
.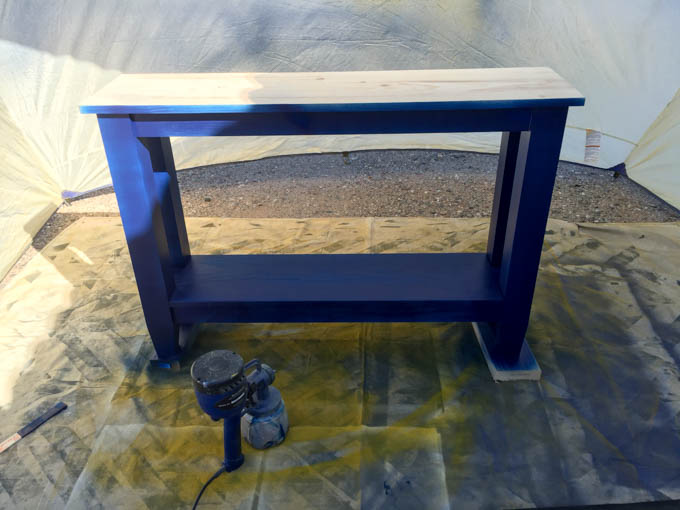 Typically, I spray the underside first and then flip it over, but I apparently wasn't thinking straight on this day. I sprayed two coats on the base, avoiding the top, and then flipped it over to spray the underside. Not painting the top just yet helps to prevent it from sticking to the drop cloth or the wood I place underneath. Once I was done with the underside of the table, I flipped it back over and sprayed two coats on the top.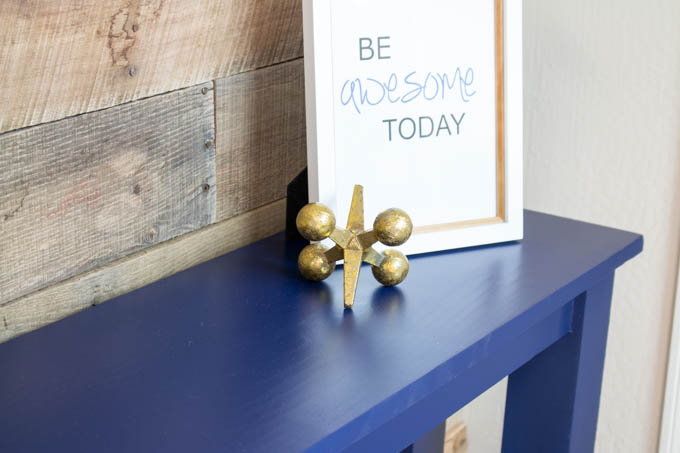 Just look at that finish! No brush strokes! Ever since I got my Finish Max last year, I hardly ever seem to put it down. The time it saves me is priceless and the finish is just amazing. By the way, I bought this cute printable from WifeInProgressBlog Etsy Shop. It's a great reminder for my boys each morning when they walk out of their rooms. The gold jack, plant and ampersand marquee came from Target. My husband has been wanting more plants in the house, but this hallway doesn't get a lot of natural light, so I thought a faux plant would be better. Plus I won't kill it!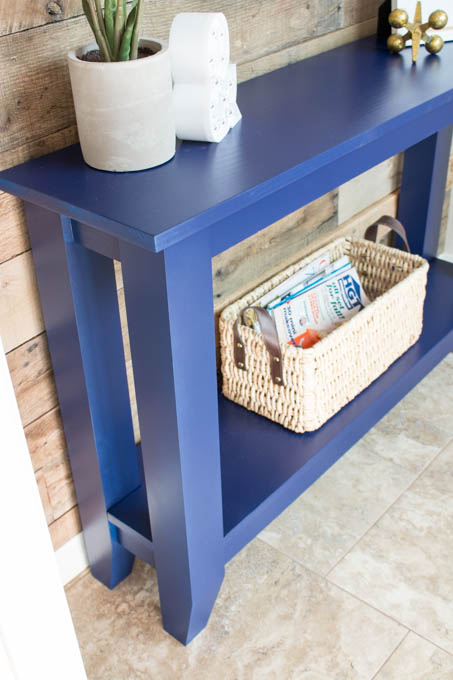 And those legs! I want to build a thousand more projects using the gorgeous table legs from Osborne Wood. By the way, these are called House Of Wood Tapered Legs. They're named after my friend Jen's blog. You should see the beautiful writing desk she built using these legs.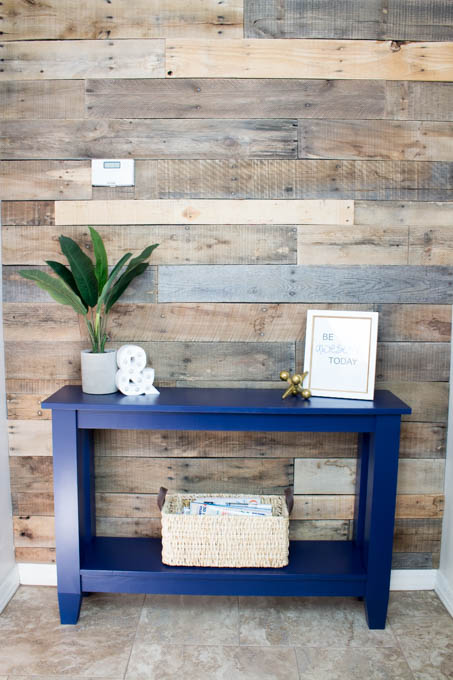 I am so happy with this table! The color and design are just right and It fits perfectly in this narrow space. This area is still a work in progress, but it's getting there. Slow and steady wins the race, right? Or at least it prevents me from making too many decorating mistakes.
As promised, it's giveaway time! One lucky reader will win a HomeRight Finish Max and Spray Shelter to take on their own painting or staining projects! This giveaway is open to U.S. residents ages 18 and over. Void in Alaska and Hawaii. To be qualified, entrants must follow HomeRight on at least one form of social media. A winner will be selected at random from the verified entries and will be notified via email. Winner has 48 hours to reply to the email or a new winner will be chosen. Good luck!
DISCLOSURE: This post has been sponsored by HomeRight with products also received by Osborne Wood. All opinions and ideas in this post are 100% my own. Affiliate links have been added for your convenience. Please read my disclosure policy for more information.