From the moment we moved into our house nearly 4 years ago, my husband has been talking about putting stone on our kitchen island. It was one of those projects that we planned to get to after other, higher priority projects were finished. Of course, we just kept adding more and more projects to that list, so it was starting to look like we would never get to this project. A few months ago, the opportunity to work with AirStone came about and I was pretty much jumping for joy! I was so excited to tell my husband that we'd finally be able to make over our kitchen island! To give you a little info, AirStone is a faux stone veneer made up of 80% recycled materials. It looks and feels just like real stone, but it's super light and easy to work with.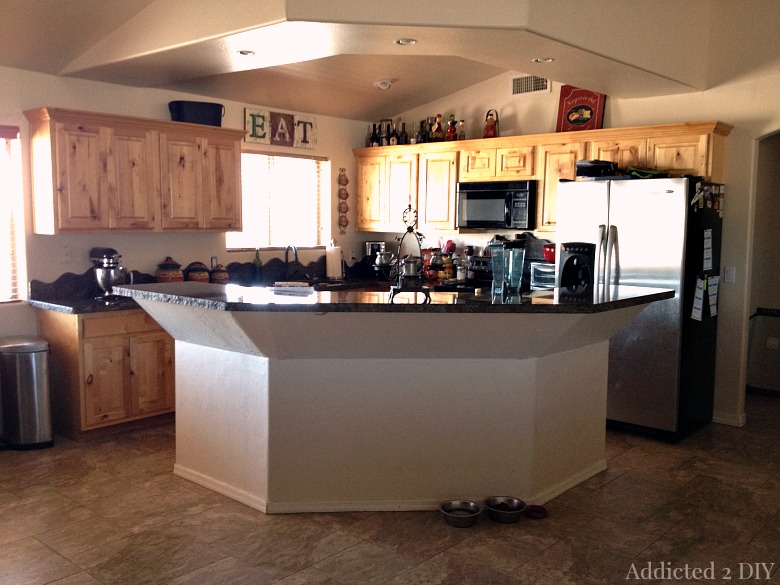 Here is the before of our kitchen island. It was pretty boring and the weird angled part just wasn't working for us. We knew that before we put the stone on, that part had to go.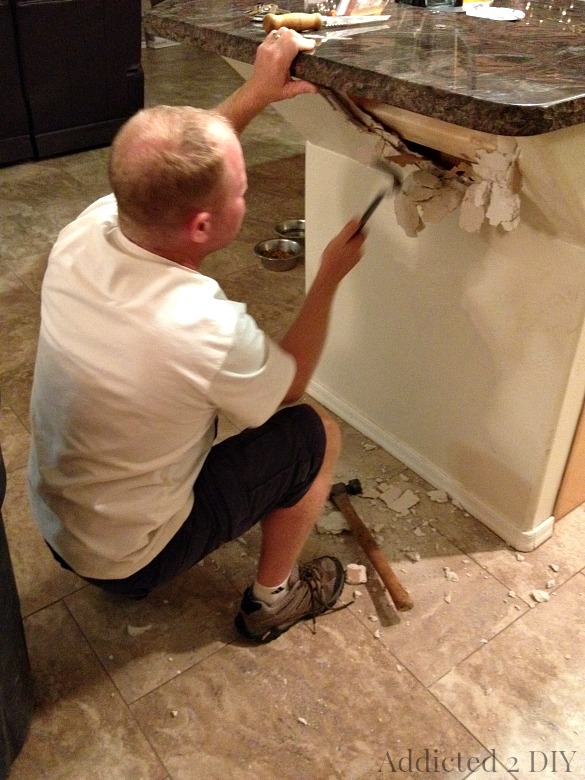 We tore out all of the drywall for this top portion of the island to expose the frame that was supporting the upper granite countertop. My husband chose to do this during our boys' bedtime one evening, which then made them want to help. Because what kid wouldn't want to swing a hammer into a wall instead of going to bed? We also ripped out the baseboards so the stone would go straight down to the floor.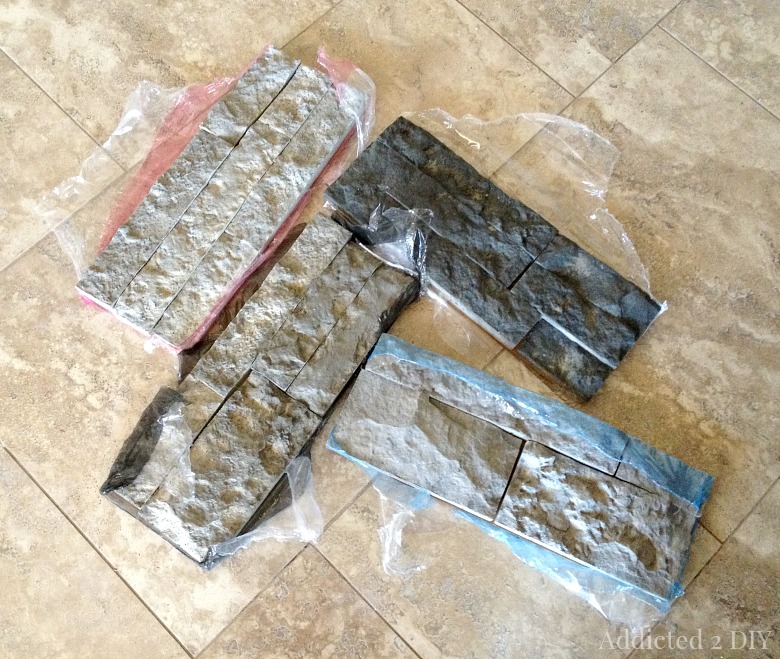 AirStone comes in three different colors. We chose Spring Creek, which is a combination of greys. There are four different color/texture variations in each box of AirStone. Other than it being a lot lighter than real stone, I was really surprised by how real it felt when I picked up the first piece.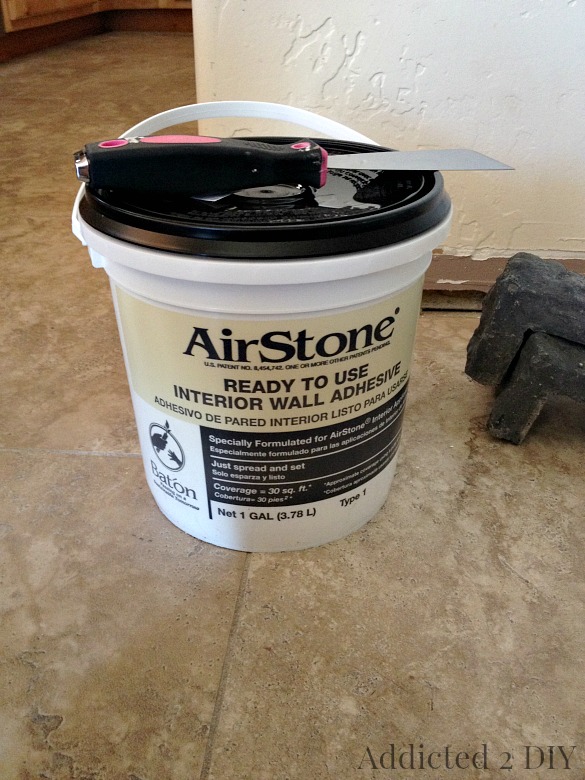 To apply the stone to walls, I bought several buckets of AirStone's interior wall adhesive from Lowes. There really aren't a lot of materials needed for this type of application, which I loved. All I needed was adhesive, a putty knife, and a saw. For most applications, a hacksaw with a concrete blade would suffice. Unfortunately for us, we had weird angles in our kitchen island, and cutting them at the 26 degree angle needed to have our corners meet just right would have taken forever and a day. We bought a concrete blade for our 10″ miter saw and used that instead (make sure you wear a proper dust mask if you're doing this).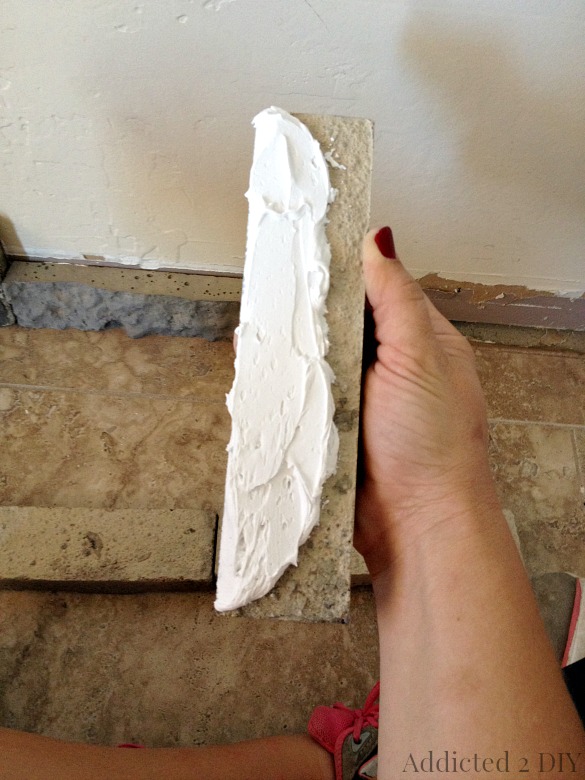 I was really nervous about placing the first few stones, but it was so easy! You just apply a good amount of adhesive to the lower portion of the stone and then press it to the wall. The instructions say to compare the adhesive application to frosting a cupcake rather than buttering toast. Given that I used to have my own cake decorating business, it was an analogy I easily understood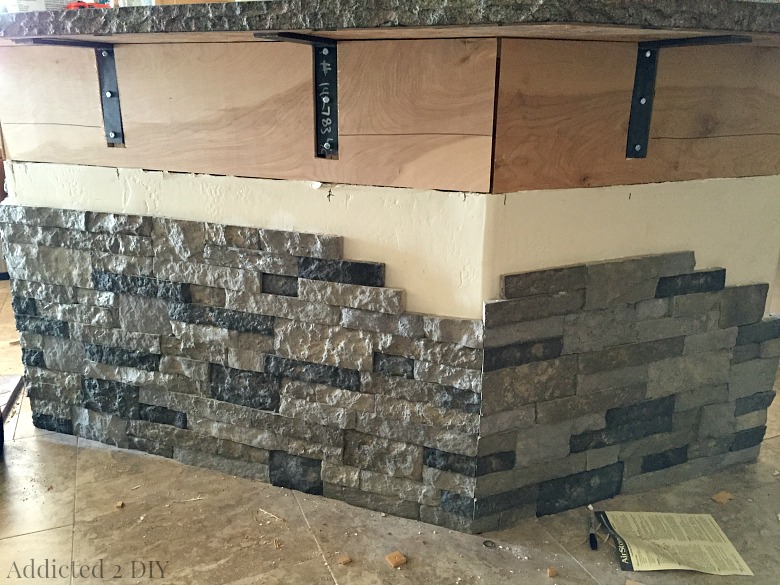 There are various sizes of stone as well, so it's basically just mixing colors and sizes to get a natural look. Since we ripped out drywall, and 2x4s that supported our counter top, we had to have special braces made to keep it from falling down. We also used plywood to cover the exposed 2×4 frame of the island.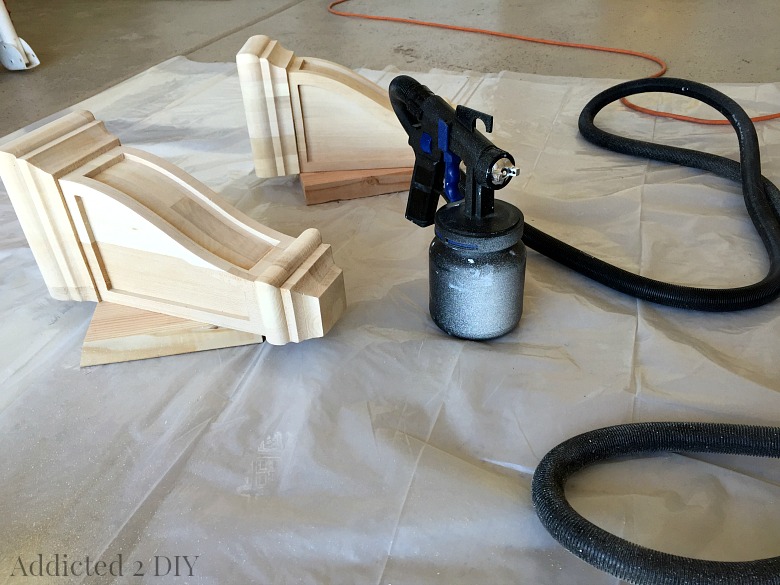 Since we have dark grey granite with a natural edge, we decided that we needed big, chunky corbels to give a little contrast. We thought about making our own, but my husband and I couldn't agree on a design that we liked, so I went to Home Depot and found these. I used my HomeRight Finish Max Pro and painted them the color of our interior trim (Swiss Coffee).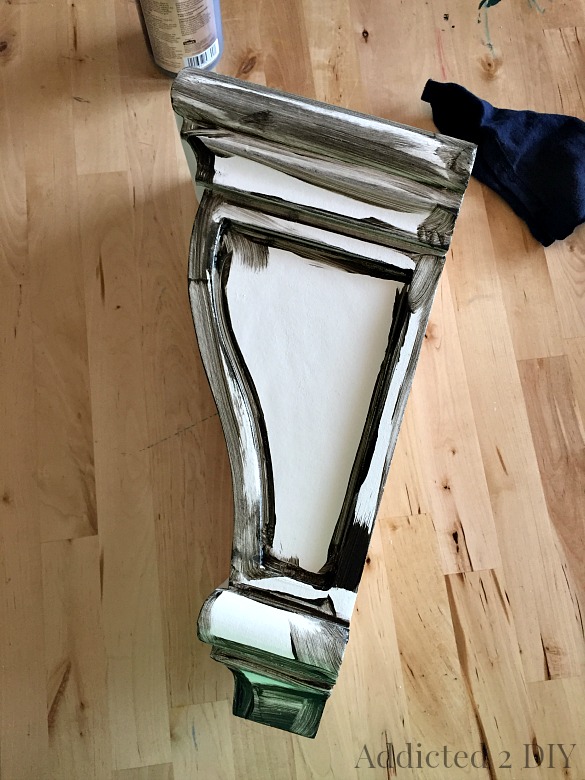 I took a poll on Facebook about whether or not to distress the corbels or leave them be. The overwhelming response was to distress them. I sanded the edges a bit and used Valspar antiquing glaze to distress them.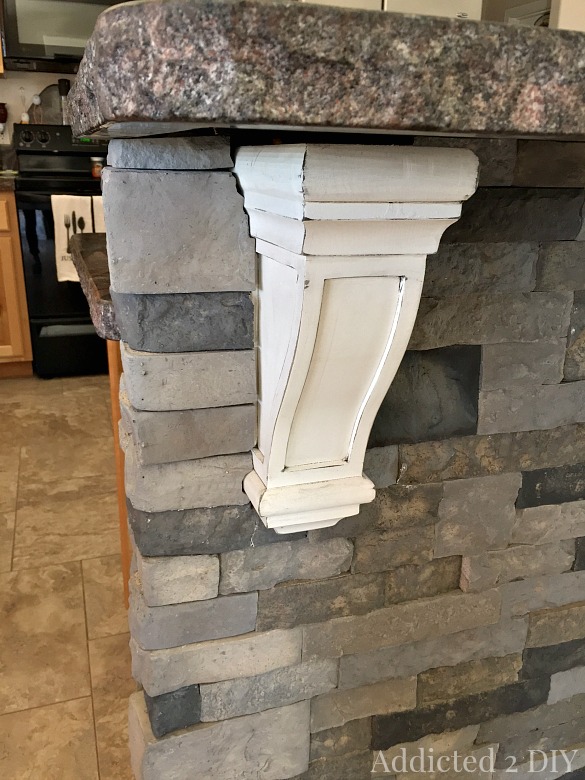 The corbels have some curves and steps to them, so we had to also use our grinder to notch out the stone around them.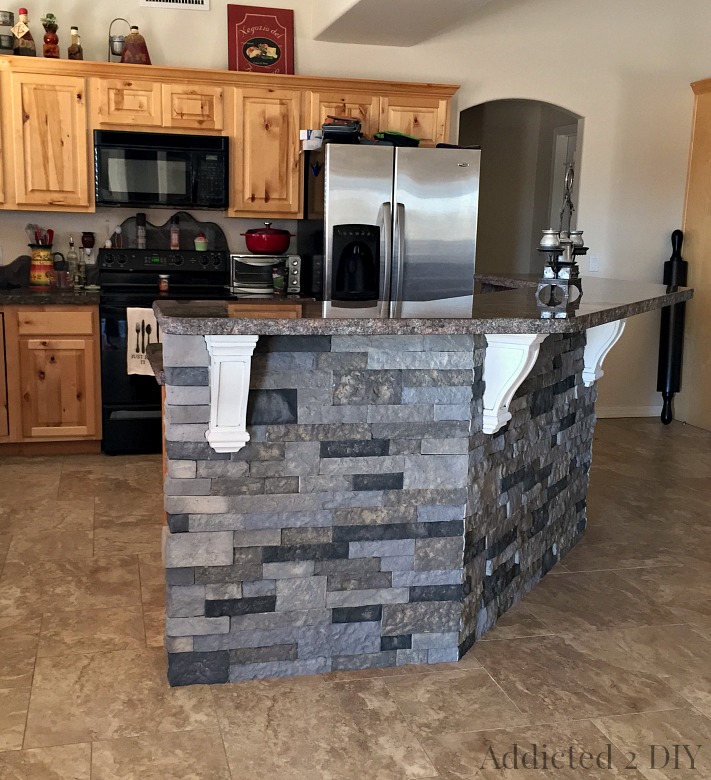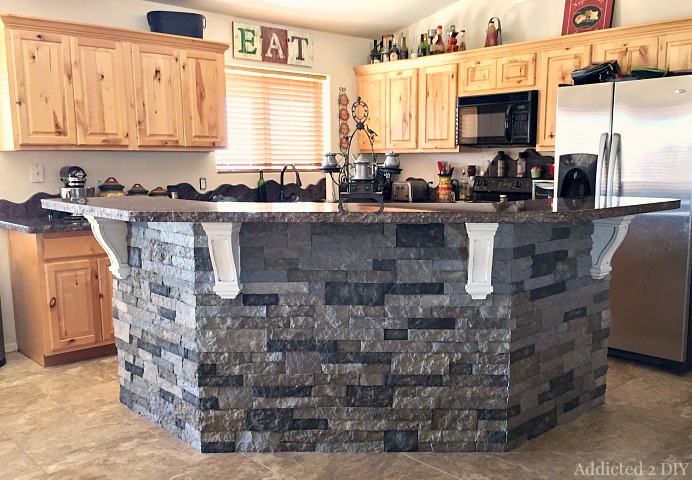 We were so happy when the last stone was finally set in place. The number of cuts we had to make definitely made the project a bit trickier and much more time consuming, but the end result is well worth the effort.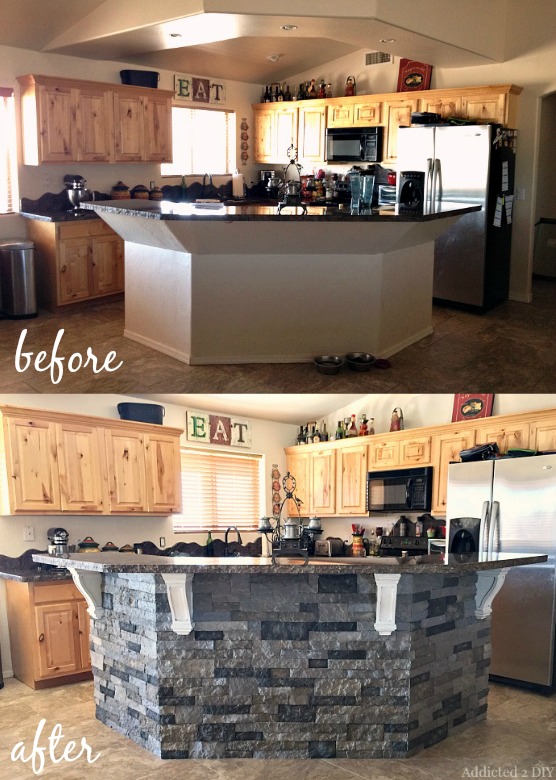 We absolutely love the look of our "new" kitchen island and we are so happy with the quality of the AirStone. Our friends and family seem to like it too, because my husband still can't believe how many likes and comments we got when he posted a picture of the finished island on Facebook. I can't wait to get started on the rest of our kitchen makeover. Painting our kitchen cabinets is next on my big project list.
If you've ever wanted to add decorative stone to your house, I highly recommend using AirStone. Not only is it more affordable than real stone, but it's also easier to work with and much lighter than the real thing. It's sold at most Lowes stores, which makes it so convenient. There are so many places that this stone can be used, and it can also be used outside. Someday, we'd love to add it to our BBQ island.
DISCLOSURE: I was provided product from AirStone for this post; however, all opinions of this product are 100% my own. Bottom line: I love it!