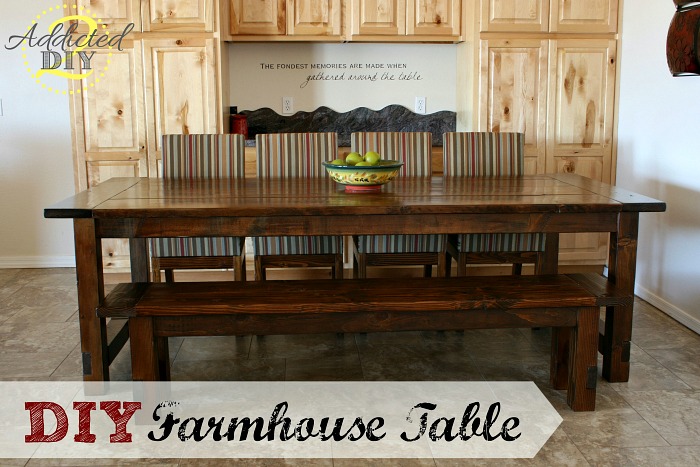 Hey there! I am so happy to share this farmhouse table build with you. With Thanksgiving rapidly approaching, this table is the perfect size to fit your whole family. My husband and I built this together earlier this year and we absolutely love it. We don't have a formal dining room, so this baby gets used every day for every meal. We had a perfectly good table before, but it just wasn't big enough for parties and holidays. We wanted to have something that could fit a crowd and this table certainly does that. We got the original inspiration from Ana White's plans for a farmhouse table. Looking at the brag posts, we liked the idea of using wider planks of wood for the top and using 4×4 legs. We decided to follow the plans here for our table, bench, and table extensions. He posted a pdf file with a cut list for a 96″x45″ table, which is what we followed. When all is said and done, this table can fit up to 14 people! It is inspired from Restoration Hardware's Farmhouse Salvaged Wood Extension Table. The only difference is that we didn't use 100+ year old reclaimed wood, and ours only cost us about $300-$350 (give or take the cost of a few boxes of screws).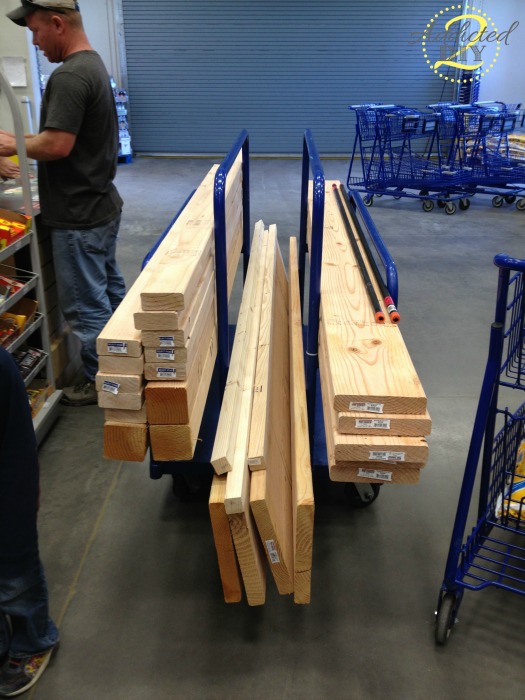 We bought all of our wood from Lowes. It was quite the ordeal and I had to ask them at one point to get the forklift and bring down stacks of wood in order for me to pick the straightest and best pieces of wood. They were very nice about it though:)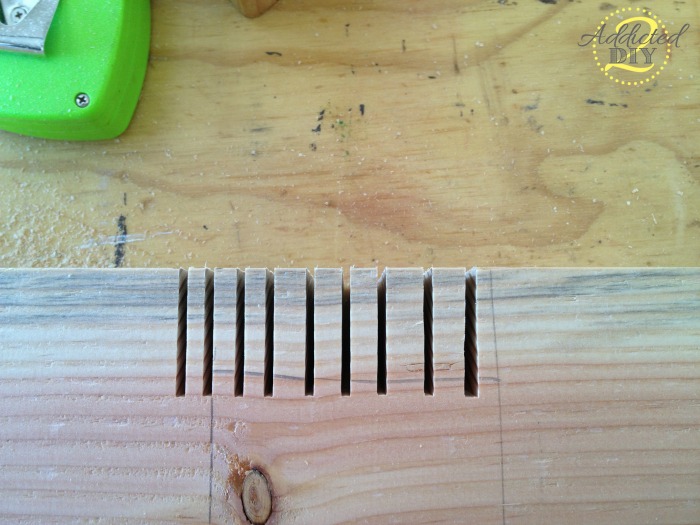 We bought a 12″ compound sliding miter saw just before starting this project, so we were able to make our own cuts this time. We made all of our cuts for the legs and notched them out. To notch them, we set the proper cut depth on our miter saw and made two cuts at the width needed to fit the 4x4s together. We then made several cuts in between.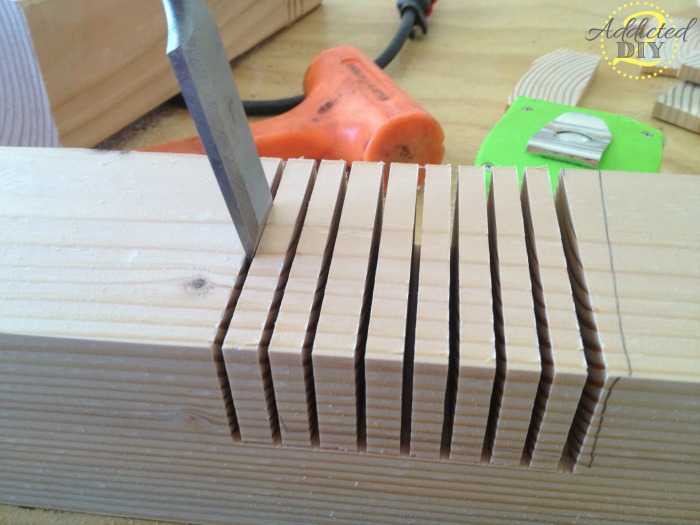 Using a chisel and hammer, we broke out the pieces of wood to begin the notch.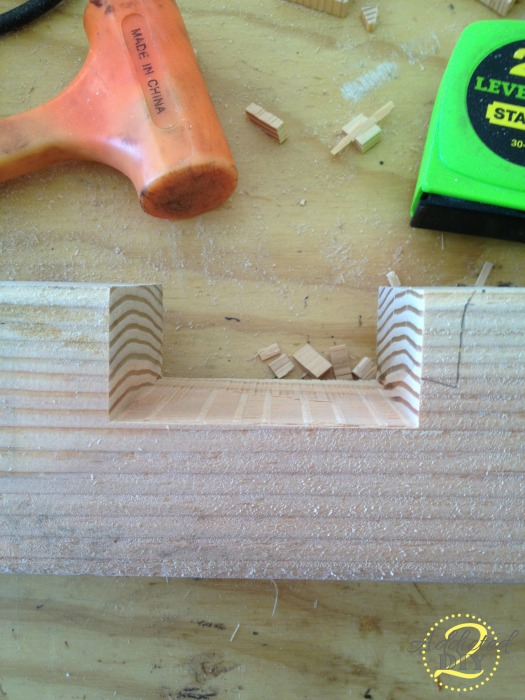 We then cleared the rest of the wood to form a nice smooth notch. It is recommended to use a chisel for this. It is much safer than the method we chose of running the wood side to side under the running saw blade to clear the remaining chips of wood. Like I said, it is not recommended, but this method worked best for us to get the smooth notches we wanted.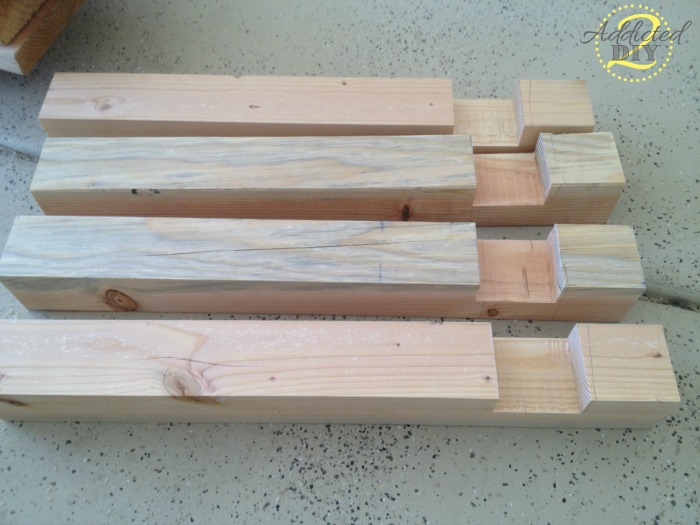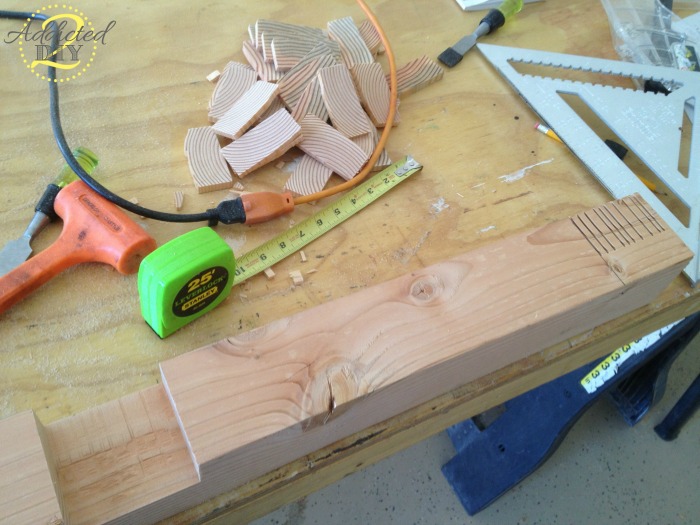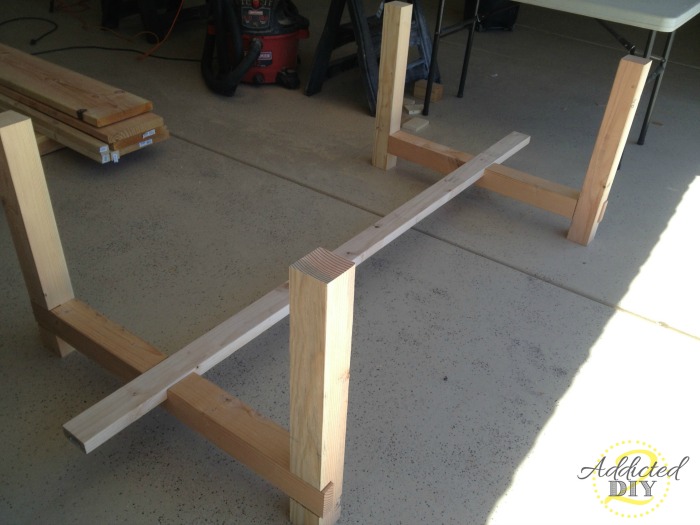 We dry fit all of the legs and cross beams together to make sure everything fit nicely.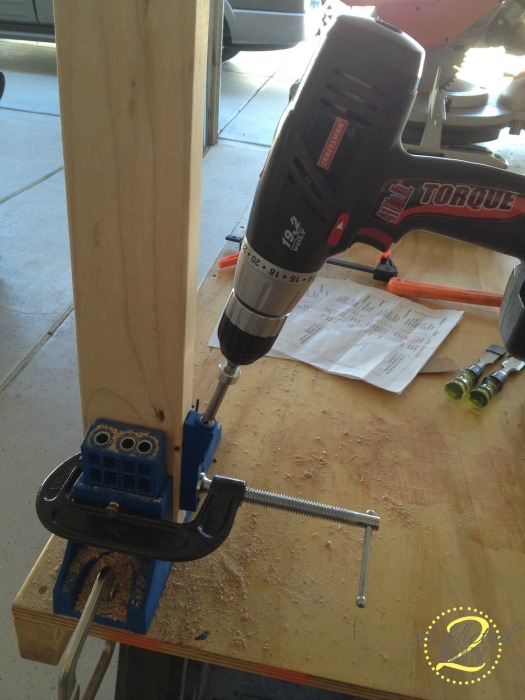 We used our Kreg Jig
to pre-drill all of our holes and started attaching pieces together.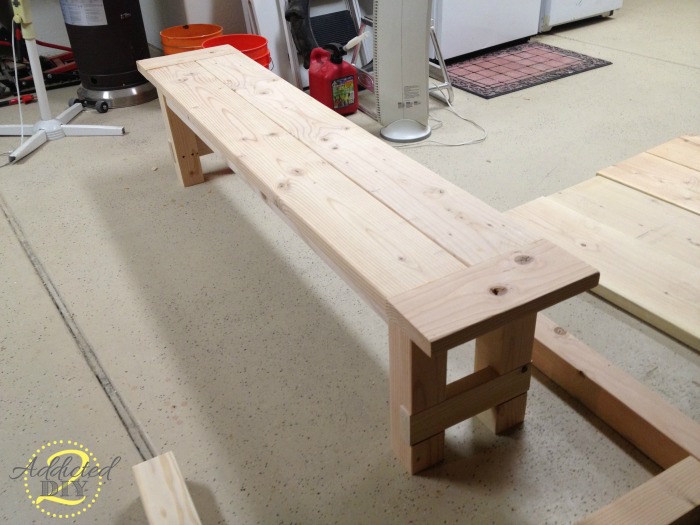 The bench was the first piece we finished. It made us feel like we had accomplished something.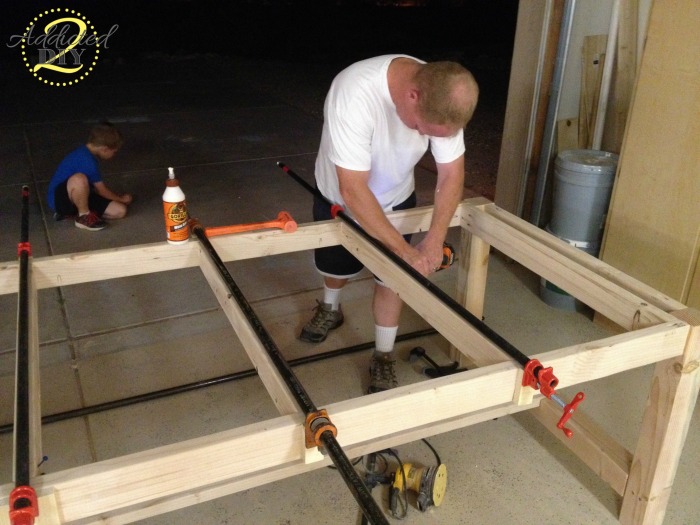 You'll definitely need/want 6′ and 8′ bar clamps for this project. We have two of each and it sometimes felt like that wasn't enough.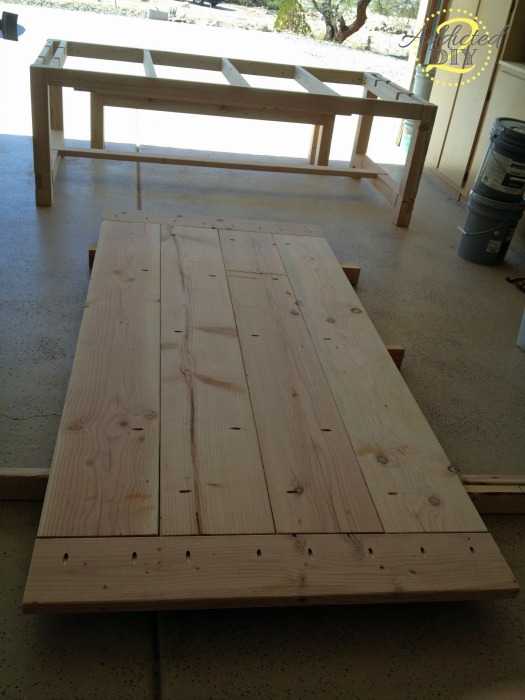 We built the table top using our biscuit jointer, pocket screws, and wood glue.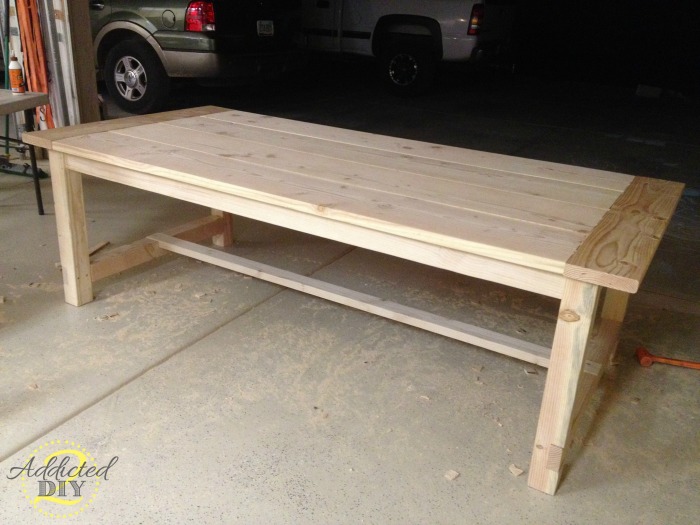 We dry fit the table top to the base and stood back to admire our work. We didn't attach the table top because we knew we would need to carry it into the house in two pieces. I unfortunately didn't take any pictures of us notching out the top of the base where the table extensions slide in.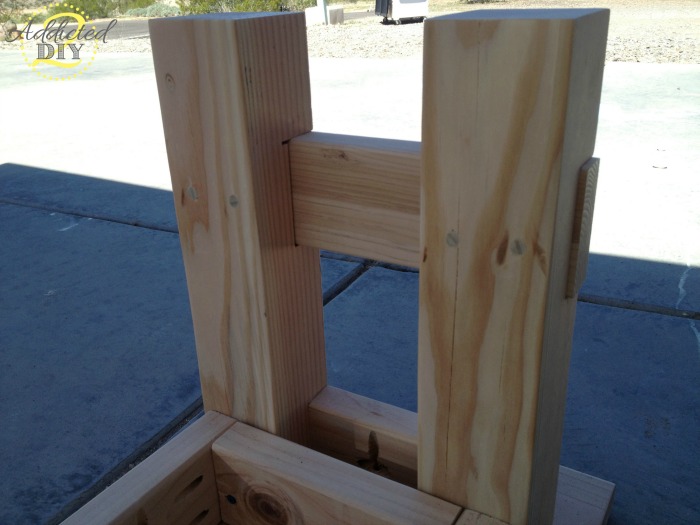 The legs are attached together by countersunk screws. I filled the holes with glued in dowels and used a grinder to make them flush with the legs.
We built the extensions based on the plans listed above. One thing we did that we did that was not listed in the plans was to slide the 2×2 extension arms into their notches and then line up the tops with the tabletop. Once everything was lined up properly, we screwed the arms to the extension tops while they were attached to the table.
At this point, you can choose to distress the wood with whatever you like. Hammers, bolts, chains, etc. are all good choices. We opted to do very minimal distressing. The first step was to wipe on some wood condition. It opens the pores of the wood and allows it to take in the color of the stain so much better. If you don't use it, you could end up with a blotchy finish. I used two coats of Minwax stain in Provencial. I then used 3 coats of Minwax Polycrylic. Finishing is my absolute least favorite part of woodworking, but it's a necessary task.
After everything had dried for a good 24 hours, we carried the table inside in two pieces, clamped it, and screwed the tabletop to the base.
I am so in love with how this table turned out. It was a lot of hard work, but to know that we built a table together and saved a TON of money doing it, was a lot of fun. Plus this is a table that we can hopefully hand down through the generations. The finished table is about 8′ long and almost 4′ wide. Without the extensions, the table can seat 8-10 people.
With the table extensions, we can seat about 12-14 people. I'm so excited to host Christmas brunch this year. We won't have to bring in our 6′ folding tables anymore. Everyone will fit nicely at this table.
One thing we did learn about this table is how important it is to make sure the wood is good and dry prior to building. The 2x12s for the tabletop were still somewhat wet when we put them together. After about 2 weeks, we noticed the wood shrinking. The breadboard ends started out being flush with the outside 2×12 planks. After a few weeks, they were sticking out by 1/4 inch on each side. There were also huge gaps between the other planks. I was heartbroken, but wasn't going to give up on our tabletop and convinced my husband that we could just fix it. We ended up taking the table top off, taking it apart, sanding and refinishing it, then reattaching the pieces tight together again. We trimmed up the breadboard ends and made everything nice and flush again. It unfortunately is something you may run into when purchasing wood from a big box store. If you can, try to purchase the dryest wood possible, or purchase from a lumber yard that sells kiln dried wood. We haven't had a problem since and the table is everyone's favorite when they come over.
If you're wondering where I got the chairs for the table, I built those too:) I'll be sharing that post later this week!
As always, I would love to hear your comments and please feel free to share, like and pin this project.
~Katie