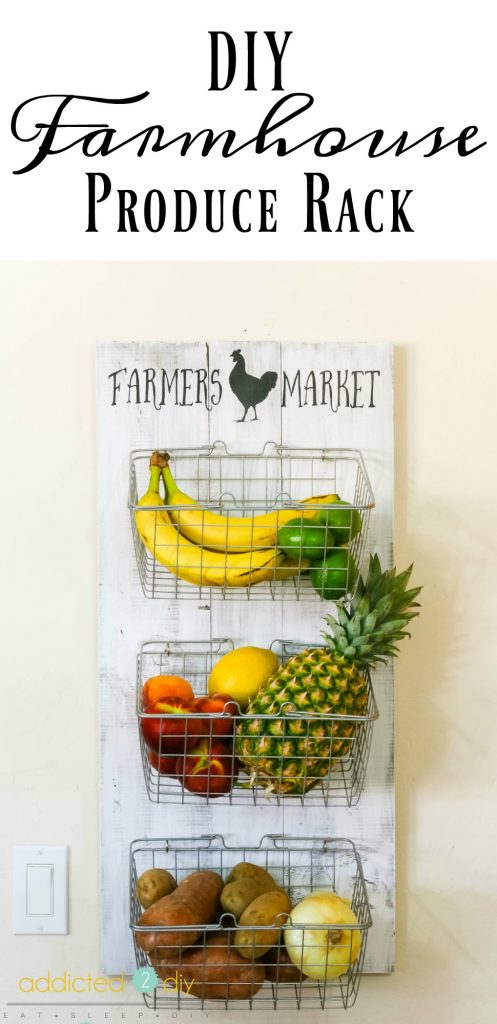 Hey guys! Raise your hand if your kitchen counters are being taken over by your fresh produce because you're lacking a place to store it. I can tell you that I dealt with this problem constantly! The clutter was starting to really get to me and I decided that I needed to do something about it. I happened to have some super cute wire baskets from the Dollar Spot at Target and they ended up being the perfect size for holding fruits and veggies.
Here's what you'll need for this project:
1 – 1×6 @ 6′ long (or dig through your scrap pile)
1 – 1×4 @ 8′ long (again, check your scrap pile)
2 – 5 gallon paint sticks
miter saw
narrow crown stapler (or brad nailer)
3/4″ narrow crown staples (or 3/4″ brad nails)
wood glue
finish of choice (paint/stain/or both)
adhesive vinyl or chalkboard vinyl
wire baskets
6 – screw eyes
drywall anchors and screws
D-ring picture hangers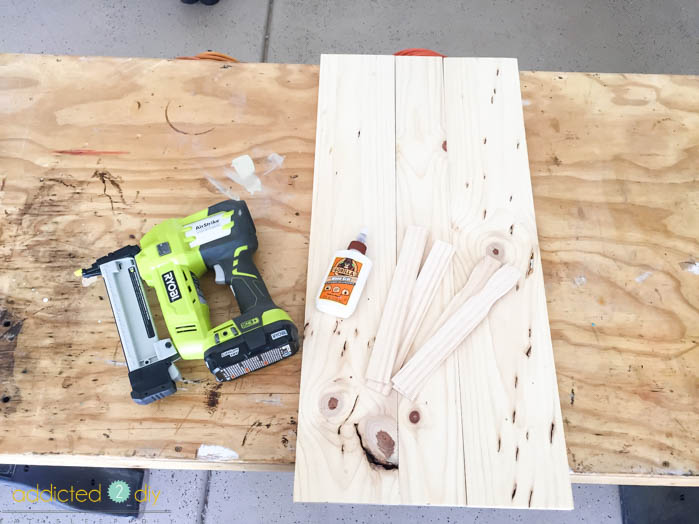 To build the backing for the produce rack, I cut 2 – 1×6 pieces and 1 – 1×2 piece at 31″ long. Cut the 5 gallon paint sticks in half.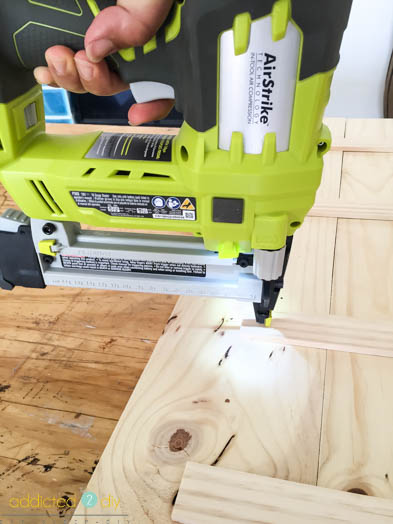 Glue the paint sticks down to the boards and then nail into place with your narrow crown stapler or brad nailer.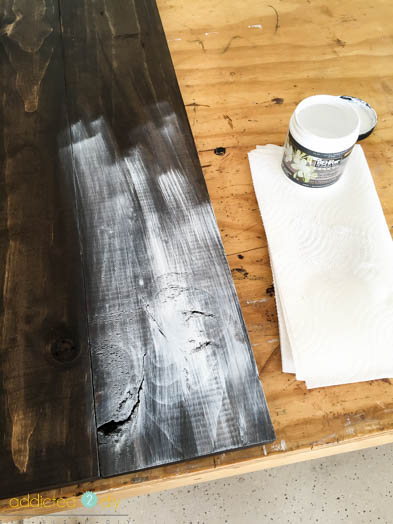 This can be finished however you like. I've made some stained in Minwax Golden Oak and they look amazing. For this one, I stained it in Minwax Espresso stain and then dry brushed it with white paint. To dry brush is super easy. Just barely dip your paint brush into the paint, dab it onto a paper towel and then lightly brush it onto your project. Keep layering on your paint until your happy with how it looks.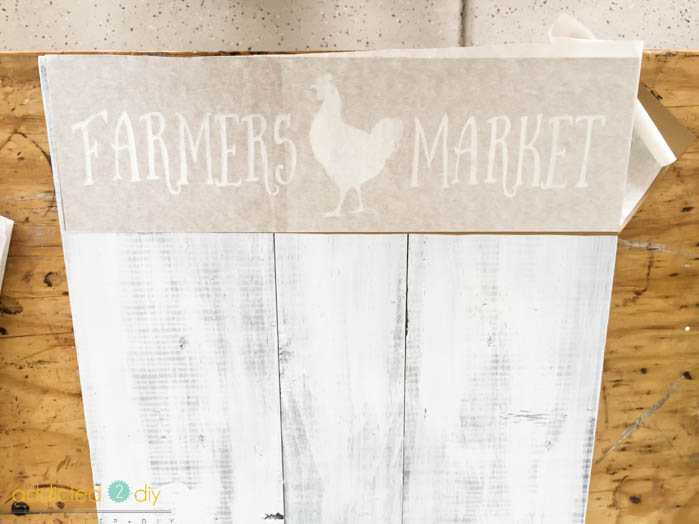 I wanted to add a cute little farmer's market stencil to the top, so I made one with my Silhouette Design Studio. Another great idea is to use chalkboard vinyl and stick it to the top. Then you can label it however you like!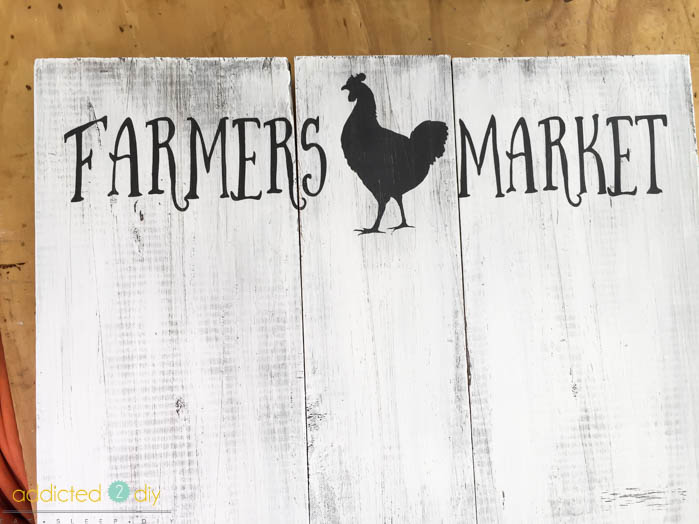 Once I painted on my stencil, I sanded it down a bit, just to give it a distressed look.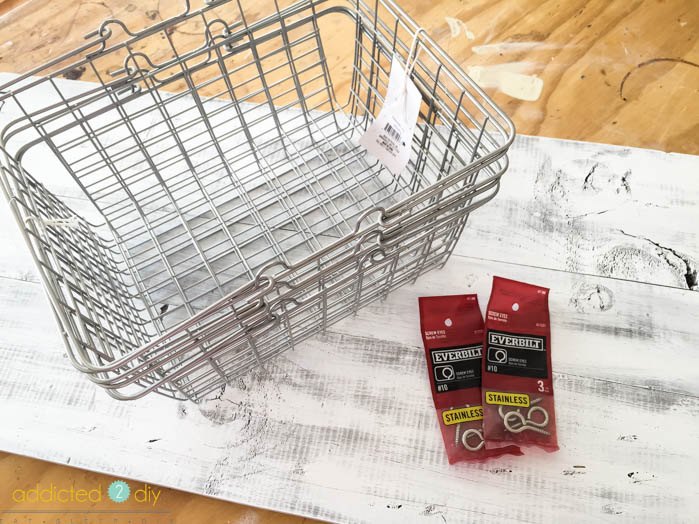 I gathered up three of the baskets and my screw eyes to begin assembling the racks.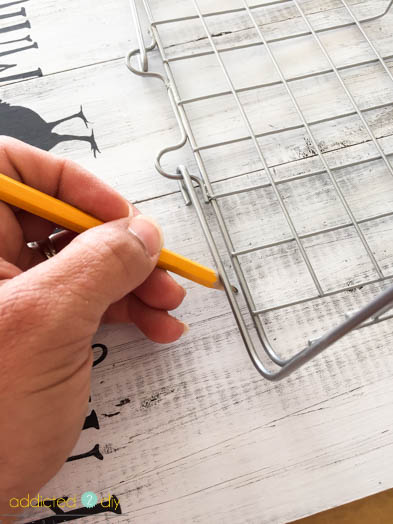 I evenly spaced the baskets onto the front of the wood and then marked where I wanted the screw eyes to go.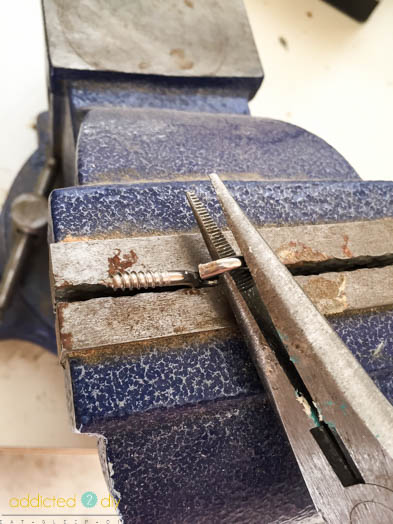 To open up the screw eyes, I clamped them into my vise and opened up the screw eyes with needle-nose pliers.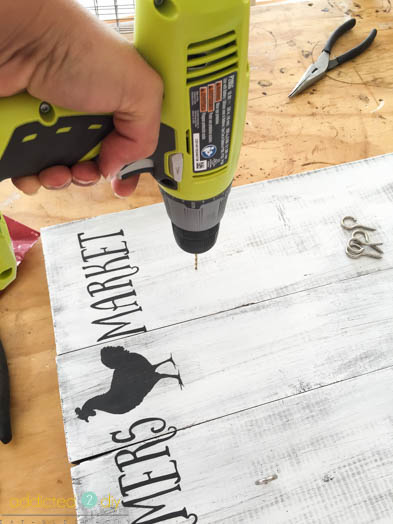 I pre-drilled the holes for the screw eyes at my pencil marks and screwed them into place.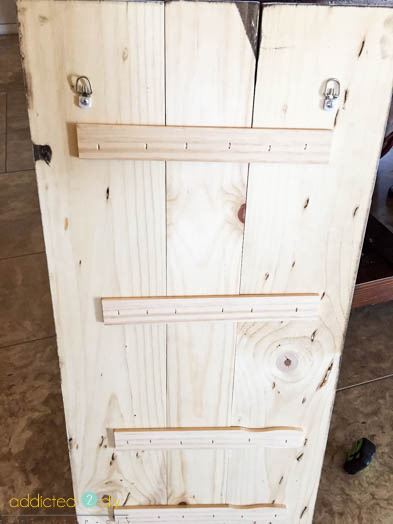 On the back, I added D-ring picture hangers and then added drywall anchors and screws to the wall.
I love, love, love how useful this produce rack has been! Plus it has a pretty farmhouse style to it, which is the look I'm working to achieve in my house. The baskets actually hold a TON of fruits and veggies and I often use one of them to hold bread, tortillas, etc. This can also be used in a bathroom to hold toiletries, a craft room to hold crafting supplies, and some people have said they want to use it to hold snacks for their kids. So many great ideas! My favorite part is that my kitchen counter is not cluttered with fruit and veggies anymore.