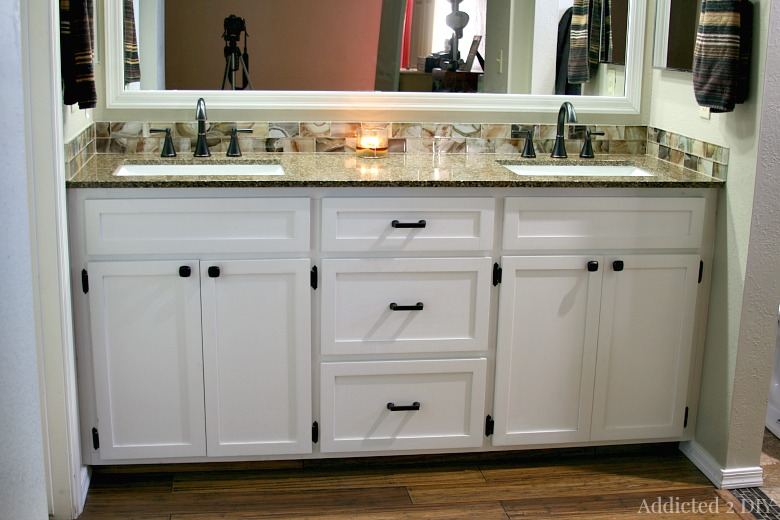 Over the summer, my husband's brother and wife were remodeling their bathroom. They were trying to take their old vanity out to paint it and it fell apart on them. We offered to help them out and build them a vanity. We used these plans from Sawdust Girl and modified them a bit. They didn't want to have the legs underneath and my brother-in-law wanted it to be a bit taller to fit his 6'2″ frame. That meant I had to do the thing I hate the most…MATH!
They recently added the backsplash to finish off the remodel and I finally got around to taking pictures of the finished vanity this past week. Here's how we built it: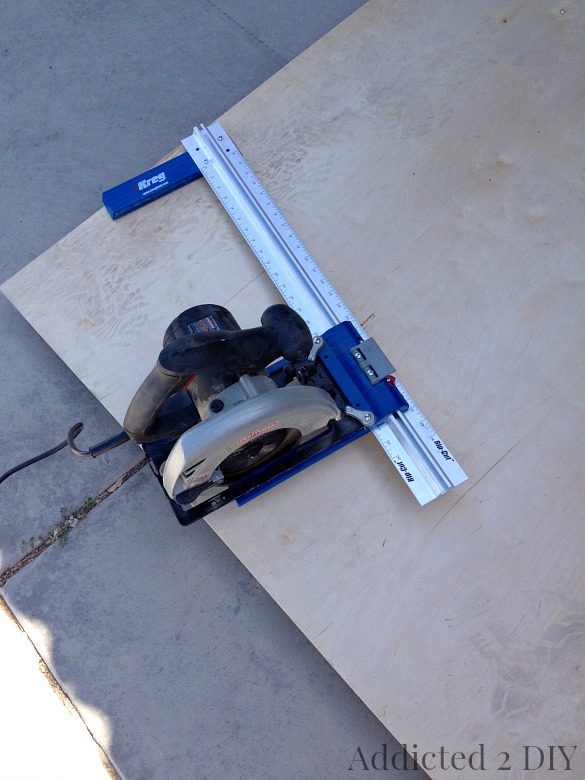 My brother-in-law purchased some birch veneer plywood for the main body of the vanity. I used my Kreg Rip-Cut to cut down the plywood into the sizes I needed for the bottom, sides, and dividers of the vanity.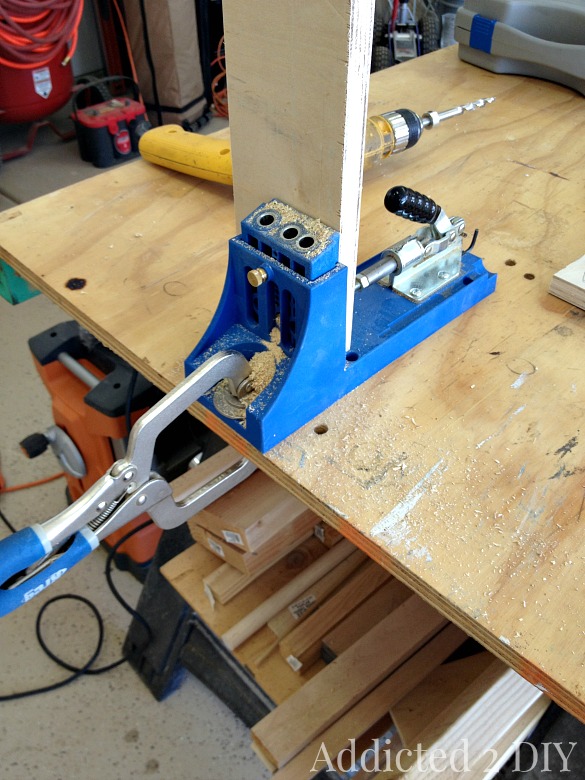 Once all of my plywood pieces were cut, I used my Kreg Jig to drill all of my pocket holes.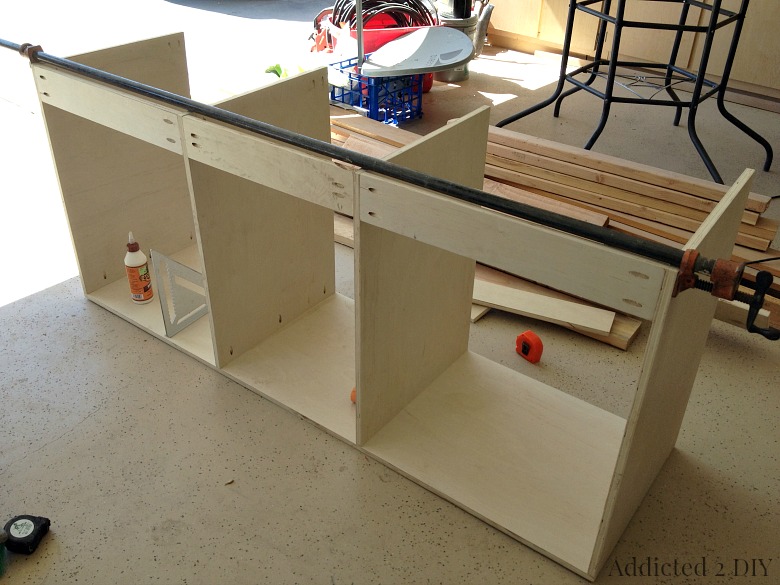 We assembled the main body of the vanity using wood glue and 1 1/4″ pocket screws. This is where having a healthy supply of bar clamps can make things run so smoothly.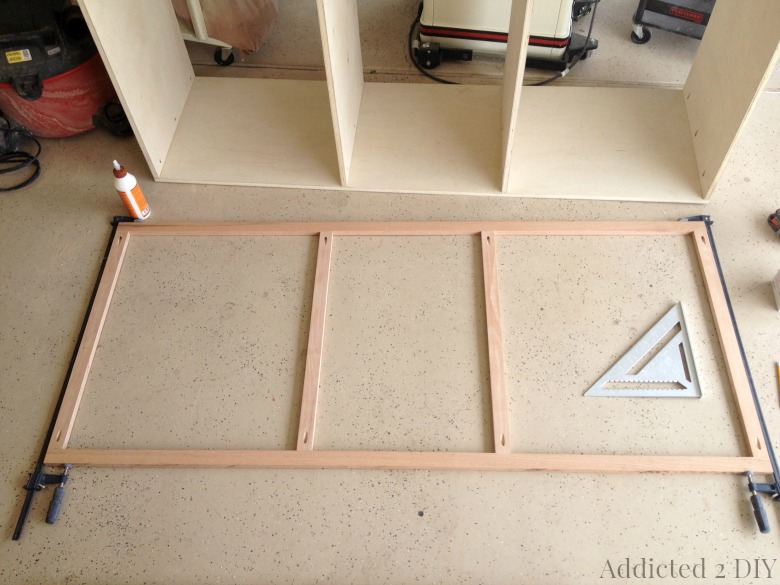 Once the vanity box was assembled, we built the face frame. My brother-in-law's late father-in-law (are you following along?) used to be a woodworker and there were tons of 1×8 oak boards leftover in his workshop. We planed and ripped down those boards and repurposed them for this project. Since we were painting the vanity, the difference in the woodgrain and color of the wood didn't matter. Plus, it saved a ton of money to use this wood that has just been sitting there. I drilled the pocket holes and glued and clamped everything together, checking for square often. Then everything was attached using 1 1/4″ pocket screws. This time, I grabbed the coarse thread screws since oak is a hardwood.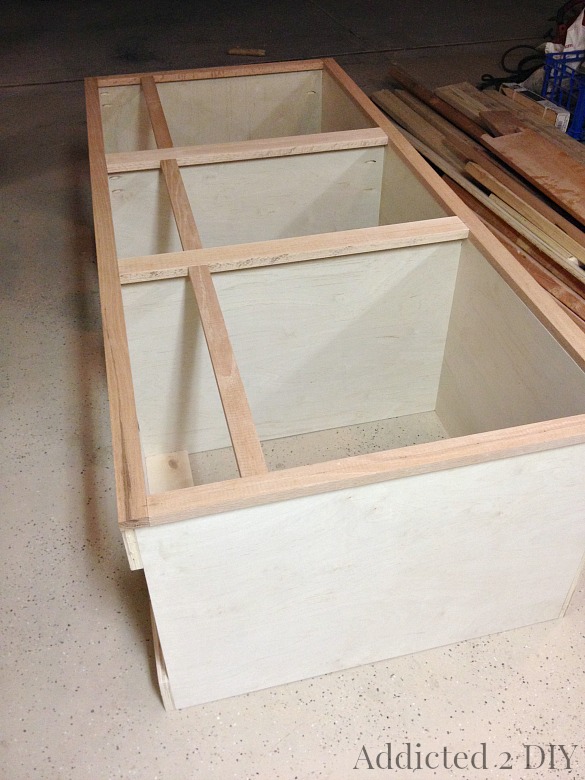 We lined up the face frame and then used our brad nailer and wood glue to attach it to the vanity box. Next was the part my husband and I hated the most. We had to do the math and figure out the best way to make the doors, false fronts and drawers for the vanity. Since these plans were modifed to be larger, we spent a lot of time figuring out exactly how large to make everything while leaving a consistent gap between all of the drawers, etc. It may not seem hard to some, but figuring out the exact cuts for each piece and making sure everything was perfect was not our idea of a good time. Did I mention we hated this part?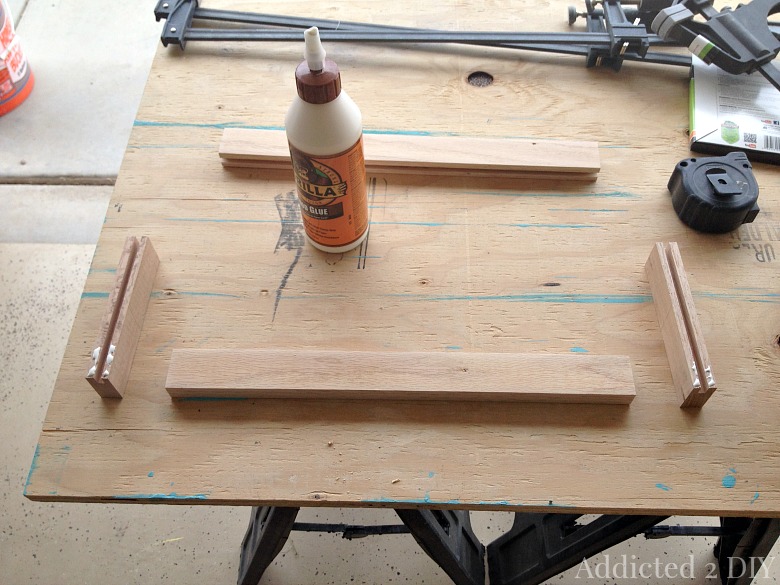 Once we figured out all of the cuts needed for the drawers, false fronts, and cabinet doors, we started assembling them. We used a dado blade on the table saw to cut the grooves so we could insert the 1/4″ plywood faces. We opted to only glue these together rather than use pocket holes that would have to be filled in.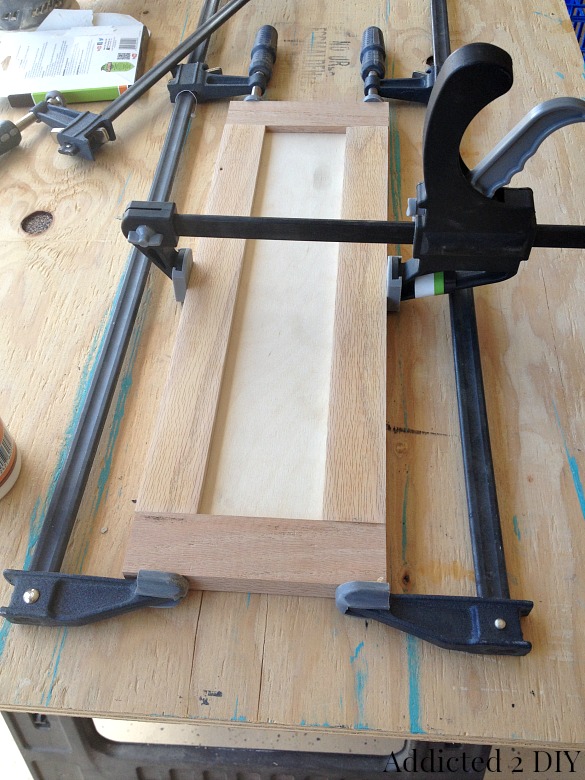 We ripped down pieces of 1 1/4″ veneer plywood to make the faces for each piece and then slid them into place. To secure the faces, we added glue into the grooves, then added the last piece of the frame (also with glue in all of the appropriate places) then clamped them end to end and in the middle.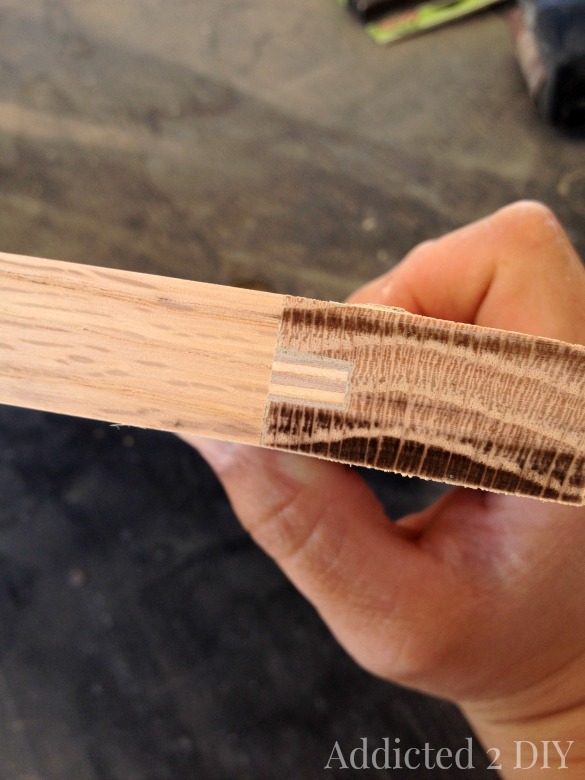 Because we made our dado cuts through the entire piece of the frames, we cut tiny pieces of 1/4″ plywood to plug those holes.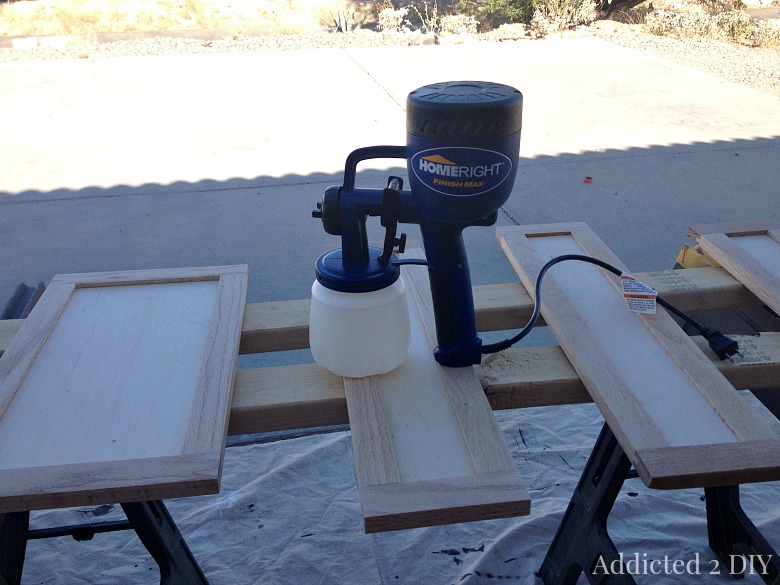 When it was time to paint, I grabbed my HomeRight Finish Max Paint Sprayer
to paint the entire vanity. It made the painting process go so much faster than using a brush or roller. I wish I had taken a video of my husband and his brother fighting over this when they decided they wanted a turn at painting. It was like watching two little boys fighting over a new toy and it was hilarious!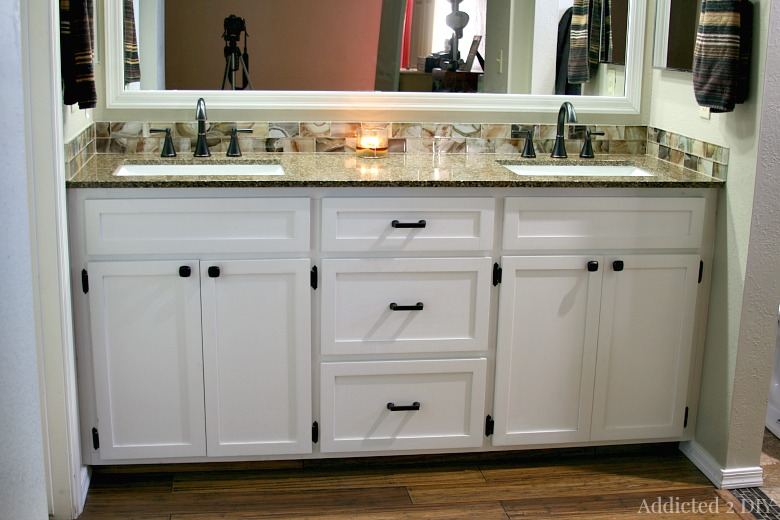 When we were done building the vanity, my husband and his brother took it to his house and they built the frame underneath using 2x4s. They then filled any gaps with more wood and covered the frame on the bottom with the flooring they installed throughout their bathroom and bedroom. They added all of the hardware and then my brother-in-law hired someone to install the quartz top. He and my sister-in-law installed the gorgeous glass backsplash and the project was done!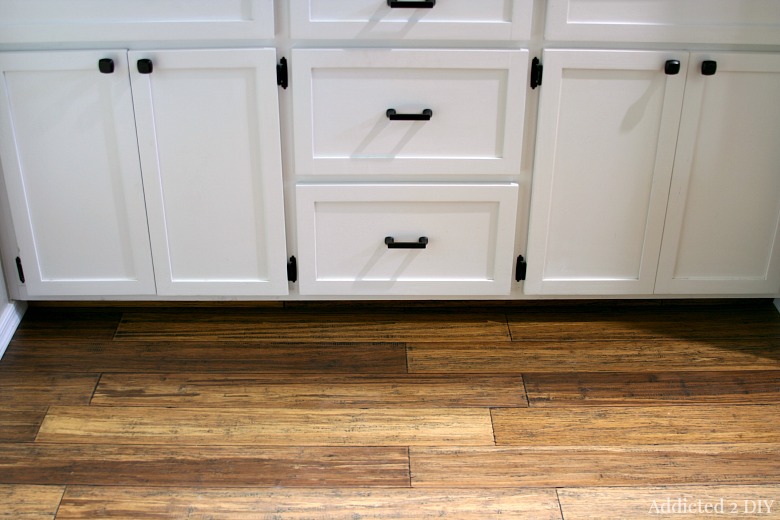 I love the hardware they chose for the vanity and the whole thing looks so awesome next to their gorgeous flooring. Would you believe this is bamboo? It looks like it came from an old barn!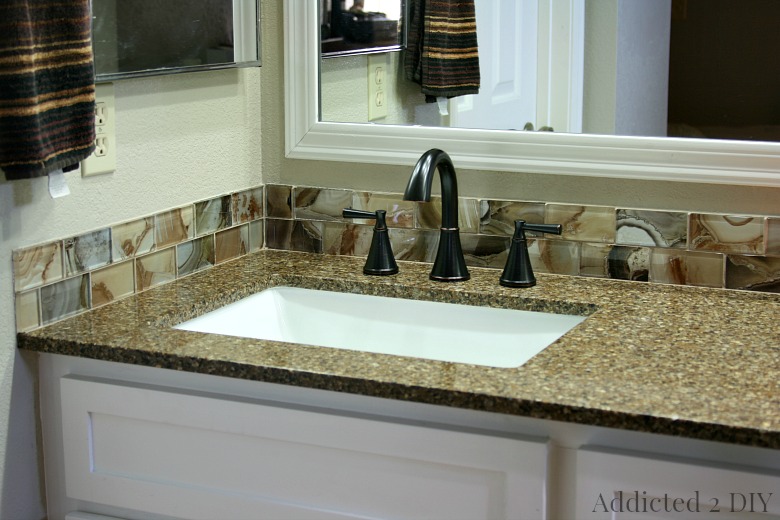 The glass backsplash is so pretty. It almost looks like slices of agate.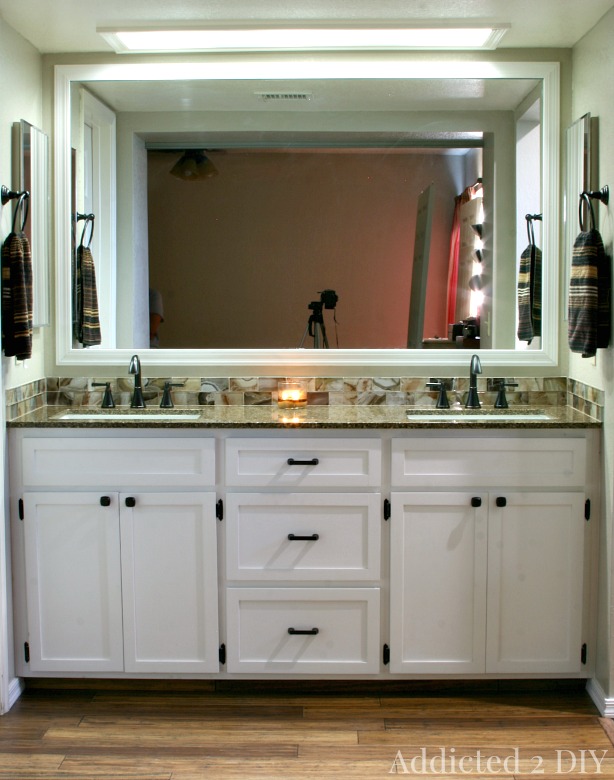 I am so thrilled with how this vanity turned out and even more thrilled that my brother-in-law and sister-in-law are very happy with it. Modifying the plans made building it more of a challenge, but I love a good challenge. I'm so glad they gave us the opportunity to build this for them and now I REALLY want to build one for our master bathroom that is in desperate need of a makeover.
Once again, you can find the original plans for this vanity on Sawdust Girl. She's got tons of free plans and tips on her website and she's seriously talented. If you want to build one of these yourself, I'd be happy to answer any questions you have about the building process.
DISCLOSURE: This post contains affiliate links. If you purchase an item from one of these links, I will receive a small commission at no extra cost to you.