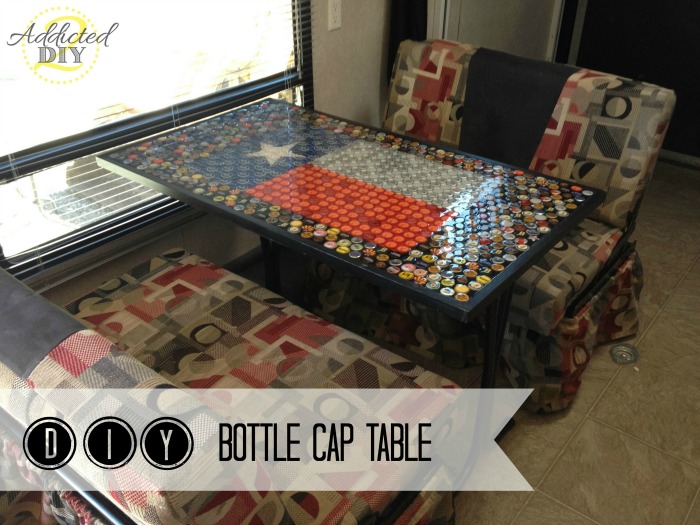 My husband and I have wanted to make a bottle cap table for a couple of years now. We started saving beer bottle caps and recruited our friends to save for us as well. We weren't sure what we would build or when, but we kept saving anyway. When the dinette table in our toy hauler needed to be replaced, I told my husband it was the perfect time to put those bottle caps to use! When we started laying out our bottle caps, our 7 year old started to think our friends had drinking problems. I had to remind him that we collected these bottle caps over a few years, not one weekend:)
We took note of the measurements of the old table and took the folding legs off to use on the new one. You can build any size table you want, just make sure you have enough bottle caps saved up. We had tons and thought we would have enough to make at least two tables. We quickly found out that we really had just enough for this table.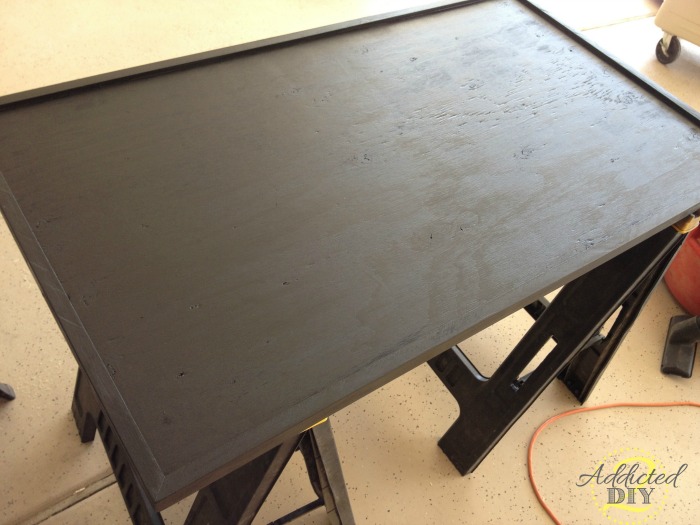 We bought a 24 x 48″ piece of plywood at 1/2″ thick. We ripped down a 1×2 on the table saw to make it 1″ high. This created a ledge that was just slightly higher than the bottle caps to hold in the bar top resin. We glued and brad nailed the wood trim to the side of the plywood and then painted the entire table black.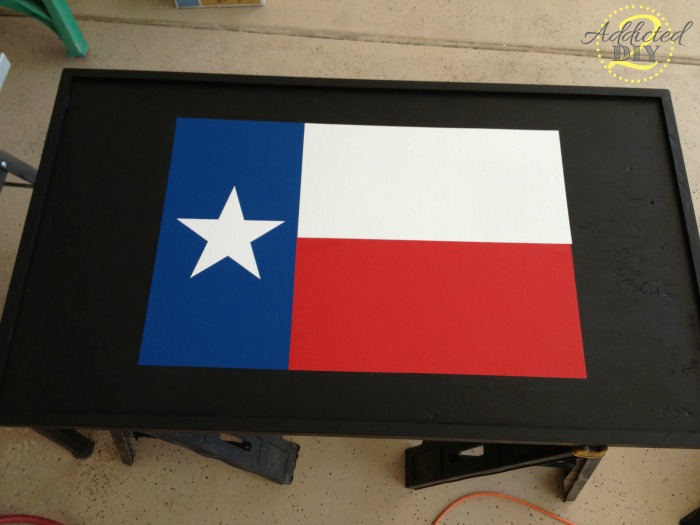 There are so many different options you can go with for a design but our choice came fairly quickly. We chose to make the Texas state flag. We tried to make the Arizona flag, but it was WAAAAY too difficult to get the bottle caps just right for the size of table we were making. Plus Texas is near and dear to our hearts. My husband is from Houston, he proposed to me at his grandparent's farm in Fredericksburg, and much of his family still lives there. I cut the flag out of vinyl as a base for all of the bottle caps and to be my guide for placement.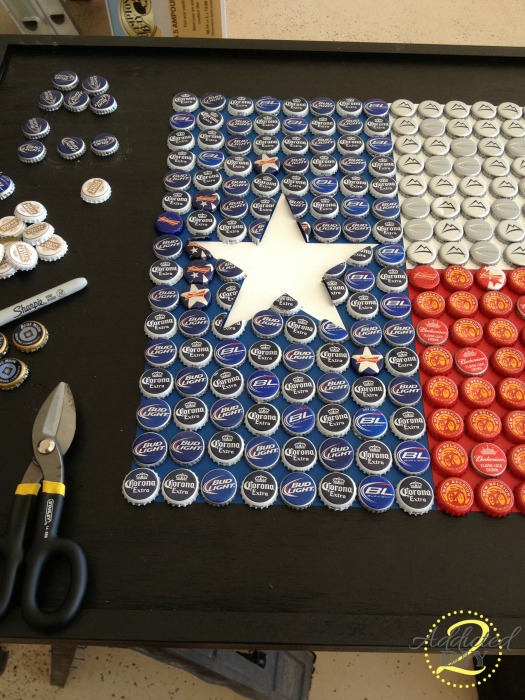 I sorted the bottle caps by color and placed them on the vinyl. For the star, I used tin snips to cut the bottle caps to create an outline. Then I marked and cut the white bottle caps to fill it in. My poor husband had to drink quite a few Stellas in order to fill in the star. It was awful for him (insert sarcasm font).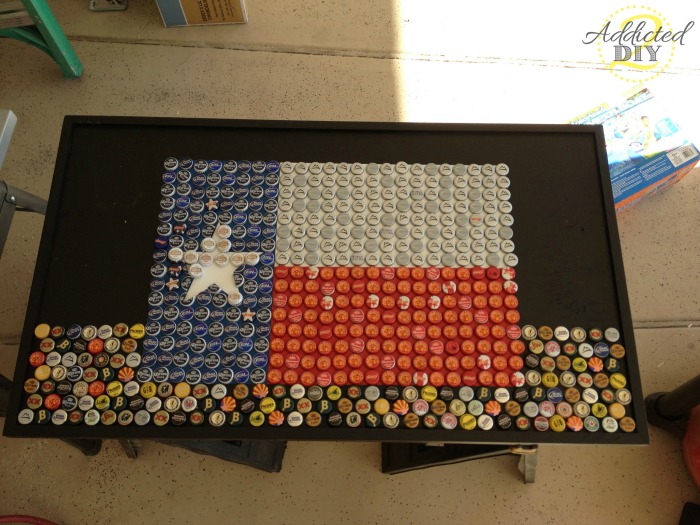 Once the flag was done, we filled in the remaining part of the table with random bottle caps. Last year I discovered that Oak Creek Brewery (a local brewery) had Arizona flag bottle caps. I bought several 6-packs of that last year to add to our collection. Since we couldn't make the Arizona flag, I still wanted to have AZ represented on the table.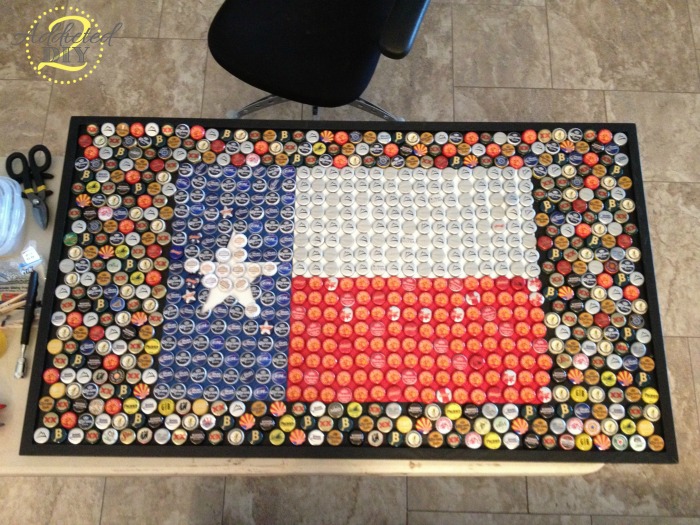 Once we managed to squeeze all of the bottle caps onto the table, we started gluing them down. This task was tedious, but it is absolutely necessary if you don't want your bottle caps to float up when you pour on the resin. We used hot glue guns, but found that it didn't hold all that well and we had several caps float up when the resin was poured. Next time I would probably use caulking or liquid nails to glue the caps down. Some of our bottle caps wouldn't quite fit, so I had to trim a little off of them with tin snips. We used used about 3 – 32 oz boxes of resin for this big of a table
. It's a two part system that you have to mix together very well and then pour over the surface.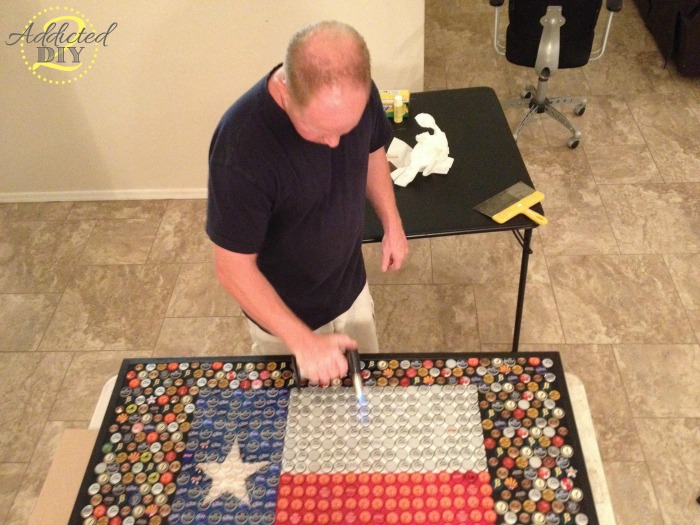 Working with the resin is a very quick process, so I wasn't able to take any pictures for fear that it would set up too quickly. I had to take a popsicle stick and push down the bottle caps while my husband used my kitchen torch
to pop the bubbles. It's crazy how well that works. The bubbles will keep appearing for a while, so you just have to stay on top of them and torch them out. They stop showing up once the resin starts to set.
We let the resin dry for 48 hours before we sealed the sides and underside of the wood and attached the table legs.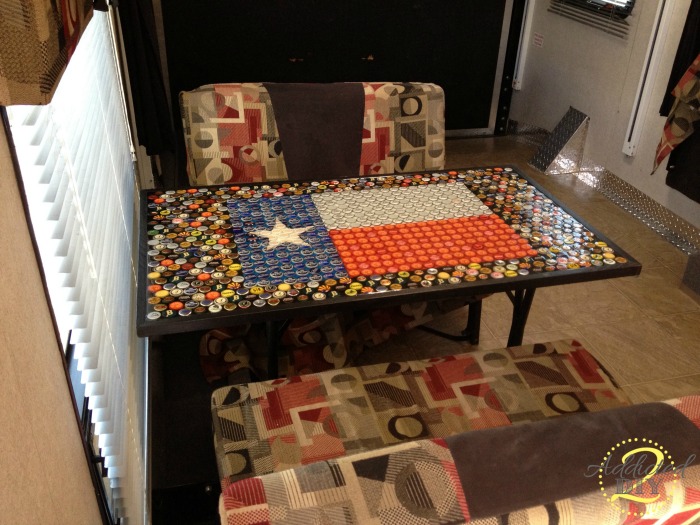 Here it is all set up in our trailer.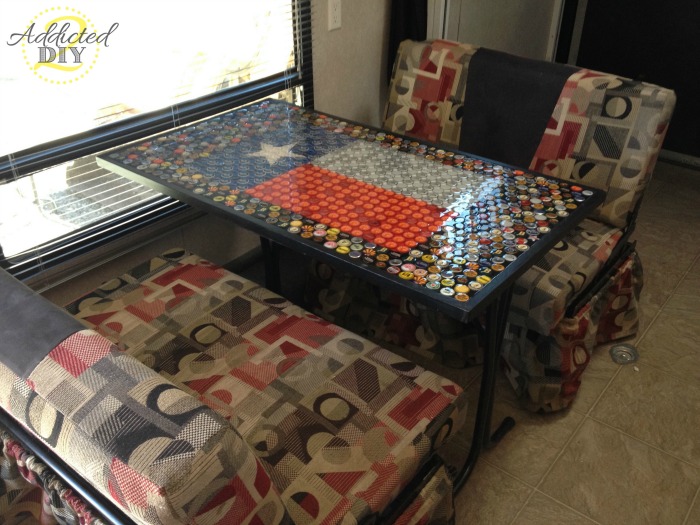 We love how it turned out! It was pretty nerve-wracking during the resin pouring, but it ended up being easier than we thought. We used it for the first time on our camping trip last weekend and loved it. The resin cleans nicely and holds up well, even with our puppy jumping all over it thinking it was her personal bridge to get from one side of the table to the other.
If you have a bunch of bottle caps stashed a way for a project like this, I hope that this will give you the courage to finally make your project. The resin looks very intimidating, but it actually was quite easy.
I'd love to hear what you think and please feel free to share and "like" this post!
~Katie
This post contains affiliate links for your convenience. Please read my disclosure policy for more information.