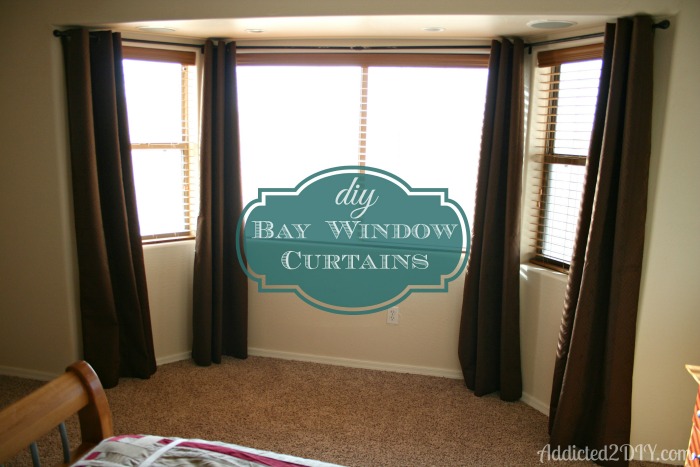 Hey everyone! Today I'm going to share with you a project that is very high on my husband's list of favorites. We have a huge bay window in our master bedroom and, during the summer especially, a lot of light comes past our blinds. For me, it's not really an issue. I can sleep any time anywhere. My poor husband, on the other hand, struggles with sleep on a good night. When the sun comes up at a little after 5 a.m., it wakes him up and he hates it. He's also a firefighter, so a solid night of sleep when he is home is something he craves after being up multiple times a night at work. I usually get an eye roll when I bring up yet another project, but this one he actually requested.
I struggled for a while trying to figure out how on Earth to put a solid curtain rod in a bay window. I even thought about running a rod across the front of the window opening and just blocking off the entire thing. I saw some beautiful Martha Stewart curtain rods and angled connectors at Home Depot, but there is only a few inches of space between the ceiling and the top of the windows, which meant those huge, wood curtain rods and brackets would never fit right there. They also cost a pretty penny, and I'm all about trying to save money on DIY projects. Thanks to Pinterest, a lightbulb went off and I figured out that I could just make my own with a few simple tools and some pipe.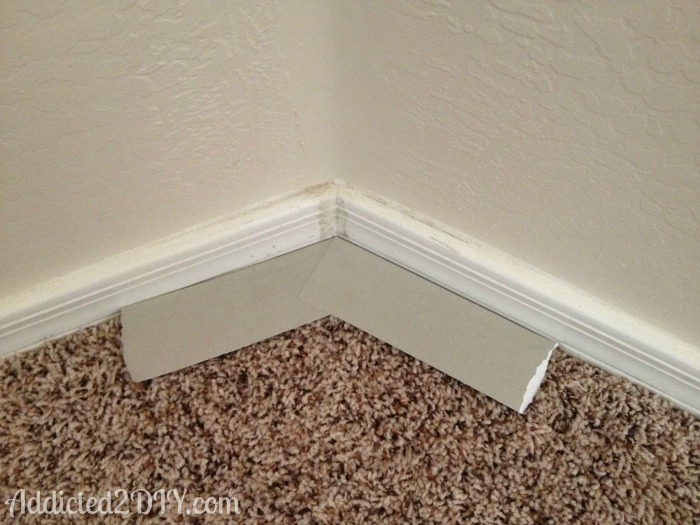 First, I had to determine the angle that the pipe had to be bent to. I grabbed some paper and taped the pieces together on the floor to mirror the angle of the wall. Please excuse my gross baseboard corner. I have no idea what that is but it won't come off. We're ripping the baseboards out anyway, so I try not to let it bother me.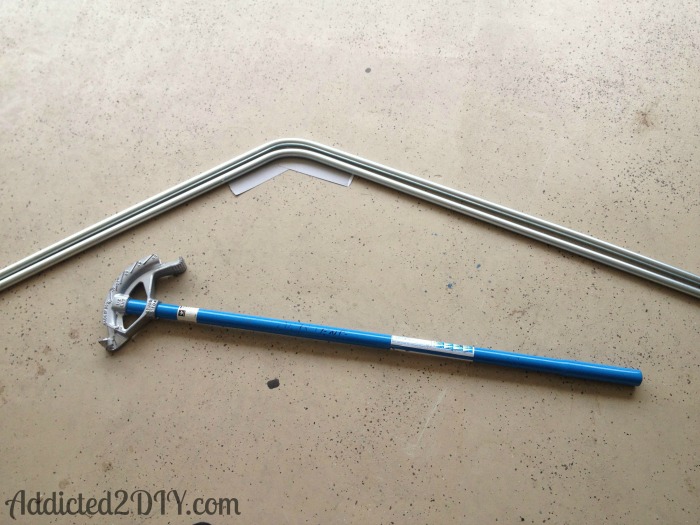 I bought two pieces of 1/2″ galvanized pipe and borrowed my dad's 1/2″ tubing bender. I carefully bent each piece to match the angle of the corners.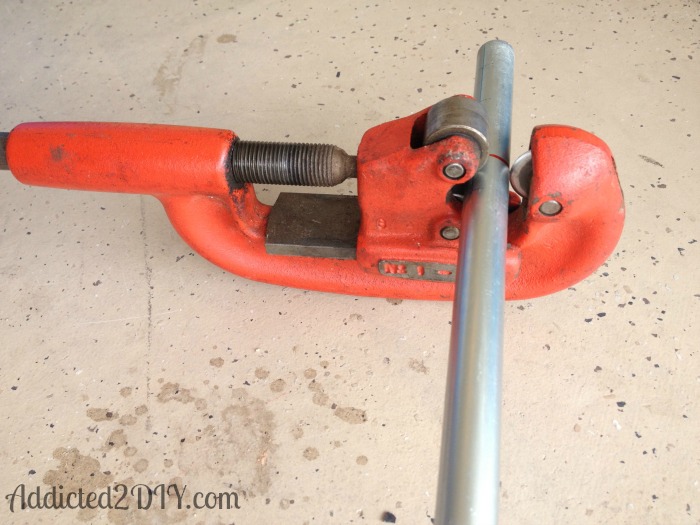 I measured and figured out how much pipe needed to be cut off of each end and used a pipe cutter to trim them up.
I picked up some curtain brackets at Lowes for a little under $5 each and mounted them at each end and each corner.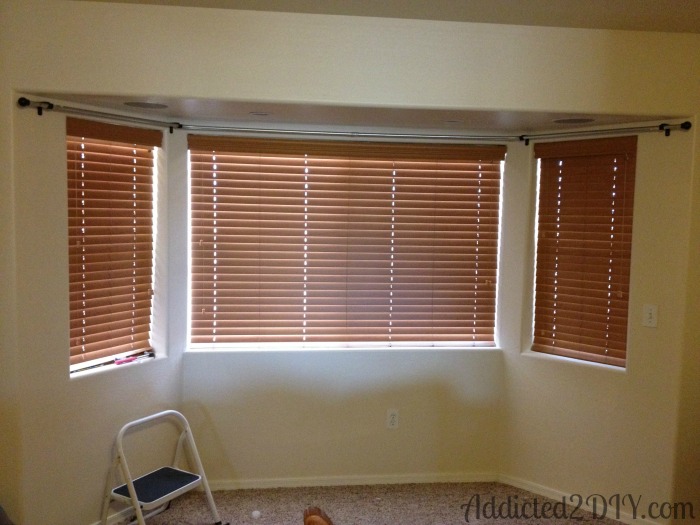 I did a dry run to see how everything would fit. To attach the two pieces of pipe together, I used a half inch coupling with locking screws to secure the two pieces together. For the caps on each end of the pipe, I ended up buying a cheap curtain rod and using the caps on it. I couldn't find anything else that was small enough to fit a 1/2″ pipe.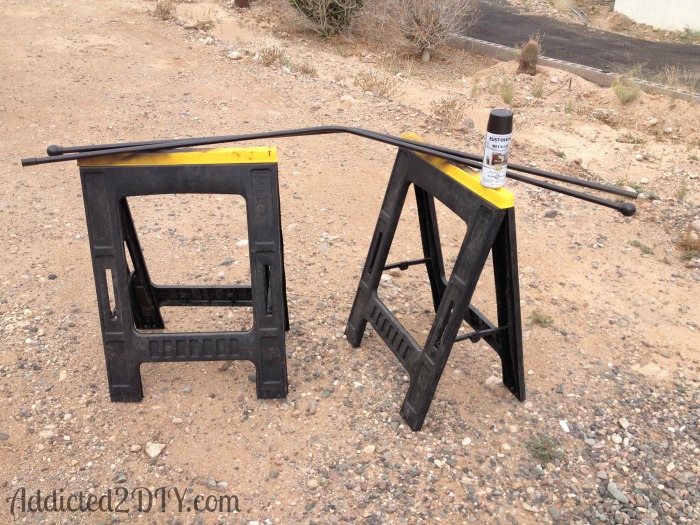 I took the new curtain rod outside and spray painted it with Rustoleum Metallic paint in hammered black. Before you paint your new curtain rod, you'll want to sand the metal to rough it up a little and ensure that the paint has a good bond. I didn't do this and now I've got to touch up the paint in a couple of places.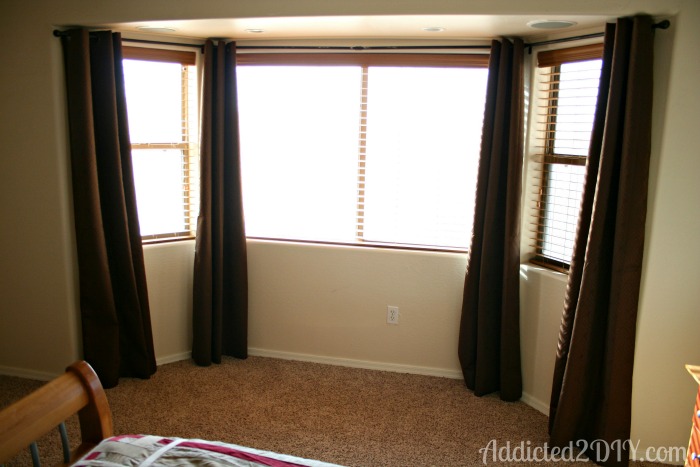 I purchased the blackout curtains online from Target. I'm not in love with the color, but until I can find or make curtains that I do love, these will certainly do. Our bedroom is like a cave with the curtains and blinds closed, which my husband absolutely loves. Especially for those rare occasions when he gets to take a nap during the day. It also helps to keep our bedroom cooler in those sweltering summer months. If you've got a bay window that you've been meaning to add some flair to, or darken a room, I hope you find this tutorial helpful. As always, I love when you pin, like, and share with your friends!
~Katie
Linking up at these parties: