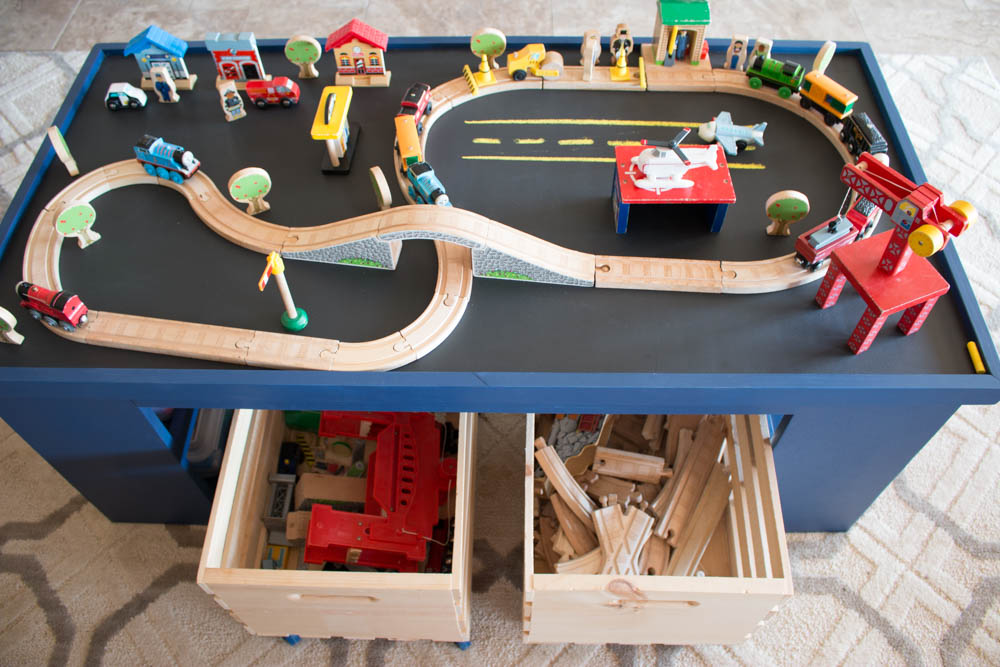 Hi there everyone! Halloween is over and it's hard to believe that we're just a few short weeks away from Thanksgiving and then Christmas! Where has the time gone? I am so excited to have teamed up with the awesome folks over at RYOBI Tools and got a head start on my Christmas building this year by building this awesome 4-in-1 Activity Table. I built it for my three nephews based on a suggestion from my brother. I went with his idea and rolled with it to create this fun activity table.
On one side it can be used as a train table, a chalkboard, and a drawing table. On the other side, it can be used as a Lego table! There's also tons of storage for toys, markers, etc. My brother and his family were in town back in September, so I was able to give it to my nephews a little early. I built this table specifically to easily take apart so that it could easily be moved about the house or, in their case, packed up and driven halfway across the country.
Want to build one for your kiddos? Head over to RYOBI Nation to get the FREE tutorial! You can also win a free set of RYOBI tools! Just follow the Rafflecopter instructions below to enter!


a Rafflecopter giveaway

If you build this or any project, I'd love to feature it! Make sure to tag me on Facebook and Instagram (@addicted2diy) and on Twitter (@addicted2diy1) with pictures of your projects. You can also use the hashtag #addicted2diy or email me (katie@addicted2diy.com). Happy building!
DISCLOSURE: I am a celebrity blogger with RYOBI Nation. All ideas and opinions in this post are 100% my own.