Hey there everyone! Today I'm going to show you how I created this travel-inspired gallery wall. I've been wanting to create a gallery wall in my den for quite some time, but it was always so hard to figure out exactly how to put it together. Part of my problem was the sheer size of the wall in this room. It's pretty long and really needs a lot of pictures to fill the space.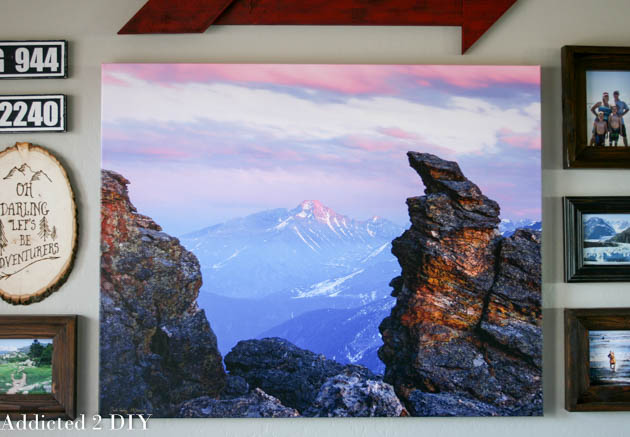 The other problem was that we have this huge wrapped canvas picture that my father-in-law gave us as a wedding gift almost 10 years ago. It's a picture of Long's Peak (aka my husband's nemesis) in the Rocky Mountains. Hanging by itself, it looked so out of place. Trying to find another place in our house to hang it was virtually impossible. We just don't have a place for it. I toyed with the idea of getting rid of it, but I knew that wouldn't fly with my husband. I decided to channel Tim Gunn and "make it work."
We LOVE to travel, so I finally came up with the idea of creating a gallery wall of our many travels. Once I came up with that idea, I realized that our entire den could be a place to showcase pictures and items from our travels. Then came the challenge of figuring out the layout of the wall.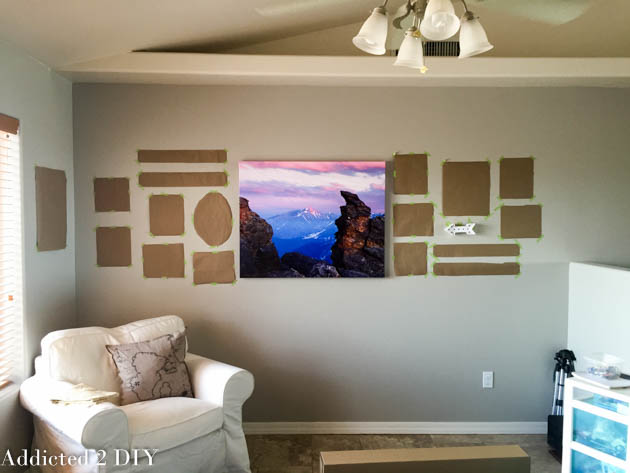 Planning the gallery wall was no quick task. It took quite a bit of time to really figure out how I wanted it to look and what pictures I could hang on the wall. After I had an idea of what pictures I wanted to hang, I cut some paper and taped it on the wall to play with the layout. This is the perfect way to really get a feel for the layout and tweak it if needed.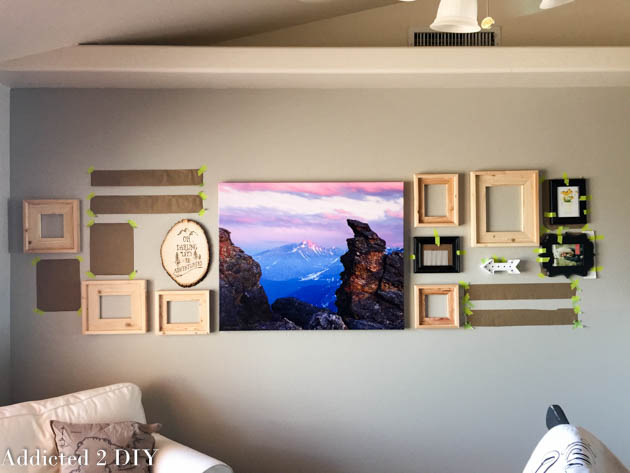 I searched high and low for the perfect frames, but the prices were absolutely insane! I ended up building my own frames and then grabbing some that I already had to mix things up a bit. I really wanted this wall to be perfect, so I was constantly playing with the layout to make sure everything was just right.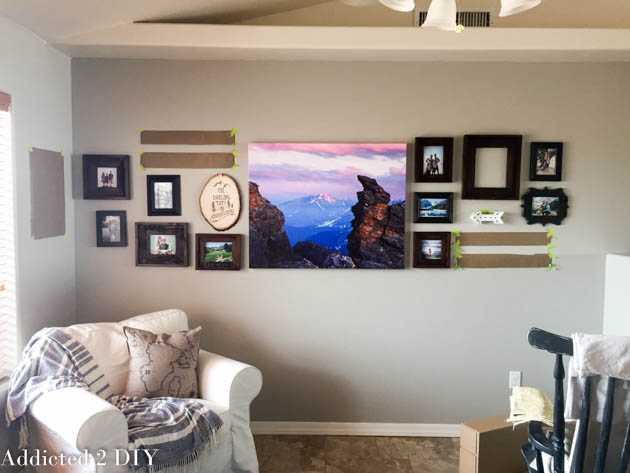 I stained the frames that I built and hung them on the wall with Command Picture-Hanging strips
(affiliate link). These things are lifesavers! After filling countless holes in the wall when I painted this room, I was not about to nail a bunch more into it. I bought several packages of the strips and stuck them onto the backs of my frames. It made hanging them so much easier.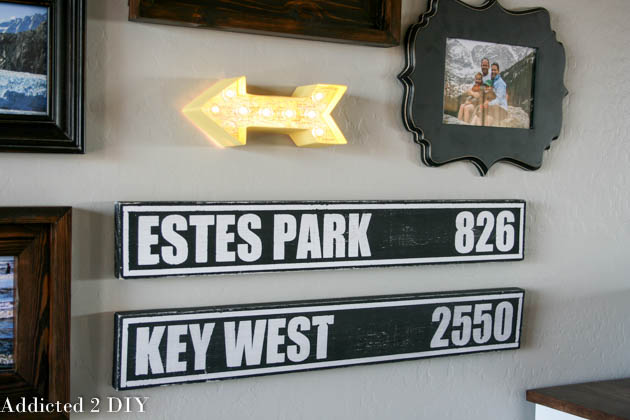 To finish the gallery wall off, I embellished a Heidi Swapp marquee arrow. I first painted it and then cut a map to fill the inner part of the marquee. I also DIYed these mileage signs, and I'll be sharing that tutorial with you soon.
I flanked the large canvas picture with some of our favorite vacation pictures and also my wood burned wall art.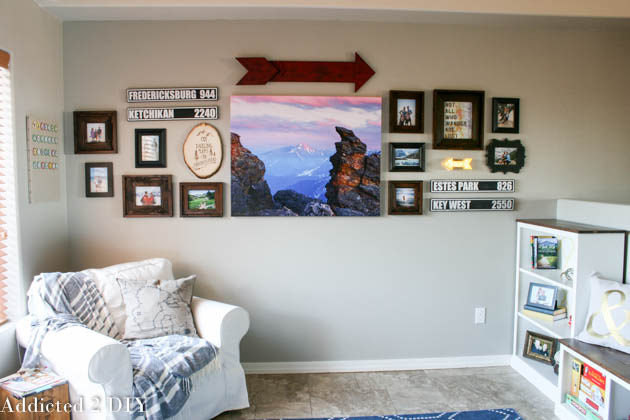 I couldn't be happier with how the gallery wall turned out. Especially being able to display all of those favorite vacation pictures that we've kept on our computers over the years. I love the personal touches I was able to create, like the mileage signs of our favorite places. This is quickly becoming my favorite room in our house and I can't wait to share the full reveal with you!