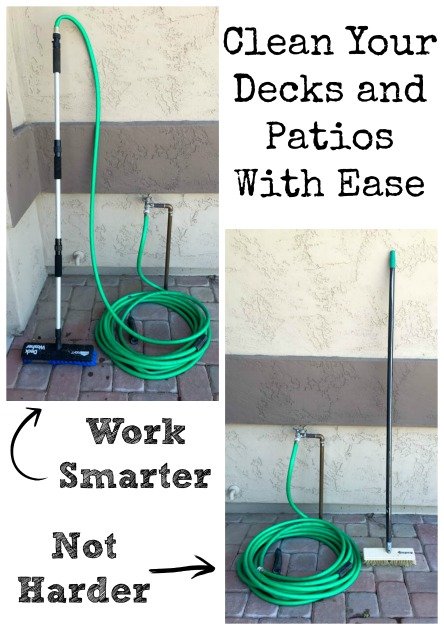 Springtime not only means gardening and sprucing up the yard, but it also means cleaning up the porch or deck. While I love working outside, it can sometimes be a pain. So when I discover a new tool that can help make that job easier, I can't wait to see if it really works! This one definitely does! And I'm giving TWO away to some lucky readers at the end of my post!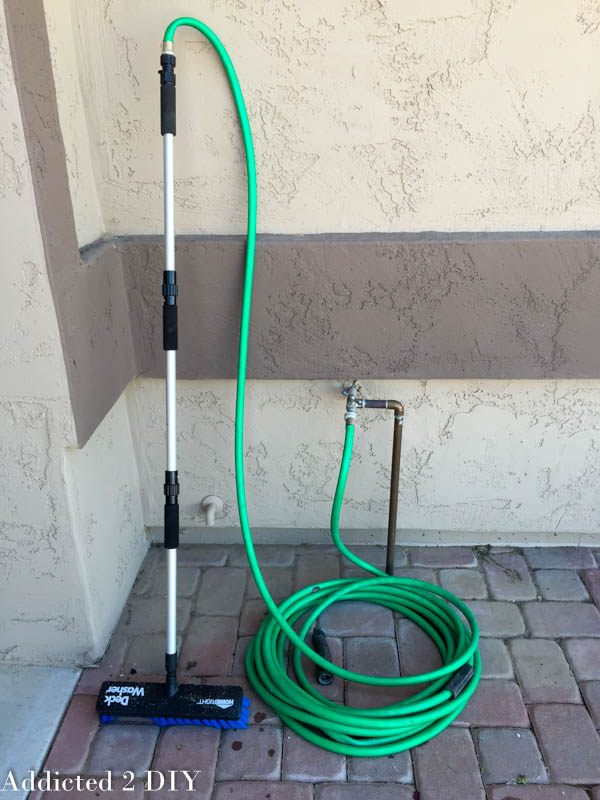 The HomeRight Deck Washer combines two cleaning tools into one handy and easy to use tool. Instead of spraying sections of your patio down, then grabbing your brush to scrub, you get to do both things at once. You can even purchase an optional handle with a soap dispenser for those extra dirty or greasy cleaning jobs, like the garage floor or driveway.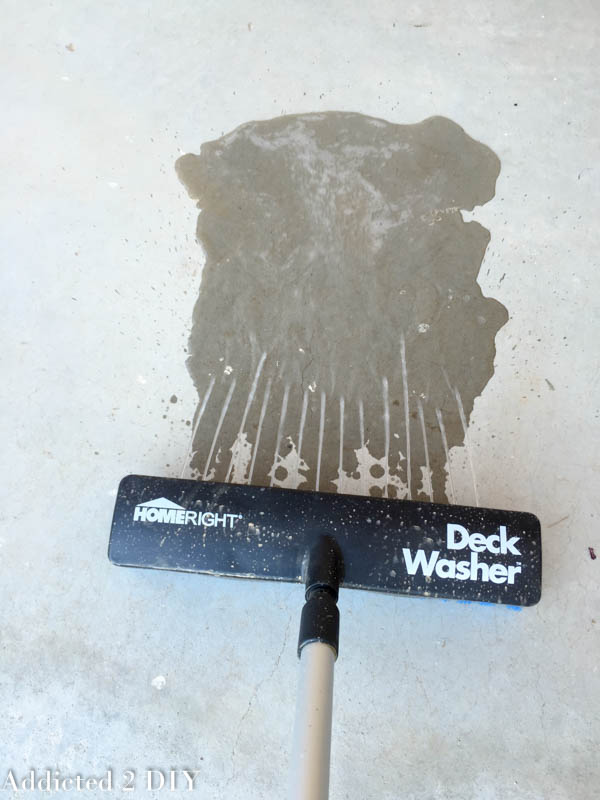 The Deck Washer has a wide 13″ brush head and 14 water spray holes to help you make the most of your cleaning. It helped me get the pesky bird poop off of my front porch in no time at all!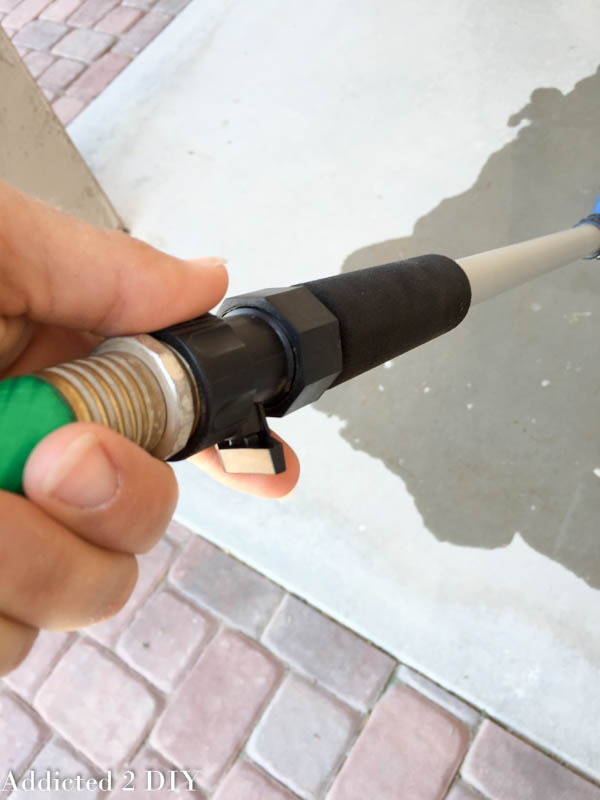 The end of the handle has a valve so you can adjust the flow of water. It's so nice to be able to shut it off if I need to or only have a little water flowing when I don't need a ton of water pressure. Plus, you can feel good knowing that you aren't wasting a ton of water like you would just spraying down the patio.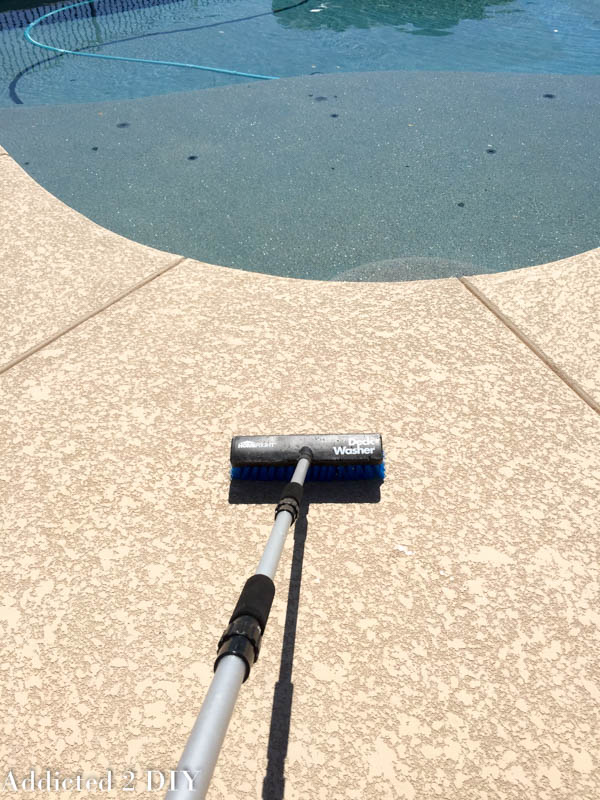 It's no secret that we're pretty excited about our new pool. I shared everything we learned and saved by doing it ourselves, here. The color we chose for our deck was a nice neutral color, but of course we have had several people throw out the comment that it will probably stain easily with all of our dust. Ever since then, I've been worried about that.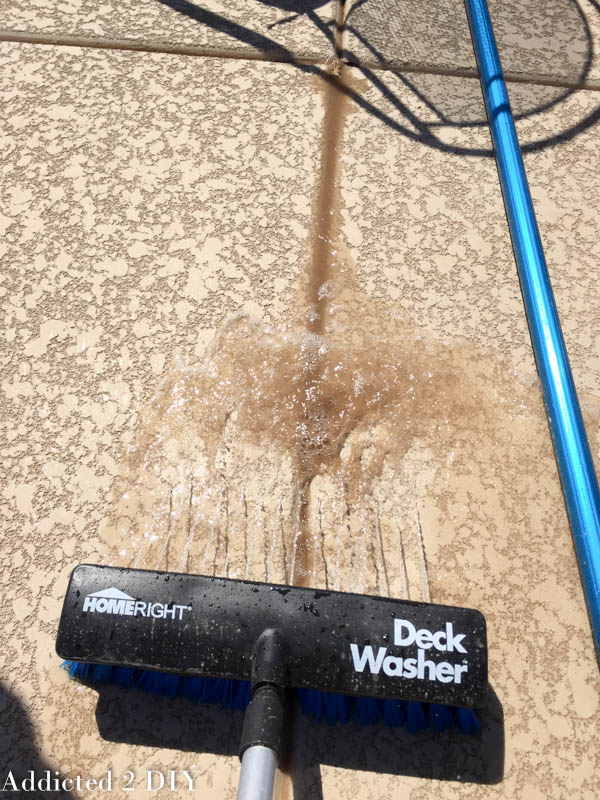 Thankfully, I can easily clean the whole deck in just a few minutes without wasting a lot of time or water. Plus, it works great when the kids spill things on the deck while we're hanging out by the pool. We had a bunch of family over a few weeks ago and after everyone was out of the pool, I was trying to use the kids' water guns to clean the spilled soda and Doritos off of the deck. This thing would have been a lifesaver that day!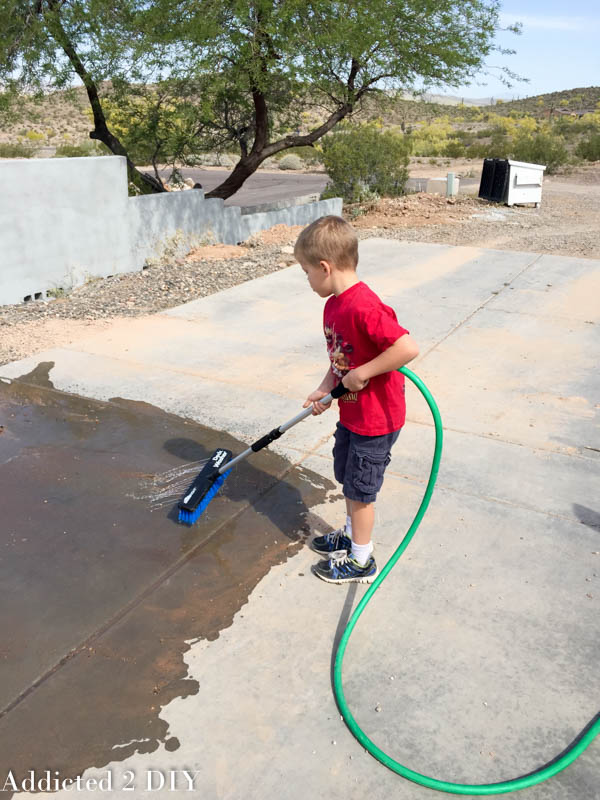 My kids even love the HomeRight Deck Washer. My youngest was the first one to even use it. He didn't like the mud my husband had tracked onto our driveway as it was ruining his place to ride his scooter. He decided he was going to take it upon himself to clean it off. I just left one of the sections off, so it was the perfect height for a 7 year old and he went to work!
Are you ready to win one for yourself? HomeRight is graciously giving two readers the chance to win their very own HomeRight Deck Washer along with the soap attachment to help you in your outdoor spring cleaning. Just follow the Rafflecopter below to enter. Entrants MUST follow HomeRight in some way via social media to qualify. Giveaway is open to US residents ages 18 and over. Void in Alaska and Hawaii. Good luck!
DISCLOSURE: I have received product and/or compensation for this post. All opinions; however, are 100% my own. Please see my disclosure statement for more information.