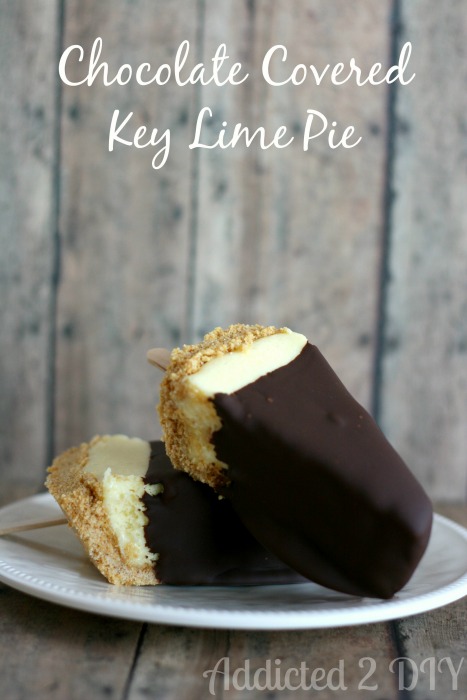 Have you ever heard of chocolate covered key lime pie? We hadn't either until we were on our Caribbean cruise last year. We had three ports of call and Key West was our final (and favorite) stop. I am a planner and I had researched each port we stopped at prior to leaving for our cruise, and I read that you can't go to Key West without getting a slice of chocolate covered key lime pie. My husband and I love key lime pie, so we knew this would be a must.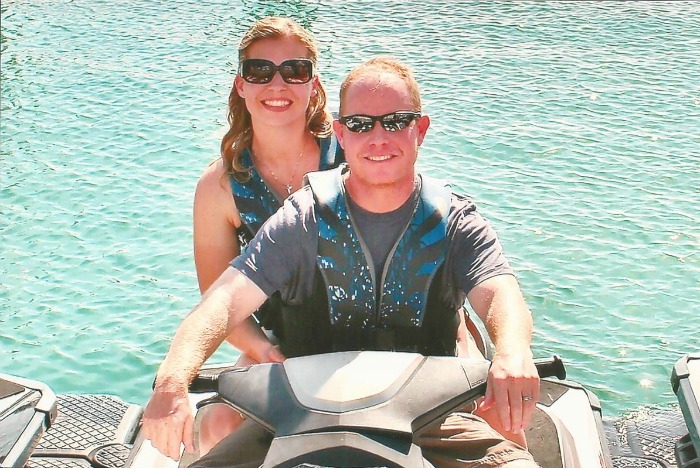 First I have to say that Key West is awesome! We went on the cruise with four other couples and had a blast, but Key West was definitely the best stop. Our favorite picture of us from the trip was right before we went on a two hour jet ski tour. I also was still blonde back then. I'm thinking of switching back. Anyway, back on track… After our jet ski tour, we found the shop that everyone was talking about.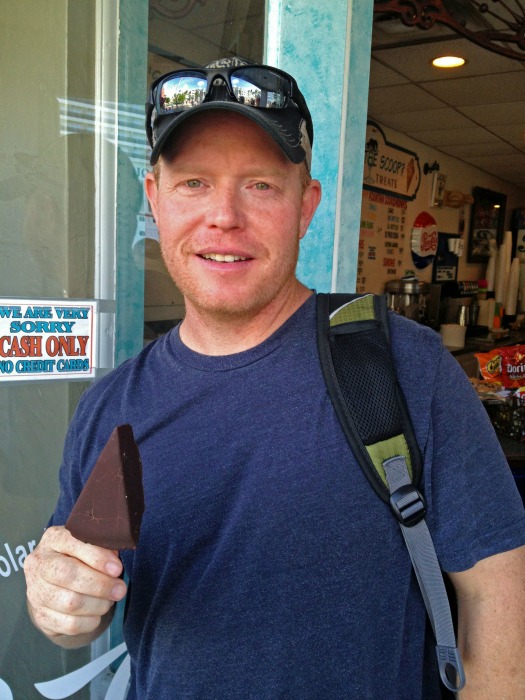 The tourist sites were not lying when they said this chocolate confection was amazing. It was all I could do to get my husband to share with me! I miss that trip and someday I hope that we will go back. In the meantime, I decided that we could relive at least a part of that day by making these delicious treats at home.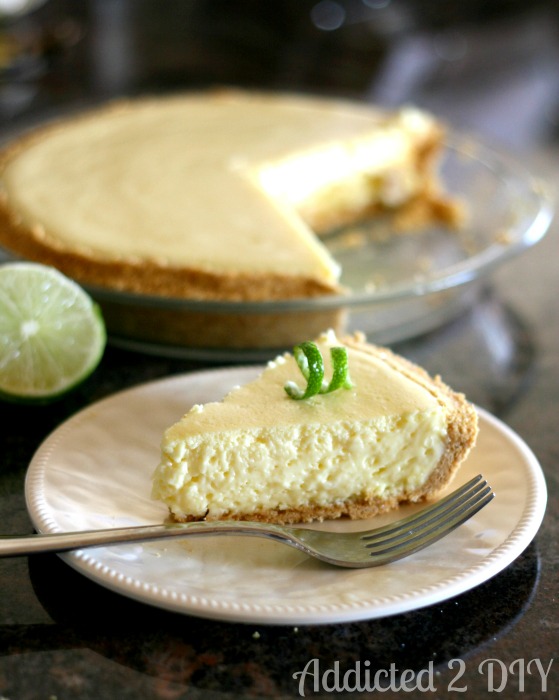 Our favorite key lime pie recipe is one I saw on the local morning news show several years ago. It's an Italian key lime pie that uses mascarpone cheese. It's delicious as is, but to crank it up a notch, cut the slices of pie and place the individual slices on a parchment-lined cookie sheet. Place them in the freezer for about an hour. After they are slightly hardened, grab some popsicle sticks and a sharp pointed knife. Stick the knife through the back of the pie crust to basically make a pilot hole for the popsicle stick to be inserted. Do this for each slice of pie and then return them to the freezer for several hours or overnight. Don't worry if the pie crust cracks a little when you insert the popsicle stick. Once they are frozen, they will be fine.
Once the pie slices are completely frozen, melt some semi-sweet (or whatever you like) chocolate chips with some shortening. The shortening makes the chocolate a bit softer to bite into. The amount of chocolate you need will depend on how many pieces of pie you plan to dip. Since we also like eating the pie au natuale, I only froze 6 slices. I melted one bag of chocolate chips and 2 tbsp of shortening together in a narrow container at 30 second intervals until it was completely melted.
Grab the slices of pie out of the freezer and dip them into the melted chocolate. Gently bump your dipping hand with the other to knock off any excess chocolate and place them on a fresh parchment-lined pan. Once all of the slices are dipped, place them back in the freezer to harden the chocolate. You can either serve them to guests or wrap them individually in plastic wrap.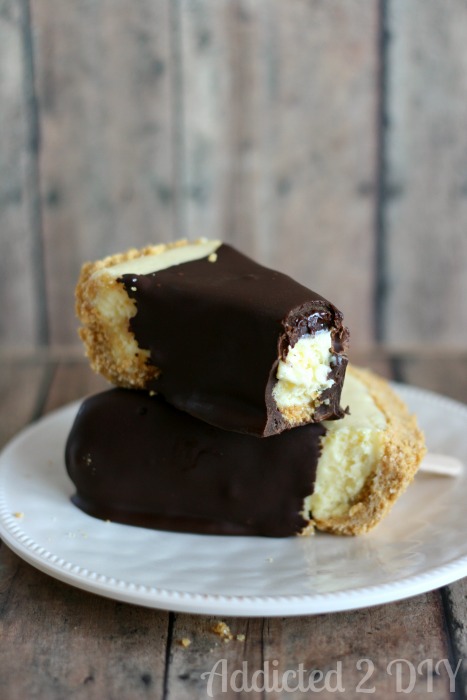 This is an excellent alternative to your traditional chocolate dipped strawberries for Valentine's day. I hope you enjoy!
~Katie
Italian Key Lime Pie
2014-02-08 11:57:51
Serves 12
Nutrition Facts
Amount Per Serving
* Percent Daily Values are based on a 2,000 calorie diet. Your Daily Values may be higher or lower depending on your calorie needs.
Ingredients
1 1/4 cups graham cracker crumbs
1/2 stick unsalted butter (melted)
1/4 cup sugar
2 cans sweetened condensed milk
8 oz. mascarpone cheese at room temp
6 egg yolks
1/2 cup key lime juice
Instructions
Preheat over to 300 degrees
Combine graham cracker crumbs with melted butter and sugar to make crust. Pack tightly into a pie shell or large tart pan, then set aside.
In a mixer with a whisk attachment on low speed, combine eggs, mascarpone cheese and condensed milk until smooth. Then slowly add the key lime juice and mix well. Pour mixture into shell.
Bake for 15 minutes. Remove from oven and set on pie rack to cool for 30 minutes. Place in refrigerator for at least 2 to 3 hours or overnight.
Notes
Depending on the size pie or tart pan you use, there may be extra pie filling. We like our pie on the tart side, so I always add a few extra tablespoons of lime juice.
Adapted from Chef Dad's Italian Key Lime Pie (as seen on Good Morning Arizona 2006)
Adapted from Chef Dad's Italian Key Lime Pie (as seen on Good Morning Arizona 2006)
Addicted 2 DIY https://addicted2diy.com/