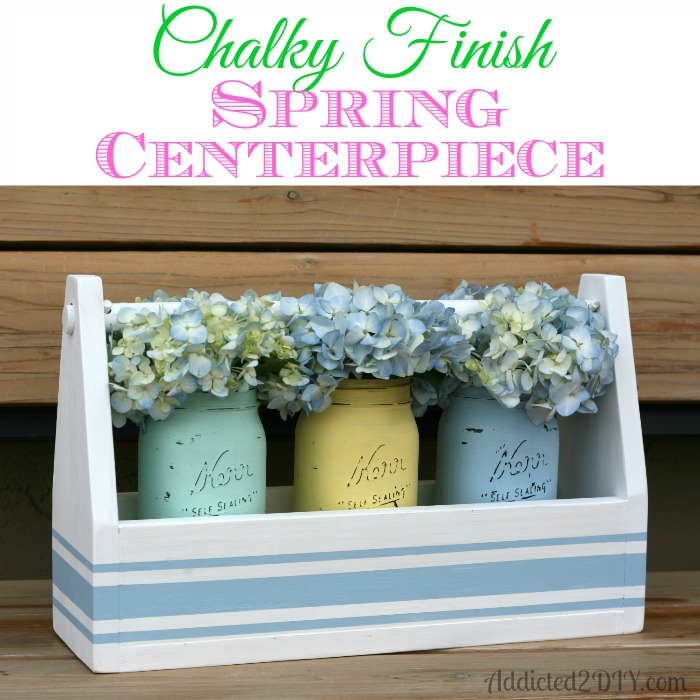 We have been enjoying some beautiful spring weather here in Arizona this past week. It's been a great inspiration to work on some more spring projects around the house. My latest project is this chalky finish spring centerpiece. I have loved the look of the painted and distressed mason jars and I knew I wanted to give it a shot at making my own. I also built the wooden tool box. It was so simple and such a versatile project. I've told my husband that I think it would be fun to let our boys build their own little toolboxes like this as a fun family project.
I used Americana Decor Chalky Finish paint for this entire project. Have you tried their chalky finish paint before? I love it! They have tons of fun colors that can be used as is or mixed together to create your own custom color. For a while, you could only order it online at Home Depot, but I was giddy with excitement when they finally started carrying it in Michael's this past week!
Here are the supplies I used for this project:
1 – 1×6 @ 6′ long
1 – 1×4 @ 6′ long
1 1/4″ brad nails
wood glue
220 grit sandpaper
7/8″ wooden dowel
1/4″ wooden dowel
Americana Decor Chalky Finish Paint in serene, refreshing, everlasting, and delicate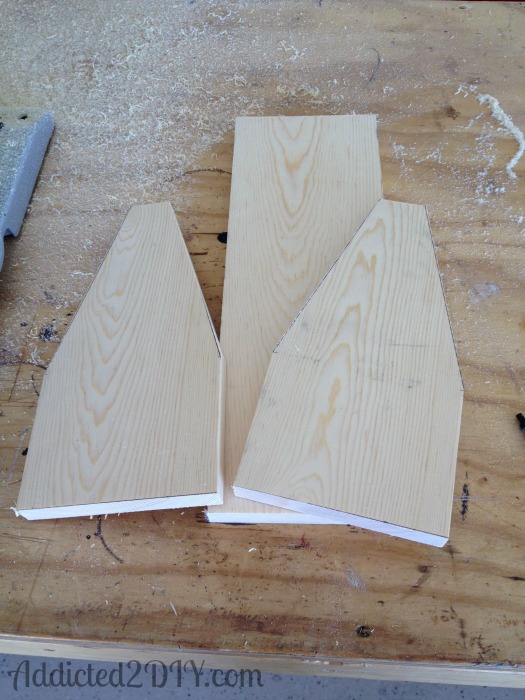 To start, I cut my 1×6 into one 16″ piece and two 11″ pieces. To taper the ends of the 11″ pieces, I marked both sides at 4 1/4″ from the bottom. I then found my center point at the top of the boards and marked 3/4″ from the center on each side. This will make the top of the board 1 1/2″ wide. I took a ruler and drew a line from the to marks down to the lower marks. I used my 12″ miter saw to make these cuts, but this could also be done with a jigsaw.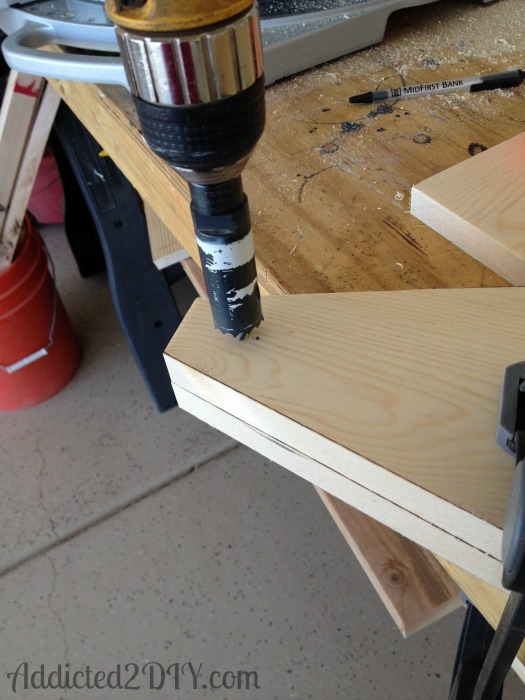 After my cuts were made, I clamped the two end pieces together to drill the holes for the dowel.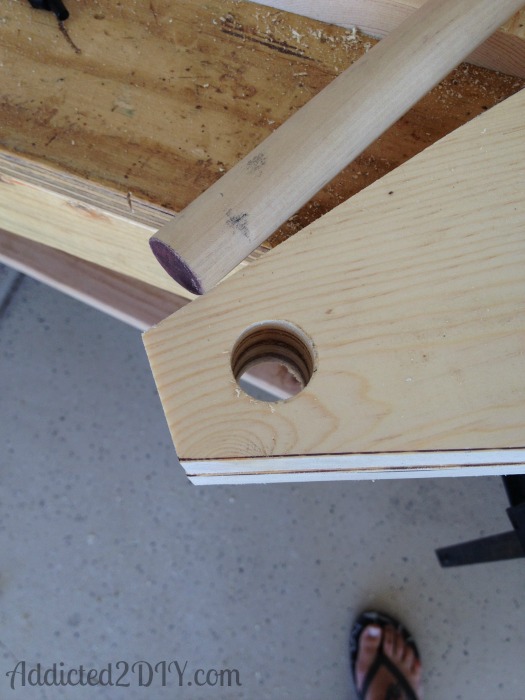 I drilled the holes at the same time so that I could ensure they would meet up perfectly when the dowel was inserted. I used a 7/8″ hole saw to drill the holes. Please disregard my foot in the picture. My feet love to photobomb my step by step pictures. And yes, I'll admit that flip flops are not exactly safe workshop attire.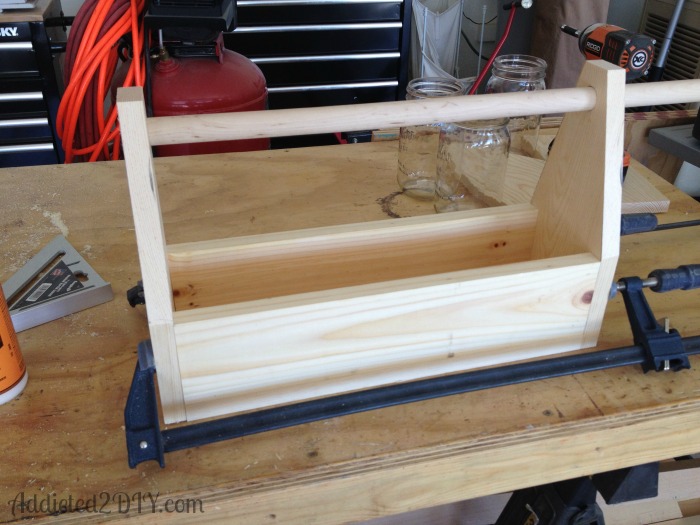 I cut my two 1/4″ pieces at 16″ as well and glued and clamped everything together. I inserted my dowel at this time as well to ensure that it all fit nicely before I began nailing. I didn't take pictures of the next steps, but I used my brad nailer and nailed the sides and bottom of the toolbox with 1 1/4″ brad nails. I also cut the dowel down to 18″ long. This gives it about a 1/4″ overage on each side.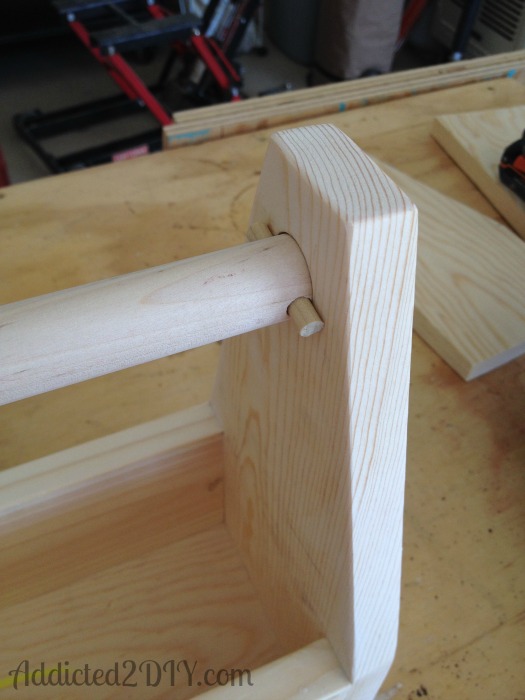 To secure the dowel into the toolbox, I cut two 1/4″ dowels down to about 1 1/2″. I used a 7/16″ drill bit to drill the holes close to each end. I had to work the drill bit around in the holes to get the small dowels to fit, but I wanted them to be snug. I then sanded the box with 220 grit sandpaper to round the edges and smooth everything out.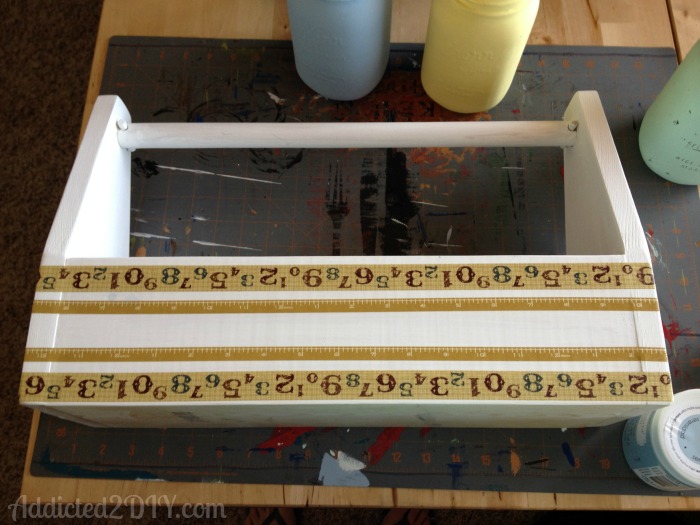 I painted the entire box with two coats of everlasting chalky finish paint and then painted grainsack stripes in serene. I love Washi tape for so many reasons and marking my paint lines is one of them.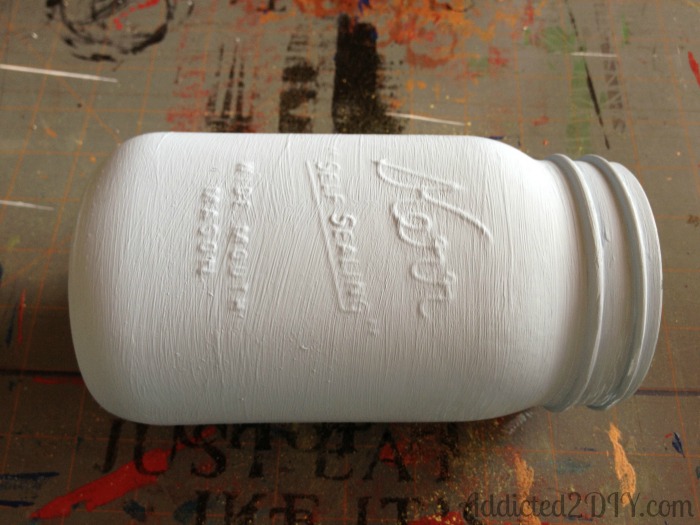 I grabbed three quart sized mason jars that I already had on hand and painted each of them with two coats of chalky finish paint.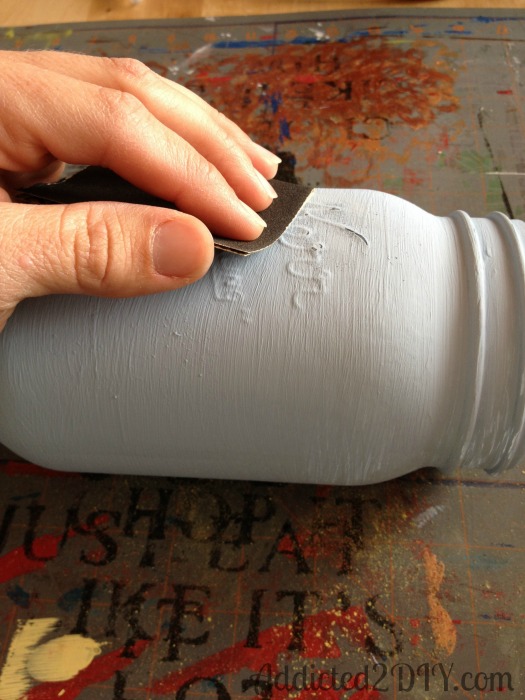 Once the paint was dry, I took more 220 grit sandpaper and distressed the jars a bit.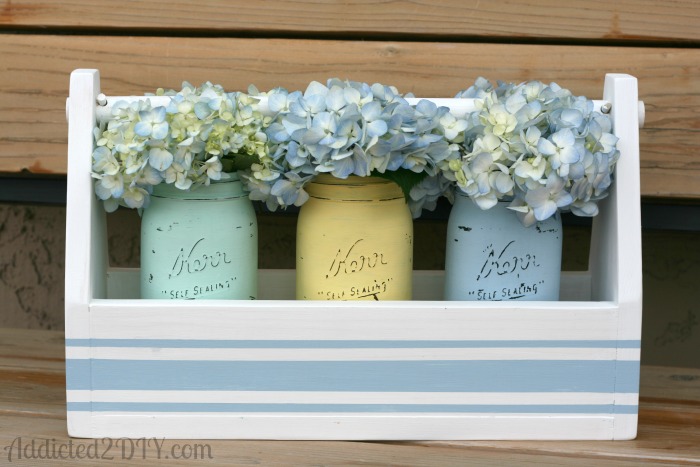 I had originally planned to use daffodils in the jars, but I found some beautiful hydrangeas at my local Safeway, and bought those instead. I stuck a few small wood blocks under the jars to raise them up a bit in the box. The flowers looked much better that way.
I love fresh flowers in the spring time and I'm definitely going to be keeping this filled with them throughout the season. It will probably find its way onto the table for Easter too.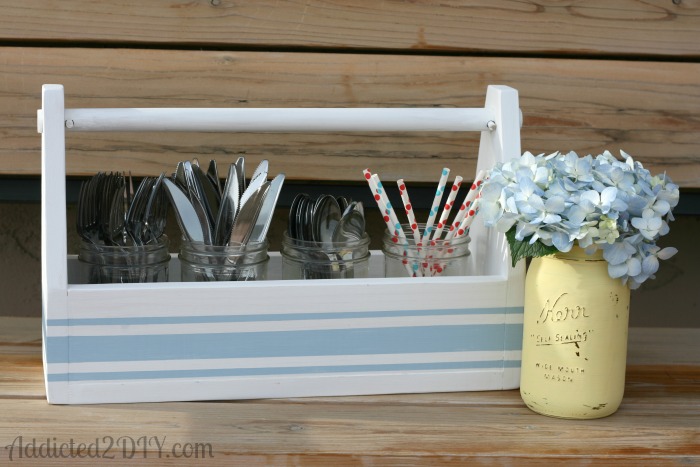 Another great use for this is as a silverware caddy. It will be perfect for parties and BBQs this spring/summer. I may even add a few things to the box to dress it up for certain holidays.
Thanks for stopping by and I'd love to hear if you plan to give this toolbox centerpiece a try!
~Katie
{Disclaimer: I am a member of the DecoArt Blogger Outreach Program. I received compensation and/or products for this post. All opinions and ideas for these products; however, are my own.}
Linking up to these parties: