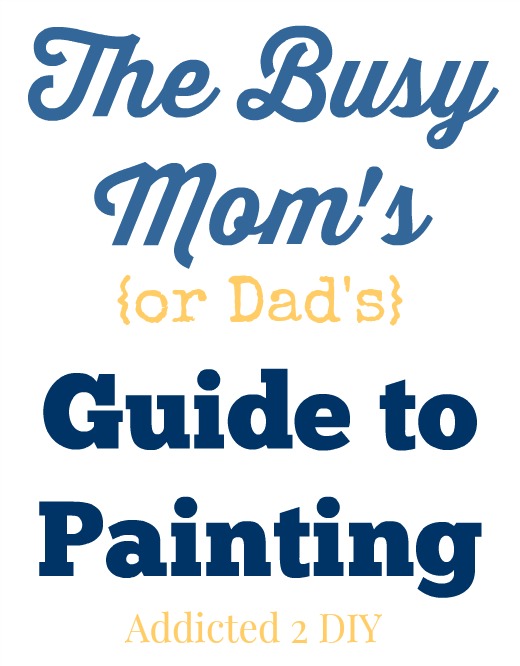 Hey everyone! I've finished up yet another painting job for my house and today I'm sharing how I managed to paint our master bedroom in record time. They may not be officially called life hacks, but the tools that HomeRight has for painting have made my life so much easier. I used to dread painting with every fiber of my being. Now I think I may actually enjoy it! It's a crazy thought, but it's true. This month, I decided to tackle my master bedroom.
When we bought our house, we had the entire interior painted one color. It was A LOT of colors and we didn't want to spend a lot of time picking accent walls, etc. We picked a neutral antique white color and my brother-in-law painted the walls and ceilings for us. We had always planned to add some accent walls later, but the task just seemed so daunting. I finally decided it was time to start painting and chose our bedroom as my first task. I love the look of greige and my friend Corey from Tiny Sidekick shared a great way for choosing the perfect greige paint. I chose some colors I thought I'd like and then bought my samples. I cannot stress enough how important it is to buy samples first. We've got $300 of paint sitting in our garage from when we first started painting the interior and I had only a color swatch as my reference. My brother-in-law started spraying the paint on the walls and my husband's words were "that color makes me want to vomit." Anyway, 7 samples later and I had picked my favorite! It turned out the be the color that Corey had also chosen for her home. For me, it was the color that seemed to compliment everything rather than having a weird contrast. I bought my paint during Labor Day weekend at Home Depot when they had an awesome sale on Gliddlen paint. I ended up buying a 5 gallon bucket to add this color throughout the rest of the house.
On top of painting our bedroom, I decided it was also time to replace our baseboards and put in the new baseboards we had bought when we were remodeling our house prior to moving in. After almost 4 years, it was time to bring them out of the shed. I'll be sharing how to replace your baseboards without destroying your walls (or sanity) later. Don't forget to stick around until the end of this post, because I've also got an amazing giveaway for you!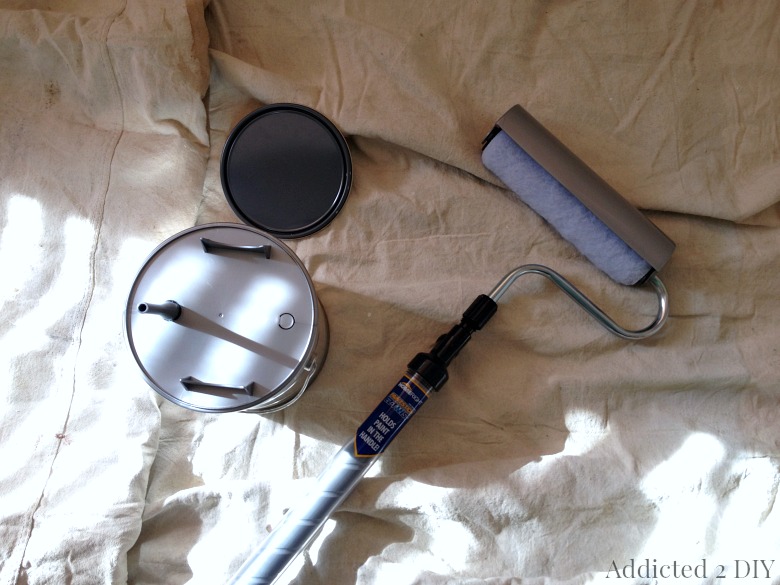 My newest tool in my painting arsenal is the PaintStick EZ-Twist Paint Roller. I was so excited to see how it would work and if it would help me paint faster. There was very little prep that needed to be done before I started. Just moving the furniture away from the walls and throwing down a few drop cloths.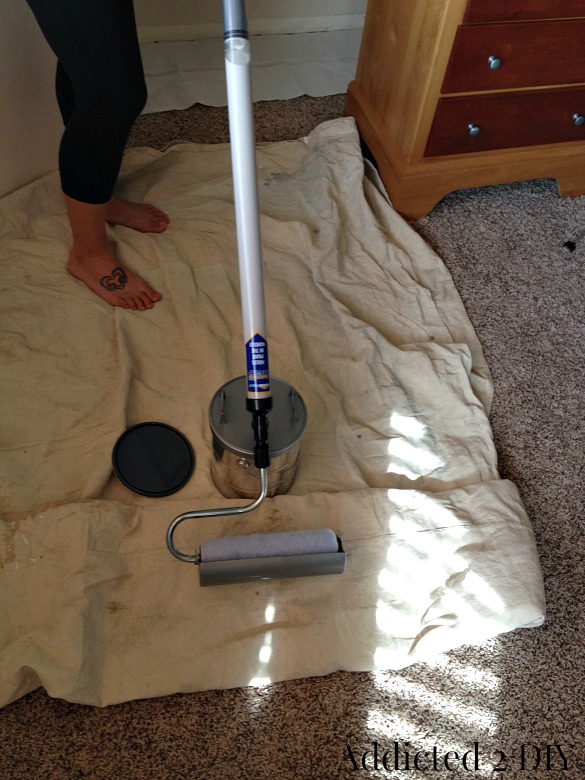 The drop cloth was really just to make sure I didn't drip anything from the paint bucket. The PaintStick comes with a lid that fits over the bucket and you draw the paint up into the handle.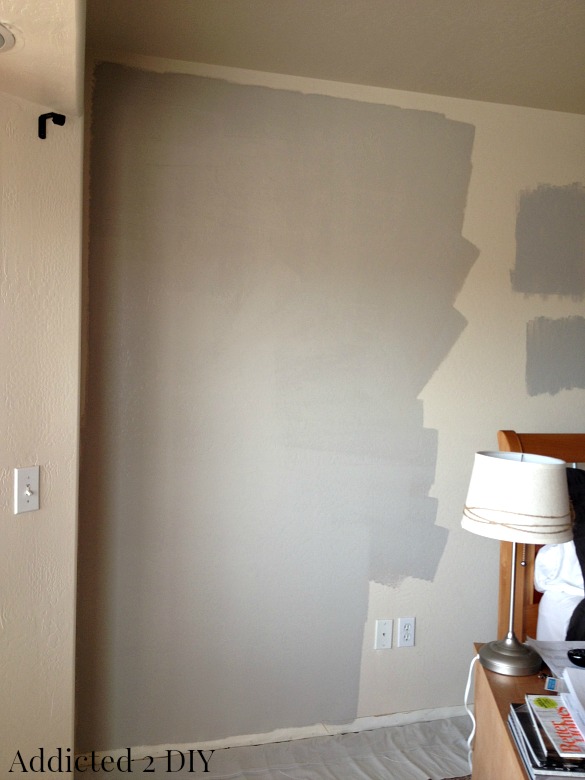 I was really curious to see exactly how much I could paint before I had to refill the handle. I goes a long way! When you don't have to stop painting every two minutes to reload your roller, you get an awesome arm workout. I was under a big time crunch when I painted my room that morning too. After getting my boys to school, I had a few things I had to take care of before I started painting (we were also prepping for a camping trip). I also had to be done by a certain time so that I could go back to the school and teach a core values lesson in my oldest son's classroom. That gave me about 2 hours to paint. The good news is that with the PaintStick, that was plenty of time. We have a big master bedroom yet I was able to paint two coats of paint on all of the walls and still have plenty of time to change clothes, run to the store, and get to my son's classroom.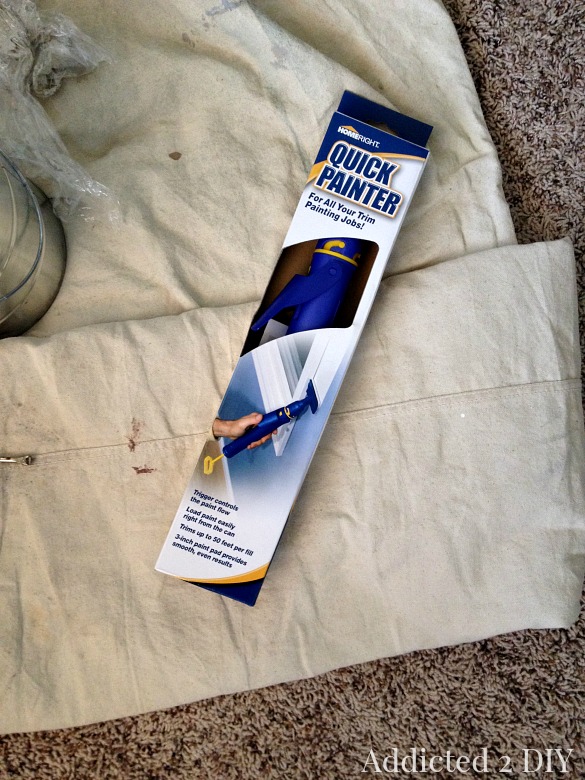 When I got home from the school, it was time for my least favorite painting task of all time. Cutting in. Thanks to my new little friend, the HomeRight Quick Painter, I didn't have to spend hours prepping/taping. I only had so much time for this task as well since my youngest had soccer practice that evening. I'm guessing by now you can see why I titled my post the way I did.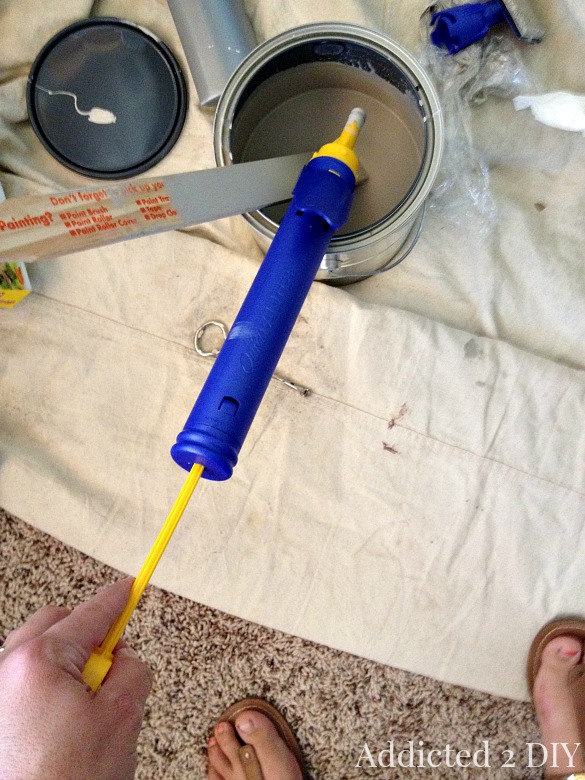 I loaded up the Quick Painter in a similar way as the PaintStick. It draws paint up into the handle. Then you just attach the paint pad to the end and you're set!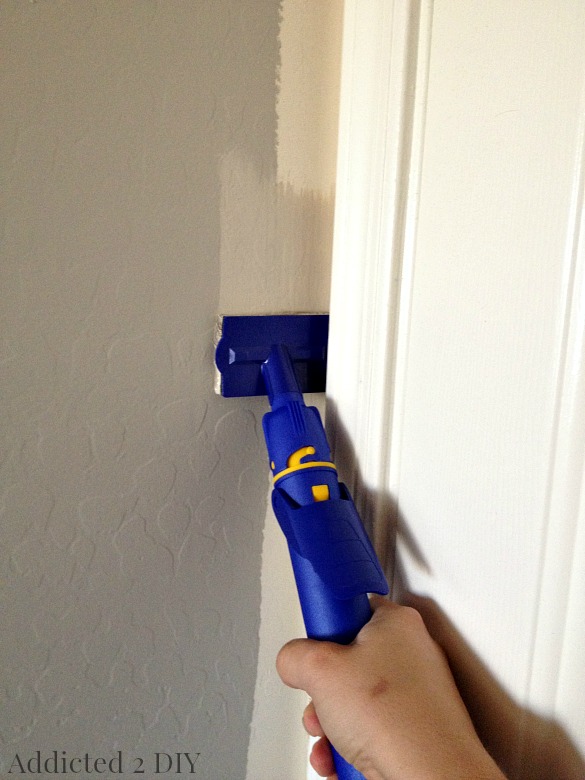 The Quick Painter worked like a charm to help me cut in edges quickly and without a mess. One thing I did learn quickly though was that you cannot press the trigger hard to reload the paint pad. Just a tiny press to allow a little paint through. The trigger is spring loaded and if you push too hard, you'll get a lot of paint coming out.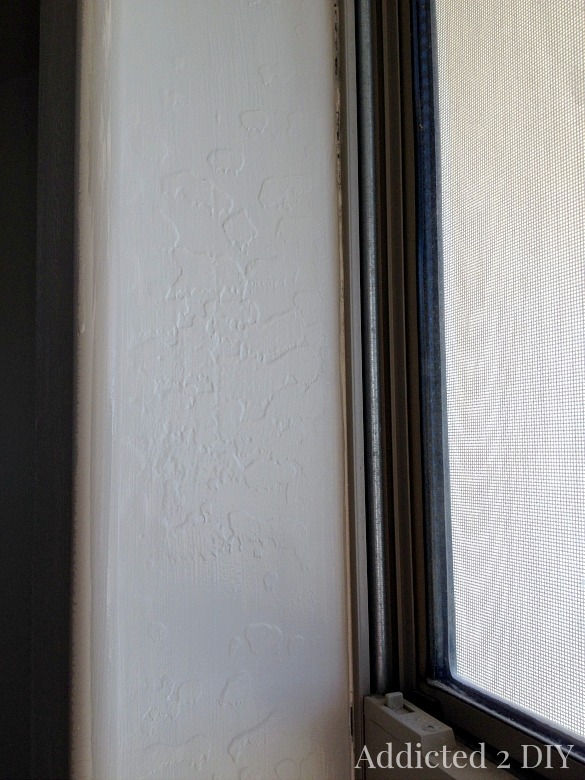 It cut in on the edges perfectly and I was so happy that I could save so much time on painting.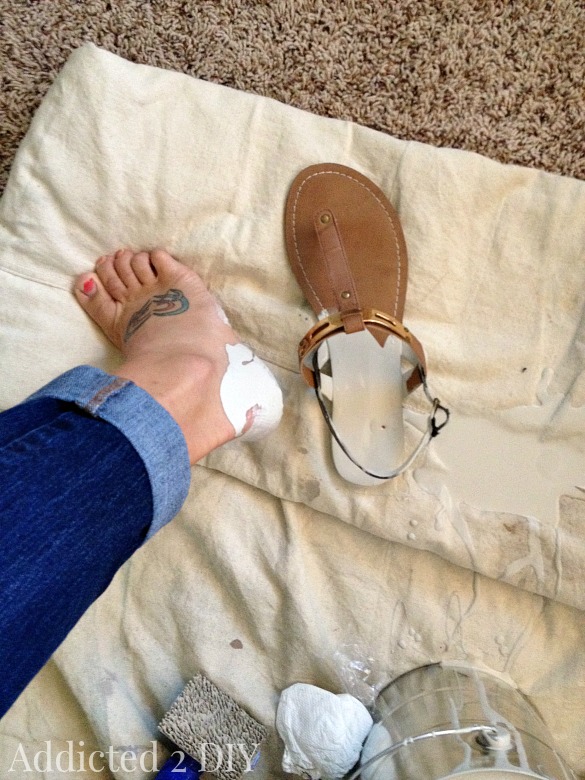 Oh, and another thing I learned. When you aren't having to reload your painting tools every two minutes, you may also forget that there is still an open can of paint on your bedroom floor and step in it while you're backing up, carrying your step stool. Prior to this "incident" I was holding off from saying it out loud but many times thinking in my head that this was the cleanest painting task I had ever taken on and couldn't wait to tell my readers how I really didn't even need to use a drop cloth. You can imagine how thankful I was to have that drop cloth protecting my carpet at this point. And don't worry, my cute sandal washed right out and I was able to dry it and wear it to soccer practice that night!
I am in love with this new paint color and more in love with how fast I was able to paint the bedroom. It feels more like a sanctuary now and less blah. Another awesome thing about painting my bedroom was that it gave me a reason to get rid of our ugly old comforter and get a whole new comforter set that would compliment our new paint color. I scored this gorgeous set at Target on clearance for $50! The pillow was on clearance for only $7! I was a pretty happy girl. Now I've just got to finish decorating the rest of the room and I'll be ready to share it all with you!
If you cringe at the thought of painting your walls, I promise you will not feel that way anymore after this! I've got to get started on the rest of my house and I am actually looking forward to it!
Are you ready for the giveaway? One lucky reader is going to be able to simplify their next painting task with a new HomeRight PaintStick EZ-Twist Paint Roller and a Quick Painter! Entries are open to residents of the United States ages 18 and over. Void in Alaska and Hawaii. Winner will be notified by email and given 48 hours to respond or a new winner will be chosen. Good luck!
DISCLOSURE: I am a brand ambassador for HomeRight and was provided product and/or compensation for this post. All opinions, and ideas are 100% my own. For more information, please see my disclosure statement page.