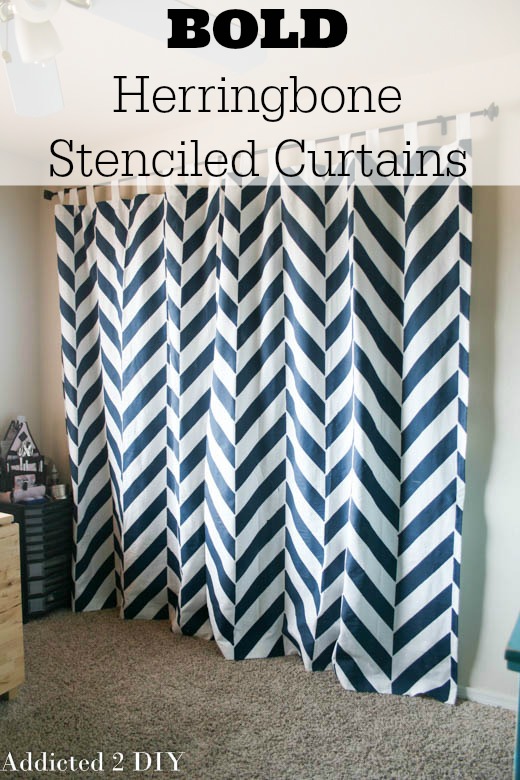 Happy Monday! Well, sort of. It's raining, which I love (and we need it)! But it also means that the block wall being built around our property isn't going to be worked on today, which also delays our pool being finished.
Even though I'm still working on the den, I have a hard time just working on one project at a time. That means the craft room/office is starting to get a facelift as well. I am stepping WAY outside of my neutral comfort zone and going with some bold colors in there. It is a creative space afterall, so going with bright and bold colors is safe to do in there. I was recently contacted by Cutting Edge Stencils to see if I'd like to try out one of their stencil designs. I loved their designs and decided that using a herringbone stencil would be perfect in the craft room. At first, I wanted to use it on a wall, but I'm not the hugest fan of the wall color in there and I really couldn't decide which wall to use it on. Then I came to the perfect solution! Oh, and by the way, you can enter to win an awesome Cutting Edge stencil at the end of this post!
You'll have to excuse the bad cell phone picture, but this is the before of the craft room/office. I've mentioned before that we have no coat closets, or linen closets in our house, which means that this closet also doubles as the coat closet. It's jam packed full of stuff and I've always hated trying to reach stuff in there with these sliding doors. It felt like it was so hard to really organize it and utilize well with these doors in the way. I convinced my husband that it would be a great idea to take them off. He wasn't sure about my idea, but he took them off for me anyway.
I knew curtains would be a perfect way to close off the closet when we wanted, so I bought these Lenda curtains from IKEA. I've never purchased curtains from IKEA before and didn't realize how long they would be, but I also discovered the genius behind that. I could make them any length I wanted and not be restricted to the sizes found at other stores. And using hem tape, means I didn't have to bust out the sewing machine!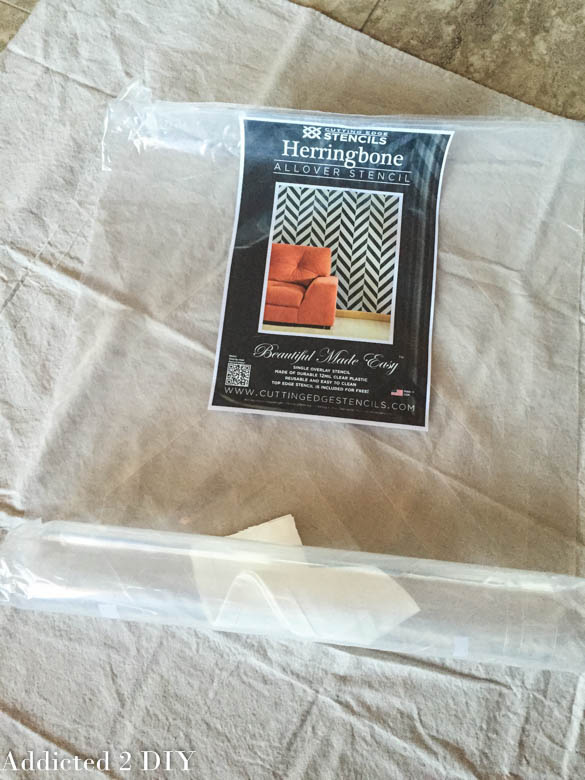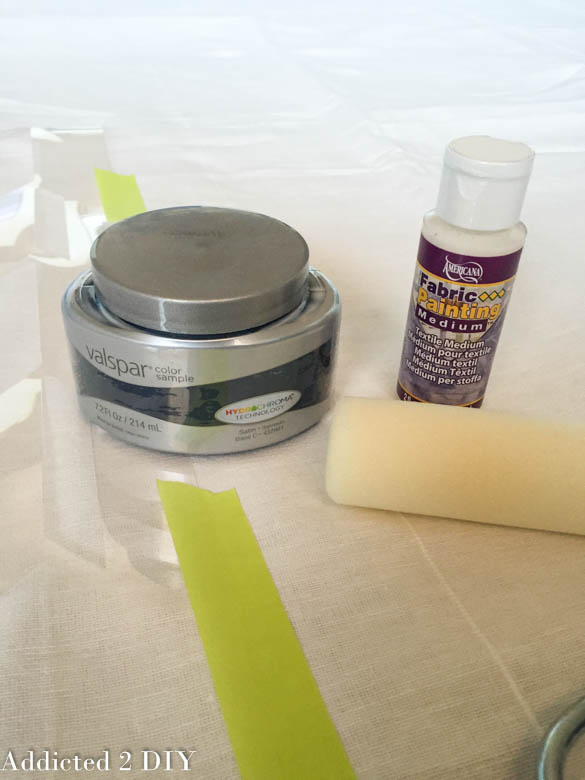 I prepped my work station for stenciling the curtains. I used a canvas drop cloth under the curtains, but I'd highly recommend either using a plastic drop cloth either under the canvas drop cloth or just by itself. The paint bled through the canvas drop cloth a bit, which then got onto our tile. Thankfully, it was an easy cleanup. I didn't know how much paint I would need, so I bought sample sizes of Valspar paint in Indigo Streamer. I mixed it with fabric medium at a 1:1 ratio. The bottle says to use a 1:2 ratio, but I felt like the 1:1 ratio worked really well with this application.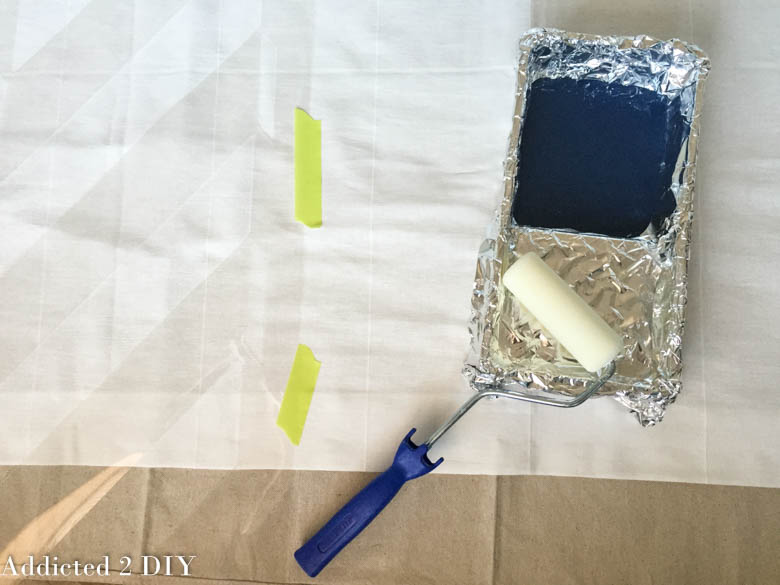 Before I got started, I taped my stencil down to the curtain and got my paint roller and tray ready. By the way, a great trick to not have to clean your paint tray is to line it with aluminum foil!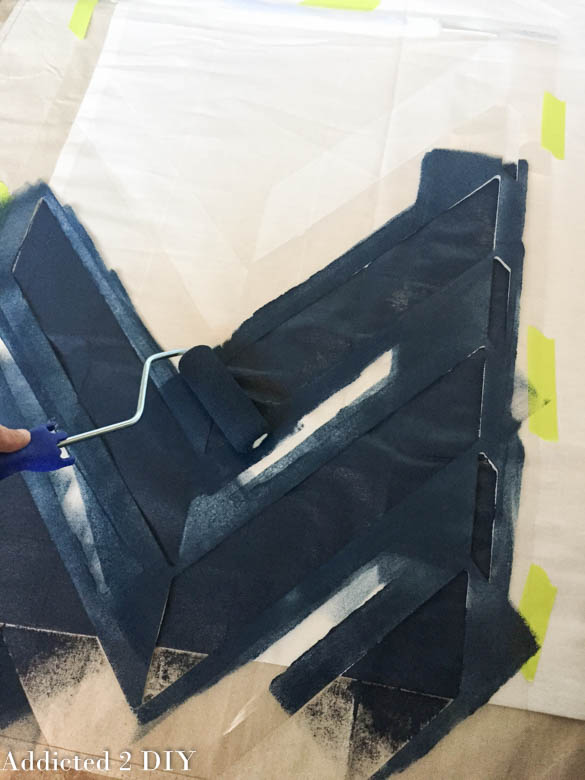 I started stenciling the curtains from the bottom up. Since I wasn't working on a perfectly flat surface (the drop cloth had a few wrinkles in it) a little paint bled underneath the stencil. It's something that is hard to prevent on a surface like this.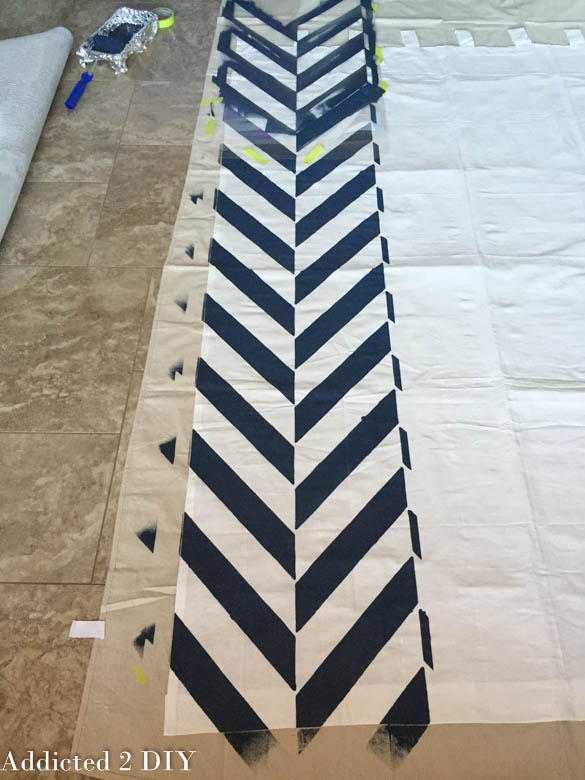 Once I was done stenciling each section, I let the paint dry for a couple of minutes, then worked my way up.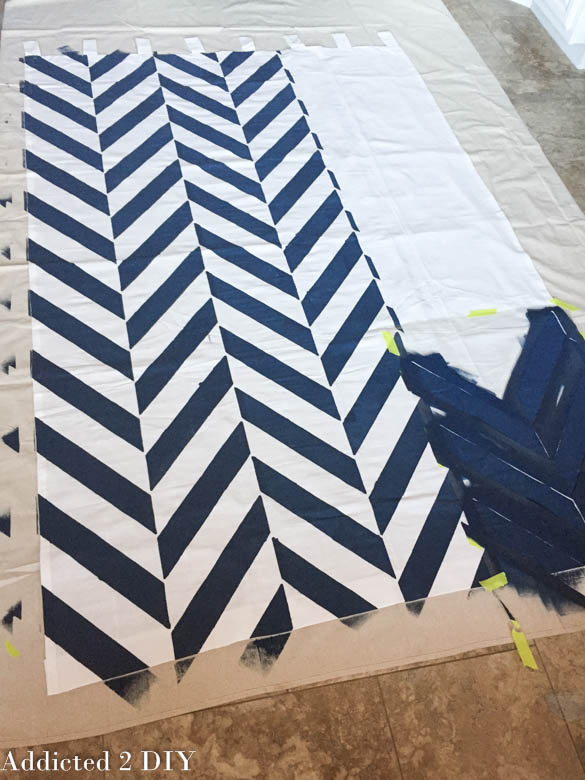 When I'd move on to the next row of stencils, I'd just line them up with the previous row and kept going. This was by far the largest stenciling project I've ever done, but once I figured out a rhythm, it went pretty quickly. I ended up using about 2 1/2 sample sized (8 oz) jars of paint to finish these curtains. The fabric really soaks up the paint!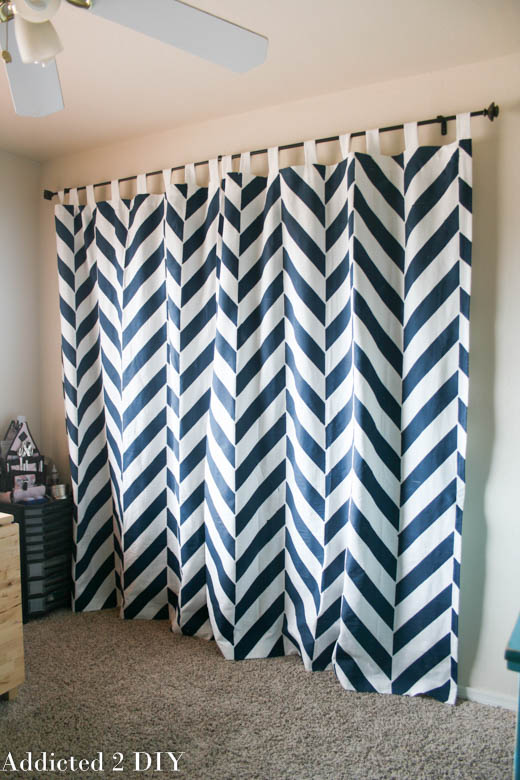 When the paint dried on the curtains, I hung them up over the closet. Remember when I said this was a big step outside of my neutral comfort zone? Well, I started to have some doubts when I hung the first panel. I wasn't used to such a bold pattern. Once I hung the second panel, though, I loved the new look! The bold pattern was just what this boring room needed! There's still a lot of work to be done in this room and I won't yet show you the disaster behind the curtains. That will come another day when I start tackling that organization job!
Are you ready to enter to win your own Cutting Edge stencil? Just follow the Rafflecopter widget below. This giveaway is open to U.S. residents ages 18 and over. Good luck!
DISCLOSURE: Cutting Edge Stencils provided me products to use for this post; however, all ideas and opinions of these products are 100% my own.