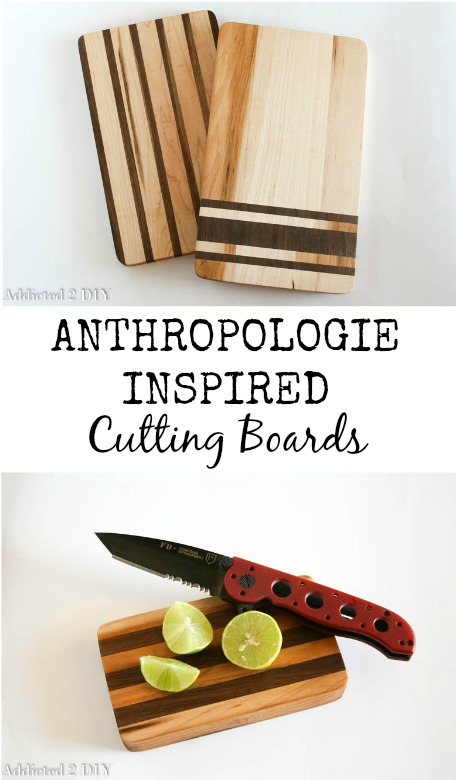 A few months ago, I shared a picture of my husband cutting a lime on a cutting board he had made. It got tons of comments requesting a tutorial for how to make one. I told him since it was his cutting board, he had to make them and I would write a post about it. He's not quite to the point of wanting to write his own posts, and I'm not sure I'm quite to the point of wanting to let him;)
I only had one request, and it was that he make a grainsack striped cutting board like this one from Anthropologie. I love grainsack stripes and it looks gorgeous on a cutting board. These cutting boards are so simple to make and can be made using scrap lumber. We bought ours from our local hardwood store. They have a bin of cutoffs that we can usually get for a great price. We sometimes even find exotic woods at a great price.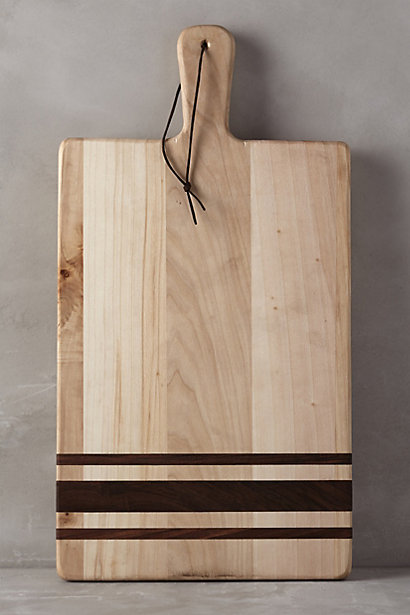 Depending on the size of this cutting board, it can range from $39.95 all the way up to $99.95. He made these cutting boards for around $5 apiece!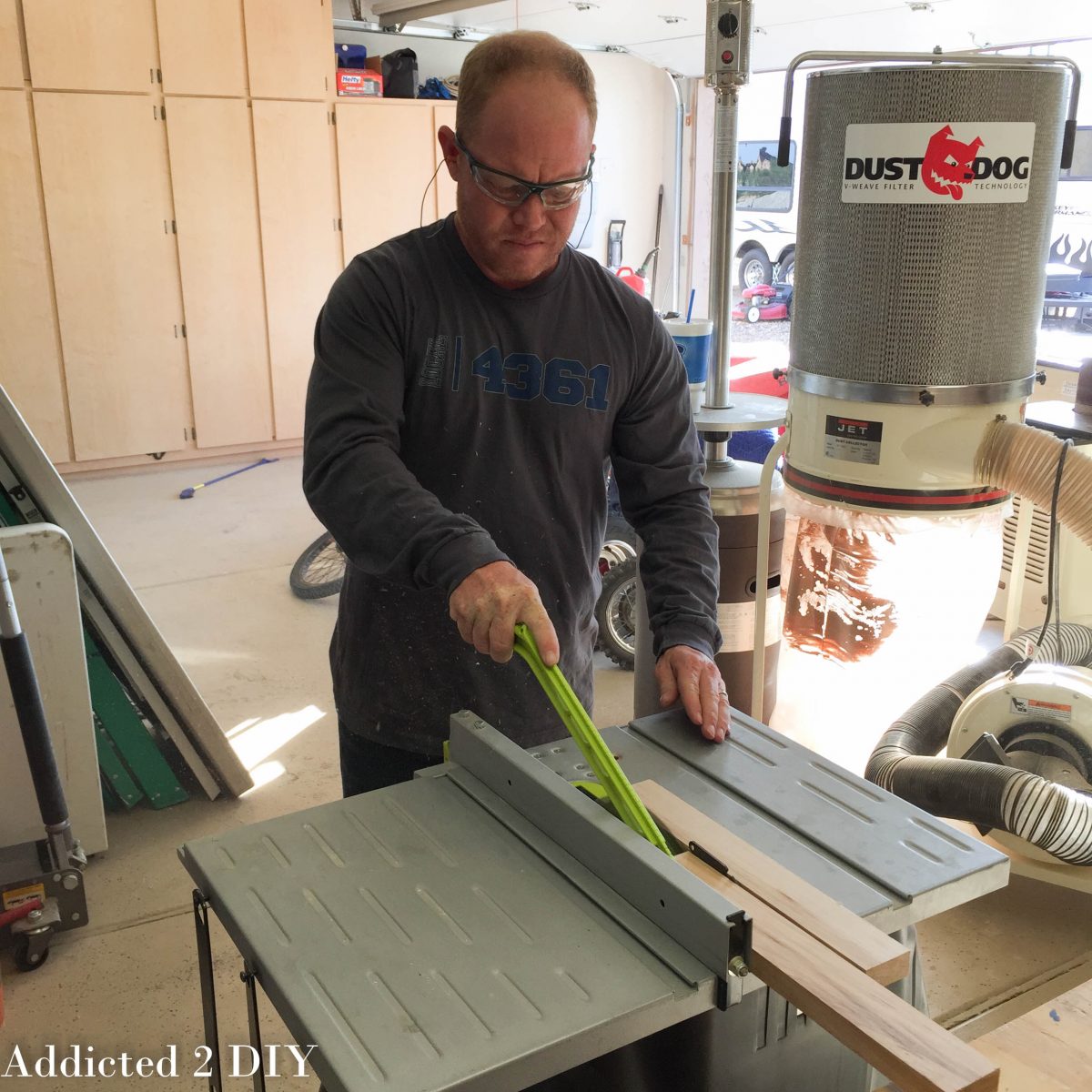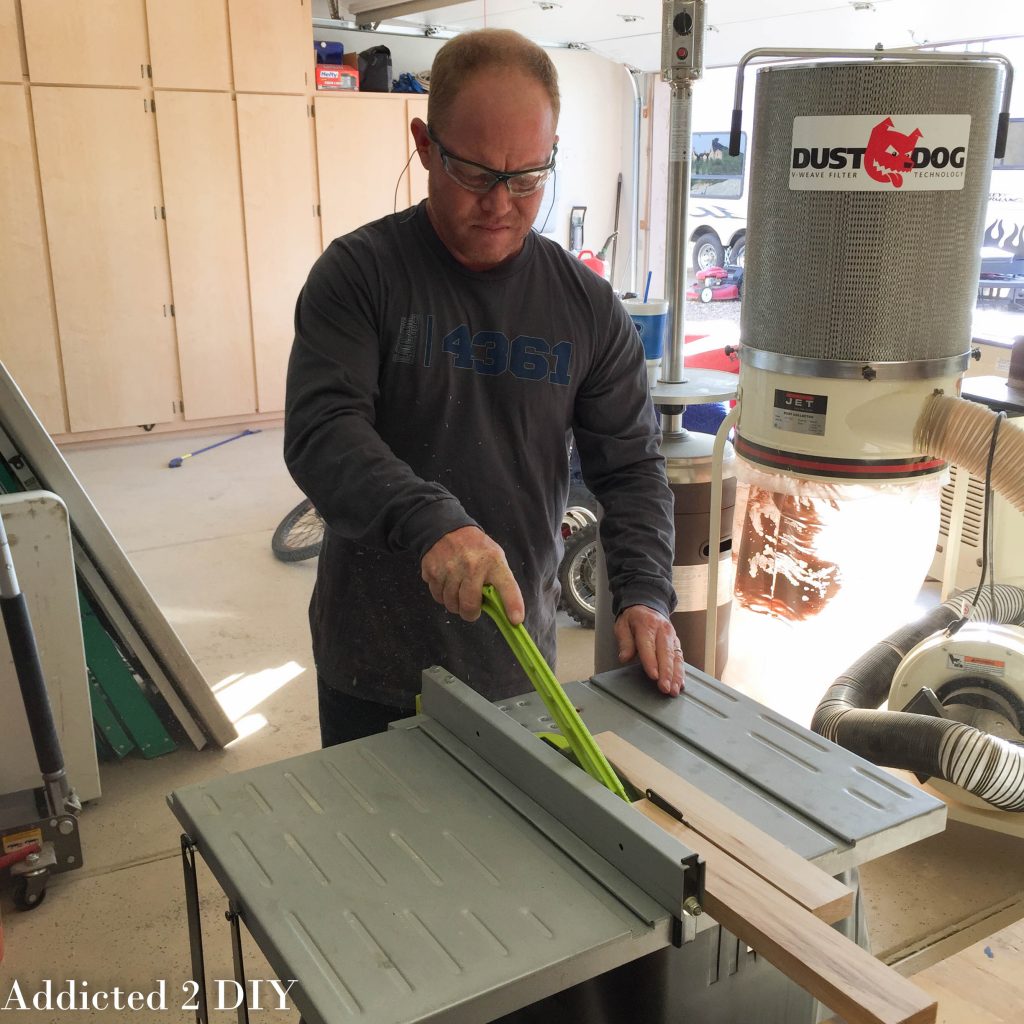 He started by ripping down the wood on our table saw.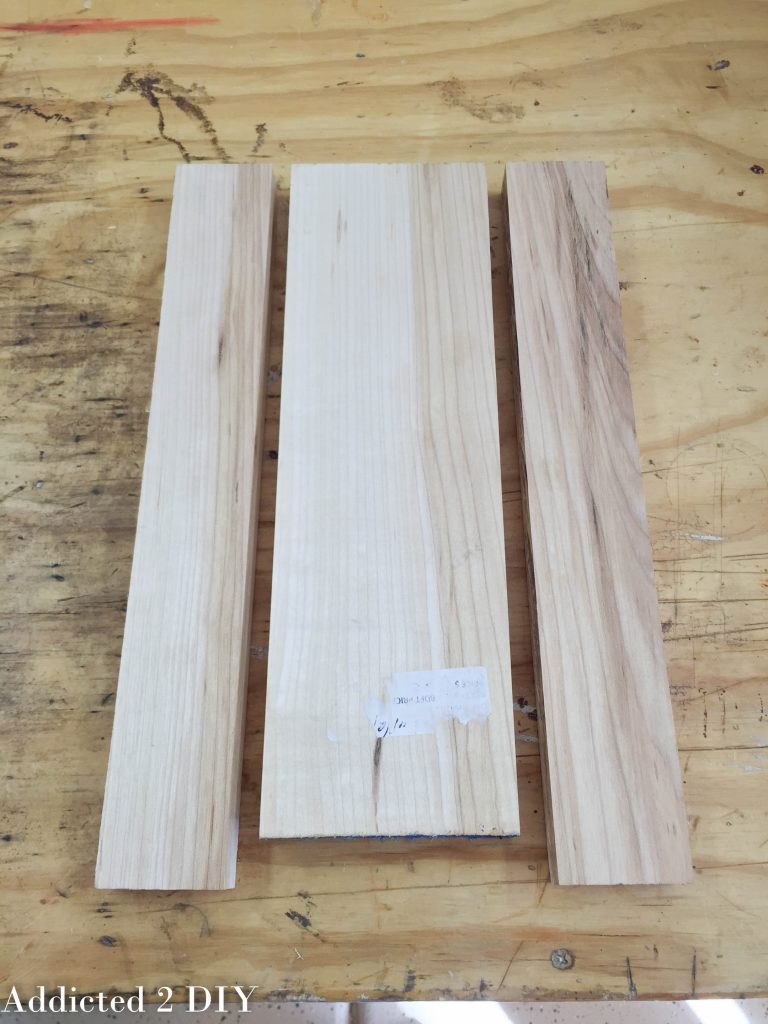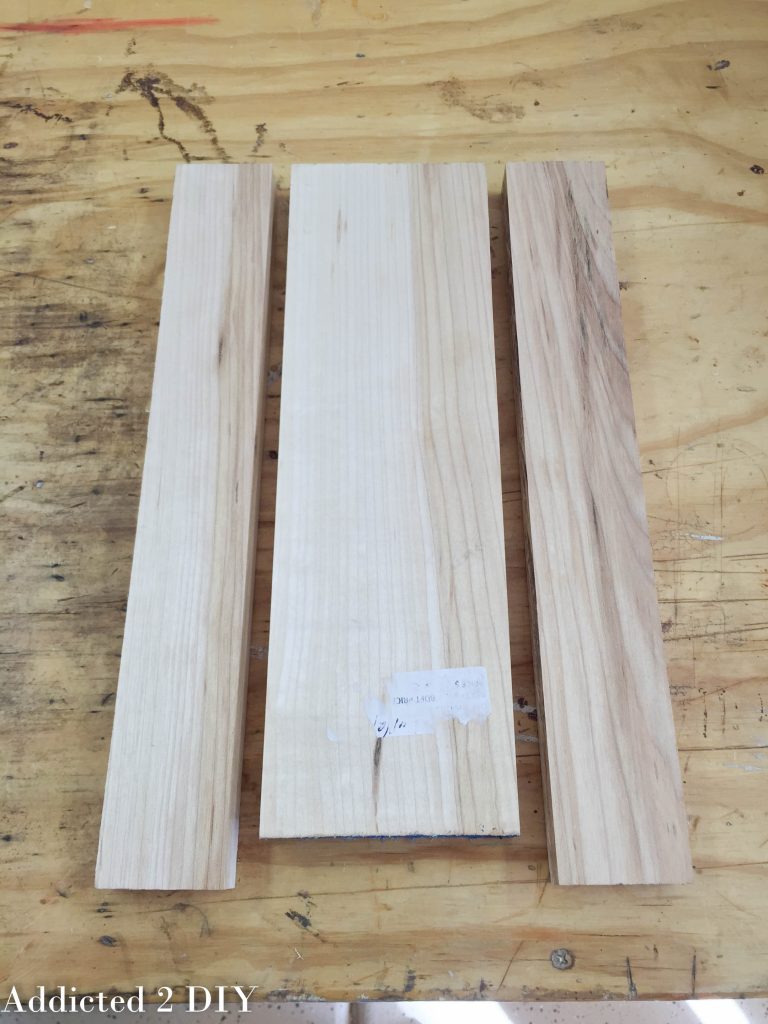 He cut the strips of wood and lined them all up to glue. The finished width of the grainsack cutting board is about 8 inches.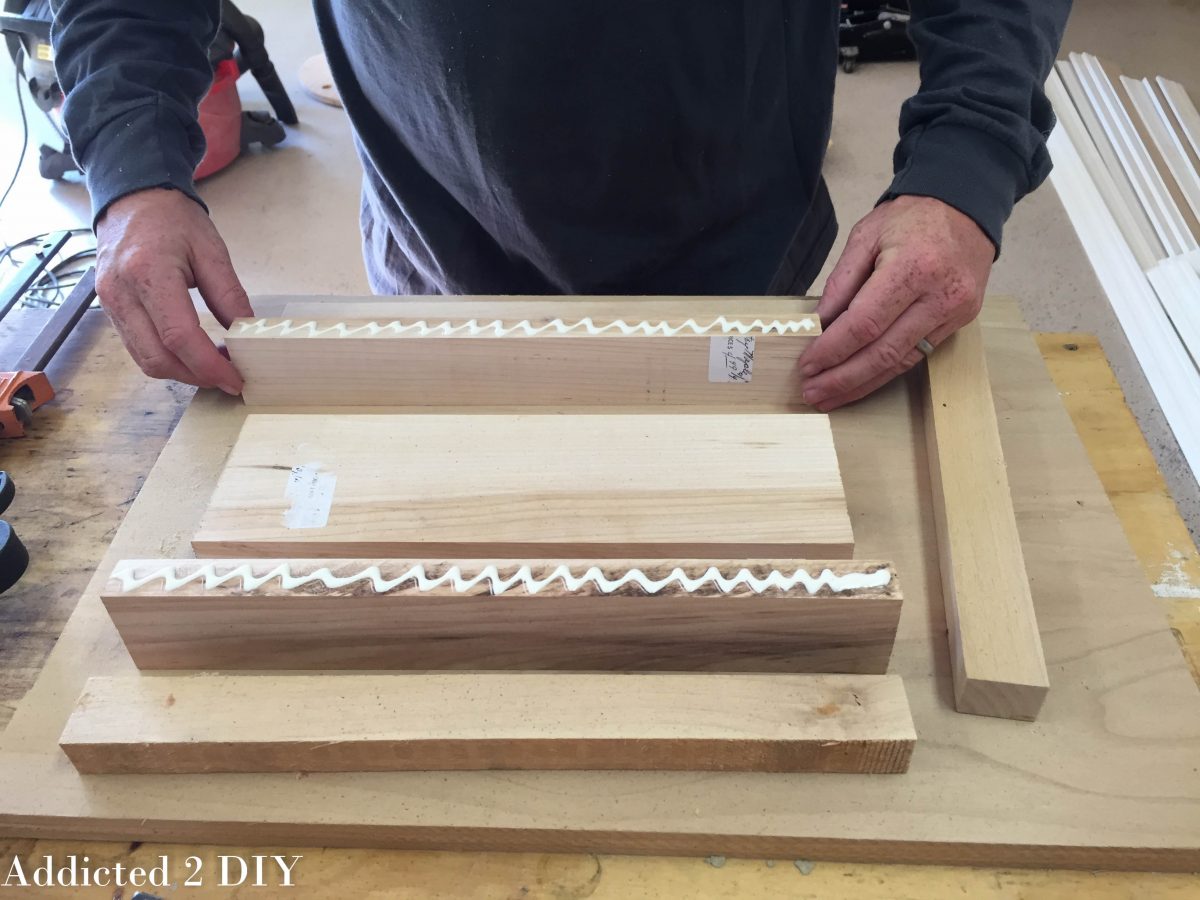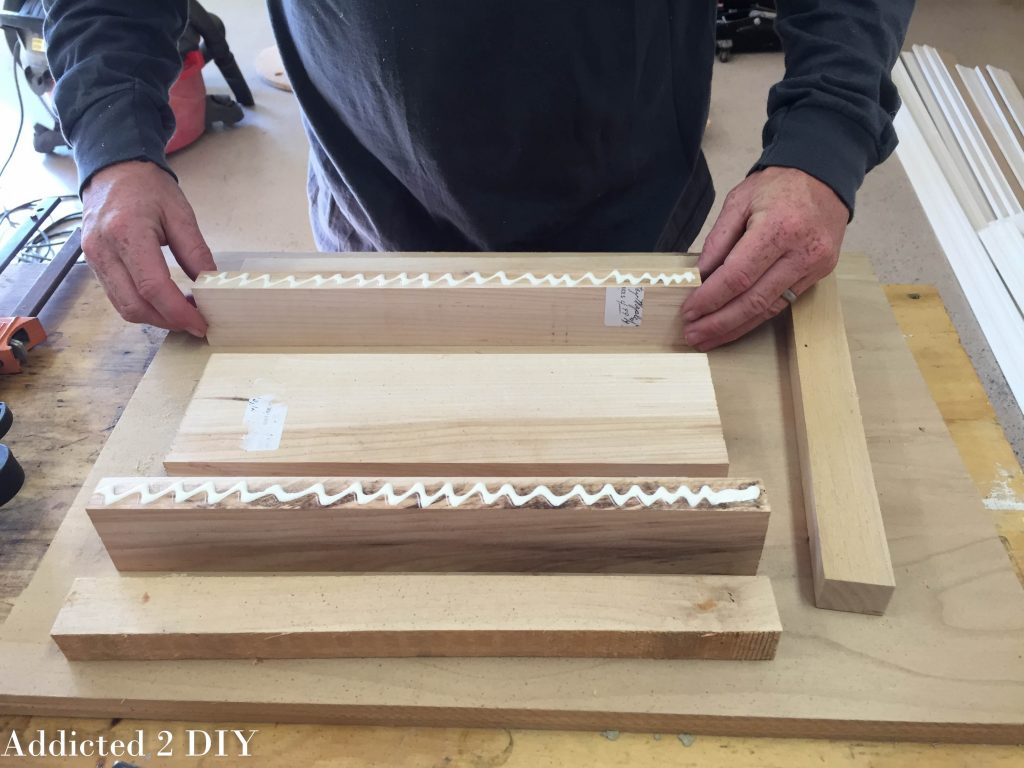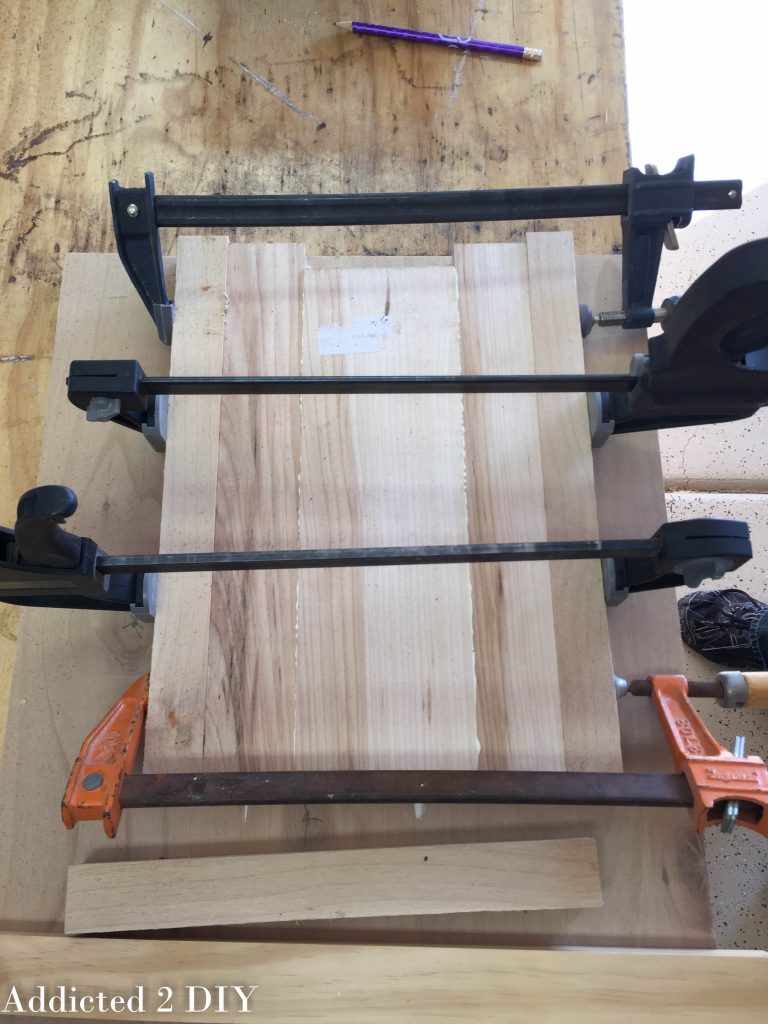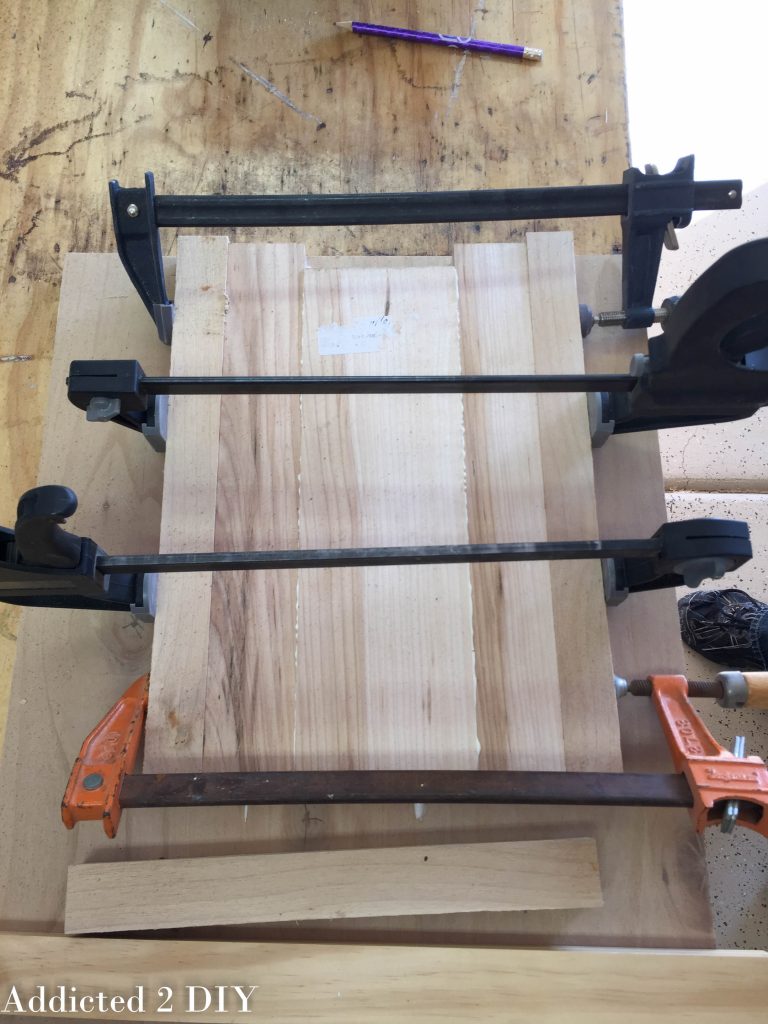 Once the wood pieces were ripped down, he glued and clamped them together. The glue needs to set up for at least 24 hours. Since he works 48 hour shifts at the fire station, this glue got to set up extra long.
For the grainsack portion of the cutting board, he ripped some walnut into 2 – 1/2″ strips and a 1 1/4″ strip. He also cut the end of the maple portion of the cutting board so the end would be 1″ and then 2 – 1/2″ strips. Then he glued them all up and clamped them.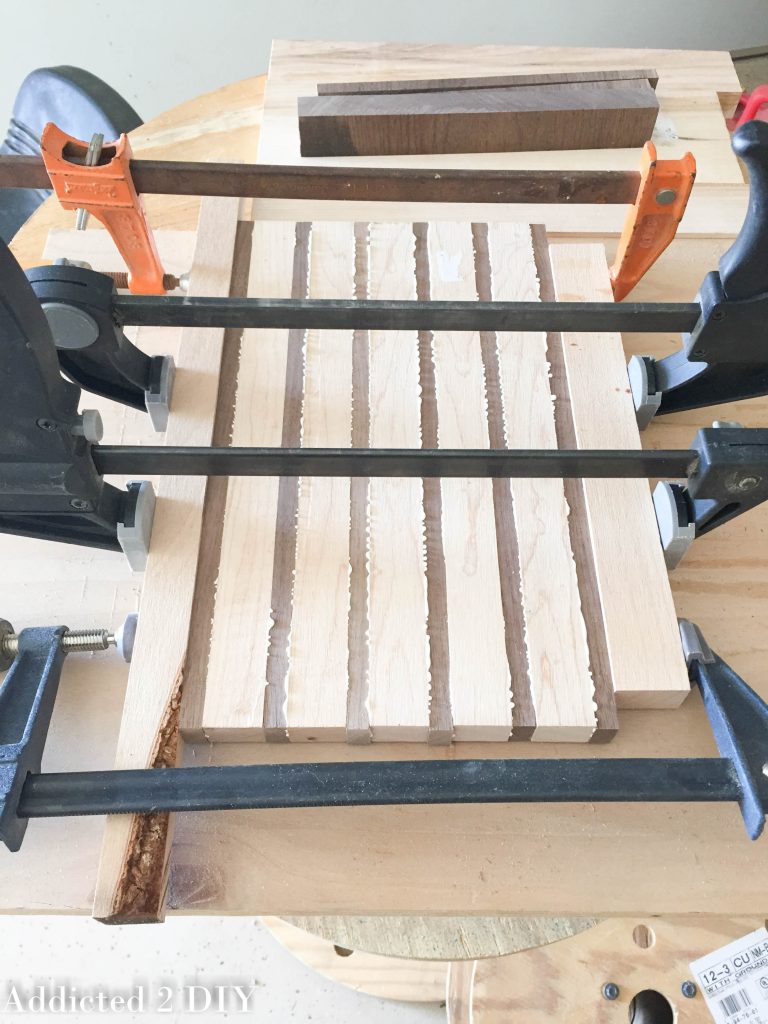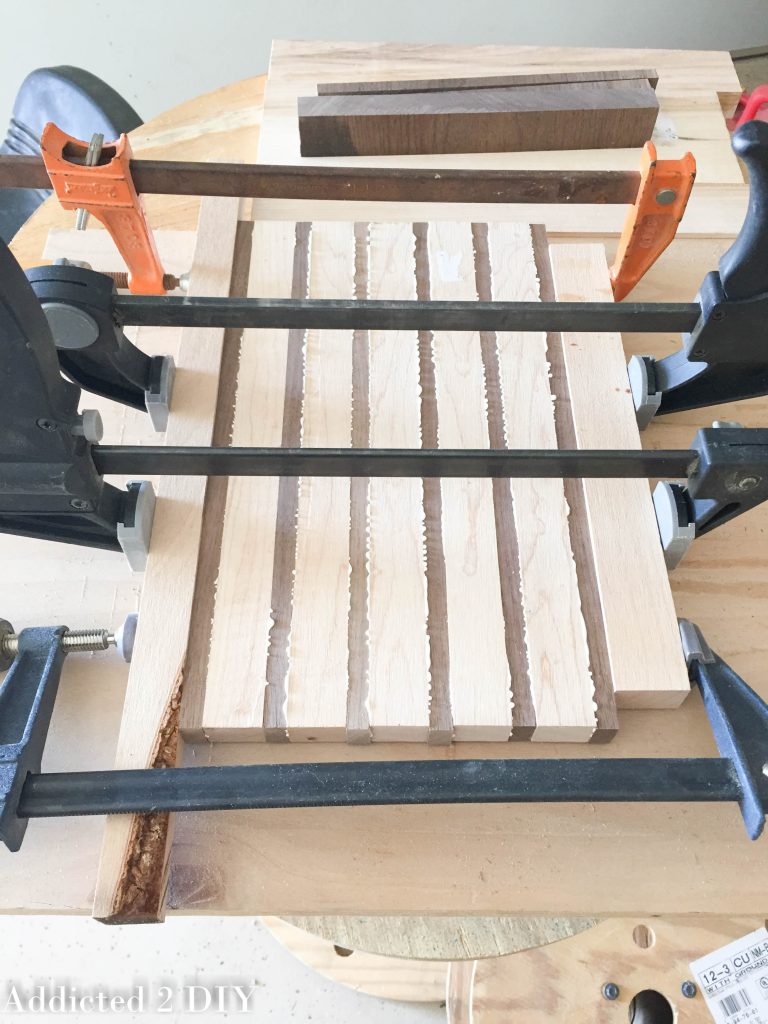 He also made a striped cutting board using the maple and walnut. He cut the maple strips at 1″ wide and the walnut strips at 1/2″ wide. Then glued and clamped it all together to set.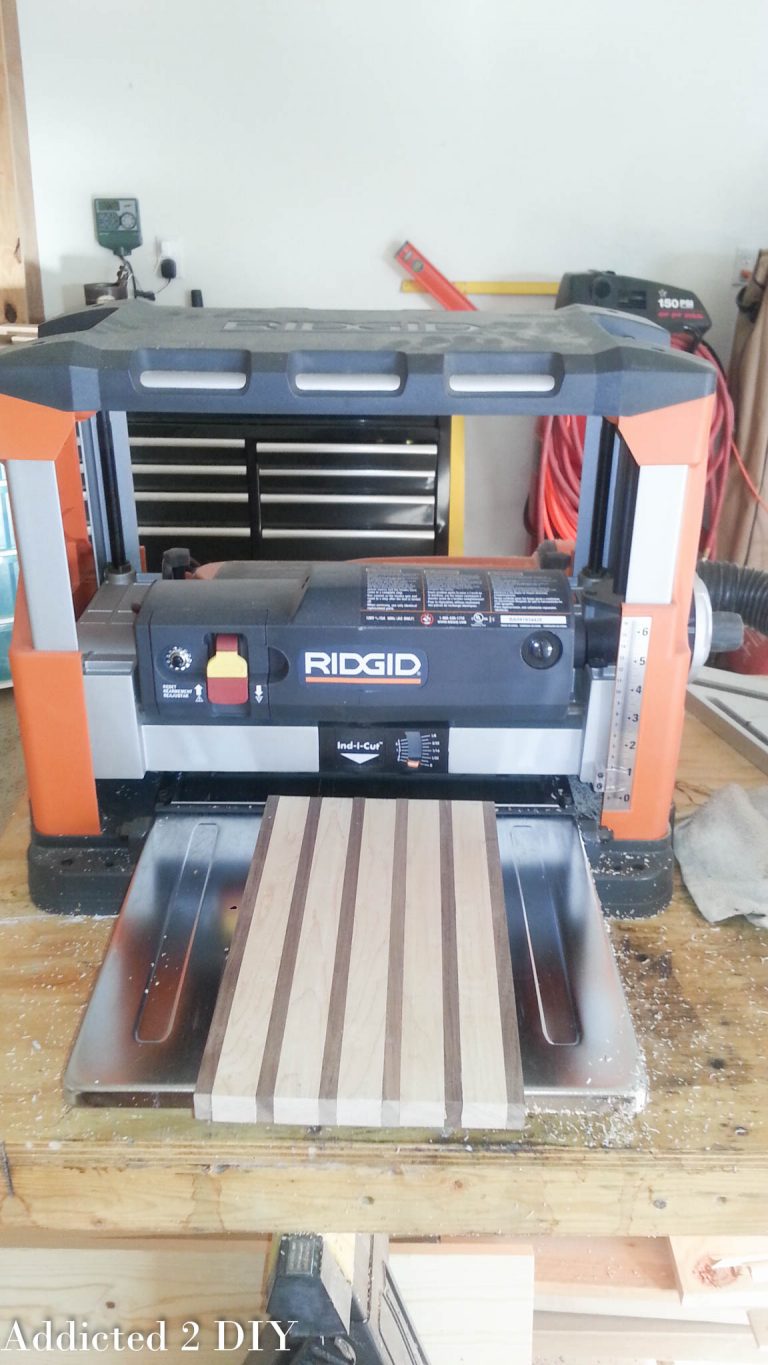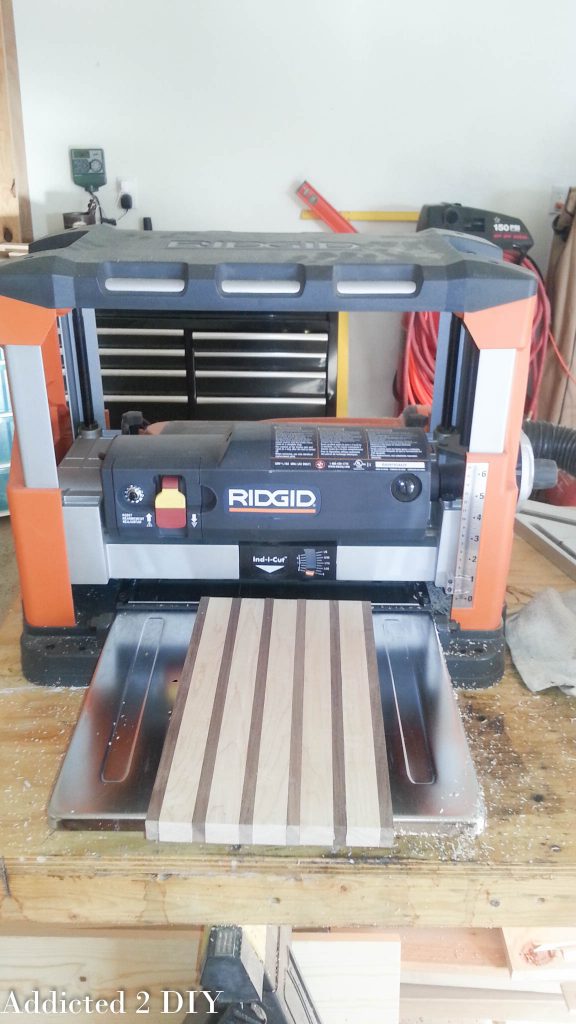 Once all of the cutting boards were dry, he ran them through the planer and then squared up the ends.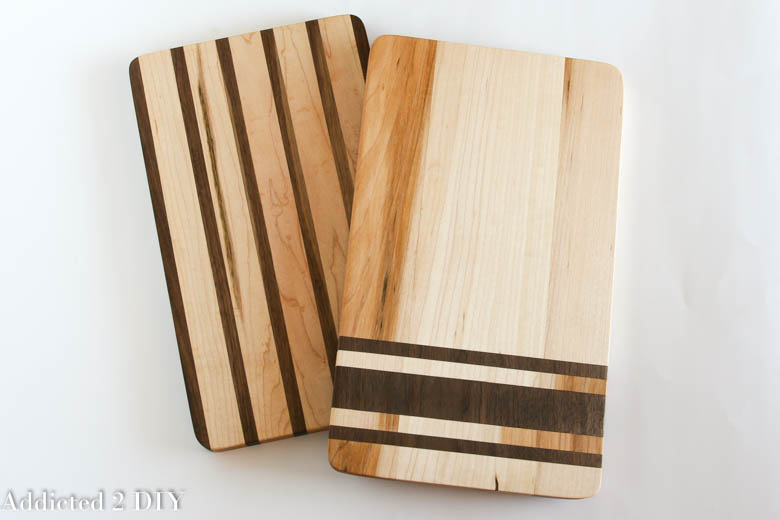 We have a 36″ belt sander that he used to round the edges and then finished them off with a find sanding using 220 grit sandpaper. After that, they both got some generous coats of butcher block conditioner
(affiliate link). The finished dimensions of the grainsack cutting board are 13 1/4″ L and about 8″ W. The striped cutting board is 7 1/2″ W by 12 1/2″ L.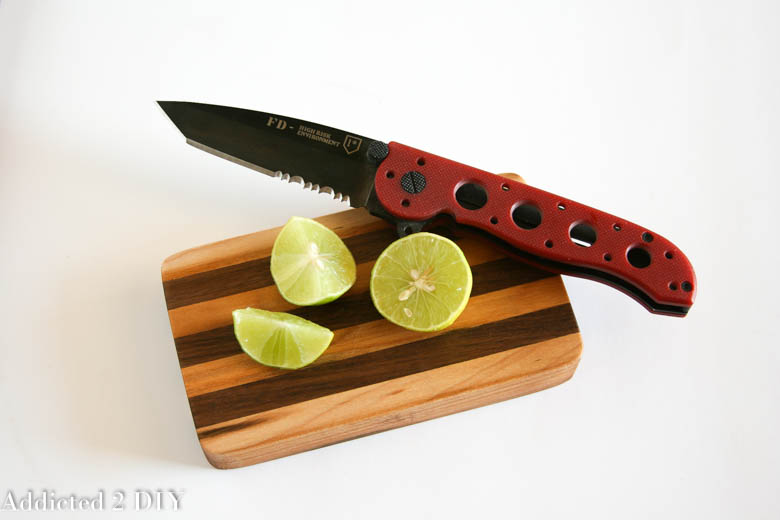 Just for funsies (his favorite phrase), and because we had some extra strips of wood, my husband decided to have a little fun and make a pocket-sized cutting board. We figure it's a great gift for the beer lover on the go;) Then you can just pop it in your pocket and use it to cut your limes when you're at a party. This would make such a fun stocking stuffer! It probably only costs a dollar to make and is just a neat and unique little gift.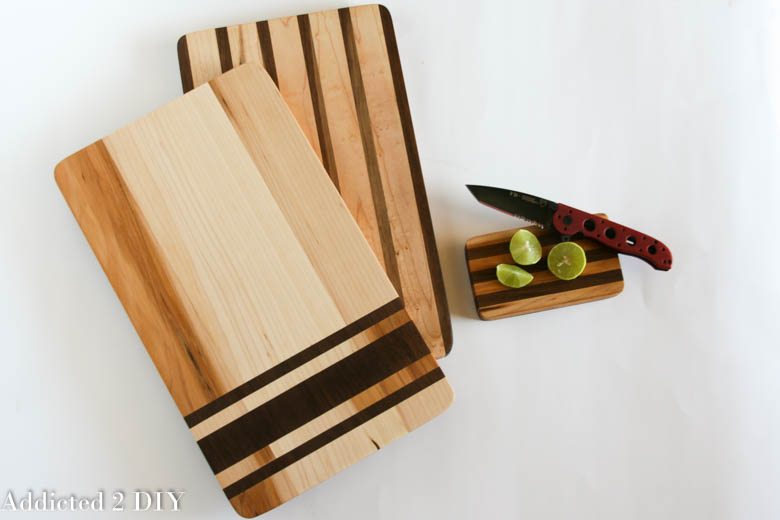 These cutting boards make such a great gift idea for Christmas, birthdays, weddings, etc. We're planning to give these as gifts for Christmas this year, if I can get my husband to give them up! I may have him just make another grainsack cutting board for us to keep. I love the look of it and how the walnut pops against the maple.
If you're looking for another fun cutting board idea, you can also check out the tutorial for the state pride cutting board I made over the summer.
Are you making any DIY gifts this year? I'd love to hear what you're making!