This post is sponsored by The Home Depot.
Hey there, everyone! Today is the big reveal for my Holiday Style Challenge with The Home Depot! I am so excited to share with you what I was challenged with and how I utilized it. I'm also sharing exclusive glimpses of it over on The Home Depot Blog, so stop over when you're finished here and check it out! Plus you can see the gorgeous decor from the other Holiday Style Challenge participants!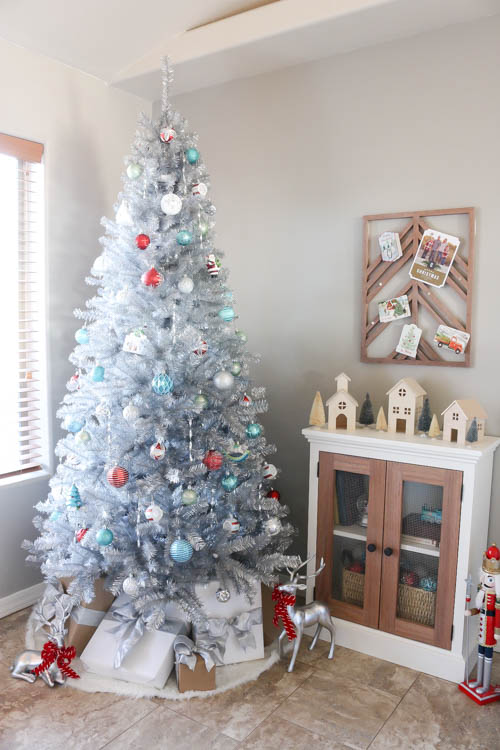 I was challenged to decorate this 7.5′ Nostalgia Vintage Artificial Christmas Tree for the style challenge. I knew that silver would lend perfectly to a vintage mid-century modern look, which is so popular right now.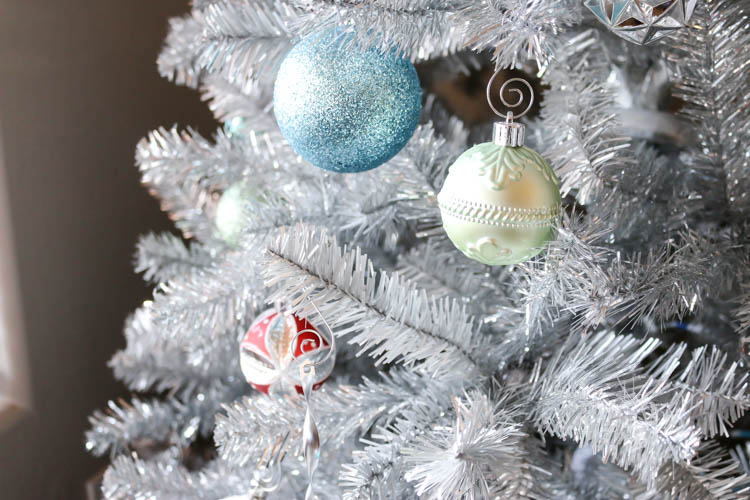 I knew the first thing I needed to do was find ornaments that would not only complement the tree, but also have a vintage feel to them. I went to The Home Depot and was immediately drawn to the Martha Stewart Christmas Morning decor. It had a perfect combination of soft colors, sparkle, and pops of red. Exactly what I envisioned when decorating this tree.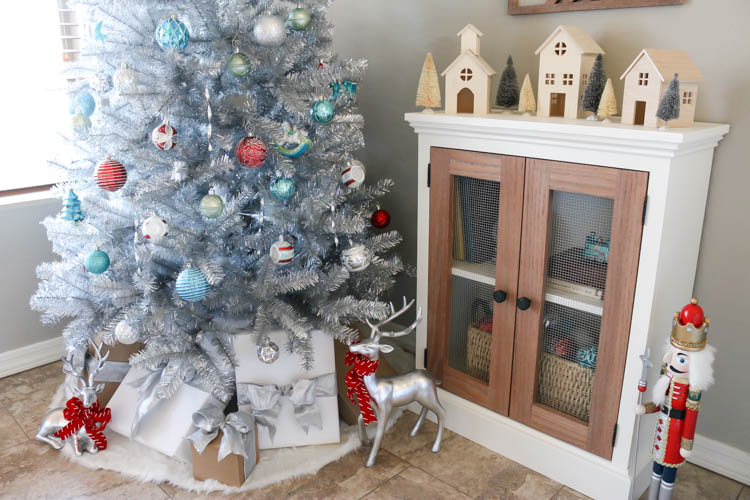 I purchased the Martha Stewart 101 count Christmas Morning Ornament set and the 19 Count Ornament Set. Both sets are shatter proof, but give you the look of the fancy, vintage glass ornaments from the past. There were a ton of ornaments between the two sets and I didn't even have to use all of them, though you certainly can. I struggle every year with how much is too much when it comes to ornaments. What do you do? Do you cover every branch, or do you prefer them to have their space?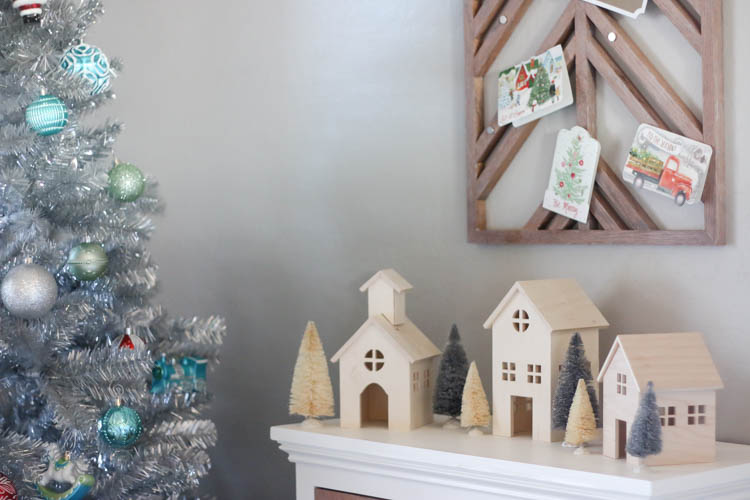 To go along with the mid-century modern look, I made these tiny wooden houses. I left them the natural wood color, which helped them to contrast against the white cabinet. I'll be sharing the tutorial for those very soon. The wall decor also has a bit of a modern spin to it and was perfect for holding Christmas cards. I've got you covered on that, too. Just head over and get the tutorial so you can build your own! You can also get the tutorial on how to build the two-toned cabinet to match!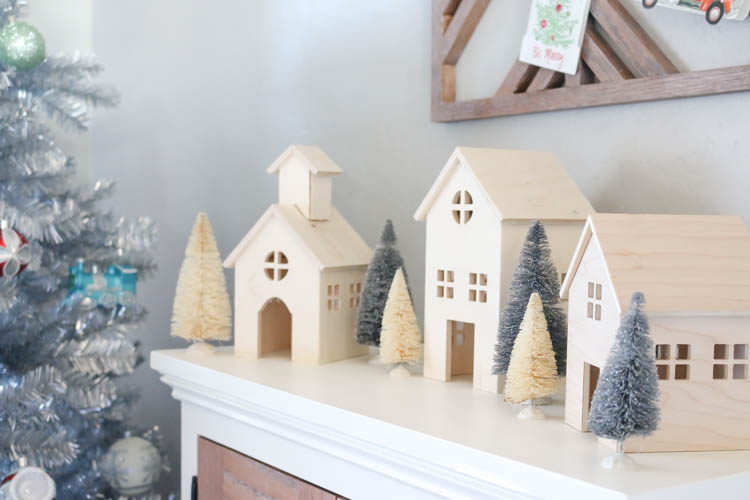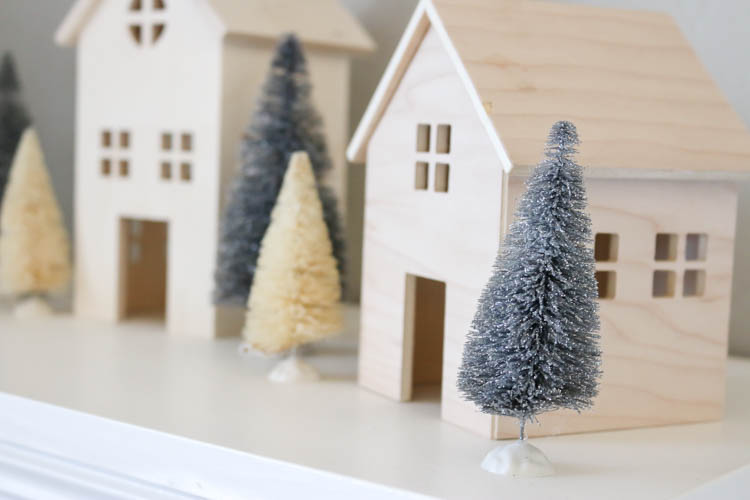 Since the big tree was silver, I knew I had to get little silver trees to go along with it, so I purchased these cute bottle brush trees to go around my tiny village.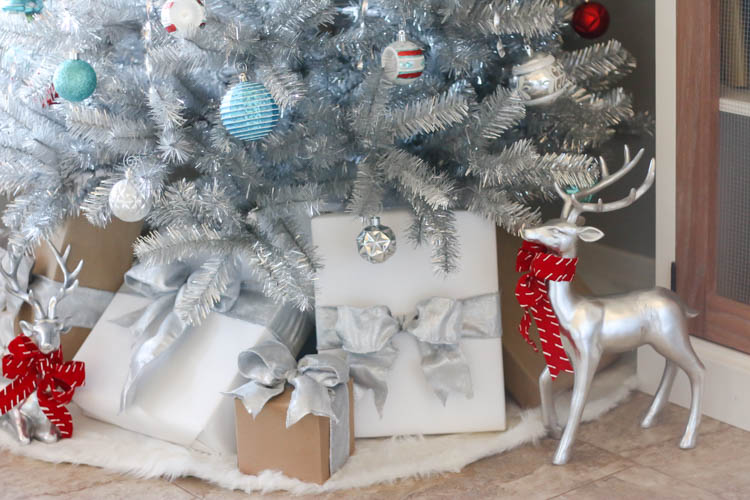 Heading back to the tree, I found these silver reindeer
at Home Depot that I knew had to go along with the tree.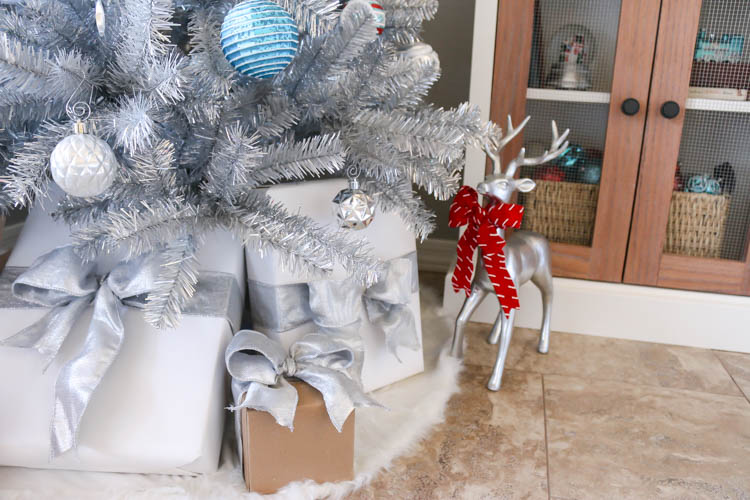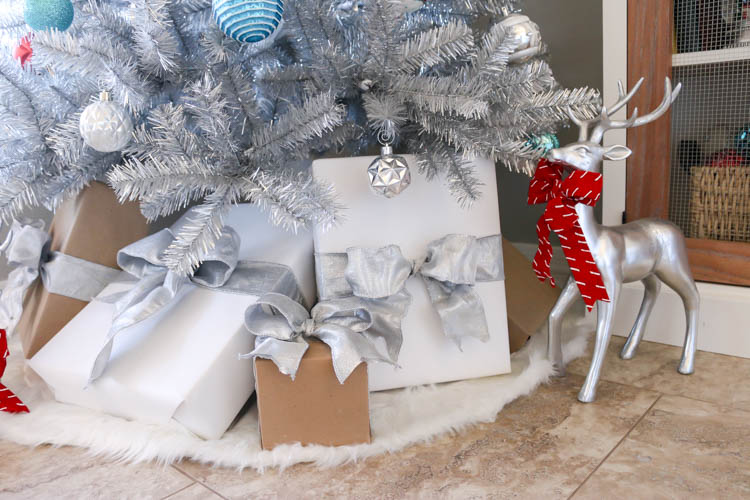 For the gifts, I wrapped them in solid white and Kraft paper, then tied them with this Martha Stewart 2.5″ wired ribbon in silver. I love how they looks so sophisticated and that the two colors of paper add a little more dimension under the tree. In past years, I've been guilty of throwing every gift into a bag and not taking much care to wrap them. I think from here on out, I'm going to be wrapping as many as possible and adding pretty bows.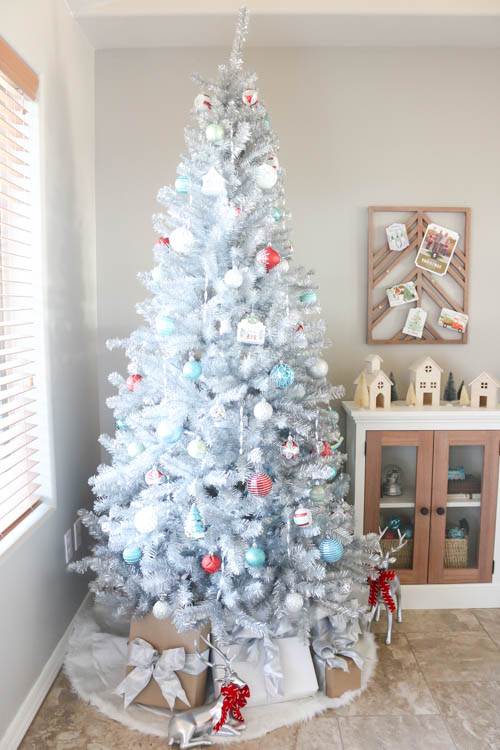 I'm so thrilled with how the tree turned out and that I was able to incorporate the mid-century modern look for it! Don't forget to head over to The Home Depot blog to see more of how I decorated this tree as well as check out the other bloggers participating in the Holiday Style Challenge!
DISCLOSURE: I acknowledge that The Home Depot is partnering with me to participate in this Holiday Style Challenge program (the "Program"). As a part of the Program, I am receiving compensation in the form of products and services, for the purpose of promoting The Home Depot. All expressed opinions and experiences are my own words. My post complies with the Word Of Mouth Marketing Association (WOMMA) Ethics Code and applicable Federal Trade Commission guidelines.
SaveSave
SaveSave
SaveSave