This post is sponsored by The Home Depot. All opinions are 100% my own.
Hey there, everyone! Today, I'm pretty stoked to be sharing with you the final piece to our entryway that has been missing since we bought our house nearly 7 years ago! Over the course of this year, I have made a ton of improvements to our entryway, but one thing was still missing. A light! All we have had up until now was this plate covering the electrical box where a light fixture should hang.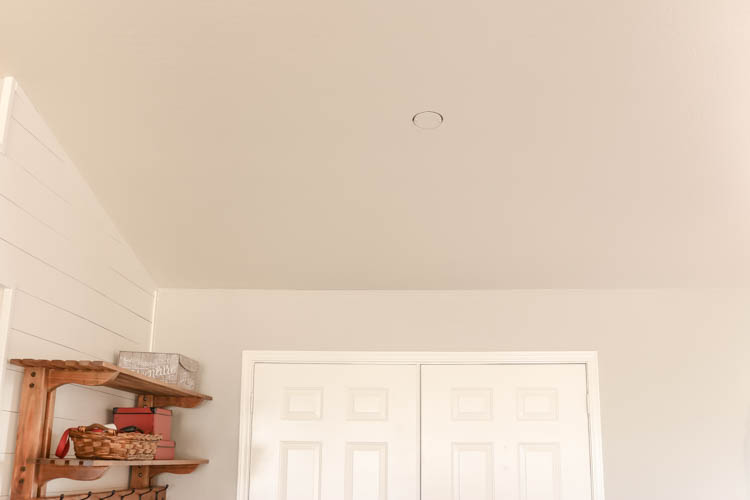 When the folks from Home Depot and Feit Electric reached out and asked if I'd like to try out their new light bulbs and install a light fixture, it was an instant yes! This finally gave me the push I needed to pick out the perfect light fixture for this space. Believe it or not, this was not an easy task. Our house has vaulted ceilings, plus we have an open floor plan. The light needed to be able to be just the right size that it would not be too big and overpowering in this area, but not too small that it would seem out of place and just look plain weird.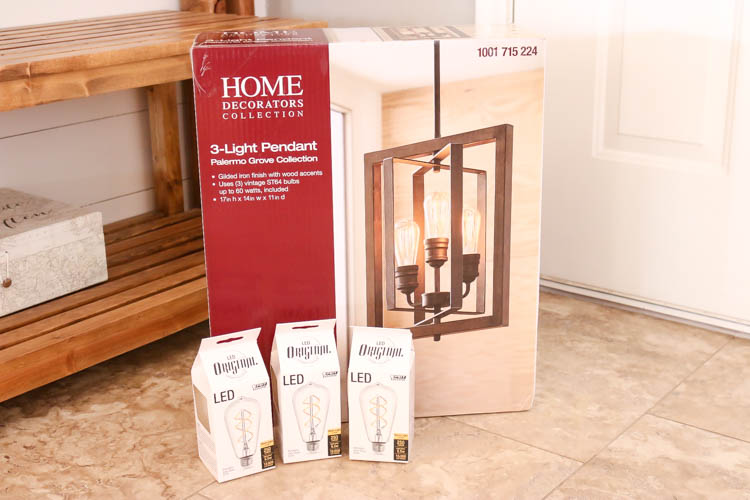 Luckily, Home Depot had the perfect light fixture that not only fit in with my home's decor, but also was just the right size. I wanted one that had a bit of a rustic industrial look with Edison style bulbs and this Palermo Grove 3-Light pendant fit the bill! The LED Edison bulbs from Feit were the icing on the cake to complete the whole look.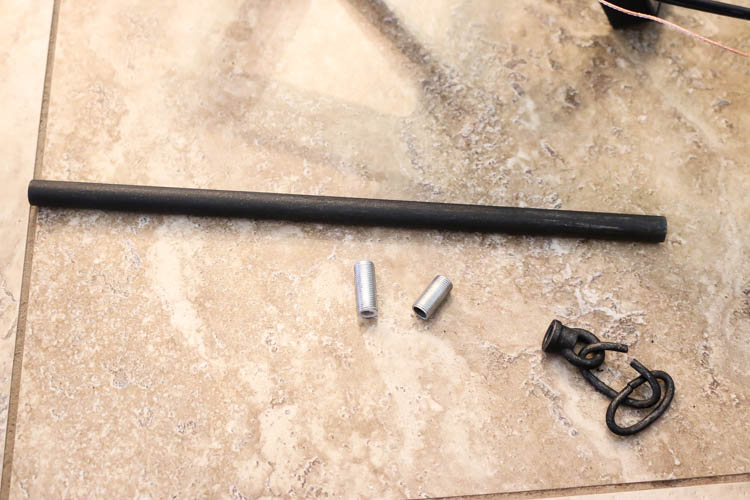 As I mentioned before, we have vaulted ceilings in our house, which means the ceiling height over our front door isn't super high. The light fixture had a chain as well as a bar that it hung from. We found out pretty quickly that the light was WAY too low and imposing. We figured out that we could take out the threaded inserts in the bar and omit the bar altogether, only threading the ends where the light fixture would attach to the chain.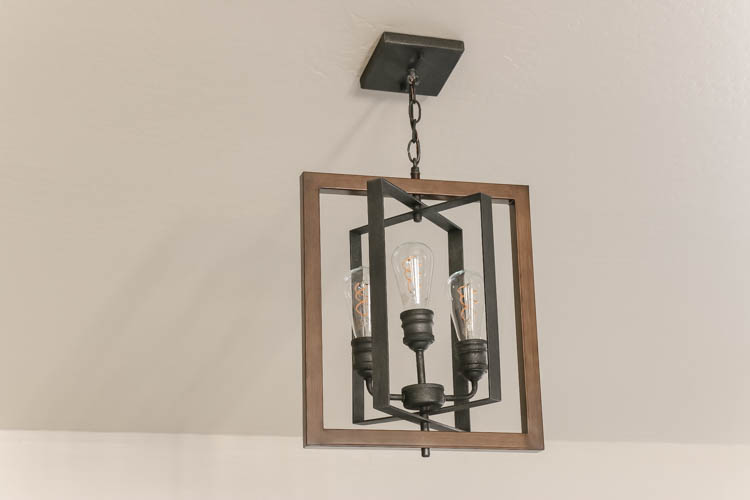 Once we removed the bar, we were able to raise the light to the perfect height, which is a minimum of 7 1/2′ in case you didn't know. Thanks Google!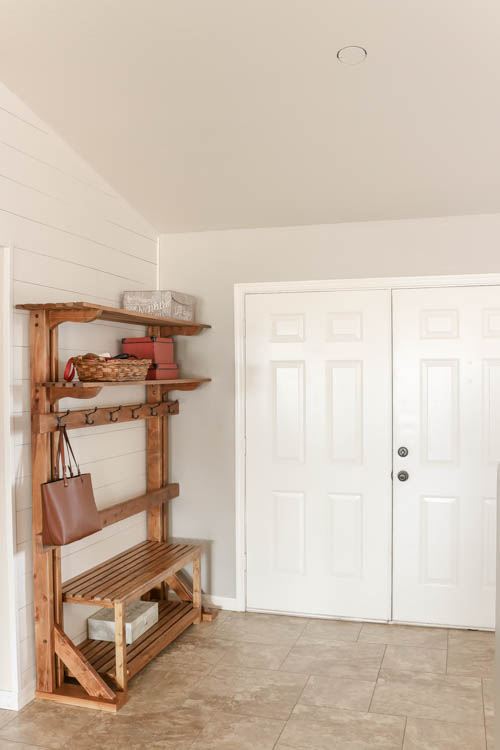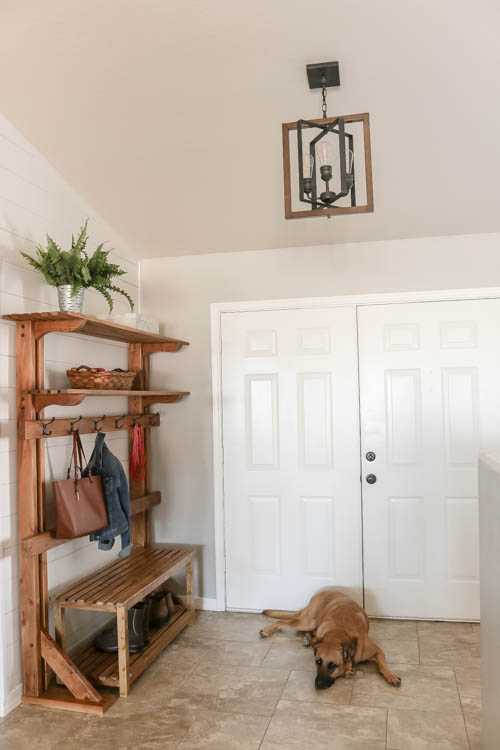 Finally, our entryway feels complete! Every day, I would see that plate in the ceiling and it felt like it was staring back at me, mocking me. The colors of the light fixture go so well with the DIY hall tree and bench I built earlier this year. It also matches perfectly with Dakota;)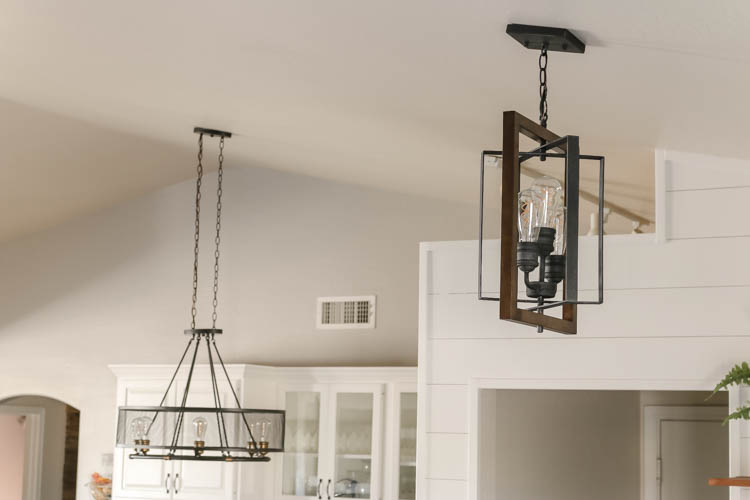 It also compliments the new chandelier we bought for our dining room back in the spring. Again, it was another situation where we had to find something that would work with a vaulted ceiling and also had the rustic industrial look I was wanting. Just like with the entryway fixture, Home Depot happened to have exactly what I was looking for! I also replaced all of the standard bulbs in this chandelier with new Feit LED bulbs and I love the look!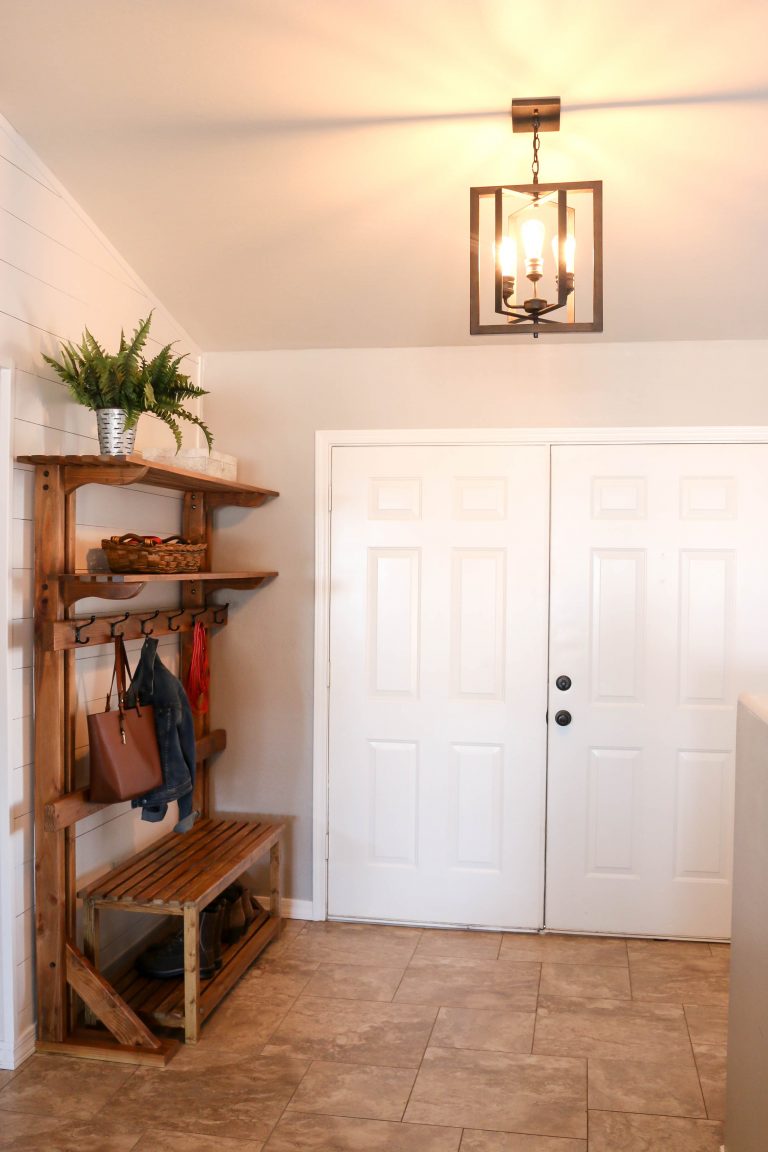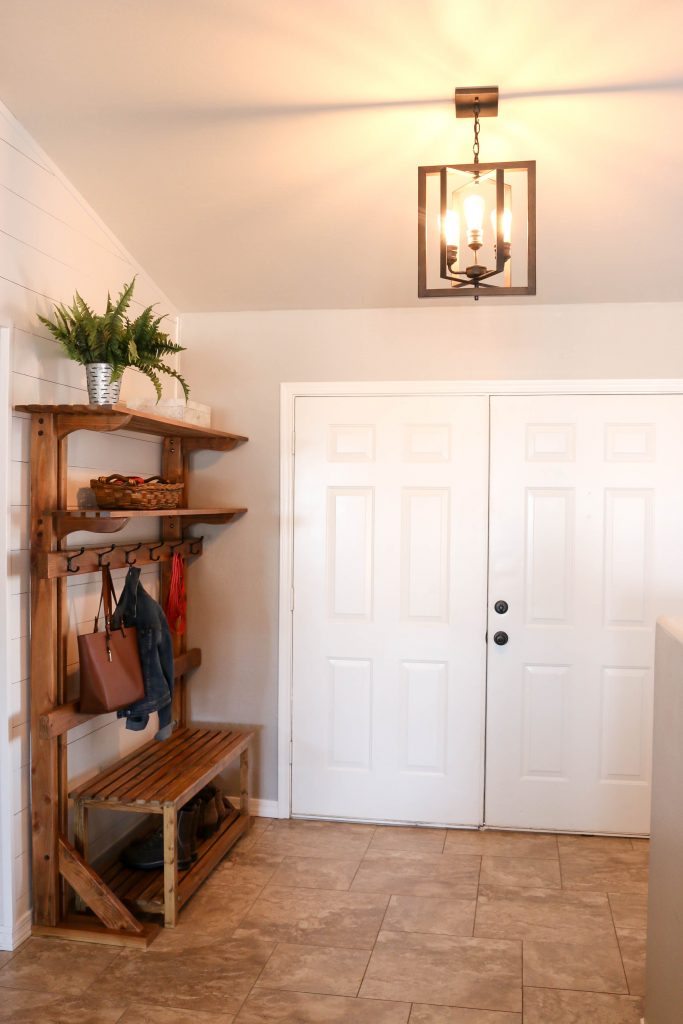 There are so many more projects to check off the list before we can call our house finished, but checking this one small thing off of the list still made it feel like a huge accomplishment. No more will I stare at that blank plate in the ceiling and wonder when we'll ever find a light to finish off this space. That switch on the wall finally has a purpose in life and I love the new look when I walk in the house!
I acknowledge that The Home Depot is partnering with me to participate in this FEIT ELECTRIC Program. As part of the program, I am receiving compensation in the form of products and services, for the purpose of promoting the Home Depot. All expressed opinions and experiences are my own words. My post complies with the Word Of Mouth Marketing Association (WOMMA) Ethics Code and applicable Federal Trade Commission guidelines.