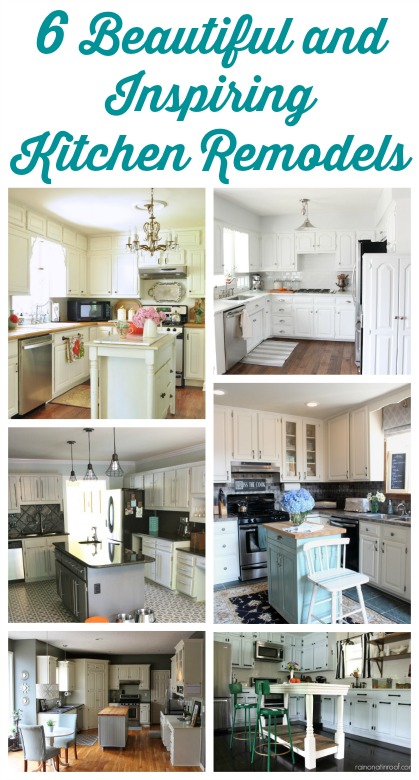 It's been a little quiet around here the past week, but it's for good reason. My husband and I were up to our elbows in faux stone while we gave our kitchen island a makeover, plus our boys were home from school a lot due to parent/teacher conferences and the Columbus day holiday. I was opting to spend more time with them during that time and less time blogging. Yesterday, my husband and I FINALLY finished our kitchen island remodel and I'm going to be sharing that with you in a few days. There is more that we plan to do to our kitchen soon, so I wanted to share some gorgeous kitchen remodels that I am using for inspiration while I make over ours (on as tight of a budget as possible). Just click on the images and they'll take you to the original posts!
First up is the stunning kitchen of the very talented Jennifer Rizzo. While she hadn't planned to remodel her kitchen as soon as she did, a broken water pipe put it first on the priority list. I just love how the white cabinets look against the dark floors. The towel bar on the false drawer at the kitchen sink is genius! I may have to snag that idea for our own kitchen.
Even though she had to toss out several of her ideas for remodeling her kitchen, Christy from Confessions of a Serial DIYer still made a huge impact! By repainting her kitchen cabinets, swapping the wood facing on a few of them with glass, and adding this gorgeous island, her kitchen still looks completely transformed! My husband and I have thought of replacing a few of our cabinet fronts with glass for the past few years. I love how it opens up the kitchen a bit.
I'm a fan of white cabinets in kitchens, and Jenna from Rain on a Tin Roof nailed it with her kitchen makeover. I love how she uses dark hardware and pops of color to balance everything out. Her kitchen island is gorgeous and it has a sentimental touch with barnwood from her great grandfather's farm.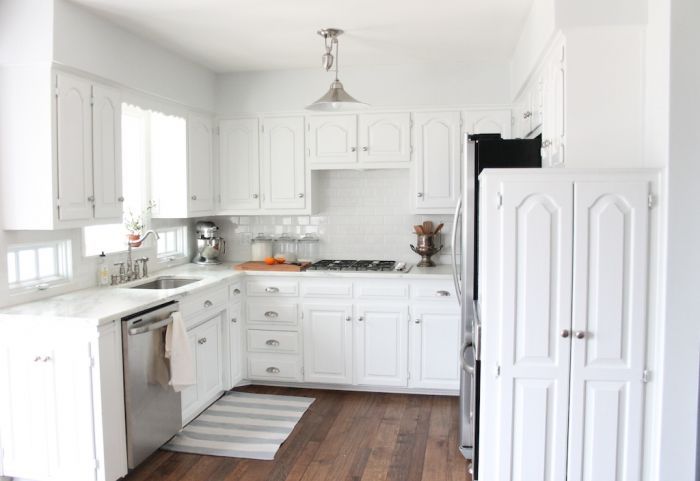 This classic white kitchen remodel by Julie Blanner just makes me happy. It feels so inviting. The wood floors she and her husband installed are gorgeous. It's hard to believe there was actually white carpet in there!
I can't stop looking at this gorgeous kitchen remodel from Oh So Lovely. The grey walls, the white cabinets, the subway tile backsplash; all of it is so beautiful! Her feather finish concrete countertops came out perfectly and it has my husband wondering if maybe we can do the same when we remodel our bathroom vanity. And the best part is, she did this entire remodel for $500!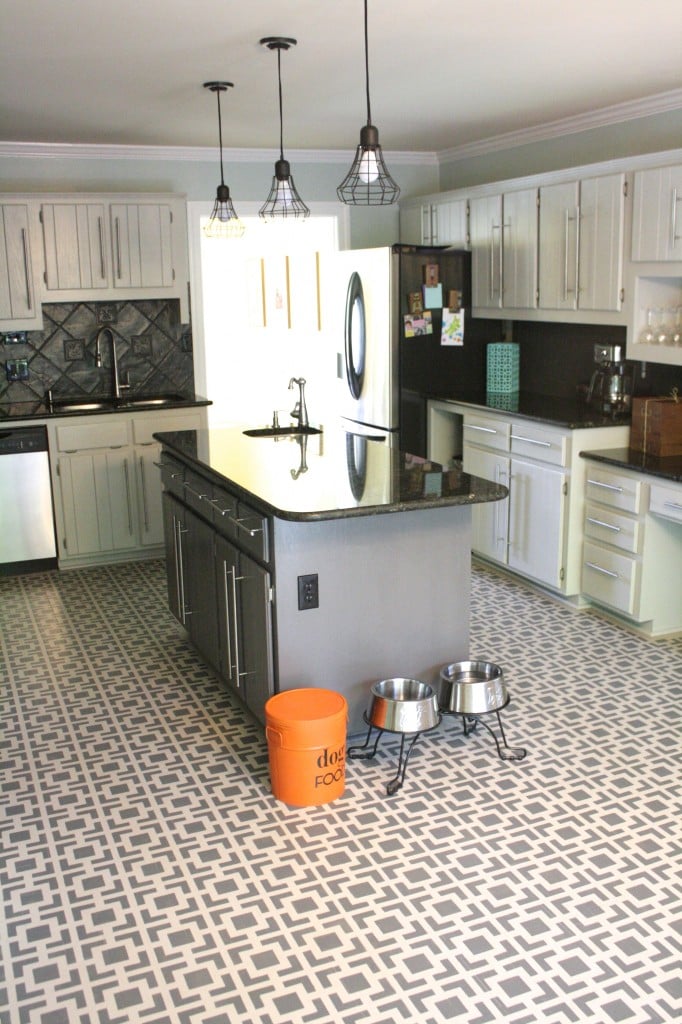 Tasha from Designer Trapped in a Lawyer's Body really knows how to work with what she's got. For less than $700, she and her husband took their dated kitchen and completely transformed it! Can you believe this floor is stenciled linoleum? She didn't stop with the kitchen though. She carried this transformation into her dining area where she added a gorgeous plank wall on one side and a chalkboard wall on the other.
So what do you think? Did you find any inspiration? Like I said before, I'll be sharing our kitchen island transformation with you all later this week. It will be part one of our kitchen makeover. I've definitely found a lot of inspiration from all of these gorgeous kitchens and I'm so looking forward to seeing our finished kitchen!