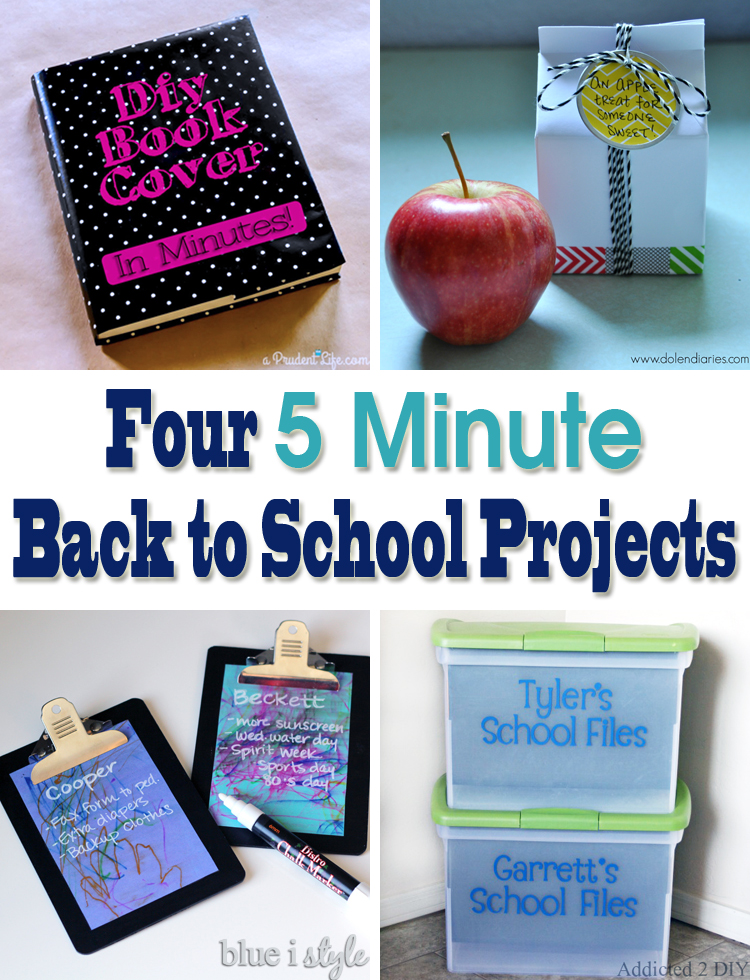 Hey there everyone! Boy am I glad it's Friday! It's been a crazy week, but I'm looking forward to a fun weekend with my family. Today I'm going to share a quick and simple project to help you get organized for back to school. My friend Angela from Blue i Style has a fun series every Friday where she posts a quick 5 minute project or craft. I was so excited when she asked me and some of my other blogging friends to join her this week with a back to school themed project.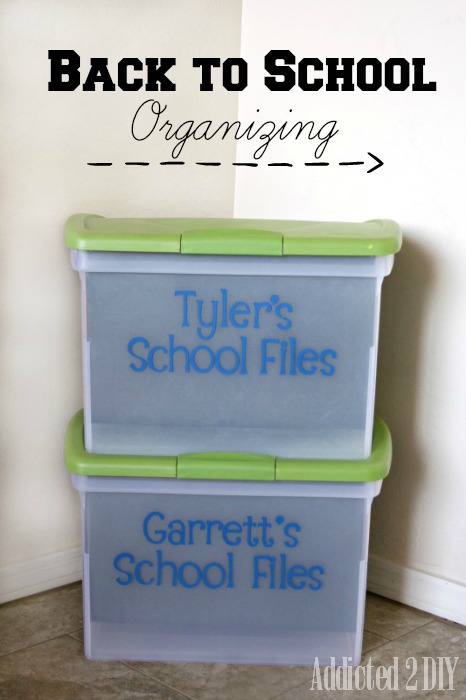 My boys go back to school next Wednesday. I'm going to be sad to not have them home with me all day, but at the same time we all miss the structured days and the boys miss their friends. My quick 5 minute project for you today is vinyl labels to help you keep your child's school files organized. I keep plastic file totes for each of my boys with folders in them for each grade. For the past three years (yes three), whenever I needed to file something for one of my boys, I had to open both boxes and determine which box belonged to which kid. You'd think I would have labeled them by now, but that would just be too easy.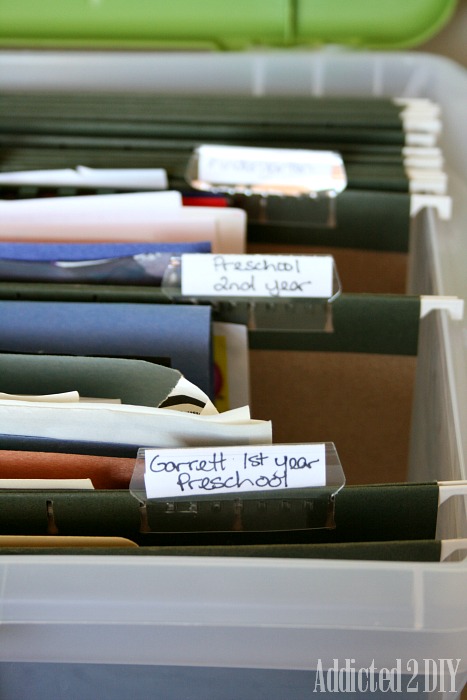 To give you an idea of what my files look like, here's a shot inside the boxes. It's nothing fancy or pretty. Just a place to file their progress reports/report cards and cute or sentimental things they've brought home from school. It's makes me a bit sad to be making new folders for 1st and 3rd grade. It's hard to believe my babies are no longer babies anymore.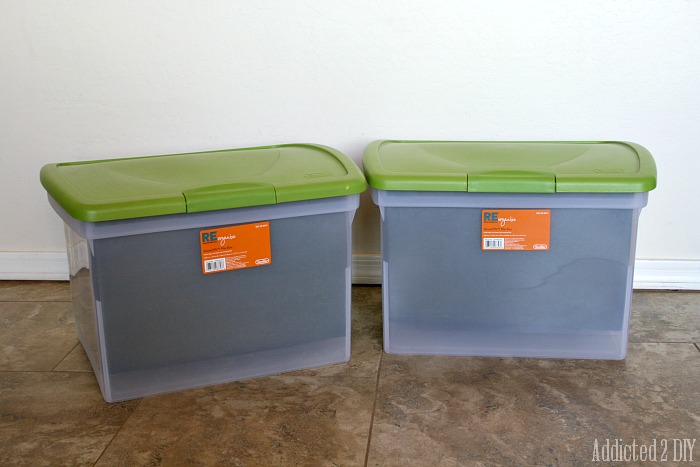 I bought both of these boxes from Target. I love that they're cheap and they're stackable. I think I paid $9.99 each. As long as I can stop myself from hoarding everything I think could be a precious school memory, these boxes should last us until at least 8th grade.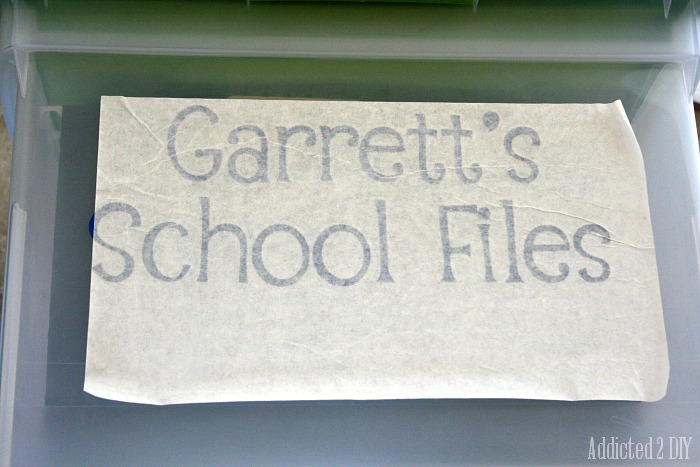 I peeled the stickers off the front of the boxes, grabbed some vinyl I had on hand and cut out my custom labels on my Cricut. I placed them on my boxes with transfer paper and then just peeled it off. So quick and easy. Sometimes I wonder why this took me so long.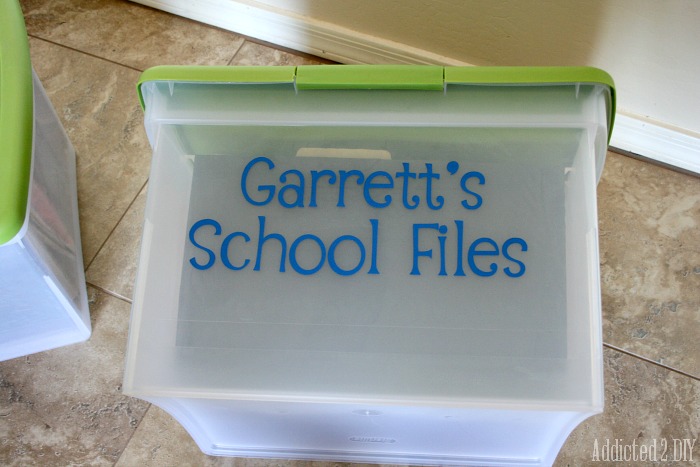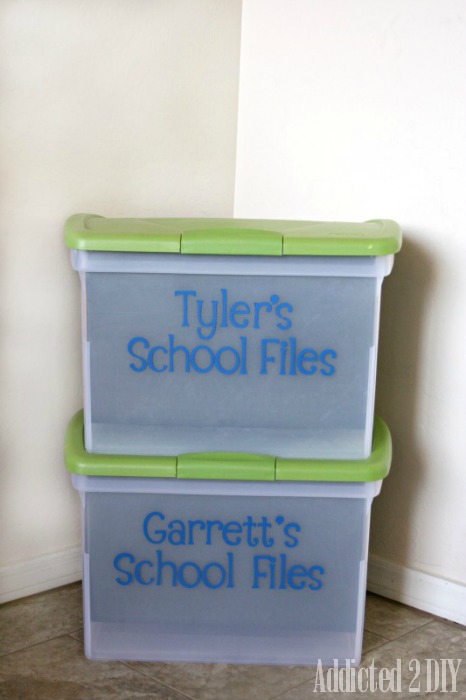 Now both of my boys have their designated file boxes and my husband and I don't have to get frustrated trying to figure out which box belongs to which kid. If you don't have a filing system down for your kids, or your little ones are getting ready to start school, I definitely recommend getting plastic totes together for them. Everything stays together, you can easily store them in the garage or attic once they're filled, and you don't have to worry too much about them being exposed to the elements. There's nothing worse than losing precious memories to water damage, rodents, etc.