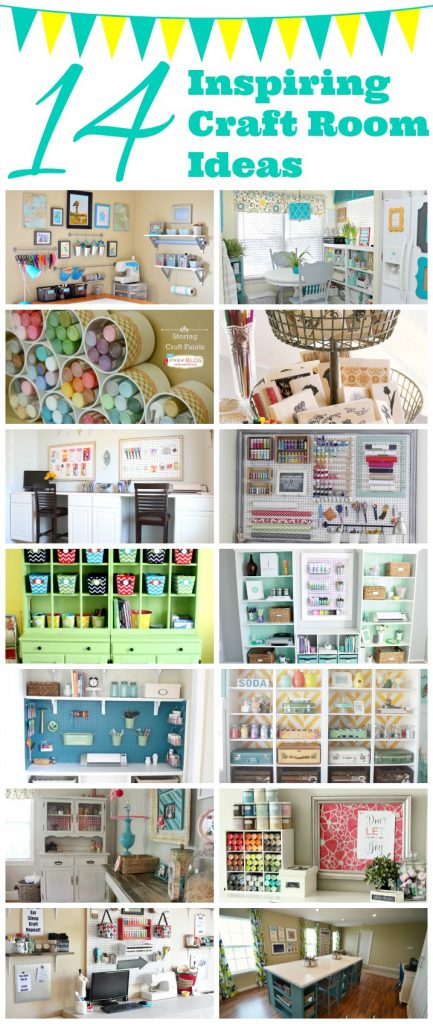 Hey there, everyone! If you follow me on Instagram, you'll know that I have been working in my craft room. Lately it seems like a craft store exploded in it and it's REALLY hard to do anything in there when it's like that. I'm working on getting it in order, and I'm even going to be giving it a little makeover. Hopefully I will have a reveal for you in the coming weeks! In the meantime, I wanted to share with you some inspiring craft rooms and organization ideas that I have found that I love. Just click on the images to take you to the sites.
First up is the gorgeous office/craft room from Abby at Just a Girl and Her Blog. Her room transformation is so light and inviting. I love the backing she added to her shelves and I'm such a huge fan of pegboards.
I'm a huge fan of paints and my paint selection has outgrown the tiny shelf I made for my pegboard. I just love how Trish from Uncommon Designs stores her paints in this cube shelf. Even better is that she keeps them organized by color family. Totally something I would do!
Melissa from A Prudent Life always blows me away with her organizing style. She makes such great use of space in her craft room/guest bedroom, and it came out beautiful. She shares both spaces so well neither of them feel like it takes over the room.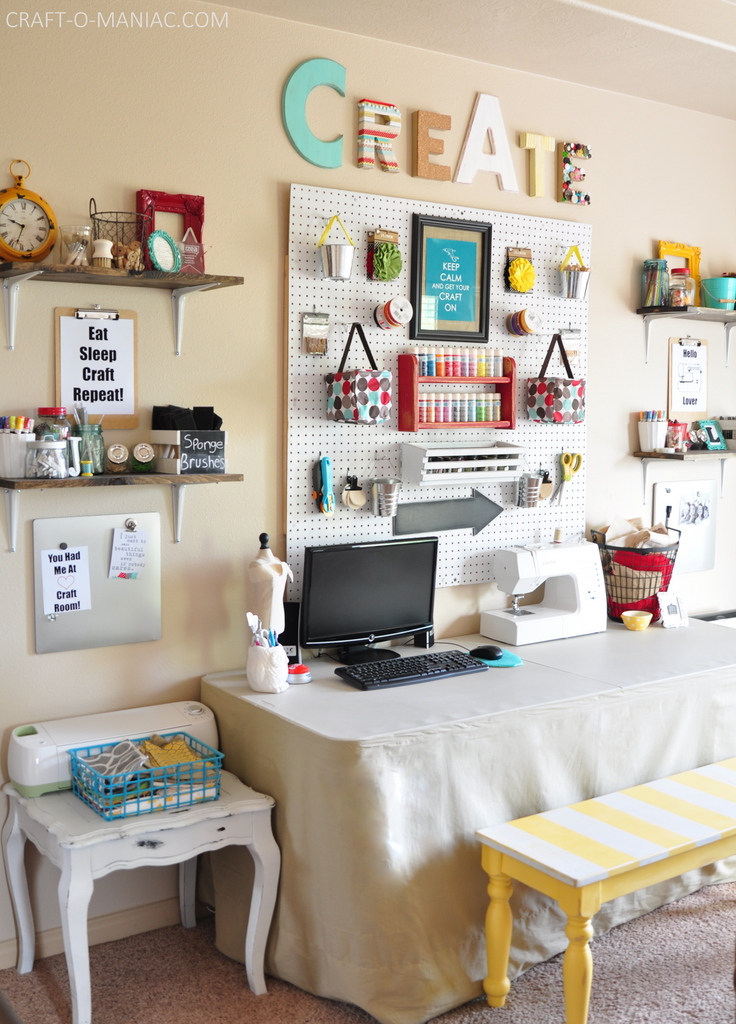 The pops of color in this neutral craft room by Craft-O-Maniac are so much fun! It definitely would make me feel so creative in this space. I'm loving the yellow and white striped bench too!
I love wire baskets. I am still on the hunt for just the right baskets for my own craft room. I would love to find one like this one featured on Country Living. It's functional and has a rustic chic charm that I adore.
I am always on the hunt for creative paint storage. How fun is this PVC coupling storage from Today's Creative Blog?! She even takes it up a notch with washi tape!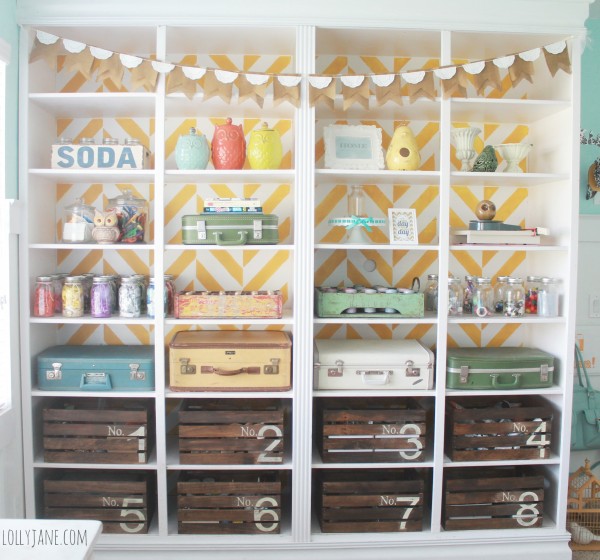 Everything about this herringbone bookcase from Lolly Jane is enough to make you swoon! The pop of yellow, the vintage suitcases, the wooden crates. It's sheer perfection!
Turning a messy closet into a stunning craft space is so genius! Traci, from Beneath My Heart, did such an amazing job with this transformation. Cutting out the header of the closet and making the opening higher is a great idea and I'm thinking I may want to convince my husband to let me take the reciprocating saw to the closet in my own craft room.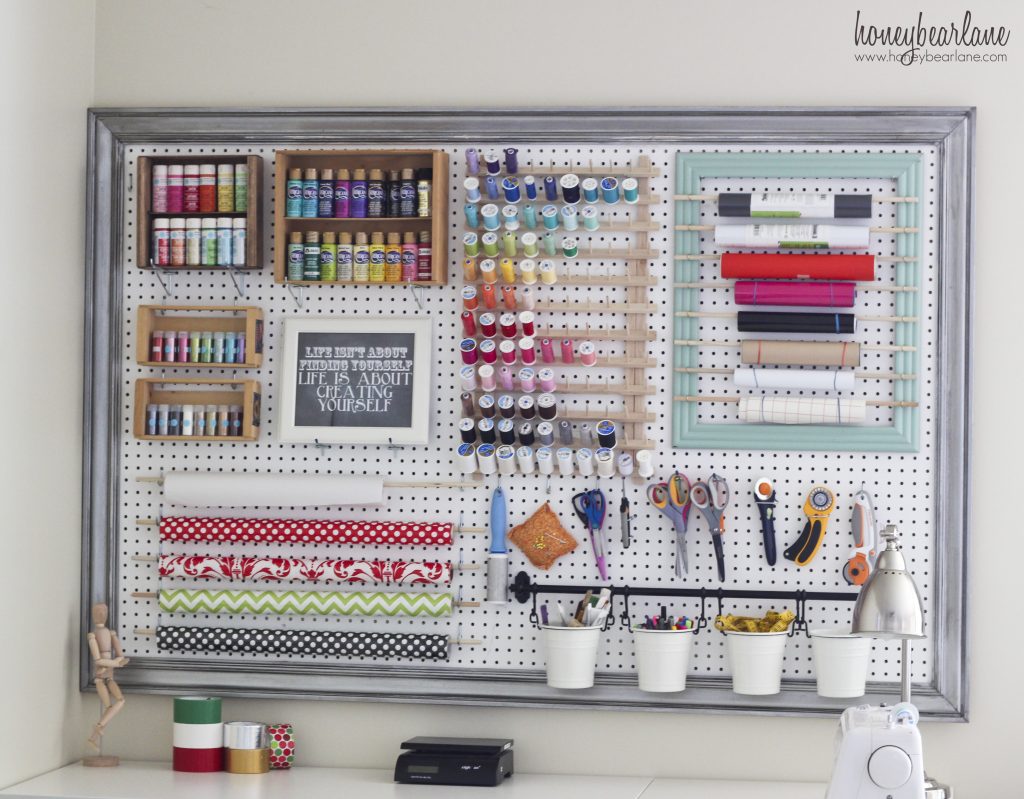 I have always loved this large framed pegboard from Honey Bear Lane. Her pegboard was what inspired me to create mine. I love the way she utilizes space on it.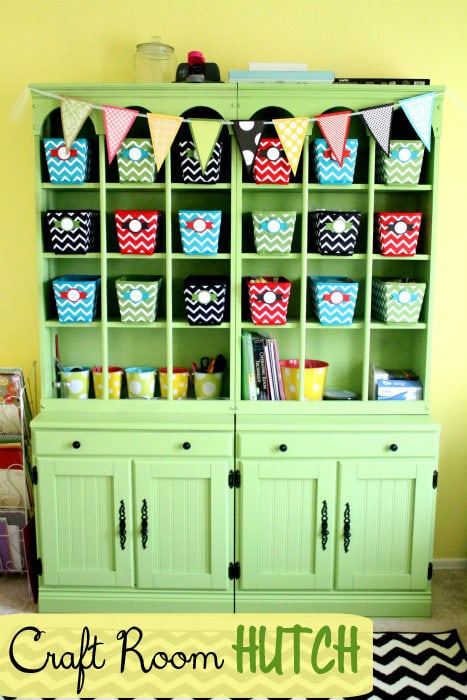 Who wouldn't love a gorgeous, painted hutch in their craft room? This craft room hutch from Lil' Luna is so bright and cheerful. The pops of color with the storage boxes compliment it perfectly.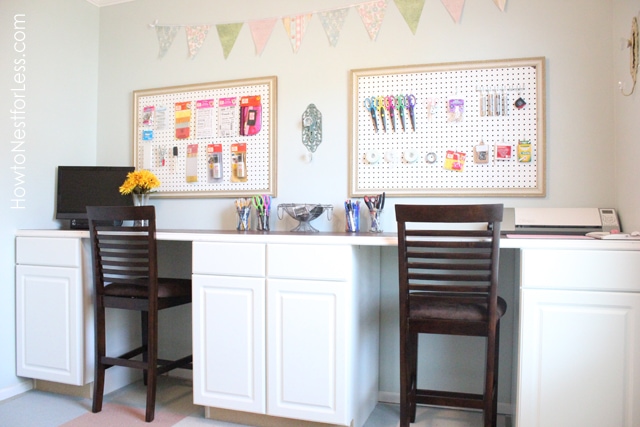 This craft room shared on Craftaholics Anonymous utilizes what space they have so well. The extra long desk they built from stock cabinets is a great and affordable idea. I'm loving the idea of the carpet tiles from Flor too! Raise your hand if you've ever accidentally flung glue or paint onto your carpet and frantically tried to blot the stain before it dried! *Guilty!*
This tiny craft space from Mom 4 Real definitely goes to show that you don't have to have a ton of room to create a beautiful and functional craft space. Having some of the colors of the craft space flow into her kitchen also ties the two rooms together, yet still helps them to remain their own individual spaces.
Bethany, from Pitter and Glink took this room from chaos to shabby chic perfection! It's so bright and welcoming. I could definitely see this room as a perfect place to feel creative.
Last, but certainly not least is this insanely awesome craft room from Beckie at Infarrantly Creative. This is the room that I'm sure all crafters dream about having. There's no shortage of storage space or work space, which we all know is a huge necessity for craft rooms. She recently moved and had to leave this gorgeous space behind, but I'm sure she's got more amazingness in store of us at her new house.
Did you find any new inspiration in these rooms? I know I did! I've got so many ideas in store for my own craft room and I am looking forward to sharing it all with you soon. I'd love to hear what your must-have elements are in a craft room. What would your dream craft space have?