Hey friends! Have you ever stepped outside of the norm on a project? I definitely did with this DIY Aztec Wall Art. Living in the southwest, I've always kind of hated the whole southwest look. That being said, when I started coming up with ideas for a wood wall art challenge, I kept going back to this look! Then once I finished the wall art, I kind of had an itch to redecorate my house in a southwest farmhouse style! It's almost like when you eat those veggies your mom tried to force feed you as a kid, and you suddenly realize you like them!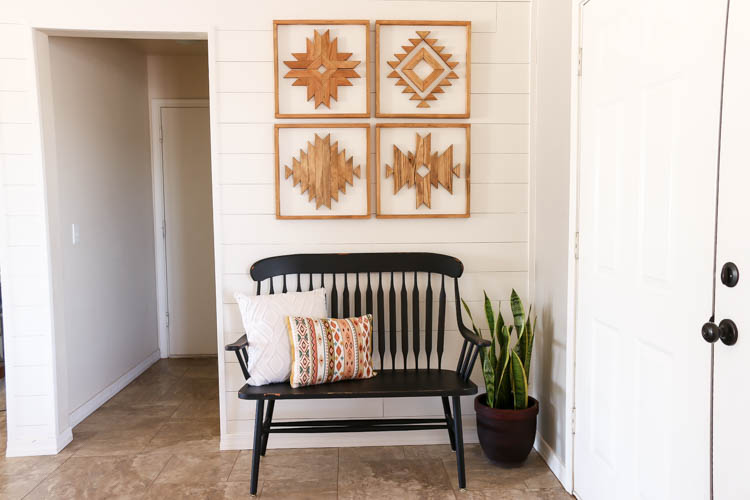 Today, I'm teaming up with a huge group of bloggers and participating in a wood wall art challenge. The rules are simple. Make wall art out primarily of wood, and make it square. Other than that, the sky's the limit! I chose to step a little outside of the box and make four different pieces of Aztec wall art that then formed a large square once put together. It was so easy to do and, with the scrap plywood I had on hand, I was only out $8 in 1x2s. If watching a video tutorial is more your speed, be sure to check it out!
Here's how to make your own!
DIY Wooden Aztec Wall Art
I drew up very simple sketches for these designs to help you know the dimensions to cut all of the pieces, so be sure to reference these photos for the measurements!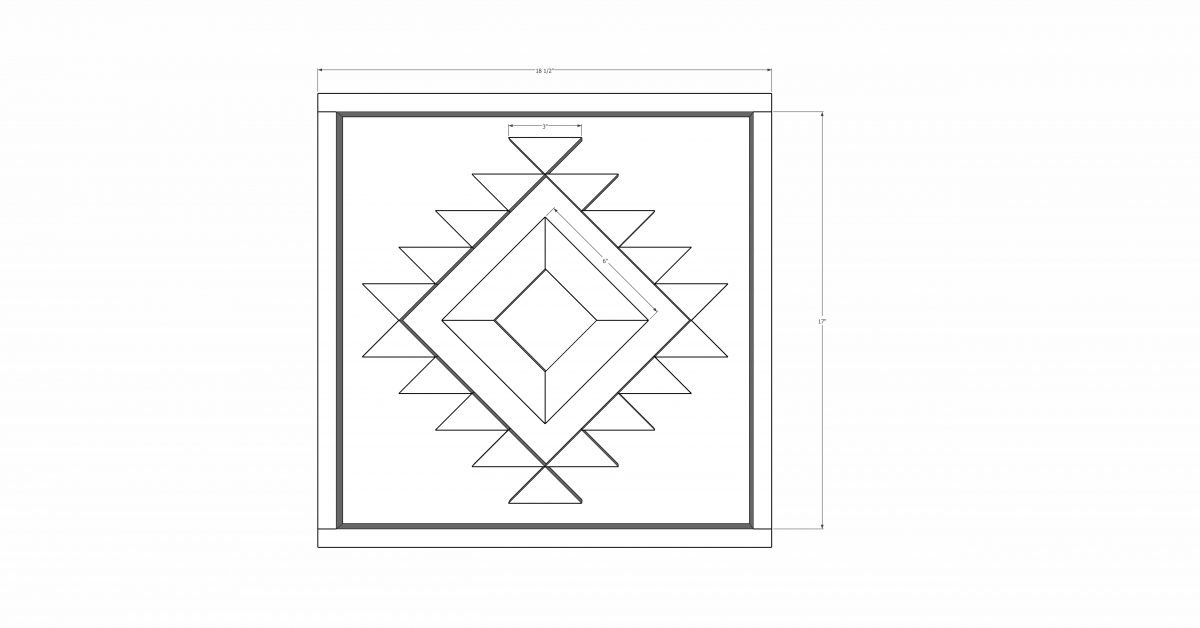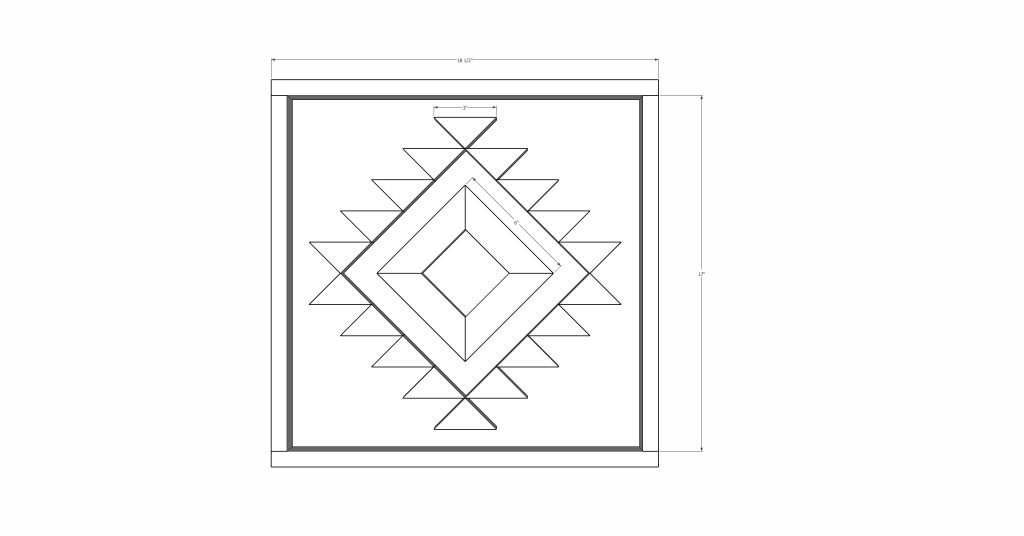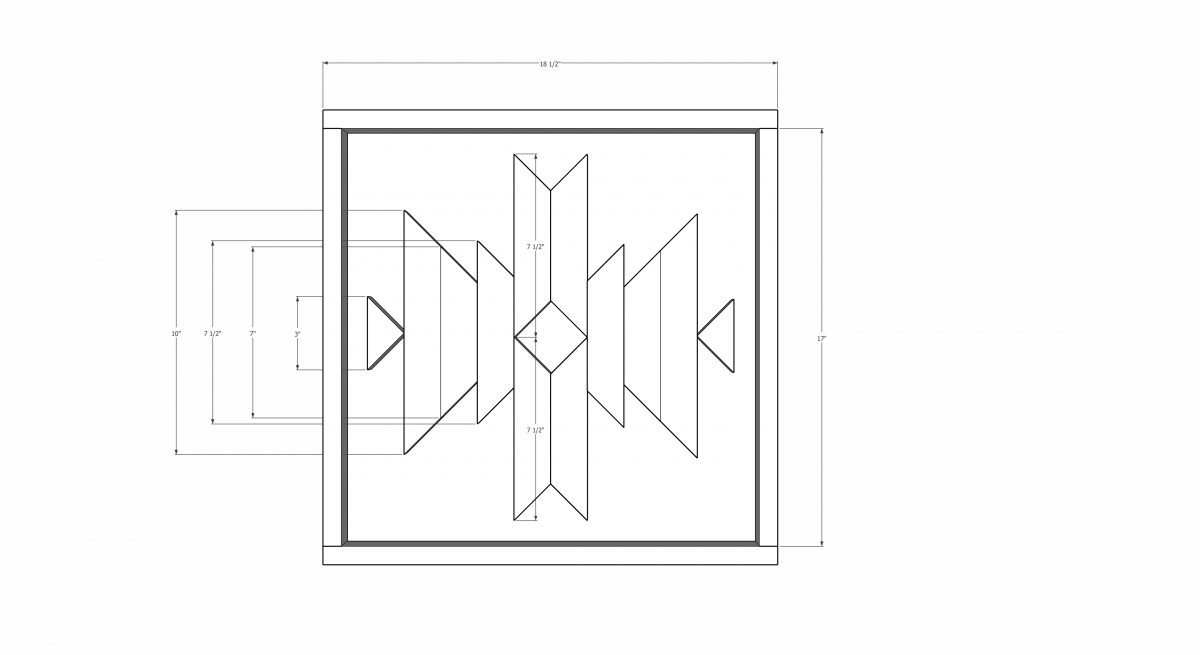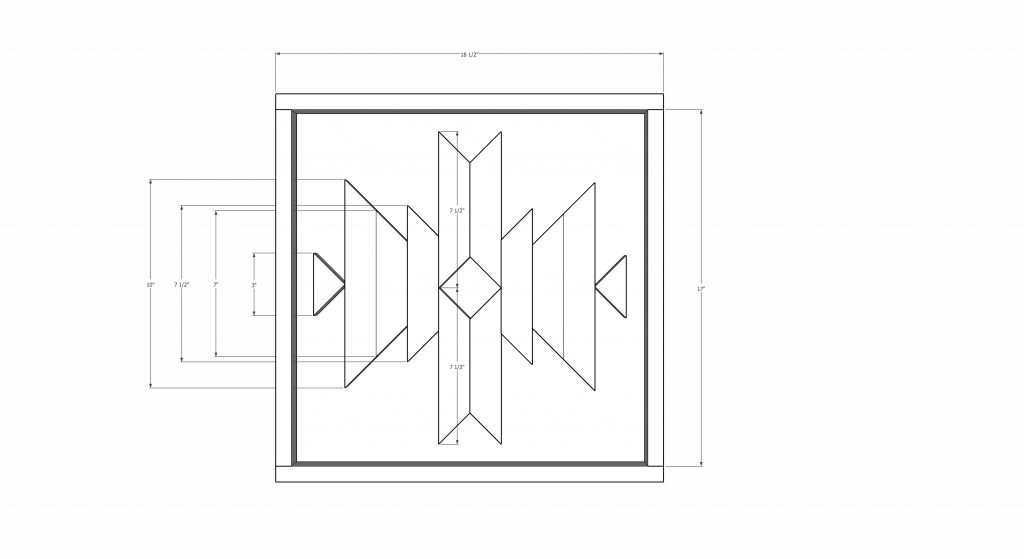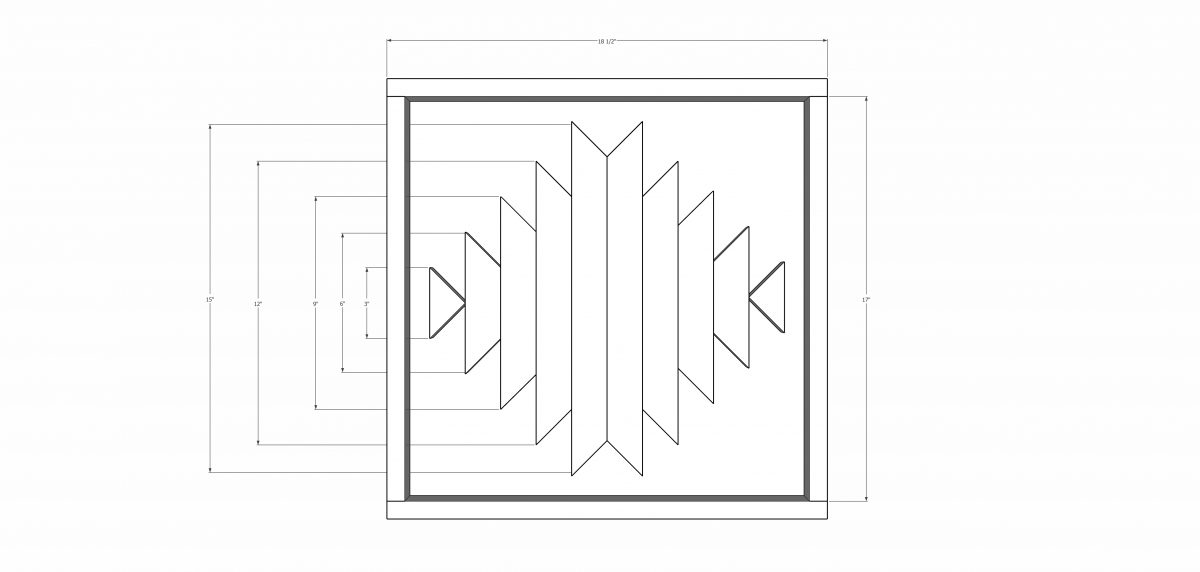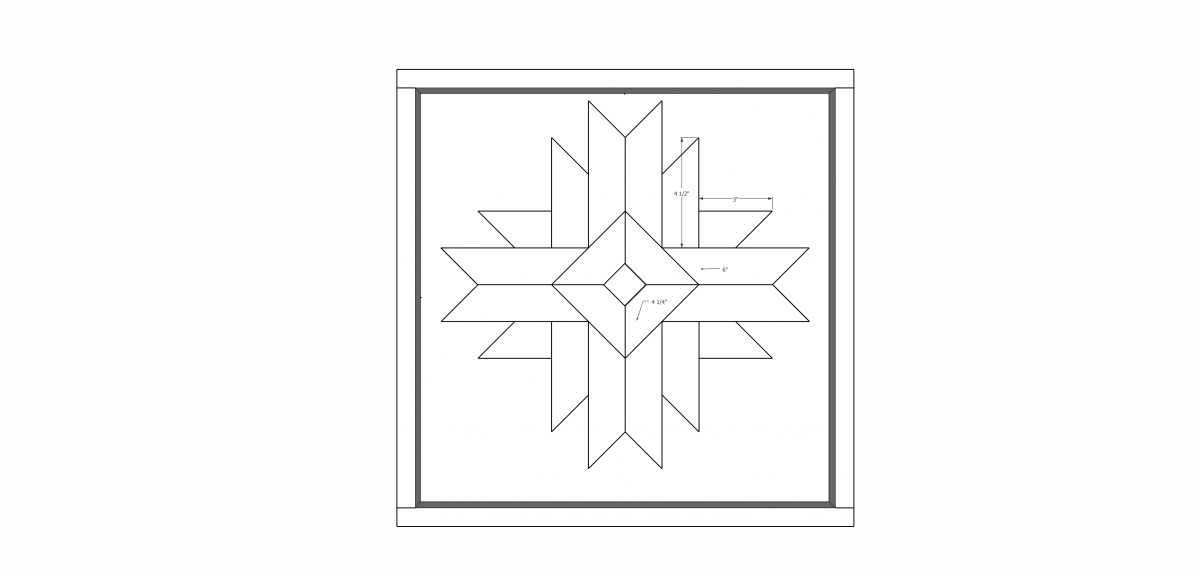 How to Build Them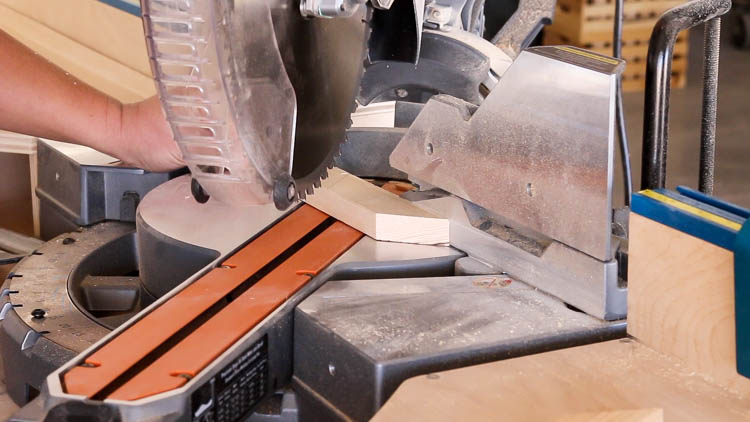 I got started by cutting all of my 1×2 pieces on my miter saw. I used 1×2 furring strips, which are a lower quality, but are also very inexpensive. If you'd like a higher quality, you can also use 1×2 common boards, or 1×2 select pine.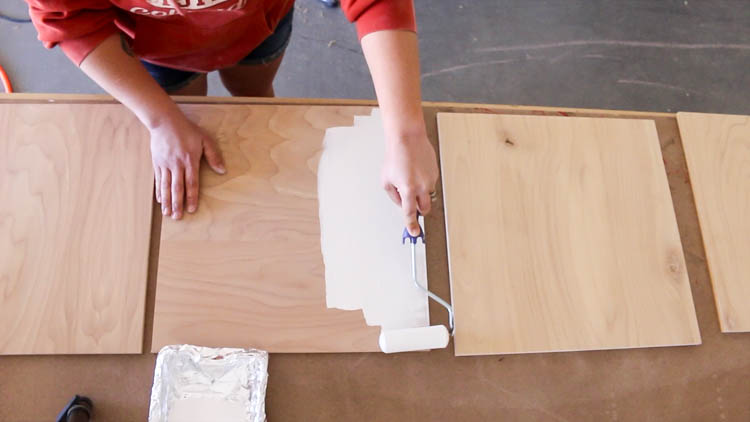 I cut 17″ squares of 1/2″ scrap plywood I had on hand and then painted them with two coats of white paint.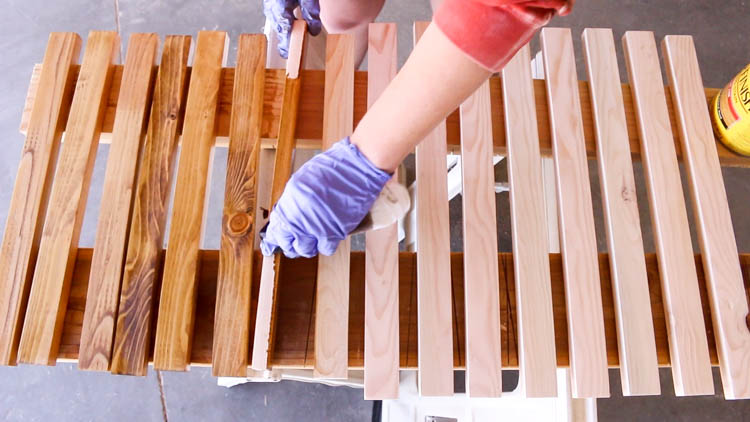 While my paint dried, I stained all of my 1×2 pieces in golden oak by Minwax.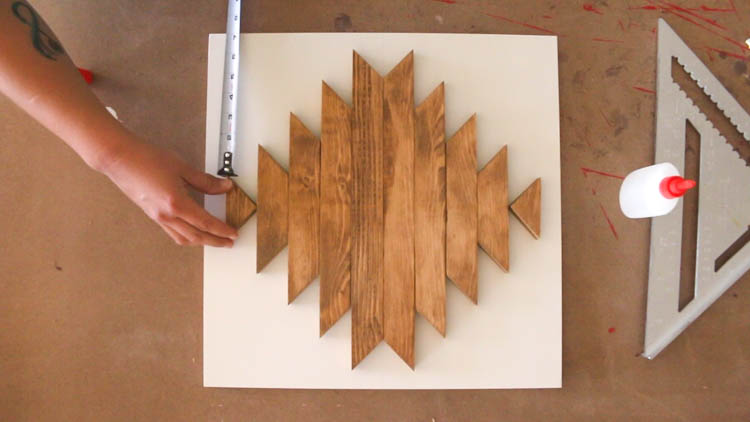 When it was time to place the 1×2 pieces to make up the designs, I used my tape measure and square to find the center points on both the vertical and horizontal axis. I drew very faint pencil lines where they would be covered by the wood to give me guide points for where it all lined up. For this design, there should be about 1″ of space on the top and bottom of the plywood. After that, each piece is staggered by 1 1/2″. I attached all of the pieces with clear glue. I used Rapid Fuse Wood Glue from DAP. That way, if I needed to adjust any pieces, you wouldn't see the glue after it dried.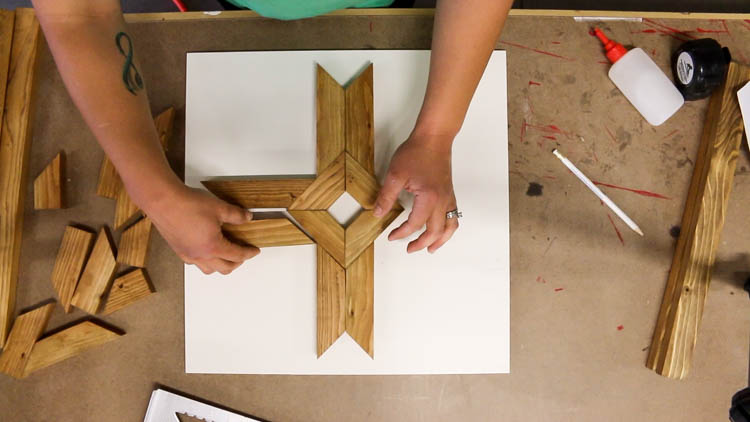 I put together the remaining designs and attached them all with glue. I found that using a similarly sized scrap piece of plywood to apply even pressure to all of the 1×2 pieces worked great when all of them were glued down.
For the final piece, I found that my speed square was perfect to help me set all of those little triangles in their proper places.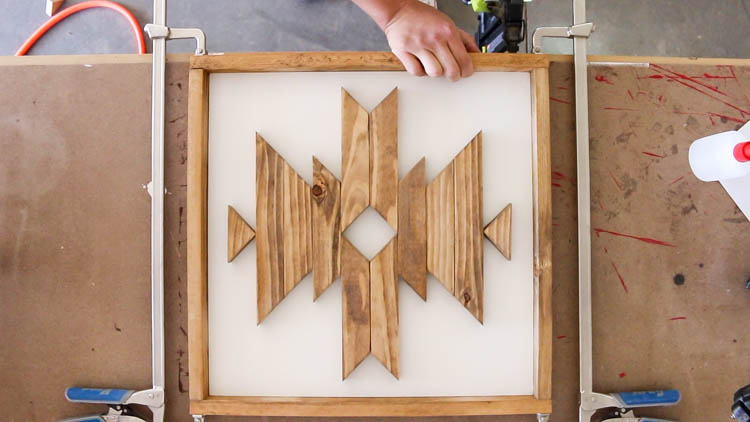 Once all of the designs were completed, I attached the 1×2 frame. I used wood glue and 1 1/4″ brad nails to attach the frame to the plywood.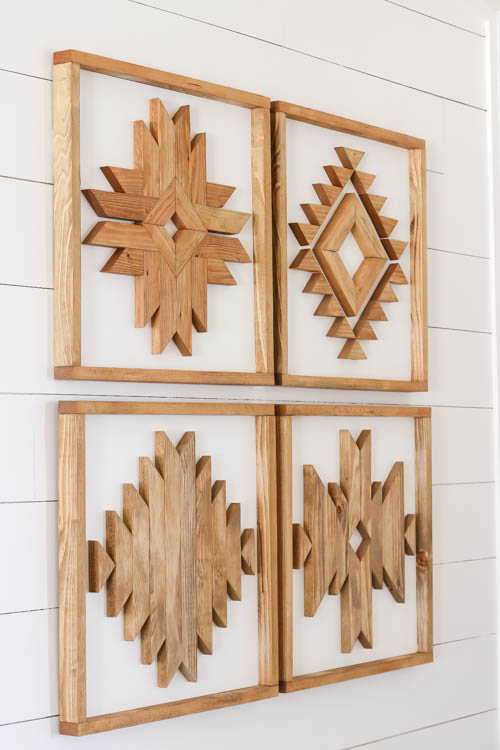 Once that was all done, I hung them up to admire my work! I'll let you in on a little secret…the command velcro strips are my absolute favorite way to hang photos or art on the walls. They hold really well, and I don't have to patch holes if I ever take anything down.
I'm not gonna lie. I think I may be in love with this new look! I paired the Aztec wall art with some pillows that had a southwestern flair. I purchased the square one from Target and the lumbar from Pier 1, plus a snake plant that I bought from Home Depot. It's the first living plant I've bought for inside the house and if you watched my IG stories the other day, I'm thinking it may be the gateway drug to crazy plant lady status. I seriously want to fill my house with plants!
But back to the challenge. Be sure to pin this post for later inspiration, and don't forget to download the plans for the DIY Aztec wall art. Also, DEFINITELY check out the incredible creations from my fellow bloggers in the challenge!
1) Reality Daydream
2) 100 Things 2 Do
3) House Becoming Home
4) Anika's DIY Life
5) My Repurposed Life
6) 3×3 Custom
7) One Project Closer
8) Merrypad
9) Chatfield Court
10) Create & Babble
11) Jen Woodhouse
12) Hazel & Gold
13) Sawdust 2 Stitches
14) Wood Work Life
15) Remodelaholic
16) Jaime Costigio
17) Evan & Katelyn
18) Bower Power
19) Pneumatic Addict
20) Lazy Guy DIY
21) My Love 2 Create
22) Addicted 2 DIY
23) Her ToolBelt
24) Shades of Blue
25) Ugly Duckling House
26) The DIY Village
27) DIY Huntress
28) Mr Fix It DIY
SaveSave
SaveSave
SaveSave
SaveSave
SaveSave
SaveSave
SaveSave
SaveSave