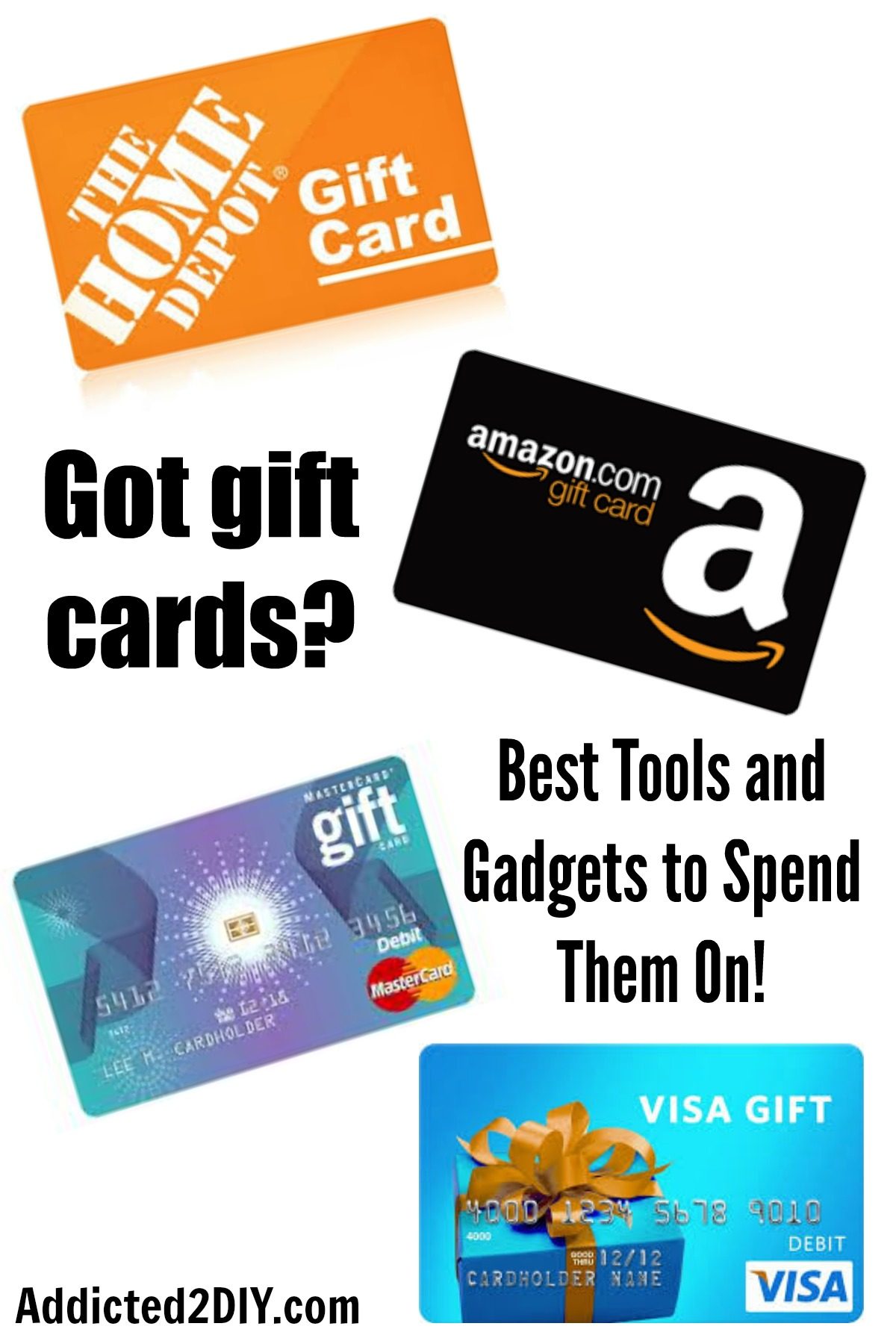 Hey there everyone! It's hard to believe that Christmas is over. Many of you have probably taken down all of your decorations or are planning to in the next few days. I hope that you had a wonderful holiday with your families. We certainly did, and I'm super excited to start using the new tools my husband got me this year! I'm now the proud new owner of a Kreg Foreman! I've been wanting one FOREVER and I was so surprised! It's definitely going to make the bazillion pocket holes I drill on every project go so much faster! I always love being able to build on my tool collection!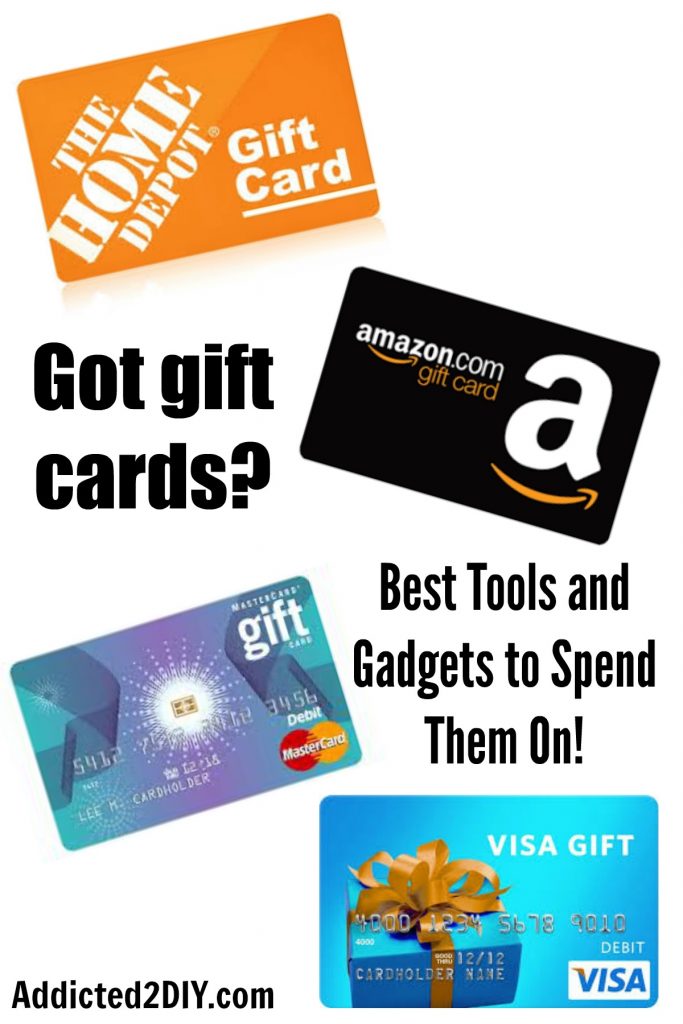 I also got some gift cards this year and I'm really looking forward to putting those to good use. If, like me, you've got gift cards burning a hole in your pocket, check out this list I put together of great tools and gadgets that you can spend them on!
What to buy with your Amazon gift cards:
Let's start with safety glasses. You really can't have too many. My husband got me these safety glasses for Christmas last year and I absolutely love them! They're super comfortable and the built-in hearing protection means I've always got it with me. They also double as dangly earrings when not in my ears;)
Two other things we can't have enough of in our shop. Tape measures and clamps. This is one of my favorite tape measures to use for projects. One of the cool things about it is that it comes with a built-in pencil sharpener!
If your goal this year is to start building your own DIY projects, the Kreg DIY Project Kit is one of the first places I would start! It comes with an R3 pocket hole jig, a Rip-Cut, and a shelf pin jig. It also comes with project ideas that can be built using all of the tools! I use these tools all of the time and absolutely love how easy they are to use. You'll also want to get a Kreg face clamp to use with your R3.
My husband also surprised me with the Kreg Pocket Hole Plug Cutter on Christmas morning. I definitely felt like the luckiest girl in the world! Now, instead of filling pocket holes with wood filler or trying to find wooden plugs that match my project piece, I can drill my own plugs from the same wood I'm using for my project! It's definitely going to be a game-changer for any DIYer.
Another super awesome and handy gadget is this bullnose trim guage. If you've been putting off replacing your baseboards (like we have) because it's such a pain with bullnose corners, this little tool will probably be the answer to your prayers! I'm still in the middle of replacing the baseboards in my house and I've got to rip all of them out again in my boys' rooms when I put in their new flooring. You can bet I'm ordering this for that project.
To go along with the bullnose trim guage, I'm also going to be ordering this General Tools Angle-izer template tool. It helps you to quickly and easily make templates when cutting angles for flooring, etc. We have several angled walls in our house and this will come in handy in so many ways! Especially when cutting the laminate flooring I'm going to be putting in.
There are literally hundreds of different tools you can buy on Amazon. These are just a few that I love or plan to get that will hopefully get you started in the right direction.
What to buy with Home Depot gift cards:
I know this isn't what you'd first expect to be on a list of DIY tools, but the RYOBI power inflator has become one of the most used tools in our house! It would be a crime not to mention it. Between filling up bike tires, wheelbarrow tires, and everything else that takes air, I swear we use it almost daily! Plus, at just under $20, it's such a bargain!
This tool is always high on everyone's list and is so useful for your DIY projects. You don't have to bother with an air compressor, and you can take it anywhere with you! It's seriously one of my favorite tools! I guess I have a lot of favorites, but still…
Since every project seems to need a drill, you definitely can't go wrong with the RYOBI drill/driver combo kit! Perfect for drilling those pocket holes and driving in screws.
If you've had your eye on a bigger set of tools, the RYOBI combo tool kit has just about everything you need to tackle your DIY projects around the house. Plus, the fact that it is all battery powered means you don't need to go searching for extension cords.
Every DIYer needs a good miter saw and I love my RIDGID sliding compound miter saw. I use it almost daily on all of the projects I'm working on. I also highly recommend the Diablo 12 in. x 80 tooth saw blade to go with it.
Since most people like to listen to music while they work, this RYOBI 18V hybrid stereo is a great choice! I use mine all of the time in the shop and I love that I can either listen to the local radio stations, or use the bluetooth to stream music or listen to my playlists on my phone. Plus, you not only have the ability to use your RYOBI One+ batteries with it, but you can also plug it in with an extension cord!
Again, this just barely scratches the surface of the tools you can find at Home Depot, but hopefully it will give you some great ideas when you're looking to spend those gift cards!
What to buy with Visa (or other) gift cards:
While I love shopping for tools on Amazon and at Home Depot, I also found a new love this past year in Rockler Woodworking and Hardware. They have got tools and gadgets for just about anything you can think of! I'm actually planning on placing an order this weekend for some dust collection tools and maybe a few other things.
If wood turning is on your list of hobby's you'd like to get into, the Excelsior Mini Lathe from Rockler is a great choice! You can see how I used my lathe to make some great gifts for Christmas this year.
To go along with the awesome lathe, you'll want some great chisels. This carbide turning tool set is a great choice! No more having to sharpen your chisels all of the time. These allow you to turn the tip to a sharper side when it gets dull and then you can replace them.
The trim router circle jig is another valuable tool. Especially when you're making round table tops like this rustic industrial side table I made. It's pre-drilled holes fit most routers; however, you can also drill holes in it to fit any other routers.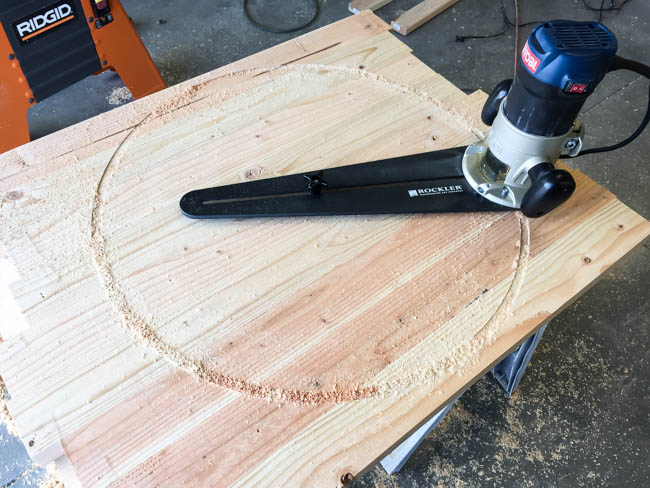 These panel clamps are also awesome when you're gluing up table tops, cutting boards, etc. They prevent your glue-ups from bowing when you clamp them!
One thing that is very high on my list are these undersized router bits. Just like dimensional lumber, plywood isn't the exact thickness it states, which means that your dadoes will have a snug fit.
The best part about ordering from Rockler is that you get a new catalog in the mail, which is like a toy catalog! I go through mine every month and make notes of what I want to get next! I'm definitely eyeing the dust collection accessories. With the new year, organization and cleaning are high on my list and that includes my workshop!
Hopefully this list helps you to make good use of your gift cards you got this Christmas and you're able to build upon your tool collection. If you're all set on tools, don't worry. I've got a great list of projects I'll be sharing with you so you can use your gift cards to buy lumber and supplies! I hope you all have a happy and safe new year!
DISCLOSURE: This post contains affiliate links. If you purchase an item from one of these links, I will receive a small commission at no extra cost to you.