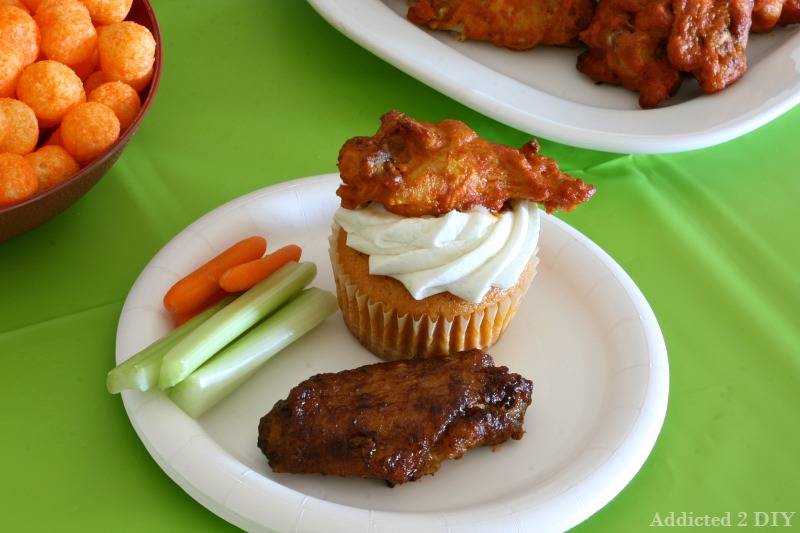 This shop is part of a social shopper marketing insight campaign with Pollinate Media Group® Tyson and Wet-Nap®, but all my opinions are my own. #pmedia #wingsandwipes https://my-disclosur.es/OBsstV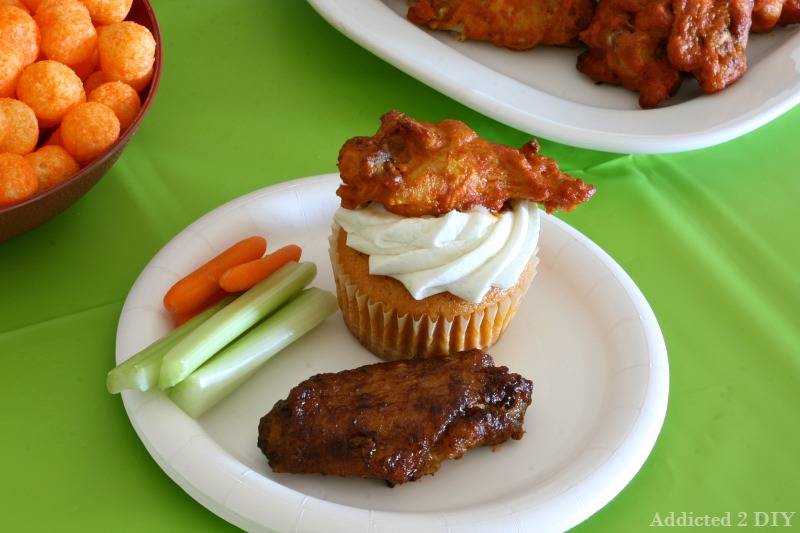 It's one of my favorite times of the year! Football season is officially under way. Yesterday I happily watched the Broncos start their season off with a win and tonight I'll be cheering on our home team, the Cardinals. Not only do I love football season, but I love the food that comes with football parties and tailgating. My family (even my boys) love hot wings. I decided it would be perfect to start the first Sunday of football season off on the right foot with a tasty spread of appetizers and snack foods while we watched the games. I went a bit nontraditional though and whipped up a batch of some odd sounding, but delicious cupcakes to go with our wings. I made these a couple of years ago for the Super Bowl and our friends loved them. I originally found the recipe on Cupcake Project. They're slightly sweet, a bit spicy, and also savory with the combination of the blue cheese and buffalo sauce. Topped with a chicken wing, they're a fun appetizer for any football or tailgating party.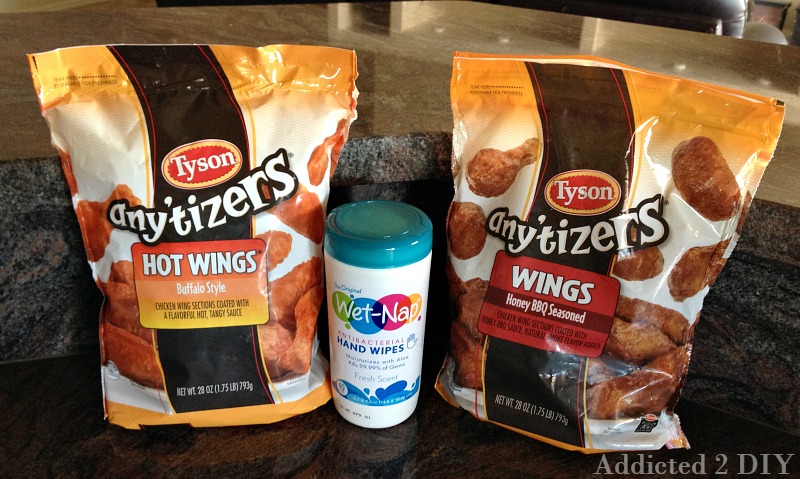 I headed to Walmart and purchased some Tyson Any'Tizers in Buffalo Style and Honey BBQ Seasoned. I've never had BBQ flavored wings before, so I wanted to give them a try. They tasted amazing. For easy cleanup for our messy fingers, I bought a container of Wet-Nap hand wipes.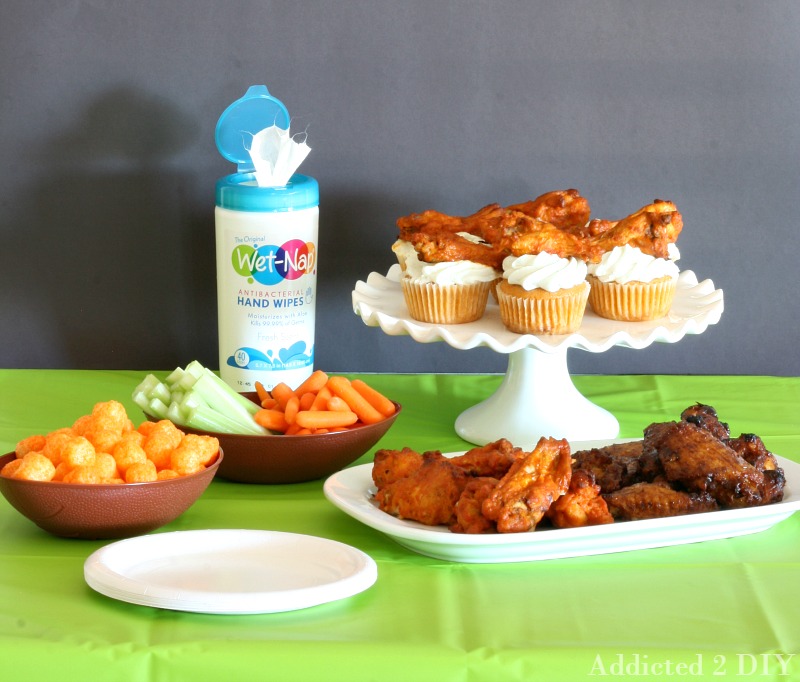 While the cupcakes cooled, I popped the Any'Tizer wings in the oven. I've actually never made wings at home before and I was very pleasantly surprised with how great they tasted! My husband and boys dug into them right away. It was all I could do to keep them away from the table while I took some pictures!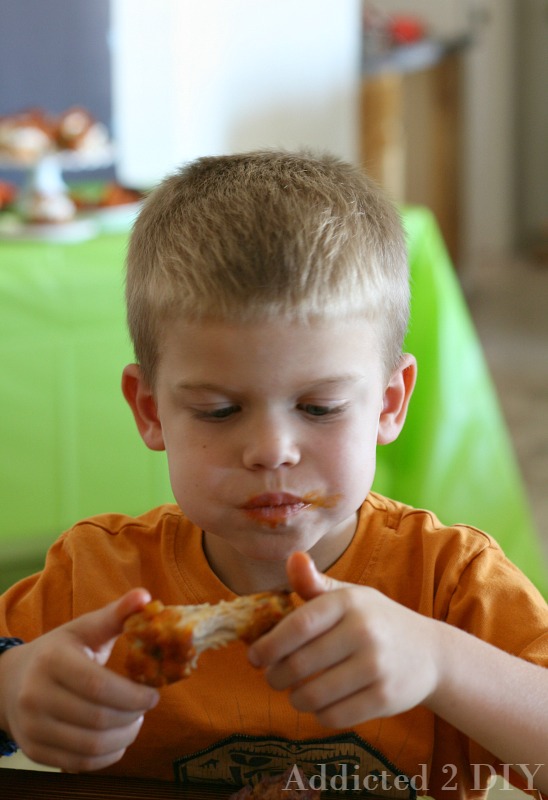 My six year old is a bit of a freak of nature. He absolutely loves spicy foods. He's the type of kid who dips his goldfish crackers in buffalo sauce, so obviously his favorite flavor was the Buffalo Style. And even though he's not a blue cheese fan, he still loved the cupcakes.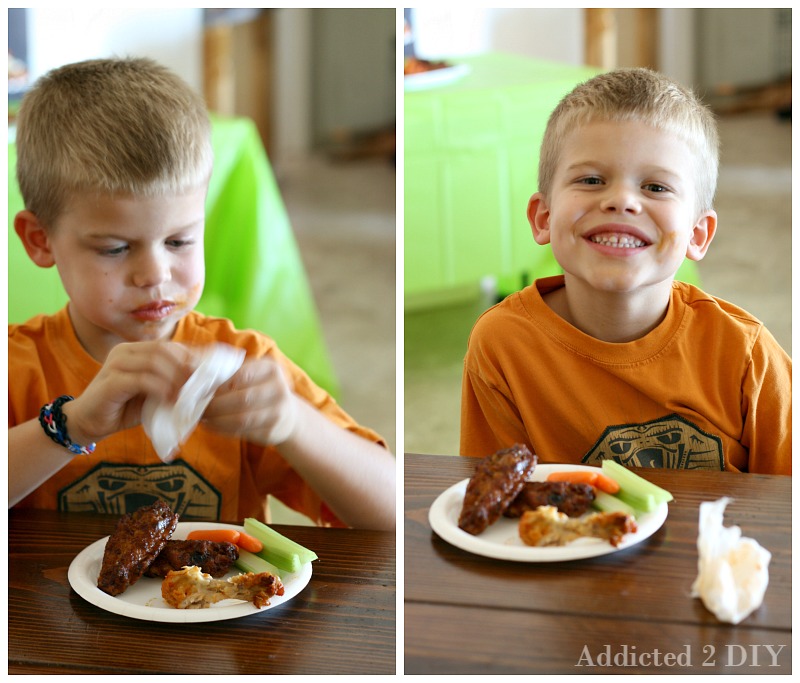 The Wet-Nap hand wipes were the perfect solution to his messy face and fingers. Obviously he has a little work to do on cleanup duty, but he's getting there:)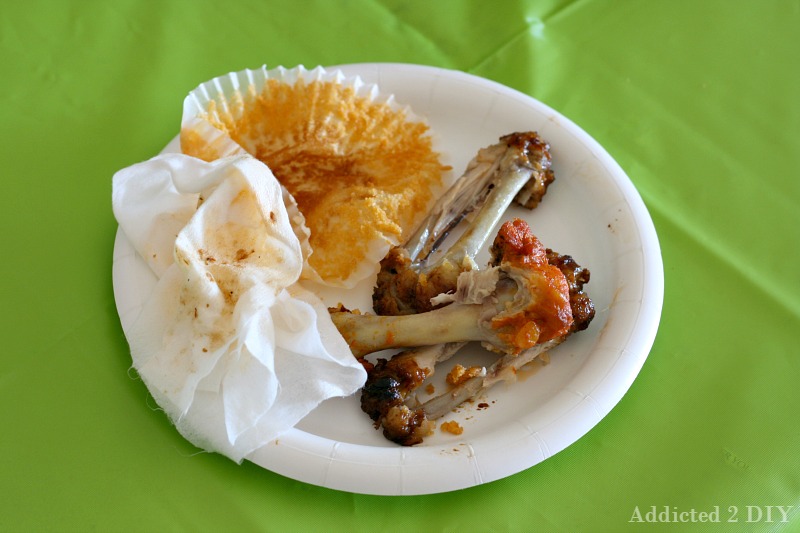 I couldn't wait to finish taking pictures so I could dig in. It's not every day I get cupcakes for lunch. Especially cupcakes and wings! Don't worry, I balanced it all out with some carrots and celery. It's perfect football food!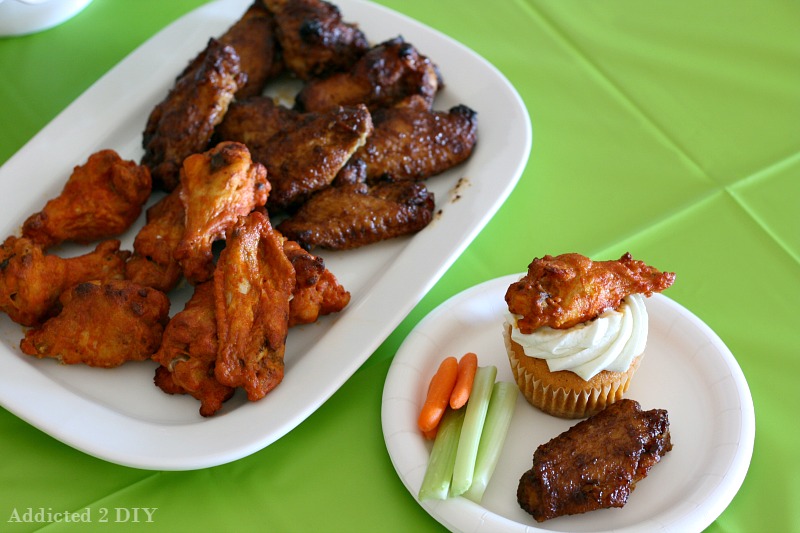 If you've got a football party coming up or you're tailgating at the big game, you have got to make these cupcakes! They're so good and definitely a conversation starter. The Tyson Any'Tizer wings topping them off are the perfect way to have your appetizer and dessert. It's like having your cake and eating it too. If you're serving these wings, you'll definitely want to have your Wet-Nap hand wipes handy too. Nobody likes having messy fingers, and we all know that plain napkins just don't always do the trick.
To help you out, you can download a coupon to save $0.55 off your next purchase of Wet-Nap hand wipes HERE. The coupons are available while supplies last. Just head to Walmart and pick up a container, or a box of the individual packets along with some Tyson Any'Tizer wings and you're all set for a successful party!
Don't forget that you can find the recipe for the cupcakes at Cupcake Project. I'd love to hear if you made them and what you thought!