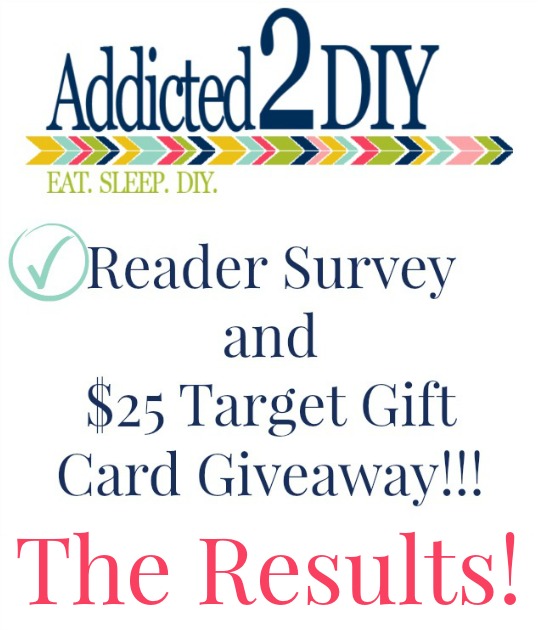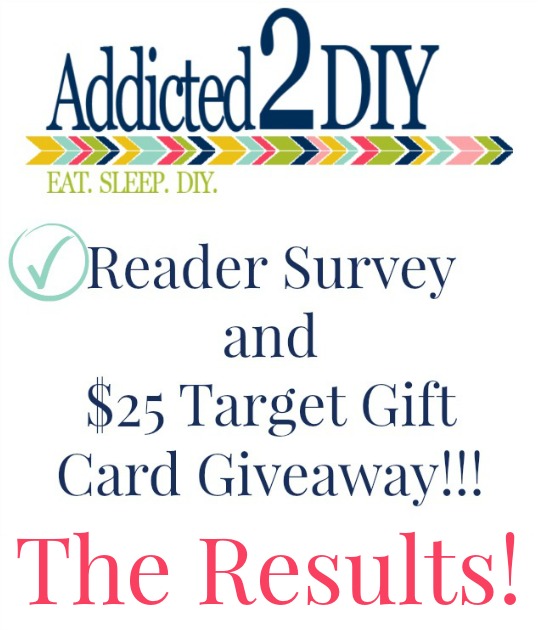 Hey everyone! First I just have to say thank you to those of you who took my reader survey. I was so thrilled to have you participate and it was great seeing what you all think! Not only did I gain some valuable insight, but also some new inspiration for posts! Some of your answers surprised me, while others I definitely expected. Before I get to the results, make sure that you check your email! If you took the survey and filled out the giveaway form, you might have won the Target gift card!
Drumroll please…
Here are the results of the reader survey.
Question 1 – How often you'd like to see new posts each week?
53% of you would like to see new posts 1 to 2 times each week.
Almost 35% of you would like to see new posts 3-4 times each week
And 8% of you would like to see new posts 5-6 times per week.
These numbers surprised me the most! I was definitely expecting 3-4 times per week to be the frontrunner, but it definitely made my stress levels go down when I saw that the majority of you preferred 1-2 times per week. I think I'll meet you all in the middle and post 2-3 times per week. Hopefully that will be a good number:)
Question 2 – Which types of projects do you like to see the most of?
This was one of those questions where you could choose multiple answers.
DIY Projects – 98%
Knockoff Projects – 45%
Crafts – 36%
It definitely wasn't a surprise to see that the vast majority of you would like to see DIY projects the most. I certainly love them and have big plans to share more. Those pesky little things called time and money sometimes get in the way, but the best part of DIY is figuring out how to spend as little as possible while getting amazing results!
Question 3 – Would you like to see tutorials on how to use tools?
75% of you said yes, 4% of you said no, and 20% of you didn't really care.
Question 4 – What tools would you like to see tutorials on?
Different types of saws – 31%
Kreg Jig and other Kreg products – 33%
Paint sprayer – 24%
Some of you said all of them, which is awesome! I'll be planning to put together some tutorials for these different types of tools soon.
Question 5 – Step by step vs. video tutorials.
It seemed pretty evenly split as to what you'd like to see for tutorials. I think what I'm going to try is doing step by step as well as video tutorials for the different types of tools. That way it helps everyone! I have to be honest though, getting in front of a camera to explain something already has me nervous! But if it means helping you guys feel more confident in using tools, then I'll do it! 🙂
Question 6 – Would you like to see posts from hand-picked contributors?
63% of you said yes, 3% of you said no, and 33% of you said maybe.
This is something I've been contemplating for a while, but I think I've finally come to the decision to open my blog up to guest contributors from time to time. I'd love to be able to share other talented bloggers with you that you might not know about. I just have to work out the details of exactly how I want to do that.
Question 7 – Would you like to see more posts about organization, home decor, printable plans, etc?
Almost 18% of you said organization, 50% of you said home decor, 26% of you said printable plans, and several of you said all of the above. One person mentioned makeovers.
The good news is I've got plans to post about all of these things, but I can definitely see that the majority of you would love to see more home decor related posts. I also have been trying to learn how to create printable plans and will hopefully have that figured out sooner than later!
Question 8 – Your thoughts on Addicted 2 DIY.
While I certainly wasn't looking for a pat on the back from all of you who responded, it definitely made me smile to see your encouraging and kind responses! I love that I'm able to inspire and empower you to tackle your own DIY projects. Hopefully I can keep doing that! And, by the way, I LOVE seeing the projects that you do. Feel free to share them!
Question 9 – Projects you'd like to see.
I loved all of your ideas and I definitely was inspired! Several of them are already on my list, such as kitchen and bathroom remodeling. Outdoor projects are also high on my list. Our biggest outdoor project (our new pool) was actually just finished on Sunday, so be on the lookout for a post detailing what we learned from THAT whole experience! We've also got plans submitted for a huge workshop in our backyard. It's supposed to be for my husband, but I think we all know who will end up stealing half of the workspace;)
In a nutshell…
I just want to give a heartfelt thanks to all of you who took the survey. I love hearing from you and what you like. Plus it has me motivated to tackle some of the projects you all suggested. As I said, as time and money permit, I'll start checking them off of my list! Don't forget to check your email if you're the winner! If the winner hasn't claimed their prize in 48 hours, I'll announce a new one!