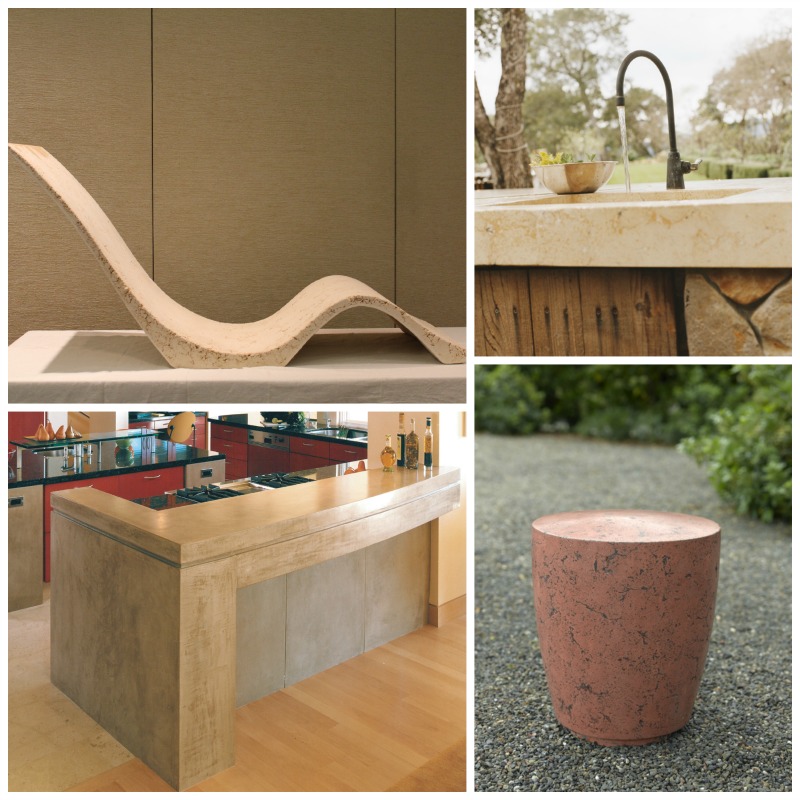 If you've been following along with my blog for a while, you've probably figured out that there isn't much I won't try in the way of DIY. One thing that I've been wanting to get into for a while is concrete. I love the look of concrete counter tops and tables. The problem is that those things often come with quite the hefty pricetag. While I was at the Haven Conference in Atlanta last month, I was introduced to Buddy Rhodes Concrete. I spoke with one of their reps and was so intrigued by the beautiful things that people can make from concrete. I knew I wanted to get my hands dirty and create something amazing too! At the end of this post, I'll be showing you what I'm going to be making, but I also want to get your opinion on what color(s) I should choose for my project.
Buddy Rhodes developed his concrete with ease of use and versatility in mind. It can be used for concrete counters, fireplace surrounds, or it can defy gravity in gorgeous pieces of art. Here are a few examples of what I'm talking about.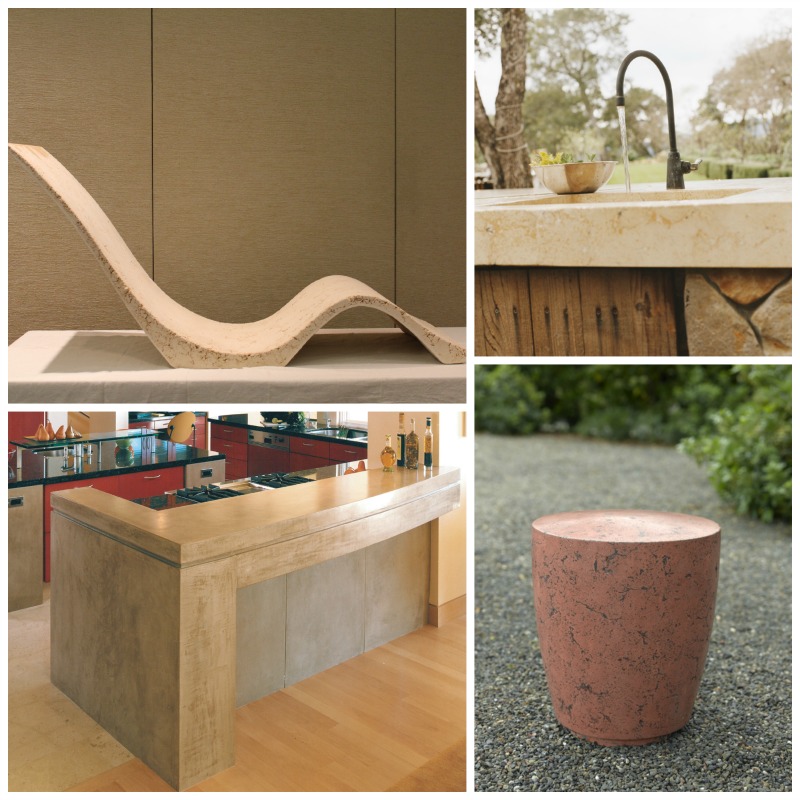 The concrete lounge chair still amazes me at how gorgeous it is. I could picture two of these on a baja step of our future pool. Concrete counter tops are also gorgeous and the color combinations and finish combinations take it to the next level. A troweled finish like the one in the bottom left corner yield a perfectly smooth finish while the pressed countertop in the top right corner give texture and dimension. The drum stool in the bottom right corner is also pressed concrete that was formed in a mold. It almost has the look of granite.
If you're wondering what I mean by pressed concrete, here's an example. The concrete is mixed to a thick consistency and is pressed into a mold. Once the concrete has cured, it is taken out of the mold and you are left with a beautiful finish with a little bit of texture to it. The crevices that are left when pressing concrete can be left as is or filled in with a concrete slurry to give a bit of a smoother finish.
In the next few weeks, I'm going to be sharing with you how I'm planning to use Buddy Rhodes concrete for a project of my own. I'm going to be creating an outdoor side table for our new patio. I'll be showing you the entire process of how to use Buddy Rhodes Artisan Concrete to create the table using both the pressed concrete molding technique as well as incorporating a troweled finish to the table as well. I'll also be posting a tutorial for building the mold so that you can also create this project. I'm pretty excited about it. I'll also share a tutorial for how to build your own concrete mold.
Here's a mockup of the table I will be building. It will be a perfect height to set drinks on, but I also love the opening in it. I am envisioning how awesome it will look to put a lantern in for some nice, ambient light at night time. What I'll be doing is building a custom mold for this side table and pressing the concrete into it. For the inner portion that is open, I'll be troweling that smooth. That means this table will have two different techniques and textures. How cool is that?!
What I'd love to hear from you, my amazing readers, is what color you think I should go with. There are endless color possibilities with Buddy Rhodes concrete, and I'd love to hear what you'd do if you made a table (or any other project) like this. Below are the color choices available.
Would you choose a single color, or would you make your own custom color combination? The colors can be made lighter or richer depending on how much of the pigment you add to the concrete. You can also use an alternating color in the slurry for the pressed concrete, which looks amazing. You can see it in the picture of the drum stool in the collage above.
So let me know what you think? What's your favorite color(s)? Maybe I'll go with one of your ideas when I create my project! Remember to be on the lookout for the next posts in this series! I can't wait to share them with you. In the meantime, check out the Buddy Rhodes Pinterest page to see more of the amazing projects created with this concrete.