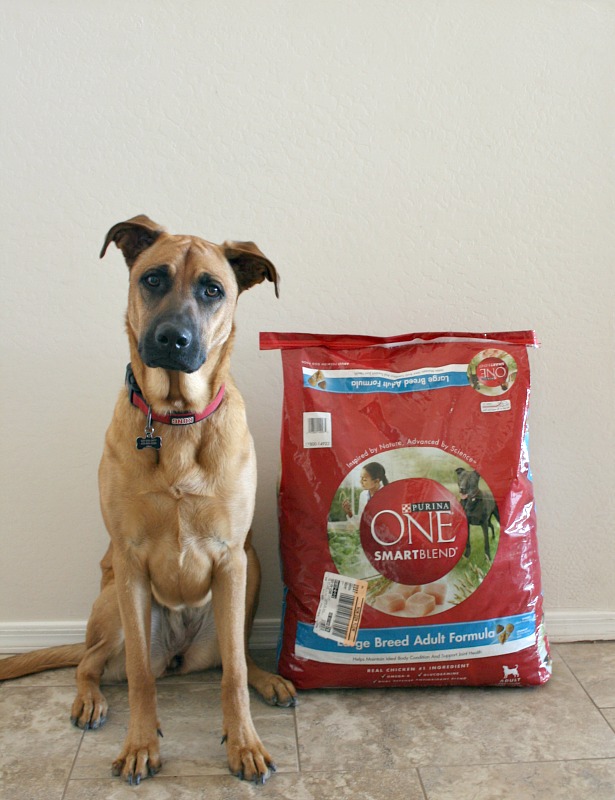 This shop is part of a social shopper marketing insight campaign with Pollinate Media Group® and Purina One, but all my opinions are my own. #pmedia #ONEDifference http://my-disclosur.es/OBsstV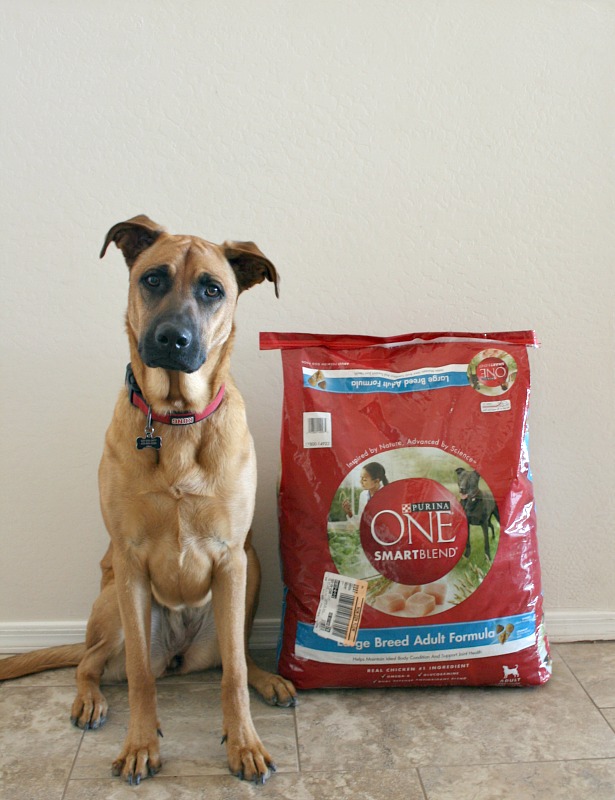 Hi everyone! This is Dakota. If you follow me on Instagram, you're no stranger to seeing pictures of her. She's our 70 lb Belgian Malinois, Rhodesian Ridgeback mix and she just turned a year old last month. Dakota loves playing with other dogs, chasing critters in the backyard, car rides, watermelon, and playing on the beach. She hates the vacuum cleaner and attacks it any time I vacuum, which makes for quite the challenge for me. We got her last August when she was only 8 weeks old. It had been 5 years since we had had a dog and we thought it would be a big transition for us to go back to having one. She proved us wrong and is truly a member of our family. Because of that, we only want the best for her. That is why I thought it would be a great idea to take the 28 Day Challenge with Purina One.
I purchased her new Purina One Smart Blend dog food at Target and we started the 28 day challenge on May 28th. The first thing we noticed was that she ate all of the Purina One dog food out of the bowl, leaving her old food that we were transitioning her from. She usually didn't eat all of her food in one sitting, but after transitioning over to Purina One, she was soon eating her whole bowl.
On top of now finishing her food, she also has boundless energy. She loves walks, playing at the dog park, or going to doggie daycare (since it's getting so hot here). When I picked her up from a recent visit to doggie daycare, the owner said she wore out every single dog in the place and didn't stop to rest until right before I had arrived.
She's always on the lookout for bunnies and birds to chase in the back yard. She thinks she can chase them, but they're usually about 50 yards away in the back of the yard when she spots them. Apparently while we were on vacation at the beach recently, she also alerted to a snake in the brush below the beach house. I'm thankful my husband withheld that information until we had left to drive back home.
We finished the 28 day challenge a few weeks ago, but we're not switching Dakota back to her old food. She loves Purina One dog food and we are very happy with the results! We have no plans of changing her food again, so she'll be a Purina One dog from now on.
If you're interested in taking the Purina One 28 Day Challenge with your dog, stop by the Purina One website to register for the 28 day challenge as well as print a $3 off coupon. The challenge is so easy. Just transition your dog over to Purina One and watch the results! You can even share your dog's journey and pictures on the Purina One website.
Has your dog tried Purina One dog food? Would you take the 28 Day Challenge with your dog?