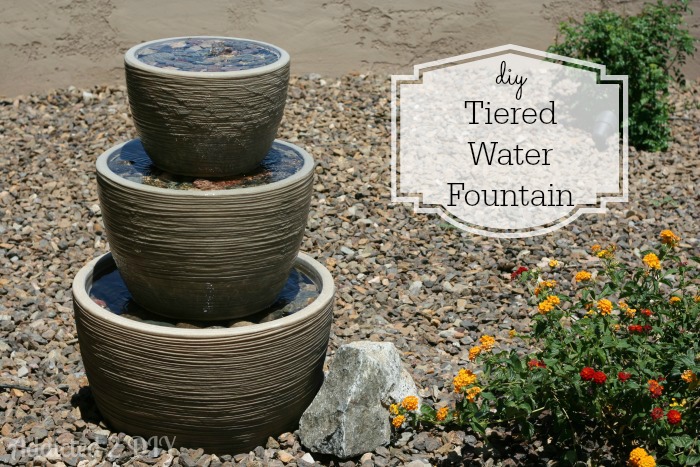 Happy Mother's Day! I hope all of you moms out there are enjoying your day! This year my husband spoiled me with not one, but two gifts! He bought me the dining set I'd been wanting for our front courtyard, but then we found a deal for a larger dining set for the backyard and he got that too! We aren't done with the backyard yet, but it was on clearance at Home Depot for more than half of the regular price! It was just too good of a deal to pass up.
We have been working for the past few months to finally get some landscaping done and I am so happy to say that the front yard is virtually done! One of my favorite parts of our front yard is this tiered water fountain. I got the inspiration for this project from the tutorial on Scattered Thoughts of a Crafty Mom. I showed my husband and he agreed that it would be great in the courtyard. I built this fountain almost a year ago, but I wanted to wait to share it until our landscaping was finally done. Yes, it took a while for that to happen. We have a HUGE yard and we had a hard time committing to a landscaping plan. I'll apologize now for not having as many step-by-step pictures as I would have liked. It's pretty easy though.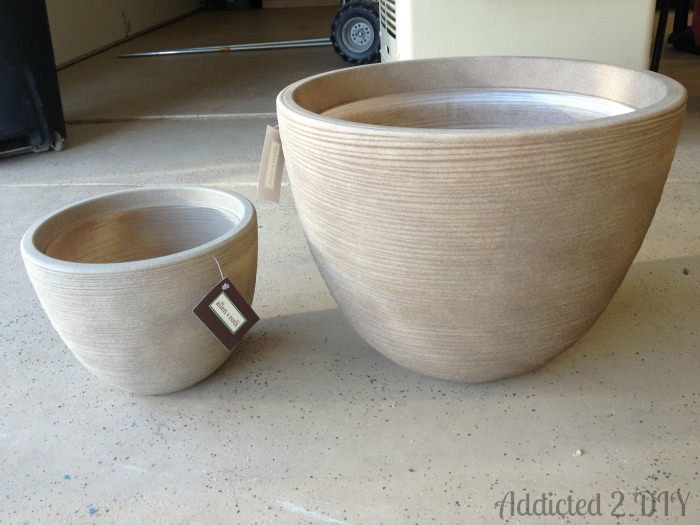 I bought the pots from Lowes. They weren't super cheap ($22-$39), but compared to purchasing a fountain, it was a bargain. I originally bought two pots (the largest and smallest ones they had), but our courtyard alone is massive. It would have completely swallowed the fountain if we left it that small, so I ended up going back and getting a third pot.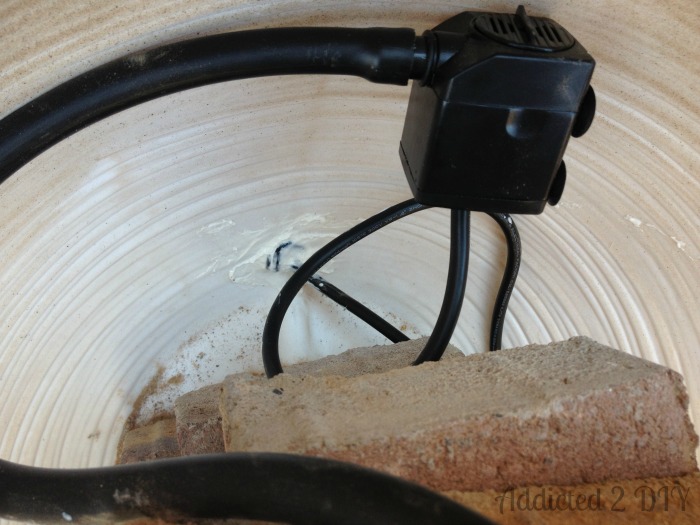 We happened to have a roll of 1/2″ rubber hose on hand already, so that was a bonus! I bought the water pump from Harbor Freight for $5. For the bottom pot, I had to drill a hole large enough to feed the plug for the pump through. Per the original tutorial, they used silicone to fill the holes. I did the same, but it just wouldn't work for me. I don't know if it was because it was July and 110 degrees outside, but 48 hours later, the silicone was just as tacky as when I squeezed it out of the tube. I cleaned it off and ended up using a two part epoxy putty to fill the holes. It worked great and there were no leaks!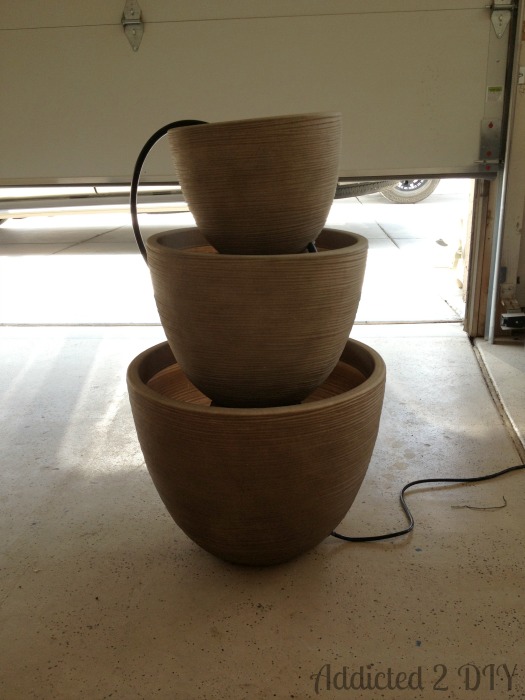 For the next two pots, I did the same thing and drilled holes as close as I could to the bottoms of the pots. I then fed the 1/2″ hose through the pots. I waited to trim the hose until I had everything placed just right. To stack the pots, I used some extra pavers we had lying around.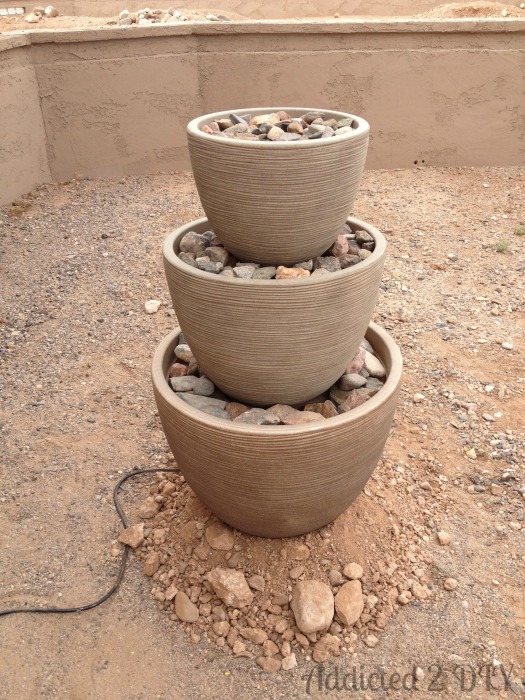 I got it out to the front yard and set it up exactly where I wanted it. There wouldn't be any moving it after it was filled with rocks. After I leveled the pots for even water trickling, the boys and I set out on an adventure to find rocks all over the yard to fill the pots. Given that we live in the desert and didn't have any landscaping, we had quite the pick of rocks from around the yard. I filled it up and plugged it in and it worked perfectly! Then came the wait for landscaping:)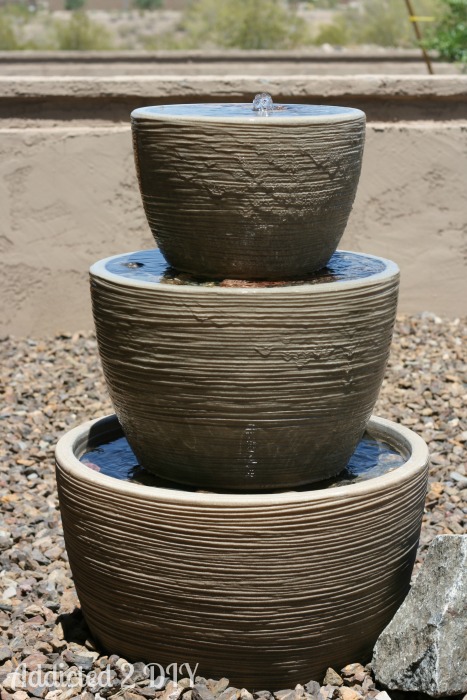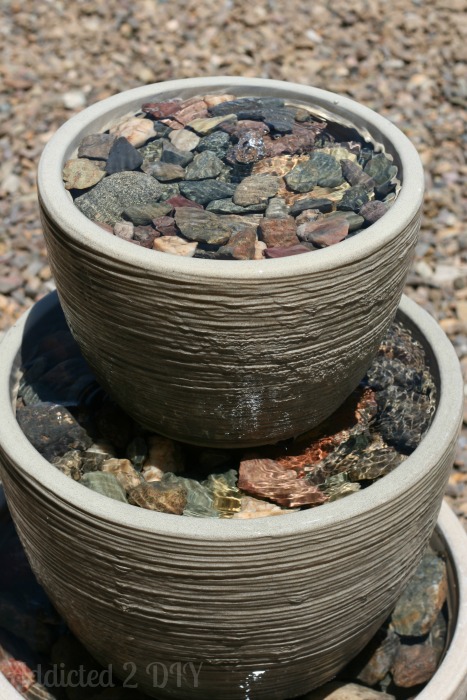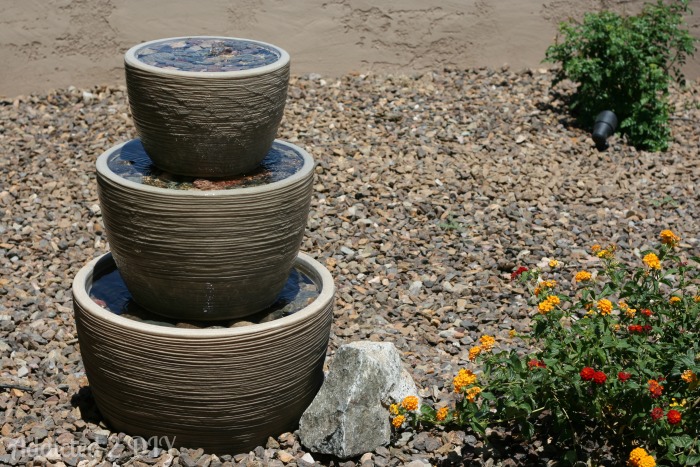 I'm so happy that we finally finished our landscaping so that we can properly show this off. It looks so good in the courtyard and I love hearing the faint bubbling of the water. The boys love watching birds landing in it to take baths or drink water. I'll be sharing the rest of the front yard transformation with you soon. It was so much work, but we love how it all looks now.
~Katie
Linking up to these parties: